Compiled by Willie Bodenstein



Google Banner Ad



THIS WEEK IN MIDWEEK UPDATE
EAA of South Africa, Middelburg, Convention 9 - 11 June 2023.
AFB Waterkloof Il-76 arrival criticised.
SAAF hosting Saudi delegation.
Sustainable aviation fuel now approved in Piper turboprops.
Textron Aviation brings peace-of-mind technology to the Beechcraft Denali cockpit.
Archer rolls out first Midnight aircraft; prepares for flight test.
L3harris completes first missionized flight of new air force electronic warfare aircraft.
EAA, others wait for next step on B-17s.
Vertical Flight Society publishes study on one-way attack drones.
Worldwide incidents and accidents - USA; Impact with power lines Heart of Texas hot air balloon rides.
This week in History - First solo flight from England to Australia by a woman begins.
Bonus Video - Piper's Super Cruisers.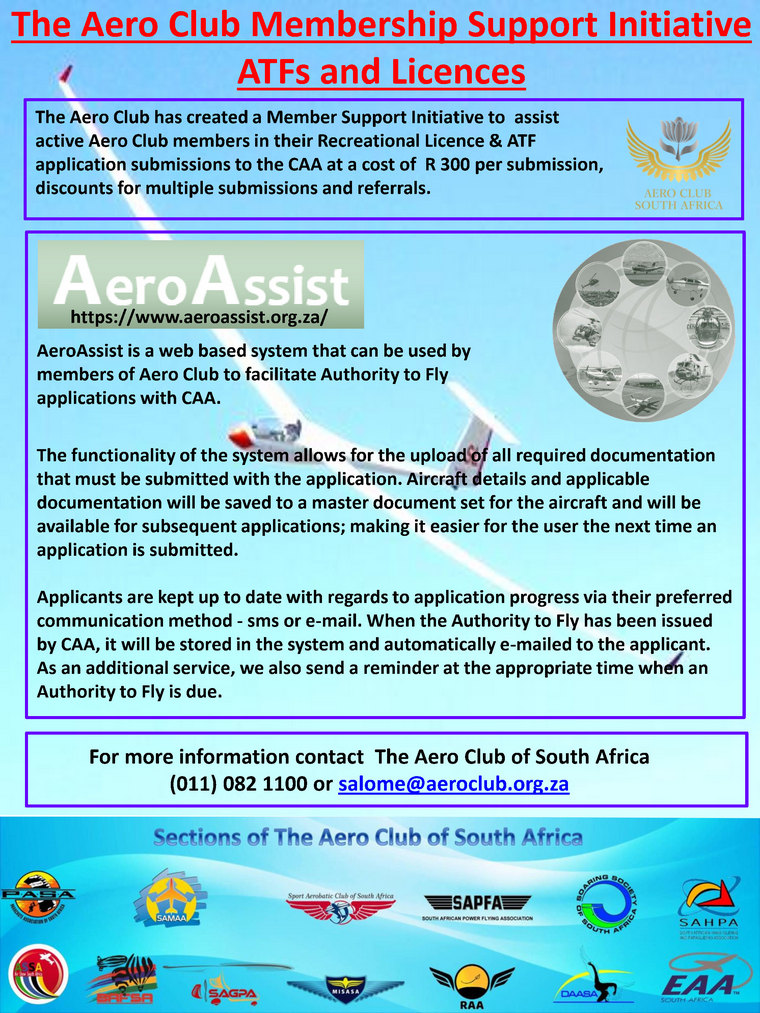 16 to 19
Grain SA's NAMPO Harvest Day. Contact Wim Venter E-mail: wim@grainsa.co.za Tel: 086 004 7246

19 to 20
SAGPA Fly in to Bona Bona. For more info contact Tommie at 08two 8zero2 322one

17 to 20
SAC National Aerobatics Championships Tempe airfield. Contact Annie Boon E-mail: info@anniesaviationcorner.com

18 & 19
Orion training, tech, drones and unmanned aviation conference. Contact Thabo Ndimande E-mail: thabo@orion-training.co.za Cell: 072 663 2724

19 to 21
Zebula Fly In. No landing fees for the weekend. For more information contact info@efaf.co.za or go to www.zebula.co.za

20
New Tempe Airshow Bloemfontein. Contact Conrad Botha E-mail: rowco24cc@mailbox.co.za Cell: 082 770 5505

20
SAA Museum Hobby and Collectables Fair Rand Airport. Contact E-mail: events@saamuseum.co.za Cell: 076 879 5044

27
Klipriver Fly in. Contact Michael 083 662 4564

25 to 28
SAPFA Presidents' Trophy Air Race Middleburg airfield Website: www.sapfa .co.za Contact Iaan Myburgh E-mail: iaanmyburgh@gmail.com Cell: 082 449 2531







1 & 2
Drones and Unmanned Aviation Conference Birchwood Hotel. Contact Gerald E-mail: admin@bussynetadt.co.za Cell: 067 611 0365 or Byron E-mail: byron@bussynetadt.co.za Cell: 067 611 0365

1 to 4
RC Extravaganza at Henley Model airfield. Contact Emil Henrico E-mail: info@rcasa.org.za Cell: 082 962 2334

3
Kroon Fly In. Contact Marius 083 419 6613 or Kevin 061 008 9561

3
EAA Chapter 322 breakfast gathering 07h30 EAA Auditorium Rand Airport. Contact Neil Bowden E-mail: airadventuresa@gmail.com

3
Parys Airshow. Contact Brendan Horan E-mail: brendan@creativespacemedia.co.za

10
EAA Young Eagles Day (Venue TBA) & EAA International Young Eagles Day. Contact Neil Bowden E-mail: airadventuresa@gmail.com

10
Newcastle Airshow. Contact Johan Pieters E-mail: johan@champ.co.za

9 to 11
EAA Convention. Middelburg Airfield. Rsvp@eaa.org.za

9 to 11
The Sling Winter Weekend Away Midlands Meander. Regret Sling Aircraft Only. Bookings close 23 May. Contact Shanelle Visagie Shanelle@Slingaircraft.com

11
Brakpan Aero Club Cobra Club and fly-in. Contact Clarissa E-mail: Clarissa@airborneaviation.co.za Cell: 074 113 2911

15
Virginia Airport Air Show, Durban. Brendan Horan E-mail: brendan@creativespacemedia.co.za

16
SAC Fundraiser event venue TBA. Contact Annie Boon E-mail: info@anniesaviationcorner.com

17
Maputo International Airshow on the waterfront. Contact Gavin Neil E-mail: gavin@haps.co.mz Cell: +258 84 391 7408

30 June to 2 July
EAA Taildraggers at Warmbaths airfield (Bela Bela). Contact Richard Nicholson E-mail: ichard.nicholson1963@gmail .com








EAA OF SOUTH AFRICA, MIDDELBURG, CONVENTION 9 - 11 JUNE 2023 BOOK YOUR SPOT NOW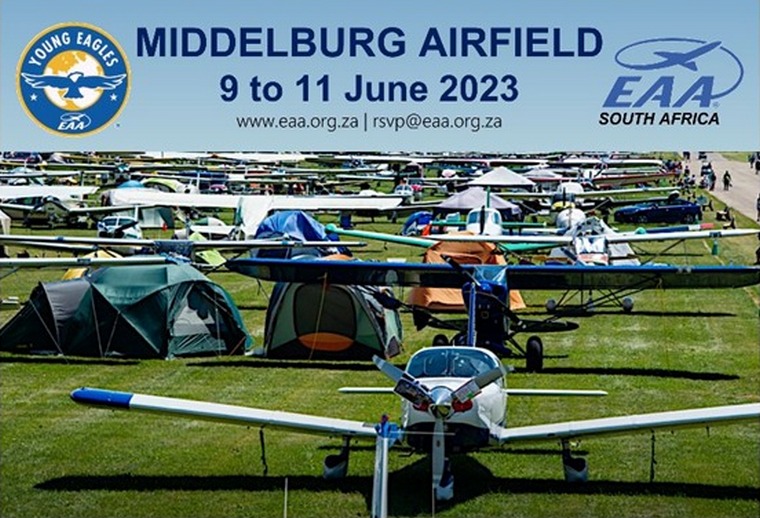 Only a month to go and we hope you have diarised to join us for an action-packed weekend!

We want all our members, friends, family and fellow aviators to have a great gathering. With only a month to go and all the groundwork set, please RSVP asap.
As we have to build all the facilities required for you to participate in your EAA event, please rsvp at your earliest convenience so that we have time to make the necessary arrangements.
RSVP
www.eaa.org.za



AFB WATERKLOOF IL-76 ARRIVAL CRITICISED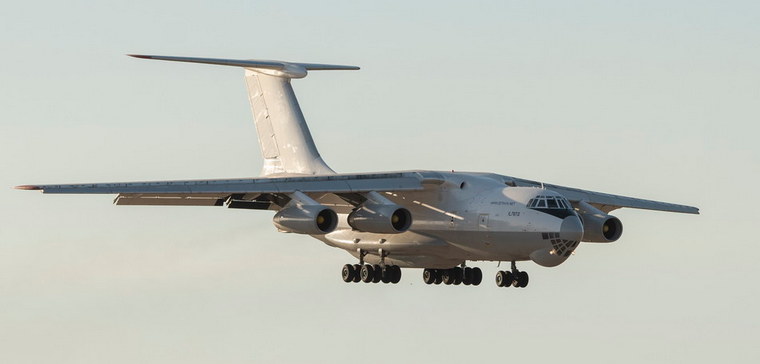 Last week's arrival of a Russian Il-76 transport at Air Force Base (AFB) Waterkloof is, according to two opposition political parties, not good for South African foreign relations.


Leading the charge is Democratic Alliance (DA) shadow defence and military veterans minister, Kobus Marais, who called the landing of the aircraft, reportedly owned by US sanctioned Aviacon Zitotrans, "another apparent example of South Africa's pro-Russian foreign policy".
Freedom Front Plus (FF+) leader Pieter Groenewald called the arrival of the Il-76 "out of the ordinary" notwithstanding Minister Thandi Modise's apparent permission being granted. He wants her to explain why a military base was used to deliver cargo, seemingly part of the diplomatic bag which exempts it from search, for the Russian Embassy. In support of Groenewald's claim, a number of aviation enthusiasts point out the regular arrival of a US Air Force (USAF) C-17 at Lanseria International, west of Pretoria, delivering supplies and equipment for the US Embassy.

"AFB Waterkloof is a military base, not to be used for commercial purposes," he said adding by way of explanation the Russian aircraft was "indeed a commercial one".
Marais will ask Modise to explain why the aircraft was allowed to land at Waterkloof and "whether it is normal practice for goods to be brought in via air force bases for foreign missions in South Africa".
"South Africa," Marais said, "has a responsibility to ensure our airspace and military bases are not used for purposes in contravention of our laws and international obligations".

SAAF HOSTING SAUDI DELEGATION
www.defenceweb.co.za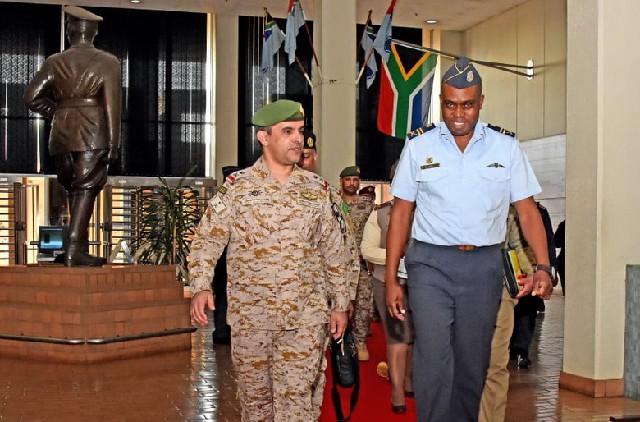 A Saudi Arabian military delegation has arrived in South Africa to strengthen bilateral relations and examine possible collaboration.

Boitumelo Bapela, reporting for Ad Astra Magazine, said the nine Royal Saudi Armed Forces members were welcomed by Major General Lancelot Mathebula, the Chief Director Force Preparations, on behalf of the Chief of Air Force on 9 May upon arrival at SA Air Force (SAAF) Headquarters.
The head of the delegation, Major General Adel Mohammed Albalawi, expressed his gratitude to the SAAF for extending its welcome. He added that the purpose of the courtesy visit was to find out more about SA Air Force strategy. The delegation was briefed on how young civilians are transformed into soldiers at Air Force Gymnasium, Air Force Base Hoedspruit and the career paths they later travel within the organisation.
Brigadier General Ben Mbanjwa, the Director Education Training & Development, gave a presentation about the Human Resource Development Strategy 2016-2025 Renewal and Modernisation. The second presentation, given by Colonel Lumkile August, Acting Director Human Resource Services, briefed the Saudi visitors on SA Air Force career pathways, education, training and development as well as deployment of SA National Defence Force members internally and externally.

The visit comes after defence minister Thandi Modise and an Armscor delegation accompanied President Cyril Ramaphosa to Saudi Arabia in October last year. The Presidency revealed that 17 Memoranda of Understanding (MoU) were signed between the two countries, covering everything from energy to defence.
Armscor's Liziwe Nkonyana, Senior Manager: Corporate Communication told defenceWeb at the time that the defence MoU signed between South Africa and Saudi Arabia "is intended to establish a framework of cooperation between the two countries. It relates to the cooperation between the two countries on matters of defence and the development of their respective industries. As and when the cooperation develops, specific announcements will be made by the two countries, respectively."
While in Saudi Arabia, Modise met with Governor of the General Authority for Military Industries (GAMI), Ahmed Bin Abdulaziz Al-Ohali. The meeting was also attended by Armscor CEO Solomzi Mbada. Local media reported the two discussing cooperation and partnership in the field of military industries, and the "next action steps between the GAMI and the Armaments Corporation of South Africa."
Defence cooperation between South Africa and Saudi Arabia is not a new development, and there have been multiple engagements over the years. For example, in March 2016, then President Jacob Zuma visited Saudi Arabia and toured Military Industries Corporation facilities after Rheinmetall Denel Munition (RDM) helped establish a munitions manufacturing facility. This is able to produce 60-, 81- and 120-mm mortars, 105- and 155-mm artillery shells and aircraft bombs.
African Defence Review Director Darren Olivier notes that GAMI and other Saudi defence companies and institutions have for decades worked with South African defence companies and research institutions to develop technologies and products, including the Saqr-1 unmanned aerial vehicle, and set up optronics research facilities. Denel division Spaceteq has supplied satellites to Saudi Arabia, such as the SaudiSat 3 and 5. Saudi Arabia even attempted to acquire a stake in Denel, but this never materialised.

SUSTAINABLE AVIATION FUEL NOW APPROVED IN PIPER TURBOPROPS




Piper Aircraft is proud to announce the ability to use Sustainable Aviation Fuel (SAF) in all PA-46 based, Piper single engine turbine-powered aircraft, including the M600/SLS, M500, and Meridian. SAF is not only FAA approved via SAIB NE-11-56R4, but is available for use in every country that turbine M-Class aircraft operate.

Standard Specification for Aviation Turbine Fuel Containing Synthesized Hydrocarbons can be utilized in Piper turbine-powered aircraft. Typically, this fuel is made from fatty acids or other synthetic components, and is acceptable for use on aircraft and engines certified for use with D1655 fuel, more commonly known as traditional Jet A and Jet A-1 fuel. Therefore, the new SAF includes the designation as Jet A and Jet A-1. The introduction of SAF to the Piper turboprop line will not require a change in aircraft placarding or Pilot's Operating Handbooks.
This announcement comes at the heels of another recent commitment from Piper to promote sustainability in general aviation, initially revealed at EAA AirVenture 2022. Piper Aircraft and CAE are collaborating on an electrically powered conversion kit via a Supplemental Type Certificate (STC) for in-service Archer TX aircraft. Upon certification, CAE plans to convert two-thirds of their existing Piper Archer TX training fleet, and will be the first to develop a curriculum for new pilots to conduct training in an electric airplane. These Archer TX advancements will significantly reduce carbon emissions, while preparing pilots to operate greener, electric aircraft.
"We are pleased with the continuous improvements made to our products, especially in regards to environmental consciousness," said Ron Gunnarson, Vice President of Sales, Marketing, and Customer Support. "Prioritizing sustainability in our aircraft as technological advancements allow is important to Piper Aircraft, first seen in our electric Archer TX/CAE partnership and now with Sustainable Aviation Fuel compatibility in our turboprops. We are committed to a safer, greener aviation industry."

TEXTRON AVIATION BRINGS PEACE-OF-MIND TECHNOLOGY TO THE BEECHCRAFT DENALI COCKPIT

With customer input at the forefront of its product investments, Textron Aviation today announced it is bringing the revolutionary Garmin Emergency Autoland system to its new clean-sheet design Beechcraft Denali single-engine turboprop. The new feature is being implemented into the aircraft's development and flight test program and will be available as a standard feature at time of entry into service.


The Garmin Emergency Autoland system is the world's first certified system of its kind. It provides a means for the aircraft to land automatically in the unlikely event of pilot incapacitation. A passenger can activate the Emergency Autoland system by pressing a dedicated button in the cockpit. Once activated, the system immediately takes control of the aircraft and informs ATC of the emergency. It then calculates a flight path to the most suitable airport or runway, while avoiding terrain and adverse weather, initiates a stabilized approach and automatically lands the aircraft, bringing it to a stop before shutting down the engine.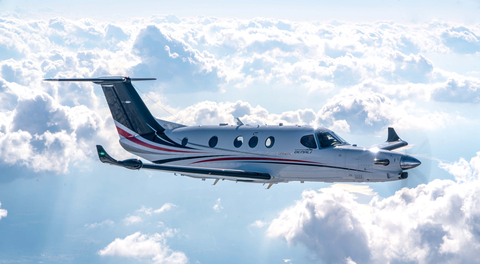 "The Autoland is an excellent addition to the Beechcraft Denali and the G3000 avionics suite, and we've included it in the program as a direct response to continued conversations with our customers," said Lannie O'Bannion, senior vice president, Sales & Flight Operations. "The feature makes the Denali even more desirable to a wider audience as it adds yet another element of assurance and peace of mind for pilots and passengers."
Textron Aviation is aligning the Beechcraft Denali aircraft certification timing, which is expected in 2025, to the certification timeline for the new Catalyst engine. The Denali is the first aircraft powered by the new, more efficient engine.
"We continue to experience great progress with the Denali development program, and we believe the aircraft will be a game changer in the single-engine, high-performance turboprop segment," said Chris Hearne, senior vice president, Engineering. "Our customers are excited for the Emergency Autoland feature on the Denali and, while our goal is to achieve type certification as quickly as possible, it is of greatest importance to assure that every detail is completed with the highest quality."
The Denali flight test certification program features three flight test articles. The three flight test aircraft have surpassed 1,300 flight hours.
ARCHER ROLLS OUT FIRST MIDNIGHT AIRCRAFT; PREPARES FOR FLIGHT TEST





Archer Aviation Inc. (NYSE:ACHR), a leader in electric vertical take-off and landing (eVTOL) aircraft, today announced it has now completed the final assembly of its first Midnight aircraft. With final assembly and initial testing complete, last week the aircraft was shipped from Archer's Palo Alto facility to its flight test facility in Salinas, California and reassembled. Archer will now take this aircraft through a series of ground tests leading up to its planned first flight this summer. The Midnight aircraft has recently garnered significant attention from the U.S. Department of Defence given its payload capabilities.


This Midnight aircraft will enable Archer to perform critical "company testing" to accelerate and reduce risk on its certification program with the Federal Aviation Administration ("FAA") in advance of "for credit" certification testing that the company plans to begin early next year with piloted Midnight aircraft. Our strategy with this aircraft is to allow Archer to fly many of the same test points that will be needed during piloted "for credit" flight testing in order to further validate the aircraft before the FAA witnesses and participates in the testing - a customary practice in many aircraft certification programs.
Component manufacturing is already underway for Archer's conforming Midnight aircraft. Archer is targeting the completion of final assembly of its initial conforming Midnight aircraft in Q4 2023 and to begin piloted flight test operations in early 2024.

"Today we announced our exciting progress that the final assembly of our first Midnight aircraft is now complete and it is preparing for its flight test program," said Adam Goldstein, Archer's Founder and CEO. "This aircraft will accelerate and reduce risk on our certification program paving the way for our team to focus on building and conducting piloted operations with conforming aircraft to support the goal of entering into service in 2025."
Archer's industry-leading team, alongside its key strategic partners, Stellantis and United Airlines, continues to advance its aircraft development and commercial operations with impressive speed and efficiency. The company has also established a significant lead over industry peers on the manufacturing and commercial operations fronts with the build out of its high-volume manufacturing facility in Covington, Georgia underway and announced key strategic electric air taxi routes in New York and Chicago.
With a range of up to 100 miles, Archer's Midnight aircraft is designed to perform rapid back-to-back flights with minimal charge time in between. Archer's goal is to transform inter-city travel, replacing 60-90-minute commutes by car that can take over an hour in traffic with ~10-20-minute electric air taxi flights that are safe, sustainable, low noise and cost competitive with ground transportation.

L3HARRIS COMPLETES FIRST MISSIONIZED FLIGHT OF NEW AIR FORCE ELECTRONIC WARFARE AIRCRAFT

The four-hour flight occurred at L3Harris' Waco, Texas modification centre marking a significant milestone for the Compass Call Cross Deck Team of L3Harris, mission systems prime BAE Systems, and aircraft manufacturer Gulfstream. The Compass Call Cross Deck program is part of the Air Force's plans to field 10 state-of-the art aircraft to perform its electronic warfare mission.

The industry team has integrated, or cross-decked, the Compass Call electronic attack system from the legacy EC-130H aircraft to the Gulfstream G550 platform, creating the EC-37B, which provides increased speed, endurance and extended stand-off range resulting in significantly improved survivability.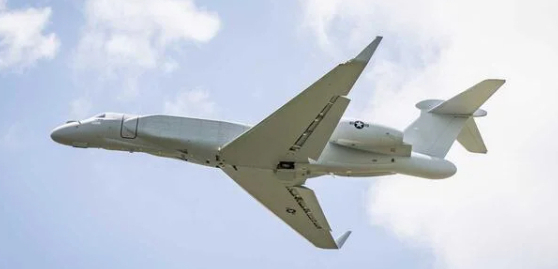 The milestone follows an aircraft tour by U.S. Air Force leadership including 55th Electronic Combat Group Commander Col. Melanie Olson; Detachment 1, 645th Aeronautical Systems Squadron Commander Lt. Col. Joshua Rasmussen and Compass Call Materiel Leader Lt. Col. Aaron Stumpf. The leaders met with the L3Harris program team to discuss the history of Compass Call, the future mission and the important supporting role served by the Compass Call Cross Deck Team.
"Your work and effort are building on the legacy that Big Safari has established over the past 70 years," said Lt. Col. Stumpf.
L3Harris will continue flight testing activities in preparation for delivery to the Air Force later this year for its own developmental test cycle.
L3Harris has decades of experience missionizing and testing aircraft for a variety of operations and multiple platforms and is a world leader in developing airborne ISR and EW solutions for U.S., NATO and allied forces.

EAA, OTHERS WAIT FOR NEXT STEP ON B-17S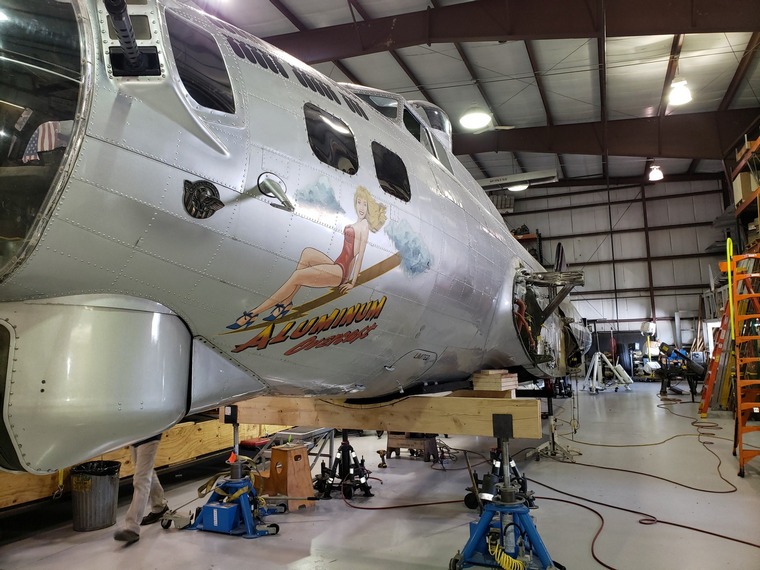 EAA is continuing its repair and restoration work on its B-17 Aluminum Overcast and is working closely with the FAA as the agency considers the best path forward to safely getting these treasured aircraft back in the air.

While Aluminium Overcast has been side-lined since damage to a wing fitting was discovered during a routine prefight check in spring 2021, other B-17 operators have also grounded their aircraft due to possible wing spar issues. Those wing spar issues could lead to the FAA issuing an airworthiness directive for B-17s in the near future.
"Even the most robust airframes, such as the B-17 with its legendary durability, need proper care to ensure their safe operation for years to come," said Sean Elliott, EAA's vice president of advocacy and safety. "We all want to keep 'em flying and keep 'em flying safely. We at EAA have had excellent cooperation from the FAA as we jointly review the situation and find the best path forward."
This past weekend, the Yankee Air Museum announced that its B-17 Yankee Lady would be grounded "out of an abundance of caution" and is not expected to fly in 2023. That also means the aircraft will not appear at EAA AirVenture Oshkosh 2023 as previously announced. Those who had already booked flights on the aircraft during AirVenture will be contacted directly by the Yankee Air Museum regarding refunds.
"The warbirds community is resilient and united on finding a path forward for these magnificent airplanes," Elliott said. "We look forward to getting them back in the air in the future, with safety always the number one priority."

VERTICAL FLIGHT SOCIETY PUBLISHES STUDY ON ONE-WAY ATTACK DRONES


The Vertical Flight Society (VFS), the world's oldest and largest technical society dedicated to enhancing the understanding of vertical flight technology, published an expansive report on one-way attack drones, also known as loitering munitions. The study, "One-Way Attack Drones: Loitering Munitions of Past and Present," finds that the origins of these weapons are more complex than often understood and that the market for one-way attack (OWA) drones has grown larger than expected.

The study traces the evolution of one-way attack drones from military programs in the early 1970s to the present day. In the 1970s and 1980s, the advent of new fabrication materials and lightweight sensors facilitated the development of low-cost drones to target adversary radar sites.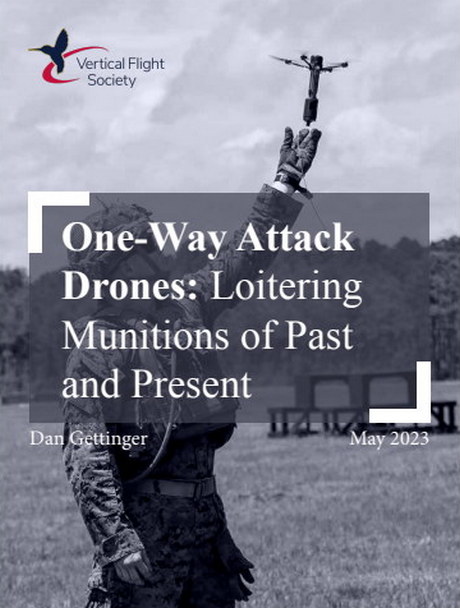 In time, the military applications of OWA drones broadened beyond the suppression of enemy air defences (SEAD) role. In the early 2000s, the emergence of the Switchblade drone provided the infantry with its own portable loitering munition, while the spread of Iranian drones enabled a host of non-state and, increasingly, state actors to use low-cost drones to conduct long-range precision strikes.

"The development of one-way attack drones formed a critical part of the transition from the era of jet-powered target drones to that of remotely pilot vehicles, which resulted in the burgeoning market for drones of all types that exists today," said Dan Gettinger, VFS Director of Communications and Publications, and the author of the study. "Once thought of as designed for a specialized task, one-way attack drones are increasingly assuming a broader role on the battlefield."

The market for one-way attack drones is growing dramatically, with as many new models of aircraft revealed in the past two years as those unveiled in the previous five decades combined. Drawing on an original database of over 200 types of one-way attack drones, the study finds that more than 120 entities in over 30 countries are developing or producing these weapons or have done so previously. Vertical take-off and landing (VTOL) one-way attack drones represent a rapidly emerging segment of the market and currently comprise more than one-in-four models of OWA drones, a reflection of a broader trend towards lightweight, hand-carried models.

The consequences of this transformation are evident in the host of ongoing military research and acquisition programs worldwide. The adoption of one-way attack drones in greater numbers and variety has the potential to lead to changes in force structures, training and operations. The dominance of drones, including one-way attack drones, in recent armed conflicts such as in Ukraine and Nagorno-Karabakh have underscored the vulnerabilities of current air defences. For crewed rotorcraft, one-way attack drones are seen as offering the possibility of increasing the lethality and survivability of Future Vertical Lift platforms.





USA - IMPACT WITH POWER LINES
HEART OF TEXAS HOT AIR BALLOON RIDES

On 30 July 2016 a Balóny Kubícek BB85Z hot air balloon, N2469L, operated by Heart of Texas Hot Air Balloon Rides, struck power lines and crashed in a field near Lockhart, Texas.
The pilot and 15 passengers died, and the balloon was destroyed by impact forces and post-crash fire. The balloon was owned and operated by the pilot and the flight was conducted under the provisions of 14 Code of Federal Regulations Part 91 as a sightseeing passenger flight. The flight originated about 0658, just after sunrise, from Fentress Airpark, Fentress, Texas.
About 1 hour 50 minutes before launch, weather observations and forecasts that the pilot accessed indicated visual flight rules weather for airports near the planned route of flight but included observations of clouds as low as 1,100 ft above ground level and a temperature/dew point spread of 1°C (which indicated the possibility of fog formation although fog was not forecast). The pilot did not check weather again before launch; updated observations and forecasts available at that time indicated deteriorating conditions.
A ground crewmember stated that fog was seen near the launch site. The balloon launched about 0658, and the ground crew stated that they watched the balloon fly in and out of the clouds as they followed it until losing sight of it for the last time as it went above the clouds. A passenger photograph taken about 4 minutes before the
accident showed the balloon flying above a dense cloud layer that appeared to extend to the horizon. The balloon impacted power lines while descending, about 44 minutes after launch.
To be able to see and avoid obstacles during landing, balloon pilots must ensure weather conditions are compatible with the limitations of balloon manoeuvrability. The accident pilot had the opportunity to make decisions regarding the flight based on the weather conditions at three points on the morning of the accident: before launch, en route, and near the end of the flight. At each of these points, there were indicators that the weather may not be conducive to safe flight. Updated forecast information before launch showed that conditions were deteriorating; the pilot could have decided to cancel the flight.
En route photographs showed that fog and low clouds were visible along the flight route; the pilot could have decided to select a suitable landing location while still in visual contact with the ground. Lastly, once above clouds that obstructed the view of the ground, the pilot decided to land in reduced visibility conditions that diminished his ability to see and avoid obstacles.
The National Transportation Safety Board (NTSB) identified the following safety issues as a result of this accident investigation:
• Lack of medical oversight for commercial balloon pilots. Commercial balloon pilots are not required to hold a medical certificate of any kind. The accident pilot had been diagnosed with medical conditions, including depression and attention deficit hyperactivity disorder, known to cause cognitive deficits that may affect decision-making and, ultimately, safety of flight. These conditions would likely have led an aviation medical examiner.
In addition, medications were found in the pilot's system that are known to cause impairment and are listed on the Federal Aviation Administration's (FAA) "Do Not Issue" and "Do Not Fly" lists. An AME would likely have deferred or denied a medical certificate to a pilot reporting use of these medications.
The FAA stated the primary mitigator of risk in balloon operations is the commercial pilot certificate, yet there is no requirement for balloon pilots to hold a medical certificate to indicate that they are medically fit to fly.
• Lack of targeted FAA oversight of potentially risky commercial balloon operations. The FAA conducted 98% of its oversight of balloon operators at balloon gatherings between January 1, 2014, and December 15, 2016. Thus, those operators who do not attend the gatherings, such as the accident pilot, are likely not to receive any FAA oversight. Such focus on balloon gatherings does not support the FAA's risk-based, data-informed approach to oversight. It also does not provide the FAA with opportunities to educate all commercial balloon operators and mitigate risk before an accident occurs.
The NTSB determines that the probable cause of this accident was the pilot's pattern of poor decision-making that led to the initial launch, continued flight in fog and above clouds, and descent near or through clouds that decreased the pilot's ability to see and avoid obstacles. Contributing to the accident were (1) the pilot's impairing medical conditions and medications and (2) the FAA's policy to not require a medical certificate for commercial balloon pilots. As a result of this investigation, the NTSB makes two safety recommendations to the FAA.



USA, near Reliance, TN: A Cessna 182Q Skylane II, N725AS was destroyed following an inflight breakup and impact with terrain near Reliance, Tennessee. The sole pilot onboard sustained fatal injuries.
Czech Republic, Klatovy Airport: A Cessna F150L (Reims) and a Cessna 172B Skyhawk collided while landing at Klatovy Airport (LKKT) around 20:00 LT. No serious injuries for two occupants in each aircraft. The Cessna F150L (Reims) received minor damage and the Cessna 172B Skyhawk received substantial damage.

France, Rioux, Saint-Pierre-Roche, Puy-de-Dôme: A Shark.Aero Shark crashed under unknown circumstances in a field at the top of a hill near Rioux, Saint-Pierre-Roche, Puy-de-Dôme. The pilot died and ultralight was destroyed by fire.
New Zeeland, Omaka Aerodrome: Yakovlev Yak-3UA "Full Noise" (a later production aircraft with an Allison V-1710 engine) failed to take-off from Omaka Aerodrome (NZOM) and went off the end of the runway, across the road, and landed in a fence. The pilot was not injured and the aircraft received substantial damage. On impact the spinner and propellor separated from the engine, but this together with minor other damage is thought to be repairable.

USA, Gardner Municipal Airport, Gardner, KS: An experimental Rans S-7S Courier, kit built by Jackson Letts, was partially consumed by fire in an off-runway area incident after landing at Gardner Municipal Airport (K34), Gardner, Kansas. The pilot was seriously injured and the other occupant received minor injuries and the aircraft was written off.





5 MAY1930

First solo flight from England to Australia by a woman begins with British Amy Johnson in her de Havilland D. H.60G Moth 'Jason'. She flies from Croydon, England to Darwin, Australia in 19 days.


Johnson achieved worldwide recognition when, in 1930, she became the first woman to fly solo from England to Australia. Flying G-AAAH Jason, she left Croydon Airport, Surrey, on 5 May and landed at Darwin, Northern Territory on 24 May, 11,000 miles (18,000 km) later.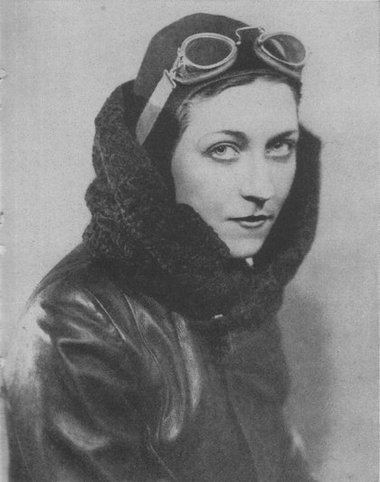 Born in 1903 in Kingston upon Hull, East Riding of Yorkshire, was introduced to flying as a hobby, gaining an aviator's certificate, No. 8662, on 28 January 1929, and a pilot's "A" licence, No. 1979, on 6 July 1929, both at the London Aeroplane Club under the tutelage of Captain Valentine Baker. In that same year, she became the first British woman to obtain a ground engineer's "C" licence.
In 1932, Johnson married Scottish pilot Jim Mollison, who had proposed to her during a flight together some eight hours after they had first met. In July 1932, Johnson set a solo record for the flight from London to Cape Town, South Africa in Puss Moth G-ACAB, named Desert Cloud, breaking her new husband's record.[13] De Havilland Co and Castrol Oil featured this flight in advertising campaigns.
On 5 January 1941, while flying an Airspeed Oxford for the ATA from Prestwick via RAF Squires Gate to RAF Kidlington near Oxford, Johnson went off course in adverse weather conditions. Reportedly out of fuel, she bailed out as her aircraft crashed into the Thames Estuary near Herne Bay.
A convoy of wartime vessels in the Thames Estuary spotted Johnson's parachute coming down and saw her alive in the water, calling for help.[30] Conditions were poor: there was a heavy sea and a strong tide, snow was falling and it was intensely cold. Lt Cmdr Walter Fletcher, the Captain of HMS Haslemere, navigated his ship to attempt a rescue. The crew of the vessel threw ropes out to Johnson but she was unable to reach them and was lost under the ship.
As a member of the ATA with no known grave (her body was never recovered), Johnson is commemorated, under the name of Amy V. Johnson, by the Commonwealth War Graves Commission on the Air Forces Memorial at Runnymede.


Piper's Super Cruisers

Google Banner Ad