Compiled by Willie Bodenstein



Google Banner Ad



THIS WEEK IN MIDWEEK UPDATE
Department of Defence to announce partnership with Embraer.
Zimbabwe gets new VIP jet, Russian helicopters.
Textron Aviation delivers first passenger unit of Cessna Sky courier large-utility turboprop.
EAA AirVenture Oshkosh 2023 Warbirds in Review schedule.
Demand for Bell 407GXi remains robust in Australia.
Kawasaki becomes a strategic investor in the framework of Series B funding for the Cassio electric-hybrid aircraft family.
Textron Aviation celebrates its 100th flagship Cessna Citation Longitude production unit.
Worldwide incidents and accidents
This week in History - Lieutenant James Doolittle is the first person to do an outside loop in an Army Racer.
Bonus Video - Harvard A2A Shoot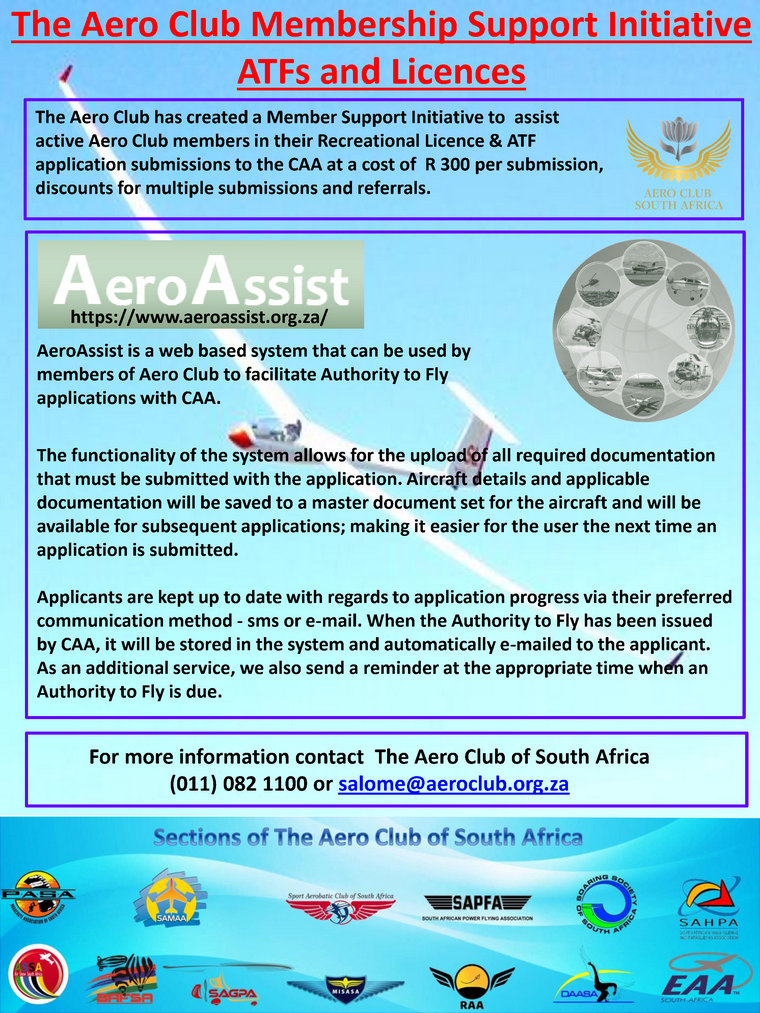 1 & 2
Drones and Unmanned Aviation Conference Birchwood Hotel. Contact Gerald E-mail: admin@bussynetadt.co.za Cell: 067 611 0365 or Byron E-mail: byron@bussynetadt.co.za Cell: 067 611 0365

1 to 4
RC Extravaganza at Henley Model airfield. Contact Emil Henrico E-mail: info@rcasa.org.za Cell: 082 962 2334

3
Kroon Fly In. Contact Marius 083 419 6613 or Kevin 061 008 9561

3
EAA Chapter 322 breakfast gathering 07h30 EAA Auditorium Rand Airport. Contact Neil Bowden E-mail: airadventuresa@gmail.com

3
Parys Airshow. Contact Brendan Horan E-mail: brendan@creativespacemedia.co.za

10
EAA Young Eagles Day (Venue TBA) & EAA International Young Eagles Day. Contact Neil Bowden E-mail: airadventuresa@gmail.com

10
Newcastle Airshow. Contact Johan Pieters E-mail: johan@champ.co.za

9 to 11
EAA Convention. Middelburg Airfield. Rsvp@eaa.org.za


11
Brakpan Aero Club Cobra Club and fly-in. Contact Clarissa E-mail: Clarissa@airborneaviation.co.za Cell: 074 113 2911

15
Virginia Airport Air Show, Durban. Brendan Horan E-mail: brendan@creativespacemedia.co.za

16
SAC Fundraiser event venue TBA. Contact Annie Boon E-mail: info@anniesaviationcorner.com

17
Maputo International Airshow on the waterfront. Contact Gavin Neil E-mail: gavin@haps.co.mz Cell: +258 84 391 7408

30 June to 2 July
EAA Taildraggers at Warmbaths airfield (Bela Bela). Contact Richard Nicholson E-mail: ichard.nicholson1963@gmail .com







1
EAA Chapter 322 monthly gathering, boot sale and fly market 07h30 EAA Auditorium. For more info contact Neil Bowden E-mail: airadventuresa@gmail.com

1 & 2
SAPFA Speed Rally No.2 Warmbaths airfield. For more info contact David le Roux E-mail: david@pilotinsure.co.za Cell: 073 338 5200

6 - 8
AERO South Africa at Wonderboom National Airport. Go to www.aerosouthafrica.com


14 & 15
SAC KZN Regionals Ladysmith airfield. Contact Annie Boon E-mail: info@anniesaviationcorner.com

15
EAA Silver Creek camp over and pancake breakfast. For more info contact Neil Bowden E-mail: airadventuresa@gmail.com

24 - 30
EAA AirVenture Oshkosh, Wisconsin, USA. SA your group and camp at the field. Contact Neil Bowden at E-mail: airadventuresa@gmail.com

29 & 30
Soutpansberg Airshow & SAPFA Speed Rally Louis Trichardt FALO For Airshow Contact Jaco 082 353 6002 or Bianca 084 297 7274 E-mail: spbvliegklub@gmail.com SAPFA Speed Rally No.3 - Louis Trichardt Contact David le Roux E-mail: david@pilotinsure.co.za Cell: 073 338 5200

29 Jul to 5 Aug
FAI Rally Flying World Championships - Mâcon, France. Contact Leon Bouttell E-mail: Leon@lbaa.co.za Cell: 076 294 1363








DEPARTMENT OF DEFENCE TO ANNOUNCE PARTNERSHIP WITH EMBRAER
www.defenceweb.co.za


Defence and Military Veterans Minister Thandi Modise said her department hopes to soon publicly announce a partnership with Brazil's Embraer on the manufacture and repair of aircraft in South Africa.


Modise was speaking in Parliament on Tuesday 23 May during the defence budget vote debate. "We are hoping that soon we will be able to announce, publicly, … the partnership with Embraer of Brazil to manufacture and to repair in South Africa. It would be a boost to our defence industry. It will also enable us to force our own government to put more money in," she said.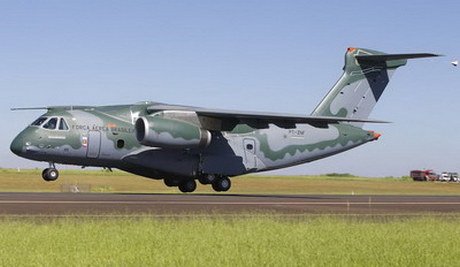 Her comments come two weeks after Brazilian Air Force commander Lieutenant Brigadier Marcelo Kanitz Damasceno told the Brazilian senate's Foreign Relations and National Defence Committee that Brazil is negotiating with several countries to sell the Embraer KC-390 Millennium tactical transport aircraft, including South Africa.
Damasceno said that South Africa as well as Austria, the Czech Republic, Egypt, India, Rwanda, South Korea, and Sweden are potential buyers for the KC-390, which has already been purchased by Brazil, Hungary, and Portugal.
The KC-390 can transport up to 26 metric tons of cargo at a maximum speed of to (850 km/h). It has a range of 6 000 km.
In February, National Treasury granted the South African Air Force (SAAF) an extra R1 billion towards rejuvenating the "medium air transport capability" of the SAAF. Funding will be spent on the six remaining C-130BZ Hercules in the fleet (the SAAF had nine serviceable examples but two have been written off in accidents and one has been cannibalised for spares).

In January, Chief of the SAAF Lieutenant General Wiseman Mbambo said "in our road going forward, the medium lift capability is right in the centre of our attention. Also, there is a lot of talk around the strategic lift capability. This is not a surprise as to why this capability is being mentioned. The reality we face is South Africa is not in a strategic position. Our location cannot be changed. We need to have very strong legs to connect ourselves to the rest of the continent and the world."
The SAAF spends millions of rands chartering aircraft to rotate troops and equipment from the Democratic Republic of Congo and Mozambique as it does not have sufficient airworthy transport aircraft.
In her budget vote debate address, Modise gave no further details on collaboration with Embraer. She did mention that the Chief of the SANDF "has been instructed to find ways to rejuvenate the SANDF. It is not just about recruiting people, it is also about looking at systems, and upgrading, rejuvenating capabilities, finding ways of preserving and maintaining."

ZIMBABWE GETS NEW VIP JET, RUSSIAN HELICOPTERS
Guy Martin www.defenceweb.co.za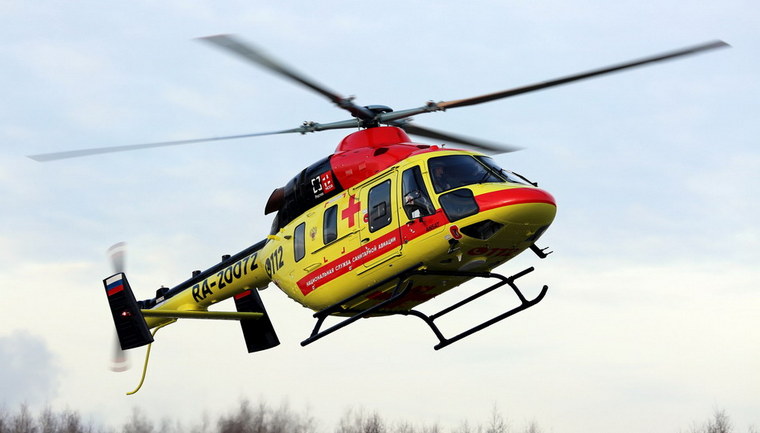 Zimbabwe's government is taking delivery of dozens of new aircraft, including a new VIP jet and up to 50 Russian helicopters. Eighteen Ansat helicopters handed over at Robert Gabriel Mugabe International Airport on 18 May during a ceremony presided over by President Emmerson Mnangagwa, which was also attended by Rostec Director General Sergey Chemezov.

Most were in emergency medical services colours, but four were wearing police colour schemes. The government said the helicopters would be used as air ambulances, for search and rescue and air policing. They will also be used for VIP transport and Air Force use.
Although the initial batch of helicopters delivered amounts to 18, Zimbabwe will have 32 by the end of the year. They are being acquired under a public-private partnership arrangement at a cost of $2.5 million each, local media reported.
During the handover ceremony, Mnangagwa said that "Zimbabwe is under sanctions, we are constrained unlike our neighbours and the rest of the world to acquire the tools we need to mitigate the impact of cyclones and disasters in our region. When I discussed with my brother President Putin, he recommended that their company, Russian State Corporation, (Rostec) produce the type of equipment we want and we have ordered these 18," he said.

Late last year, Finance and Economic Develop minister Professor Mthuli Ncube said the Zimbabwean Police would receive new equipment, including four helicopters, to help tackle crime.
Rostec in September 2022 revealed for the first time that it was supplying Ansat helicopters to Zimbabwe. "Our vehicles have proved effective in the vast expanses of Africa. Many countries in the region highly appreciate the reliability and adequate performance of the Russian aircraft. I am sure that cooperation between the Russian Helicopters holding and the Republic of Zimbabwe will be also fruitful and the delivery of Ansat medical helicopter which allows patients to be promptly evacuated will be an important step in the development of the national medical services," Chemezov said at the time while on a trip to Zimbabwe.
"The delivered Ansat is the first step in the establishment of medical aviation in Zimbabwe. About 50 medical helicopters will be required for the country. And it is very likely that this will be a large-scale cooperation project between Russia and Zimbabwe," Rostec said in September.

The Ansat, manufactured by Russian Helicopters subsidiary Kazan, made its maiden flight in 1999. It features a fly-by-wire system and is powered by two Pratt & Whitney Canada PW-207K engines. It is in Russian Air Force service as a trainer but has also been sold to Mexico, Turkmenistan, Kazakhstan, China, and Eritrea. Internal payload is 1 000 kg (a cargo hook can carry 1 300 kg) or one pilot and ten passengers. The fuselage has a pair of doors in pilot's cab, and a pair of upwards and downwards opening side doors in transport compartment.
Zimbabwe, meanwhile, has received a new presidential jet, a Dassault Falcon 7X (registration P4-SIM). The Zimbabwean reported that the aircraft was delivered in March this year, and then used for presidential trips starting in April. The aircraft was acquired to save money on charters.
In April 2021, the Air Force of Zimbabwe (AFZ) received an Airbus H215 helicopter to replace an aged Cougar helicopter used to fly Mnangagwa around the country. The AFZ has lost several aircraft to crashes and obsolescence in the past quarter century. Under economic sanctions and a US and European Union enforced arms embargo, Zimbabwe has struggled to maintain its fleet of old Western-made military aircraft.



TEXTRON AVIATION DELIVERS FIRST PASSENGER UNIT OF CESSNA SKYCOURIER LARGE-UTILITY TURBOPROP

Textron Aviation today announced the recent delivery of the first passenger unit of the twin-engine, large-utility turboprop, the Cessna SkyCourier, for use by Western Aircraft, Inc., doing business in Hawaii as Lana'i Air. The company offers luxury air service connecting Oahu to the island of Lana'i.

"The Cessna SkyCourier is well on its way to becoming a legendary aircraft for our company," said Lannie O'Bannion, senior vice president, Global Sales and Flight Operations, Textron Aviation. "It's highly versatile, with cabin flexibility, payload capability, performance and low operating costs, and has already proven to be popular around the world."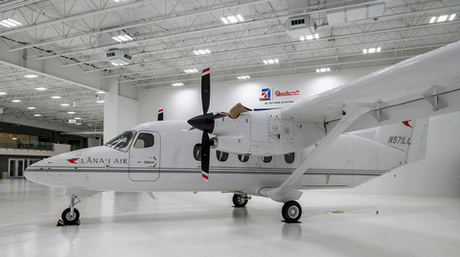 Certification and deliveries of the SkyCourier commenced in early 2022. The aircraft is a clean-sheet, custom design that brings modern solutions and unmatched value proposition to the segment.
"We're thankful for our talented team who brought the Cessna SkyCourier to life, and for customers like Lana'i Air, who see the value in this incredible aircraft," O'Bannion said.
Designed with serviceability at the forefront, the SkyCourier features simple systems and easy access points throughout the aircraft for easy maintenance. The team also developed innovative ways to optionally convert the aircraft from a 19-seat passenger configuration to cargo configuration using patent-pending quick release seats and removable bulkheads.
The Cessna SkyCourier twin-engine, high-wing turboprop offers a combination of performance and lower operating costs for air freight, commuter and special mission operators. It's available in both freighter and passenger versions. The 19-passenger variant includes crew and passenger doors for smooth boarding, as well as large cabin windows for natural light and views. Both configurations offer single-point pressure refuelling to enable faster turnarounds.

EAA AIRVENTURE OSHKOSH 2023 WARBIRDS IN REVIEW SCHEDULE

Warbirds in Review, an unparalleled presentation series during EAA AirVenture Oshkosh that brings together historic aircraft with pilots and aircraft owners, returns in 2023 with guests that encompass 80 years of aviation and military history. The 70th edition of the Experimental Aircraft Association's fly-in convention is July 24-30 at Wittman Regional Airport in Oshkosh.

The twice-daily series of "up close and personal" stories will be held July 24-29 at the Warbirds in Review aircraft ramp, located within the EAA Warbirds of America area on the AirVenture grounds. The series is open to all attending AirVenture.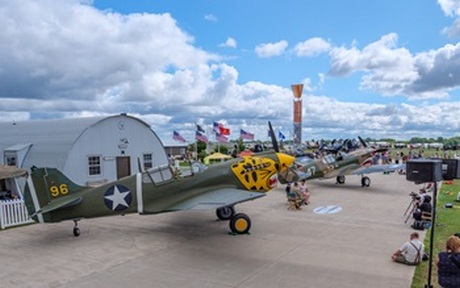 "Warbirds in Review features veterans, aviation legends, and aircraft that simply cannot be seen together in one place anywhere else in the world," said Connie Bowlin, past president of the EAA Warbirds of America, who organizes the series. "Many of these veterans maintain that they were just doing their jobs and nothing heroic or extraordinary, but that could not be farther from the truth. Their stories and unique perspectives on the aircraft showcased at Oshkosh are insightful, poignant, and important for the public to hear."

The aircraft and personalities at Warbirds in Review this year include four World War II veterans, two from the Korean War, five from the Vietnam War, and one from military actions in Afghanistan. The schedule as of May 1, 2023 (subject to change without notice):
Monday, July 24
10 a.m.: Piper L-4 Grasshopper Rosie the Rocketer with Rob Collings, Joe Scheil, Carol Carpenter Apacki, and Jim Busha
1 p.m.: Walt Ohlrich's North American SNJ-N502, with John "Pappy" Mazza
Tuesday, July 25
10 a.m.: McDonnell Douglas F/A-18 Hornet and Naval Aircraft Factory N3N, with Tammie Jo Shults
1 p.m.: North American P-51B and P-51D Old Crow Mustangs, with Brig. Gen. C.E. "Bud" Anderson
Wednesday, July 26
10 a.m.: Stinson L-5 Sentinel Miss Beverly, with Steve Seal and Chad Hill.
1 p.m.: North American P-51C Thunderbird and Republic P-47D-23R, with Warren Pietsch and Bruce Eames
Thursday, July 27
10 a.m.: Vought F4U-7 Corsair and the Devotion story, with Adam Makos, Lt. JG Sam Clauzel, and Col. Joe McPhail
1 p.m.: Cessna L-19 Bird Dogs and North American T-28 Trojan, with Capt. Phil Phillips and Jim Hogdon
Friday, July 28
10 a.m.: Mikoyan-Gurevich MiG-21 and Douglas A-4B Skyhawk, with Cmdr. Randy "Duke" Cunningham and Cmdr. William "Willy Irish" Driscoll
12:45 p.m.: Bell Huey N14SD, Hughes TH-55, and Bell H-13, with Maj. Gen. Patrick Brady (followed by veteran's salute and veterans flightline parade to Boeing Plaza, sponsored by American Airlines)
Saturday, July 28
10 a.m.: North American B-25 with Maj. John "Lucky" Luckadoo, Staff Sgt. Robert Holmstrom, and Lt. Carl Verbanac
1 p.m.: North American P-51C Tuskegee Airmen red tail Mustang, with Lt. Col. George Hardy, Lt. Col. James Harvey, and Brig, Gen. Enoch O. Woodhouse, II

DEMAND FOR BELL 407GXI REMAINS ROBUST IN AUSTRALIA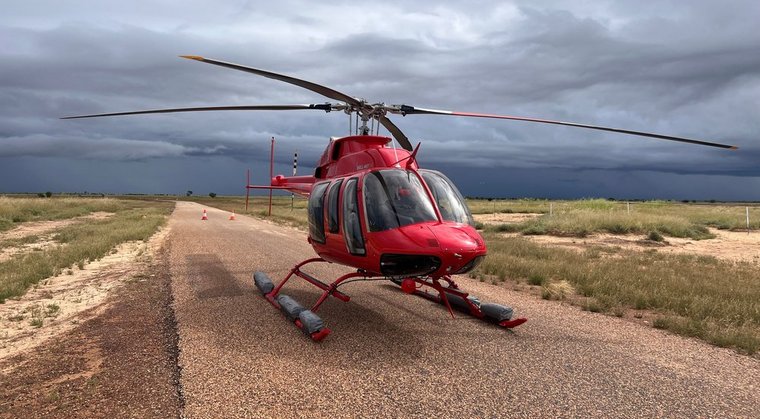 Bell Textron Inc. has announced the delivery of seven Bell 407GXi helicopters to Australian customers across various segments in the last 12 months.

Of the seven Bell 407 GXi helicopters, five were delivered to Nautilus Aviation for tourism and utility flights, with the remaining two delivered to a leading Australian utility company and a corporate customer respectively. There are now more than 20 Bell 407 helicopters operating in Australia.
Bell proves its mature production and sustainment support capability with more than 1,600 Bell 407s globally, logging 6 million flight hours across the fleet and actively performing flight training as well as military, tourism and para-public missions. The 407GXi's Garmin G1000H™ NXi Flight Deck enhances situational awareness and reduces pilot workload by delivering easy-to-read information.
Recently, the Bell 407GXi 3-axis autopilot received certification from the United Kingdom's Civil Aviation Authority, which allows for decreased pilot workload and assistance in the event of inadvertent Instrument Meteorological Conditions, thereby increasing pilot comfort and ease over long distances.

KAWASAKI BECOMES A STRATEGIC INVESTOR IN THE FRAMEWORK OF SERIES B FUNDING FOR THE CASSIO ELECTRIC-HYBRID AIRCRAFT FAMILY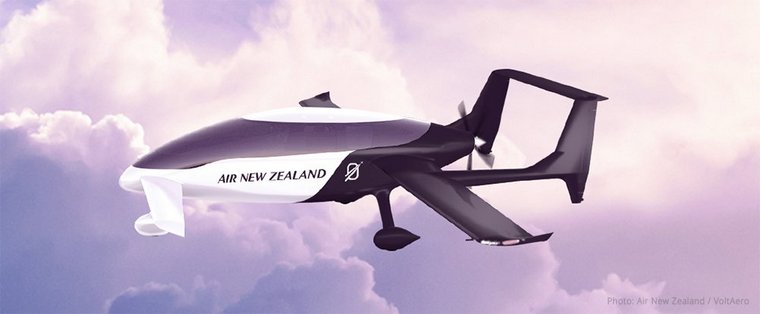 Kawasaki Motors Ltd. has become a strategic investor in VoltAero, joining Series B funding for the development, production and certification of VoltAero's Cassio electric-hybrid aircraft family.

This investment - which was announced prior to the opening of the EBACE European Business Aviation Convention & Exhibition in Geneva, Switzerland - marks the Cassio program's latest milestone, uniting VoltAero and Kawasaki in a shared vision for the future of electric aviation.
"Kawasaki's engine expertise and its capacity for innovation brings a new dimension to VoltAero as we complete the final definition of our electric-hybrid powertrain for the Cassio aircraft family," said Jean Botti, VoltAero's CEO & Chief Technology Officer. "Having Kawasaki as a strategic investor is another major vote of confidence for the Cassio program."
Hiroshi Ito, President and CEO of Kawasaki Motors Ltd., added: "We were deeply impressed by VoltAero's creative design and innovative technology in the aviation industry, as well as its strong sense of mission to help realize a carbon-neutral society, and decided to invest in VoltAero. We are delighted to contribute to VoltAero's business growth through this investment."
The Series B round marks the third funding phase for VoltAero, positioning it for the industrialization of its Cassio 330 - the first in Cassio's electric-hybrid aircraft family.
VoltAero's airframe design for the Cassio series of airplanes is based on a sleek, aerodynamically-optimized fuselage, a forward fixed canard, and an aft-set wing with twin booms that support a high-set horizontal tail.
By integrating VoltAero's patented electric-hybrid propulsion system into the company's purpose-designed airframe, the Cassio aircraft family will deliver an order of magnitude higher performance as compared to the current competition, and provide significantly lower operational costs.
The VoltAero propulsion concept is unique: Cassio aircraft will utilize electric motors in the aft fuselage-mounted propulsion system for all-electric power during taxi, takeoff, primary flight (if the distance traveled is less than 150 km.), and landing. The hybrid feature - with an internal combustion engine - comes into play as a range extender, recharging the batteries while in flight. Additionally, this hybrid element serves as a backup in the event of a problem with the electric propulsion, ensuring true fail-safe functionality.
Production Cassio airplanes will be built in three versions, each sharing a high degree of modularity and commonality. The family will provide a highly capable and reliable product line for regional commercial operators, air taxi/charter companies, private owners, as well as in utility-category service for cargo, postal delivery and medical evacuation (Medevac) applications.
First to enter service is the Cassio 330, with five seats and powered by the 330-kilowatt electric-hybrid propulsion system. VoltAero's follow-on six-seat Cassio 480 will have an electric-hybrid propulsion power of 480 kilowatts, while the Cassio 600 is sized at a 12-seat capacity with electric-hybrid propulsion power of 600 kilowatts.

TEXTRON AVIATION CELEBRATES ITS 100TH FLAGSHIP CESSNA CITATION LONGITUDE PRODUCTION UNIT

Textron Aviation today announced that the 100th production unit of the company's flagship Cessna Citation Longitude business jet rolled out of the factory and is expected to deliver later this year.

The Cessna Citation Longitude super-midsize business jet is designed, produced and delivered by Textron Aviation Inc., a Textron Inc. (NYSE:TXT) company.
Textron Aviation employees celebrated this significant milestone with a special celebration at Textron Aviation's headquarters in Wichita.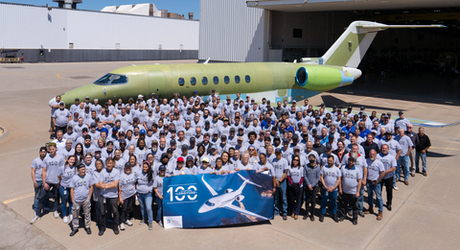 "The Citation Longitude has redefined its category with class-leading performance, efficiency and an unrivalled cabin experience," said Ron Draper, president and CEO, Textron Aviation. "A milestone like this wouldn't be possible without the owners and operators who love to fly our aircraft, or the extraordinary workforce that designs, builds and maintains this legendary aircraft."
The Citation Longitude incorporates the latest technologies throughout the aircraft like integrated autopilot and autothrottle systems with emergency descent mode (EDM). The aircraft is equally designed around the pilot experience, passenger comfort and overall performance, delivering an aircraft that lives up to its designation as the flagship of the Citation family of business jets. No other super-midsize business jet offers more range, greater payload or higher cruise speed at a lower direct operating cost.
The Citation Longitude gained FAA certification in September 2019 and Textron Aviation began customer deliveries soon after.
About the Cessna Citation Longitude
With a range of 6,482 kilometres (3,500 nautical miles) and full fuel payload of 726 kilograms (1,600 pounds), the Citation Longitude is designed to elevate passenger expectations in the super-midsize class by delivering the quietest cabin, a low cabin altitude (1,509 meters / 4,950 feet) more standard features and a comfortable, bespoke interior. With seating for up to 12 passengers, including an optional crew jump seat, the Longitude features a stand-up, 6-foot tall flat-floor cabin. A standard double-club configuration delivers the most legroom in the super-midsize class. Fully berthable seats are designed and manufactured in-house, and a spacious walk-in baggage compartment is accessible throughout the flight. State-of-the-art cabin technology enables passengers to manage their environment and entertainment from a mobile device. The spacious cockpit incorporates easier access and an ergonomic design that fully focuses on crew comfort and efficiency.
The clean-sheet design of the Longitude integrates the latest technology throughout the aircraft, bringing customers the lowest direct operating cost in its class. Powered by FADEC-equipped Honeywell HTF7700L turbofan engines the Longitude combines on-condition engine overhaul periods to best-in-class airframe intervals of 18 months / 800 hours, whichever occurs first. Textron Aviation's full time diagnostics recording system (AReS) and 3D Technical Publications combine advanced technology to reduce maintenance downtime and overall costs to operation.




USA - LOSS OF CONTROL WHILE MANOEUVRING PILATUS PC-12/45
?On March 22, 2009, a Pilatus PC-12/45, N128CM, crashed near the approach end of runway 33 at Bert Mooney Airport (BTM), Butte, Montana. The airplane was owned and operated by Eagle Cap Leasing of Enterprise, Oregon, as a personal flight under the provisions of 14 Code of Federal Regulations Part 91. All 14 people on board the airplane were killed in the accident. There were no ground injuries. The flight departed Oroville Municipal Airport, Oroville, California ?on an instrument flight rules flight plan and was destined for Gallatin Field, Bozeman, Montana. The airplane was diverting to Butte a?t the time of the accident. Visual meteorological conditions prevailed at the time of the accident.
What We Found
The probable cause of this accident was (1) the pilot's failure to ensure that a fuel system icing inhibitor was added to the fuel before the flights on the day of the accident; (2) his failure to take appropriate remedial actions after a low fuel pressure state (resulting from icing within the fuel system) and a lateral fuel imbalance developed, including diverting to a suitable airport before the fuel imbalance became extreme; and (3) a loss of control while the pilot was maneuvering the left-wing-heavy airplane near the approach end of the runway.
The safety issues discussed in this report address fuel system limitations, requirements for fuel filler placards, and guidance on fuel system icing prevention.?
What We Recommended
??? Safety recommendations concerning these issues are addressed to the Federal Aviation Administration (FAA) and the European Aviation Safety Agency. Previous safety recommendations concerning crash protection for airplane occupants and flight recorder systems were addressed to the FAA.



Libya: A Mil Mi-8 belonging to the Libyan National Army (LNA) crashed in South East Libya. All occupants made it out safely.
Tunisia, near Tozeur-Nefta Airport: A Flight Design CTSW (67BQF) and a gyroplane, collided in mid-air near Chott El Jerid, Tunisia. The Flight Design CTSW overturned during an apparent forced landing following the collision. Both occupants were injured. The other aircraft crashed and burned. Both French occupants were killed. Both aircraft were participating in the 34th Rassemblement Aérien International de Tunisie (RAIT) rally.

USA, South Valley Regional Airport, Salt Lake City, UT: A Piper PA-28-181 Archer III sustained substantial damage subsequent to the forced landing to soccer field terrain following an inflight loss of engine power shortly after take-off from South Valley Regional Airport (U42), Salt Lake City, Utah. There were no reported injuries.
Germany, Wetzlar, Hessen: An Eiri-Avion PIK-20D struck a house and crashed onto a road and striking a car in Wetzlar, Hessen. The pilot was killed and the glider was destroyed. A woman in the car sustained minor injuries.

Lithuania, Kuciai, Panevežys: An AutoGyro MTOsport gyroplane, registration LY-MTQ, was destroyed when it impacted trees and terrain in Kuciai, Panevežys, while performing a demonstration flight during a wedding ceremony at "Bistrampolis" Manor. The aerobatic pilot sustained fatal injuries.
Germany, Hildesheim Airfield: A Supermarine Spitfire FR Mk XVIIIe vintage aircraft, sustained substantial damage when it was involved in a landing accident at Hildesheim Airport (EDVM), Germany. The pilot was slightly injured.




LIEUTENANT JAMES DOOLITTLE IS THE FIRST PERSON TO DO AN OUTSIDE LOOP IN AN ARMY RACER.


Born on 14 December 1896 James Harold was an American military general and aviation pioneer who received the Medal of Honour for his daring raid on Japan during World War II. He also made early coast-to-coast flights, record-breaking speed flights, won many flying races, and helped develop and flight-test instrument flying.
Doolittle studied as an undergraduate at University of California, Berkeley, graduating with a Bachelor of Arts in 1922. He also earned a doctorate in aeronautics from the Massachusetts Institute of Technology in 1925, the first issued in the United States. In 1929, he pioneered the use of "blind flying", where a pilot relies on flight instruments alone, which later won him the Harmon Trophy and made all-weather airline operations practical.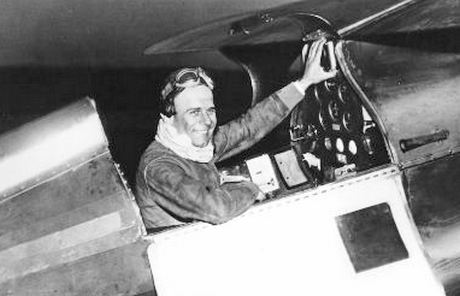 Doolittle was one of the most famous pilots during the inter-war period. On 4 September 1922, he made the first of many pioneering flights, flying a de Havilland DH-4 - which was equipped with early navigational instruments - in the first cross-country flight, from Pablo Beach (now Jacksonville Beach), Florida, to Rockwell Field, San Diego, California, in 21 hours and 19 minutes, making only one refuelling stop at Kelly Field. The U.S. Army awarded him the Distinguished Flying Cross.
Following graduation, Doolittle attended special training in high-speed seaplanes at Naval Air Station Anacostia in Washington, D.C. He also served with the Naval Test Board at Mitchel Field, Long Island, New York, and was a familiar figure in air speed record attempts in the New York area. He won the Schneider Cup race in a Curtiss R3C in 1925 with an average speed of 232 mph. For that feat, Doolittle was awarded the Mackay Trophy in 1926.
In April 1926, Doolittle was given a leave of absence to go to South America to perform demonstration flights for Curtiss Aircraft. In Chile, he broke both ankles while demonstrating his acrobatic abilities in an incident that was known as Night of the Pisco Sours. Despite having both ankles in casts, Doolittle put his Curtiss P-1 Hawk through aerial manoeuvres that outdid the competition. He returned to the United States, and was confined to Walter Reed Army Hospital for his injuries until April 1927. He was then assigned to McCook Field for experimental work, with additional duty as an instructor pilot to the 385th Bomb Squadron of the Air Corps Reserve. During this time, in 1927 he was the first to perform an outside loop, previously thought to be a fatal manoeuvre. Carried out in a Curtiss fighter at Wright Field in Ohio, Doolittle executed the dive from 10,000 feet, reached 280 mph, bottomed out upside down, then climbed and completed the loop.
James H. "Jimmy" Doolittle died from a stroke at the age of 96 in Pebble Beach, California, on 27 September 1993 and is buried at Arlington National Cemetery in Virginia, near Washington, D.C.


Harvard A2A Shoot


Google Banner Ad