Compiled by Willie Bodenstein



Google Banner Ad



THIS WEEK IN MIDWEEK UPDATE

Pipistrel expands presence in Africa with appointment of Absolute Aviation.
Historic homebuilt aircraft anniversaries part of EAA AirVenture Oshkosh 2023 activities
RIEGL expands test aircraft fleet with a new DA62 SurveyStar.
Air Corporate of Italy orders 43 Airbus helicopters at EBACE 2023.
Eve completes development of its urban air traffic management prototype.
PACAF RQ-4 Global Hawks arrive at Yokota Air Base.
Bombardier Challenger 3500 Business jet makes European debut at EBACE 2023.
Blade to bring urban air mobility to Newport, Jersey City.
Worldwide incidents and accidents - USA, aviation accident at the Reno Air Race.
This week in History - Captain (later colonel) Charles Chandler of the U. S. Army Signal Corps test fires a Lewis gun fitted to a Wright Model B biplane.
Bonus Video - Cvetkovic CA61 Mini Ace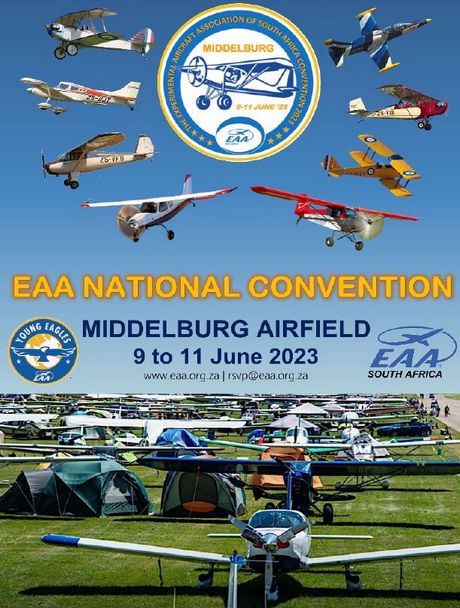 10
EAA Young Eagles Day & EAA International Young Eagles Day. Middelburg Airfield. Contact Neil Bowden E-mail: airadventuresa@gmail.com

9 to 11
EAA Convention. Middelburg Airfield. Rsvp@eaa.org.za

9 to 11
The Sling Winter Weekend Away Midlands Meander. Regret Sling Aircraft Only. Bookings close 23 May. Contact Shanelle Visagie Shanelle@Slingaircraft.com

10
CANCELLED
Newcastle Airshow. Contact Johan Pieters E-mail: johan@champ.co.za

11
Brakpan Aero Club Cobra Club and fly-in. Contact Clarissa E-mail: Clarissa@airborneaviation.co.za Cell: 074 113 2911

15
Virginia Airport Air Show, Durban. Brendan Horan E-mail: brendan@creativespacemedia.co.za

16
SAC Fundraiser event venue TBA. Contact Annie Boon E-mail: info@anniesaviationcorner.com

17
Maputo International Airshow on the waterfront. Contact Gavin Neil E-mail: gavin@haps.co.mz Cell: +258 84 391 7408

30 June to 2 July
EAA Taildraggers at Warmbaths airfield (Bela Bela). Contact Richard Nicholson E-mail: ichard.nicholson1963@gmail .com







1
EAA Chapter 322 monthly gathering, boot sale and fly market 07h30 EAA Auditorium. For more info contact Neil Bowden E-mail: airadventuresa@gmail.com

1 & 2
SAPFA Speed Rally No.2 Warmbaths airfield. For more info contact David le Roux E-mail: david@pilotinsure.co.za Cell: 073 338 5200

6 - 8
AERO South Africa at Wonderboom National Airport. Go to www.aerosouthafrica.com

14 & 15
SAC KZN Regionals Ladysmith airfield. Contact Annie Boon E-mail: info@anniesaviationcorner.com

15
EAA Silver Creek camp over and pancake breakfast. For more info contact Neil Bowden E-mail: airadventuresa@gmail.com

24 - 30
EAA AirVenture Oshkosh, Wisconsin, USA. SA your group and camp at the field. Contact Neil Bowden at E-mail: airadventuresa@gmail.com

29 & 30
Soutpansberg Airshow & SAPFA Speed Rally Louis Trichardt FALO For Airshow Contact Jaco 082 353 6002 or Bianca 084 297 7274 E-mail: spbvliegklub@gmail.com SAPFA Speed Rally No.3 - Louis Trichardt Contact David le Roux E-mail: david@pilotinsure.co.za Cell: 073 338 5200

29 Jul to 5 Aug
FAI Rally Flying World Championships - M'con, France. Contact Leon Bouttell E-mail: Leon@lbaa.co.za Cell: 076 294 1363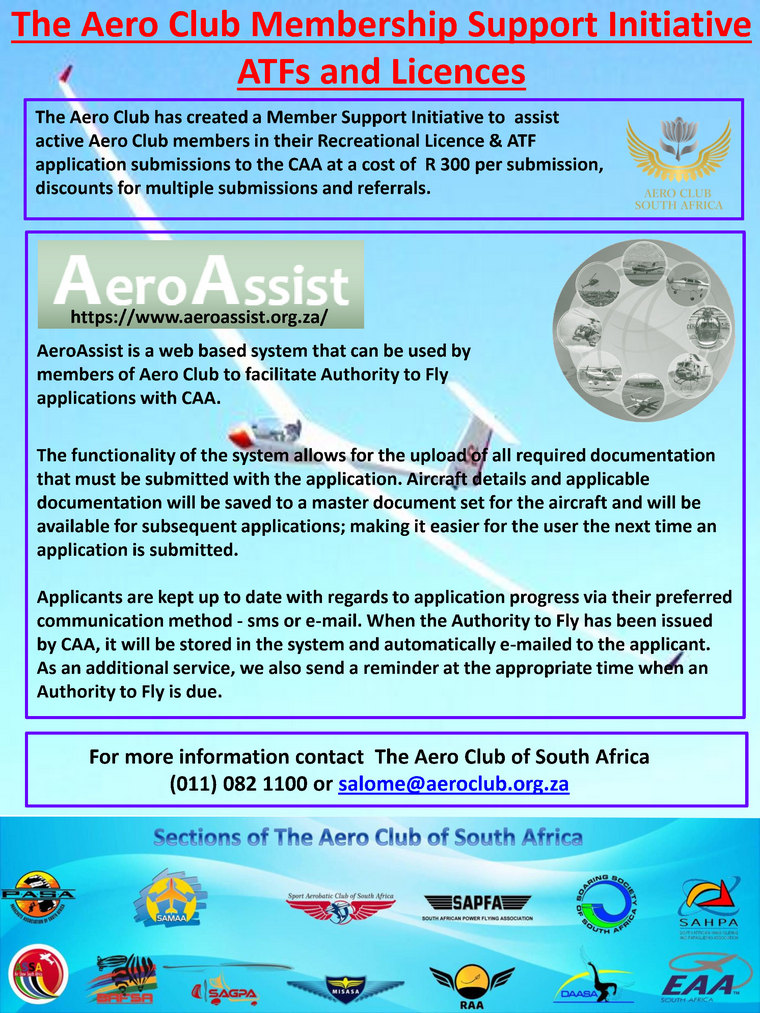 AERO CLUB COMMUNIQUE JUNE 2023 #1





AERO SOUTH AFRICA

The AERO General & Recreational Aviation exhibition takes place within the next month at Wonderboom airport 6 - 8 July 2023, and follows the successful format established since 2019, also based on the European AERO Friedrichshafen Exhibition.


Join us and register your attendance. The Aero Club will also be participating as well as some of our Recreational Aviation Sections with whom you can engage to find out more on their specific discipline. It is a great opportunity to see at one venue all the general aviation organisations as well as occasion to network. To register, scan the QR code below or click the link here https://qrco.de/bdunLm
On Saturday the 8th July will also encompass a Fly-in for those wishing to visit the event by air, details will follow on registration and information. Flying in to visit on the weekday show days are also available.
If you are not a member and wish to join the Aero Club and any of its Sections feel free to do so at www.aeroclub.org.za

Our Centenary Yearbook is now still available to purchase (see advert below) from our webshop www.aeroclub.org.za/shop




PIPISTREL EXPANDS PRESENCE IN AFRICA WITH APPOINTMENT OF ABSOLUTE AVIATION

Pipistrel, a Textron Inc. (NYSE: TXT) company, is bolstering its African sales network with the appointment of Absolute Aviation, headquartered at Lanseria International airport in South Africa, as its distributor to 11 countries across southern and central Africa.


Already a longstanding channel partner of Textron Aviation as an authorized sales, service and parts representative for Cessna and Beechcraft in southern and central Africa, Absolute Aviation will take on responsibility for sales, service support and training for Pipistrel's ultralight, light sport and type certified aircraft, which include the Alpha Trainer, Velis Electro, Explorer and Panthera. Absolute Aviation will also showcase demonstration aircraft across the region to promote Pipistrel's offerings.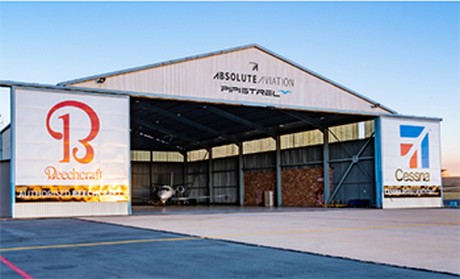 Absolute Aviation will serve Angola, Botswana, the Democratic Republic of Congo, Lesotho, Malawi, Mozambique, Namibia, South Africa, Swaziland, Zambia and Zimbabwe.
"We're fully committed to building our network of distributors so that we can precisely meet the needs of our customers across Africa," says Steve Mckenna, director of Sales and Marketing, Pipistrel. "As an established Textron Aviation channel partner, Absolute Aviation's customer-centric approach is well known to us and we're looking forward to extending this collaboration to showcase Pipistrel."
"Extending our relationship with Textron to include Pipistrel underlines the trust we have developed and the success we have delivered," adds Neil Howard, CEO, Absolute Aviation. "We are committed to building on this track record for Pipistrel in the fast-growing African market."

HISTORIC HOMEBUILT AIRCRAFT ANNIVERSARIES PART OF EAA AIRVENTURE OSHKOSH 2023 ACTIVITIES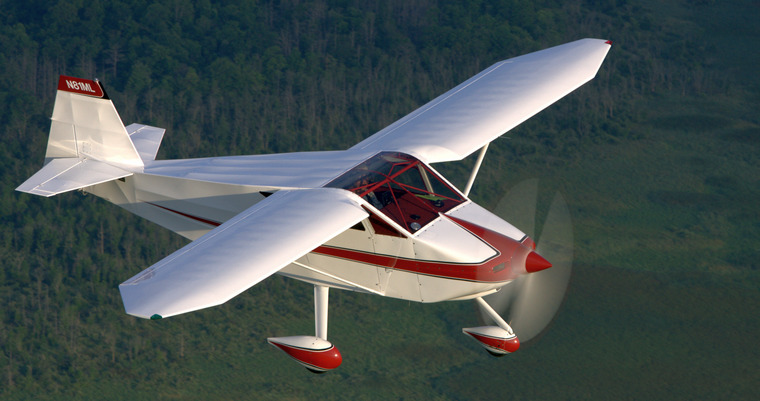 A number of iconic homebuilt aircraft designs will be celebrating notable anniversaries this year at EAA AirVenture Oshkosh, which annually brings together the world's largest gathering of amateur-built aircraft. The 70th edition of EAA's fly-in convention is July 24-30 at Wittman Regional Airport in Oshkosh, Wisconsin.


"Homebuilding has been at the core of EAA since the first meeting in Milwaukee in 1953 with homebuilt aircraft continuing to represent a substantial percentage of the 10,000-plus aircraft that fly into AirVenture every year," said Charlie Becker, EAA's homebuilt community manager. "As we celebrate our organization's 70 years, several popular designs are celebrating their own anniversaries, and we invite all owners of those aircraft to come to Oshkosh to help commemorate the occasion."

Anniversary aircraft owners are encouraged to pre-register so they can receive updates on special events, parking, and other activities connected to their airplane type. Among the aircraft designs reaching important anniversaries in 2023 are:
Midget Mustang 75th anniversary - Single-seat aerobatic sport airplane designed by David Long
Wittman Tailwind 70th anniversary - A two-seat, high-wing monoplane designed by legendary designer and racer Steve Wittman
Thorp T-18 60th anniversary - All-metal fully bubble canopied aircraft, well-known for being the first homebuilt aircraft to successfully circumnavigate the world
Hiperbipe 50th anniversary - A two-seat aerobatic biplane designed by Sorrell Aviation
Sonex 25th anniversary - A kit manufacturer based in Oshkosh, Wisconsin, and founded by EAA Homebuilders Hall of Fame member John Monnett
Van's RV-10 20th anniversary - A four-seat, low-wing plane designed by Dick VanGrunsven, part of the world's most popular series of homebuilt aircraft



RIEGL EXPANDS TEST AIRCRAFT FLEET WITH A NEW DA62 SURVEYSTAR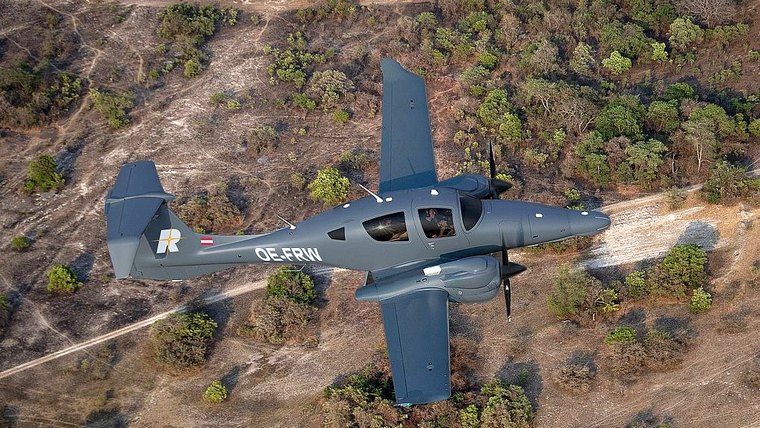 RIEGL Laser Measurement Systems GmbH, a global leader in development and production of laser scanners and systems for applications in surveying, and in cooperation with Diamond Aircraft Austria since day one of their Special Mission Aircraft business, acquires a new test and calibration aircraft, a DA62 SurveyStar.


After successfully operating one of the very first DA42 GeoStar aircraft for nearly 15 years, RIEGL is becoming the first Austrian operator of its ground-breaking successor, the DA62 SurveyStar.
Due to the close cooperation between RIEGL and Diamond Aircraft, the complete line of RIEGL's high-end airborne laser scanners and systems can already be fitted on the new test aircraft for trials.
Markus Fischer, Director Diamond Aircraft Special Mission Aircraft, said: "Beside so many already sold and delivered DA62 SurveyStar's, this one is my absolute top favourite as I have been knowing Dr. Riegl since I joined Diamond Aircraft in 2006. It has always been an absolute honour and pleasure to work with everyone at RIEGL Laser Measurement Systems over the last 15 years. To have the world's most modern and state-of-art airborne scanner manufacturer as a partner and customer is an outstanding privilege. Looking forward to deliver this unit personally to Dr. Riegl and his team."
Dr. Johannes Riegl, CEO and enthusiastic pilot himself, commented: "After many years of successfully using our Diamond DA42 MPP for test flights, the increased development and production expansion of our range of high-end airborne laser scanners means that it is now also appropriate to expand and modernize our aircraft fleet. The DA62 SurveyStar is exactly the right device to continue to be at the cutting edge of technology also in the field of aviation for many years to come. Not to mention, that I also personally look forward with enthusiasm to pilot this beautiful bird myself in the future."



AIR CORPORATE OF ITALY ORDERS 43 AIRBUS HELICOPTERS AT EBACE 2023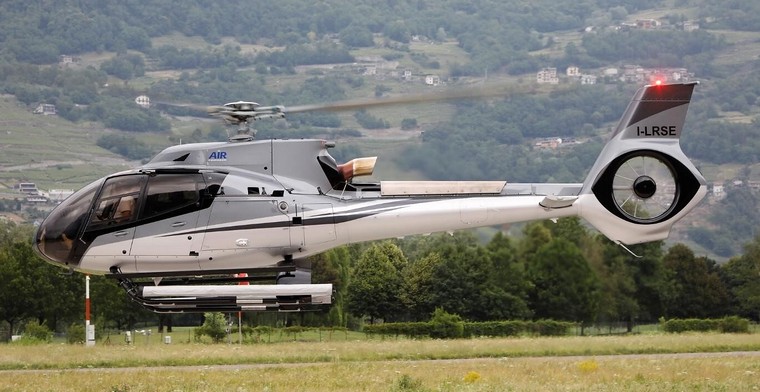 Leading Italian business aviation operator Air Corporate has placed a firm order for 43 helicopters from Airbus on the concluding day of EBACE 2023. The helicopters include 40 single-engine helicopters (H125/H130) plus three ACH160s from Airbus Corporate Helicopters in Line configuration with the Lounge package to add to two ACH160s already on order.

The contract is the largest commercial helicopter order booked by Airbus in Italy and will see the helicopters delivered over the coming years for a range of private and business passenger services as well as utility operations.
The Air Corporate board said in a statement: "We are experiencing a growing demand for the innovative ACH160 in the Italian market. The ACH160 is a beautiful, safe and comfortable helicopter and the Line configuration with Lounge package configuration guarantees elegance and, at the same time, excellent performance".
"Equally the H125 remains the helicopter of reference for aerial work missions in Italy due to its unrivalled performance. The H130 is also enjoying great success in our country for tourist flights and passenger transport".
Airbus Helicopters Head of Europe Region Thomas Hein said: "I would like to thank Air Corporate for its continued trust in our products. This order is the result of the years we invested in building and maintaining a strong business relationship with Air Corporate. I am proud of the success of Air Corporate in further expanding its fleet and the private business aviation sector in Italy".
The latest announcement expands on 28 additional orders from Verona-based Air Corporate in recent years as part of an ongoing fleet expansion. In the past two years alone, Air Corporate has taken delivery of 17 Airbus helicopters, including the first of two twin-engine H135s.
Airbus helicopters have been flying in Italy for 50 years and the company is a key player in the Italian helicopter market with 90 customers and a fleet of more than 240 helicopters in service.

EVE COMPLETES DEVELOPMENT OF ITS URBAN AIR TRAFFIC MANAGEMENT PROTOTYPE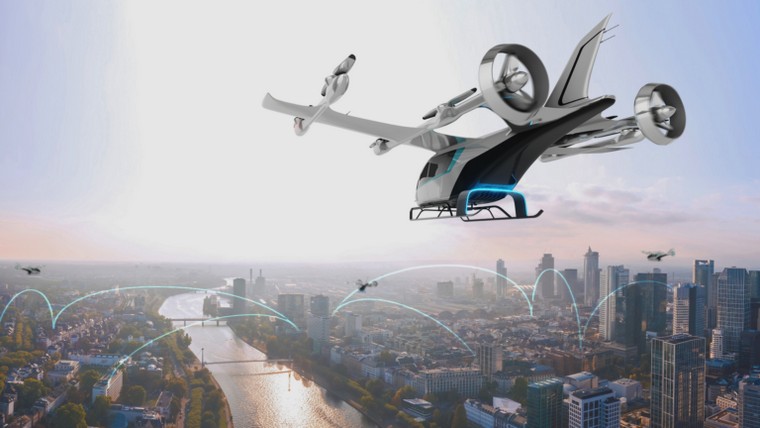 Eve Air Mobility ("Eve") (NYSE: EVEX; EVEXW) announced today the completion of its Urban Air Traffic Management (Urban ATM) prototype. The prototype focuses on concepts and services essential to supporting the introduction and scalability of Urban Air Mobility (UAM) operations. Eve is now initiating the commercial product development of Urban ATM solutions to ensure UAM's airspace integration is successful.

The Urban ATM prototype was initially tested during Eve's Chicago Simulation Experience last fall to support the validation of foundational Urban ATM concepts and the integration of UAM into the ecosystem. The simulation, which used helicopters as a substitute for eVTOLs, performed tests of Urban ATM technology in combination with simulating ground services, infrastructure and equipment requirements, and vehicle and passenger journeys. The simulation provided essential feedback for Eve to advance the development of its commercial Urban ATM solutions through which customers will be able to enjoy tailored traffic management services that meet their needs and achieve efficient operations and resource optimizations.
"Advanced Air Mobility have the potential to unlock significant new transportation options and economic opportunities for society. Eve recognizes that these developments need to be reviewed for safety and unification with the current airspace ecosystem to avoid potential logistical challenges," said Andre Stein, co-CEO of Eve. "By offering comprehensive solutions, our Urban ATM technology will provide critical traffic management services which will be essential to address these concerns. Eve's Urban ATM will play a key role in enabling the global UAM market to scale and has a customer-centric design to address future operations' pain points."
Eve is engaging with Atech, Embraer's Air Traffic Control technology and system integrator company, to support the development of the Urban ATM software solution. Eve will leverage Atech's experience in developing aviation-grade products from the ATM systems in Brazil. To enable product adoption, Eve is leveraging partnerships with key organizations to share knowledge and multiple strengths that will empower stakeholders. The partnerships established thus far include Halo Aviation, BLADE India, Skyway, Bluenest, Volatus and Ferrovial. Eve has been conducting advisory groups with these partners to ensure that its software development aligns with their needs and will maximize the potential value of Urban ATM to their operations.
The company is also continuing to collaborate with regulators, air navigation service providers, fleet operators, vertiport developers, airports and other UAM ecosystems stakeholders across the Americas, Europe and Asia Pacific to advance concepts and begin developing technology to support the initial operation and scaling of UAM operations from an ATM perspective.

PACAF RQ-4 GLOBAL HAWKS ARRIVE AT YOKOTA AIR BASE



U.S. Pacific Air Forces began positioning RQ-4 Global Hawks at Yokota Air Base, Japan, from Andersen Air Force Base, Guam, May 15 to provide theatre-wide enduring operations in support of maintaining a free and open Indo-Pacific.


The Global Hawk's mission is to provide a broad range of U.S. intelligence, surveillance, and reconnaissance capabilities to support joint forces, and Allies and partners in worldwide peacetime, contingency and crisis operations.
The Global Hawk serves as a high-altitude, long-endurance, remotely piloted and unarmed, aerial reconnaissance system. The aircraft provides persistent, day and night, high-resolution, all-weather imagery of large geographic areas with an array of integrated sensors and cameras.
The Global Hawk also supports humanitarian assistance and disaster relief operations such as during Operation Tomodachi, when the Defence Department mobilized 24,000 service members to assist Japan with disaster relief after a 9.0-magnitude earthquake hit the north-eastern Honshu coast March 11, 2011, resulting in a tsunami that flooded the Fukushima Dai-ichi Nuclear Power Plant.
The Global Hawk has been rotationally operating from Yokota AB since 2017.

BOMBARDIER CHALLENGER 3500 BUSINESS JET MAKES EUROPEAN DEBUT AT EBACE 2023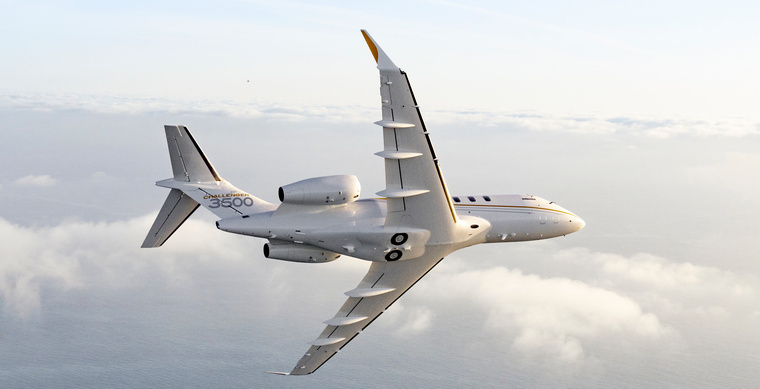 Bombardier will debut the award-winning Challenger 3500 business jet to the European market, as all gather at the 2023 European Business Aviation Convention and Exhibition (EBACE) in Geneva, Switzerland. The Challenger 3500 aircraft, which entered service in September 2022, is showcased in grand style alongside the industry's flagship, the Global 7500 aircraft, and a stunning Certified Pre-Owned Challenger 605 aircraft also making its debut.


The latest evolution in the Challenger lineage is a tangible gateway to Bombardier's eco-design vision. In the cabin, the Challenger 3500 aircraft boasts a high-end product design by proposing a selection of innovative, sustainable materials that minimize the impact on the environment. The Challenger 3500 also joins the Global 5500, Global 6500 and Global 7500 aircraft in standing alone as the only business jets in the industry to carry an Environmental Product Declaration (EPD), offering trustworthy, thorough and transparent views of their environmental footprint.
"European customers will be able to feel for themselves the high quality that is standard for our aircraft - such as in experiencing Bombardier's illustrious Nuage seat - all while finding unique design options that are genuinely more sustainable,'' said Jean-Christopher Gallagher, Executive Vice President, Aircraft Sales & Bombardier Defence, Bombardier. "We are very proud to open the door of the Challenger 3500 aircraft to our European customers for the very first time. This top-of-the-line aircraft demonstrates that exceptional comfort, ultimate performance and lower environmental footprint can go hand in hand.''
The stunning aircraft interior offers a host of new technologies, including the recently announced Iridium Certus connectivity, the industry's first voice-controlled cabin, wireless chargers throughout the cabin, and the only 24-inch, 4K displays in its class. Thanks to its perfectly crafted cabin experience, the Challenger 3500 aircraft has received multiple accolades, including the Best of the Best honour at the prestigious Red Dot Awards for Product Design in 2022.
In the flight deck, the Challenger 3500 aircraft has more baseline features than any of its competitors, with a standard auto-throttle system to further enhance the experience for Challenger pilots. The introduction of the first eco app* solution in business aviation also enables optimized flight plans, which help operators save fuel and reduces the aircraft's environmental footprint.
Beyond its exceptional features, reliability remains the Challenger family's landmark. With over 890 business jets of the Challenger 300 series in service worldwide, totalling more than 3.6 million flight hours and more than 2.1 million landings, this iconic aircraft family is known for its proven reliability and excellent safety record.

BLADE TO BRING URBAN AIR MOBILITY TO NEWPORT, JERSEY CITY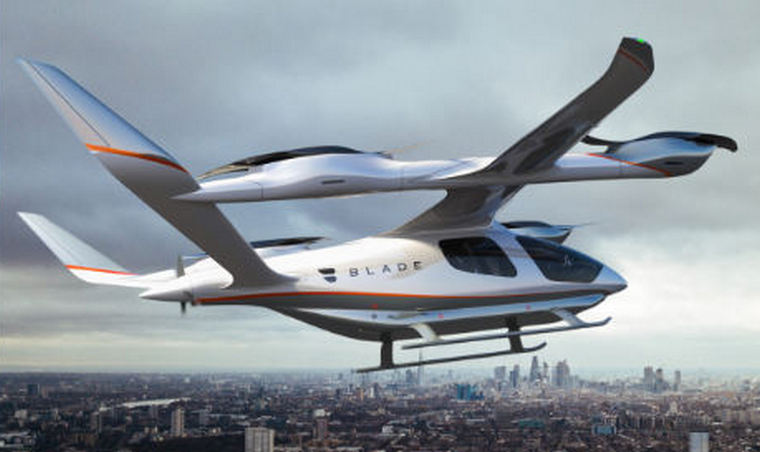 Blade Air Mobility, Inc. (Nasdaq: BLDE, "Blade" or the "Company"), a technology-powered global air mobility platform, today announced that it has entered into an agreement with Newport Helipad LLC ("Newport") to operate and revitalize the Newport Helistop (91NJ) ( "Helistop"), located in Newport, Jersey City, New Jersey, one of the largest and most successful mixed-use communities on the Hudson River waterfront, subject to the execution of definitive documentation.

As part of the agreement, Blade will manage and operate the Helistop on behalf of Newport for both Blade flights and third-party operations. The Helistop is located on the Hudson River waterfront, approximately 3,800 feet from Manhattan.
"All large communities will need an urban air mobility strategy to bolster their attractiveness to corporations and residents alike in an increasingly competitive market," said Nate Alexander, Blade's Senior Director, Rotorcraft Operations. "We are pleased that Newport had the foresight to relight this Helistop and partner with Blade to ensure safe and reliable vertical transportation for all tenants and residents in the community."
This arrangement will create an additional amenity for the businesses and residents of Newport and beyond, as well as Blade's client base. It will demonstrate the proper processes and working relationships required to safely grow urban air mobility in the greater New York City metropolitan area using conventional aircraft today, while preparing for the deployment of Electric Vertical Aircraft ("EVA") in the near future.
Under the agreement, Blade will begin a pilot program for charter flights and explore the viability of the first ever scheduled, by-the-seat service between the Helistop and local New York City area airports and heliports, providing a convenient travel option for commuters, particularly for Newport tenants and employees of major banks and corporations that maintain large office presences around the Helistop. A flight from the Helistop to JFK Airport will take approximately 5 minutes versus up to 2 Ĺ hours by car.
In an effort to mitigate any potential noise impact on the neighboring communities, only helicopter flights for public transportation or emergency services will be permitted at the Helistop. Tourist flights, as well as helicopter operators who violate the New York City Economic Development Corporation's designated noise abatement routing for tourist flights along the New Jersey and New York City Hudson River corridor, will not be allowed to utilize the Helistop.
The agreement will also provide Blade with the opportunity to construct an exclusive-use, Blade-branded terminal at the Helistop to facilitate safe and efficient operations for Blade flights and provide lounge amenities for Blade fliers.
The Helistop will provide urban air mobility connectivity to Newport, a vibrant live-work-play community with over 7,000 residences, including the award-winning and record-breaking Ellipse, which was honoured with the Urban Land Institute's Northern New Jersey Excellence Award for its thoughtful design and contribution to the community. The neighbourhood's eight state-of-the-art office towers provide more than five million square feet of office space to major employers including JP Morgan Chase, Citigroup, Fidelity Investments, L'Oreal, Forbes, and Tory Burch, and more than 25,000 employees.
In addition to its easy access to Manhattan, Newport is sought after for its lifestyle amenities, including the sports and wellness offerings at Newport Swim & Fitness, shopping at Newport Centre Mall and The Newport River Market, Newport Green - a 4.25-acre landscaped park with the only urban beach on the Hudson River, Westin and Courtyard by Marriott hotels, Newport Skates outdoor skating rink, and two onsite schools.


GAMA: 1Q BIZJET DELIVERIES ON PAR WITH 2022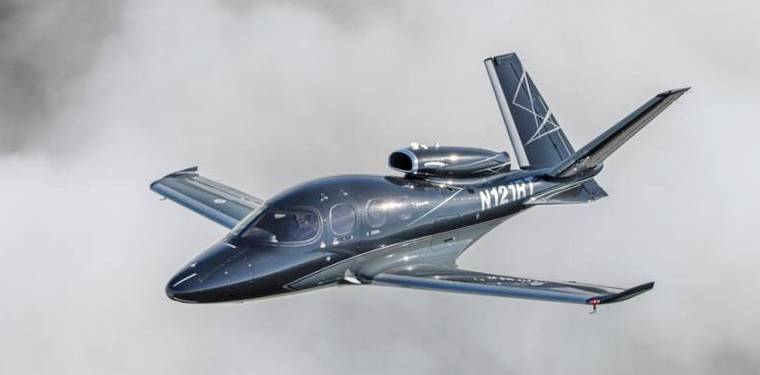 Business jet deliveries remained virtually unchanged in the first quarter of 2023 from the same period last year, while turboprop deliveries increased by more than 6 percent, according to information released today by the General Aviation Manufacturers Association (GAMA).

Manufacturers delivered 117 jets in the first three months of 2023, one fewer than they did a year ago, while the same number represented a seven-unit increase for turboprops. The higher-end pressurized turboprop segment, however, was off by 5 percent, with two fewer deliveries in the first quarter of 2023. Total airplane billings declined by 3.5 percent year-over-year.
The delivery totals for most jet OEMs were equal to their 2022 numbers or slightly lower in the first quarter of 2023, though there were some exceptions, particularly in the very light jet category. Cirrus ramped up the year-over-year deliveries of its single-engine SF50 Vision Jet, handing over seven more of them in the first quarter of this year than in the same period in 2022, while for the first time in five years, Eclipse Aerospace delivered a pair of Eclipse 550s. Pilatus delivered three more PC-24s in the first quarter than it did in the same time last year.
Daher and Piper were the only pressurized turboprop manufacturers to improve on their first-quarter 2022 delivery totals, with the former handing over three more single-engine TBMs in the first three months of this year, and the latter improving upon its M600 total.
For turbine-powered helicopters, the news was more robust, with deliveries in the segment increasing by more than 50 percent, from 100 in the first quarter of 2022 to 153 in the same period this year. Total rotorcraft billings soared by nearly 60 percent to $800 million for the quarter. Airbus Helicopters saw an 88 percent increase in its year-over-year output, more than doubling its H125 production, with deliveries rising from 14 to 30 for the quarter. Leonardo delivered 12 more units than in the 2022 period, nearly tripling the number of AW119Kx aircraft it handed over, while Robinson Helicopter increased its R66 production by 10 over its first-quarter 2022 total of 21.
"The continued health of the general aviation manufacturing industry is encouraging, particularly in light of persistent supply-chain, workforce, and North American regulatory process challenges," said GAMA president and CEO Pete Bunce. "Our manufacturers are focused on meeting this thriving product demand with new aircraft which incorporate advanced technologies that further enhance safety and fuel performance." He noted that the business aviation industry serves as an incubator for sustainability. "This message is being emphasized this week at EBACE in Geneva and will also be a focus at the Paris Airshow as we counter the short sighted, irrational attacks directed upon business aviation in Europe."



USA - AVIATION ACCIDENT AT THE RENO AIR RACE

On 16 September 2011 an experimental, single-seat North American P-51D, N79111, collided with the airport ramp in the spectator box seating area following a loss of control during the National Championship Air Races unlimited class gold race at the Reno/Stead Airport (RST), Reno, Nevada.
The airplane was registered to Aero-Trans Corp (dba Leeward Aeronautical Sales), Ocala, Florida, and operated by the commercial pilot as Race 177, The Galloping Ghost, under the provisions of 14 Code of Federal Regulations Part 91.
The pilot and 10 people on the ground sustained fatal injuries, and at least 64 people on the ground were injured (at least 16 of whom were reported to have sustained serious injuries). The airplane sustained substantial damage, fragmenting upon collision with the ramp.
Visual meteorological conditions prevailed, and no flight plan had been filed for the local air race flight, which departed RTS about 10 minutes before the accident.
The accident airplane was in third place during the third lap of the six-lap race and was traveling about 445 knots when it experienced a left roll upset and high-G pitch up. Subsequently, the airplane entered a right-rolling climb manoeuvre. During these events, the vertical acceleration peaked at 17.3 G, and, a few seconds later, a section of the left elevator trim tab separated in flight.
The characteristics of the airplane's pitch changes during the upset were such that the pilot's time of useful consciousness was likely less than 1 second. As a result, the pilot soon became completely incapacitated, and the airplane's continued climb and helical decent occurred without his control.
The accident airplane had undergone many structural and flight control modifications that were undocumented and for which no flight testing or analysis had been performed to assess their effects on the airplane's structural strength, performance, or flight characteristics.
The investigation determined that some of these modifications had undesirable effects. For example, the use of a single, controllable elevator trim tab (installed on the left elevator) increased the aerodynamic load on the left trim tab (compared to a stock airplane, which has a controllable tab on each elevator). Also, filler material on the elevator trim tabs (both the controllable left tab and the fixed right tab) increased the potential for flutter because in increased the weight of the tabs and moved their center of gravity aft, and modifications to the elevator counterweights and inertia weight made the airplane more sensitive in pitch control. It is likely that, had engineering evaluations and diligent flight testing for the modifications been performed, many of the airplane's undesirable structural and control characteristics could have been identified and corrected.
The investigation determined that the looseness of the elevator trim tab attachment screws (for both the controllable left tab and the fixed right tab) and a fatigue crack in one of the screws caused a decrease in the structural stiffness of the elevator trim system. At racing speeds, the decreased stiffness was sufficient to allow aerodynamic flutter of the elevator trim tabs. Excitation of the flutter resulted in dynamic compressive loads in the left elevator trim tab's link assembly that increased beyond its buckling strength, causing a bending fracture.
The flutter and the failure of the left elevator trim tab's link assembly excited the flutter of the right elevator trim tab, increasing the dynamic compressive loads in the right elevator trim tab's fixed link assembly beyond its buckling strength, causing a bending fracture.
The investigation found that the condition of the trim tab attachment screws' locknut inserts, which showed evidence of age and reuse, rendered them ineffective at providing sufficient clamping pressure on the trim tab attachment screws to keep the hinge surfaces tight.



Germany, Bayreuth-Bindlacher-Berg Airport: A Schleicher ASH 31 Mi crashed while on approach for landing at Bayreuth-Bindlacher-Berg Airport (BYU/EDQD). The pilot was taking part at the German nationals in 18m class and received moderate injuries and the powered glider received substantial damage.
USA, near Cedar Point, AL: The Magni M24 Orion Plus gyroplane sustained substantial damage when it impacted marsh terrain during a low-level flight north of Cedar Point, Alabama. The two occupants were not injured.

USA, York County, Fairview Township, PA: The aircraft sustained substantial damage subsequent to impact with an occupied motor vehicle during a forced landing to major roadway terrain in York County at Fairview Township, Pennsylvania. The two occupants onboard the tailwheel-equipped airplane received unspecified injuries. The occupant onboard the motor vehicle was not injured.

Bahamas, Atlantic Ocean near Andros Island: A Piper PA-32 sustained unreported damage subsequent to ditching to the waters of the Atlantic Ocean north of Andros Island following an inflight loss of engine power. The two crew members and three passengers onboard the single engine airplane was not injured during the incident.

USA, near Kearney, NE: An experimentally built Van's RV-7, N977RV, was destroyed when it impacted wooded terrain about 12 miles southeast of Kearney Regional Airport (EAR/KEAR), Kearney, Nebraska. The sole pilot sustained fatal injuries. Weather may have been a factor as there was heavy rain reported in the area at the time of the accident.

USA, Waterport, NY: An experimental built Earl J Luce Jr Wittman Buttercup airplane crashed under unknown circumstances. The pilot and passenger were fatally injured and the aircraft was destroyed. The aircraft may have suffered an inflight breakup as parts were found scattered in the area.



USA, W of Albertville, Marshall County, AL: An experimental Zenith CH601XLB Zodiac, kit built by John D. Lassiter Jr, crashed under unknown circumstances west of Albertville, Marshall County, Alabama. The sole pilot died and the aircraft was destroyed.
USA, Lake Norman, NC: An experimentally amateur built Progressive Aerodyne SeaRey, N2440S, made a forced landing to the waters of Lake Norman following an inflight loss of engine power, shortly after take-off from Long Island Airpark (NC26), Catawba, North Carolina. The two occupants received minor injuries.




7 JUNE 1912

Captain (later colonel) Charles Chandler of the U. S. Army Signal Corps test fires a Lewis gun fitted to a Wright Model B biplane flown by Lieutenant Thomas Milling in Maryland. It is the first time a machine gun has been fired from an airplane in the U. S.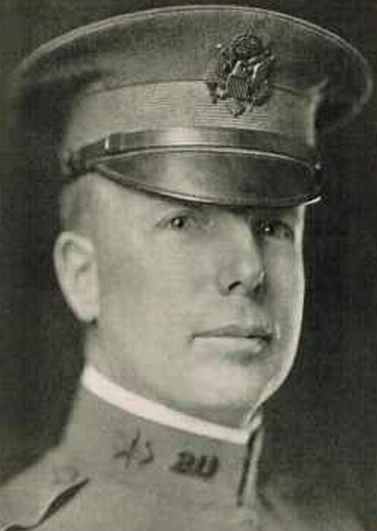 Born on 24 December 1878 Colonel Charles deForest Chandler was an American military aviator, and the first head of the Aeronautical Division, U.S. Signal Corps that later became the United States Air Force. He was one of earliest aviators to show that a machine gun could be fired from an airplane.
Chandler was commissioned as a 1st lieutenant in the Signal Corps during the Spanish-American War. He was discharged in 1899 but was re-commissioned in 1901.
While in the rank of captain, he served as of the Aeronautical Division of the Signal Corps from 1 August 1907, to 13 May 1908, and also from 20 June 1911, to 1 1913.
With the United States entering World War I in April 1917, Chandler quickly rose from captain to temporary colonel in a period of only seven months. He commanded the balloon section of the American Expeditionary Forces during World War I. He was awarded the Distinguished Service Medal for his services during the war.
Chandler reverted to his permanent rank of lieutenant colonel in April 1920 and retired from the army for disability in the line of duty in October of the same year. He was promoted to colonel on the retired list in June 1930.
He died on 18 May 1939, and was buried at Arlington National Cemetery.


Cvetkovics CA61 Mini Ace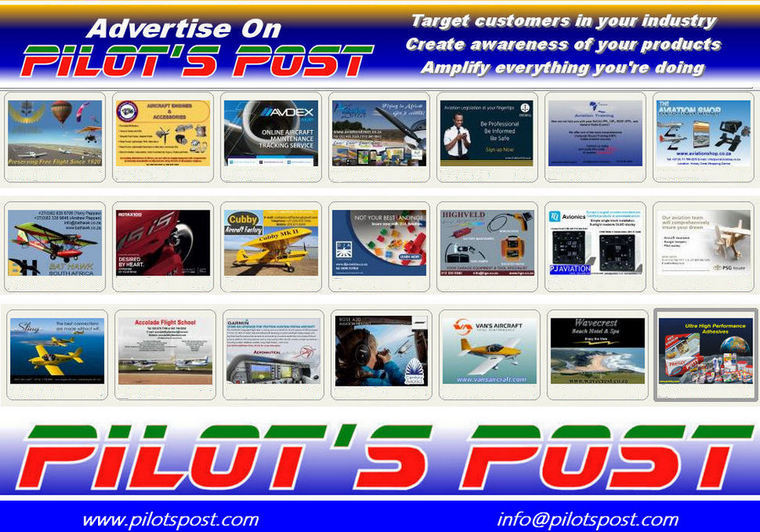 Google Banner Ad