Compiled by Willie Bodenstein



Google Banner Ad



THIS WEEK IN MIDWEEK UPDATE
C-47 racks up 80 years in the SAAF.
SAAF awards wings to new pilots and navigators.
Democratic Republic of Congo emerges as Mwari's next customer.
Benin acquires H125M helicopters.
First five-bladed H145 in Africa ordered by Aerios Global Aviation (AGA)
De Havilland Canada launches the DHC-6 Twin Otter Classic 300-G.
ANCILLARY Project selects teams to develop initial concepts for VTOL X-Plane.
Joby marks production launch, receives permit to fly first aircraft built on production line.
Boeing completes T-7A first flight with U.S. Air Force.
Worldwide incidents and accidents
This week in history Per Lindstrand and Richard Branson lift off their balloon 'Virgin Atlantic' from Sugarloaf Mountain for the First transatlantic flight in a hot air balloon.
Bonus video - Pegasus, no mythological flying stallion.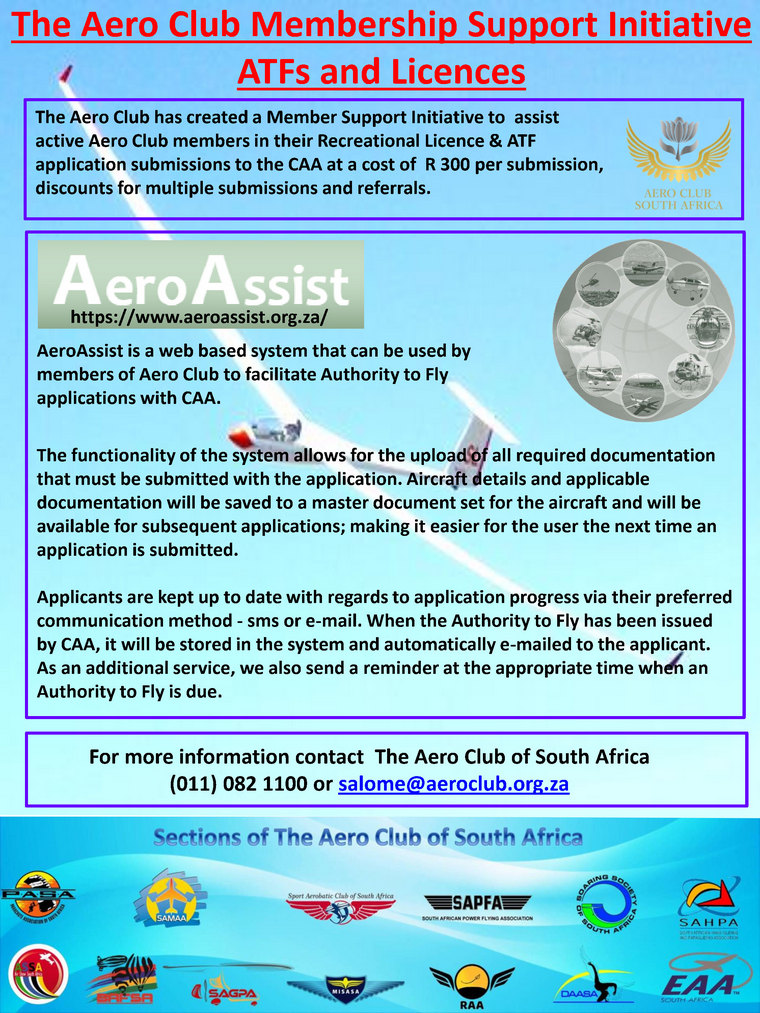 8
Brakpan Aero Club Microlight Fly In. Contact Clarissa 0749537144

6 - 8
AERO South Africa at Wonderboom National Airport. Go to www.aerosouthafrica.com

9
CLASA - 3rd Team Trail & Roston Dugmore Memorial. Barnstormers Model Flying Club

14 & 15
SAC KZN Regionals Ladysmith airfield. Contact Annie Boon E-mail: info@anniesaviationcorner.com

15
EAA Silver Creek camp over and pancake breakfast. For more info contact Neil Bowden E-mail: airadventuresa@gmail.com

24 - 30
EAA AirVenture Oshkosh, Wisconsin, USA. SA your group and camp at the field. Contact Neil Bowden at E-mail: airadventuresa@gmail.com

29 & 30
Soutpansberg Airshow & SAPFA Speed Rally Louis Trichardt FALO For Airshow Contact Jaco 082 353 6002 or Bianca 084 297 7274 E-mail: spbvliegklub@gmail.com SAPFA Speed Rally No.3 - Louis Trichardt Contact David le Roux E-mail: david@pilotinsure.co.za Cell: 073 338 5200

29 Jul to 5 Aug
FAI Rally Flying World Championships - Mâcon, France. Contact Leon Bouttell E-mail: Leon@lbaa.co.za Cell: 076 294 1363







5
EAA Chapter 322 Saturday breakfast fly-in and gathering EAA Auditorium. Contact Neil Bowden at E-mail: airadventuresa@gmail.com

5
Virginia Durban Airshow. Contact Brendan Horan at E-mail: airshow@creativespacemedia.com or on Cell 078 486 6888

19
EAA Chapter 322 breakfast fly-in venue TBA. Contact Neil Bowden at E-mail: airadventuresa@gmail.com for more information

19 & 20
SAC North-West Regionals Klerksdorp airfield. Contact Annie Boon at E-mail: info@anniesaviationcorner.com for more information

19 & 20
SAPFA Speed Rally No4 Groblersdal airfield. For more information contact David le Roux at E-mail: david@pilotinsure.co.za Cell: 073 338 5200

26
Bethlehem Airshow. Contact Khotso Motsoneng at E-mail: motsonengkhotso1@gmail.com Cell: 073 909 5409







C-47 RACKS UP 80 YEARS IN THE SAAF

Kim Helfrich www.defenceweb.co.za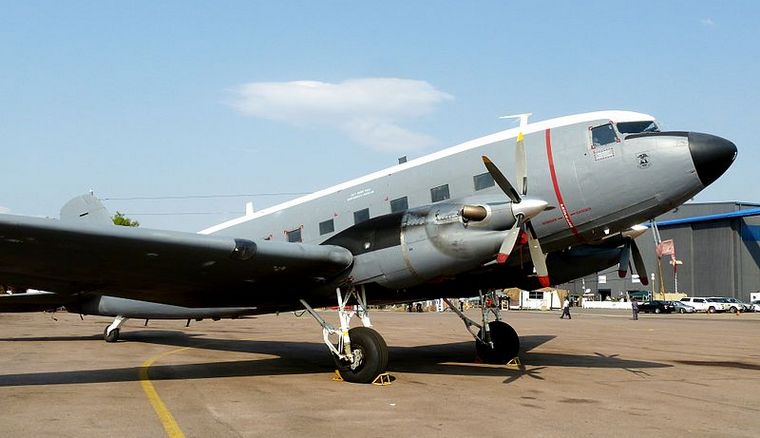 June 2023 marks what should have been a landmark event for the SA Air Force (SAAF). It was on Solstice Day (21 June) in 1943 the SAAF took delivery of its first Douglas C-47 Skytrain, the military designation for the twin-engine DC-3.

That it was not seemingly officially commemorated by those in charge of South Africa's military aviation component of the SA National Defence Force (SANDF) is because none of 35 Squadron's C-47TPs, known far and wide as "turbo Daks", are airworthy. Apart from confirmation by a respected Western Cape military aviation enthusiast, further evidence of the C-47TPs' current status comes from Armscor. The defence and security acquisition SOE (State-owned enterprise) is currently seeking interested - as well as suitably BBBEE qualified - bidders to "maintain and support the Dakota C-47TP aircraft fleet".
The book "Aircraft of the South African Air Force" has it "the first C-47 (DC-3 in military form) to be taken into the SAAF was 6801, picked up at Accra on 21 June 1943. It was then flown in a series of legs ending a few days later at Rand Airport". Further confirmation comes from Dean Wingrin's Unofficial SAAF Website. He writes: "The most widely used transport aircraft of World War II, the DC-3/C-47 has been in SAAF service since 1943. In the early 1990s several were modernised with, among others, turboprop engines replacing piston engines and a fuselage extension under Project Felstone".
New Pratt & Whitney PT6A AR engines give the C-47TP a reported range of close to three thousand kilometres, well suited for the maritime patrol and reconnaissance tasking assigned to it at Air Force Base (AFB) Ysterplaat in Cape Town.
In addition to the maritime tasking, the C-47TPs and its predecessors moved cargo, passengers and been jump ships for parabats, usually operating out of Air Force Base (Bloemspruit) in Free State.
One C-47TP was assigned to the SAAF Silver Falcons aerobatic team. The "honour" saw it painted to match the team's Pilatus PC-7s stylised colour scheme in September 2012. The aircraft, tail number 6840, was transport configured for its Silver Falcon duties over and above squadron missions and sorties.

Sadly, 6840 crashed in the Drakensberg near Ladysmith just on four months later with all 11 aboard killed. The aircraft was on a delivery sortie ex AFB Waterkloof en route to Umtata. Then Defence and Military Veterans Minister Nosiviwe Mapisa-Nqakula (now National Assembly Speaker) was reportedly "horrified". She told Gauteng Afrikaans daily Beeld at the crash site it "wasn't good to have our people flying in aircraft this old".



SAAF AWARDS WINGS TO NEW PILOTS AND NAVIGATORS

www.defenceweb.co.za




Thirteen young men and women of the South African Air Force (SAAF) were awarded their coveted Wings at a Commission and Wings Insignia Parade held at Air Force Base (AFB) Langebaanweg outside Cape Town on Wednesday.

Under a cool blue sky and traditional West Coast breeze, Chief of the South African Air Force, Lieutenant General Wiseman Mbambo, awarded the Wing brevet to the proud students of Pilot Wing Course 129B and Navigator Wings Course 70. Immediately prior to having their Wings pinned to their chest, the Candidate Officers were promoted to the rank of Second Lieutenant.
Following their basic training and officers forming course, then attending the Military Academy in Saldanha, the pupil pilots moved to AFB Langebaanweg for their survival, ground, and flying phases on the Pilatus PC-7 Mk II. The navigator pupils attended 80 Air Navigation School at AFB Ysterplaat.
The journey for both courses was not smooth however, as the impact of Covid and aircraft availability delayed and prolonged the training.
In his address, Mbambo noted the "complexities of the world within which we operate and the ever-evolving challenges we face as humanity, as Africans, and as an organization."
To this, Mbambo referenced the conflict between Russia and Ukraine (including that "a South African Airways plane was grounded in Warsaw, Poland, during the recent African peace mission), the Sudan conflict, SANDF forces acting for the UN in the DRC, and the flooding in the Western Cape.

"What has become increasingly clear," Mbambo stated, "is that we, as a Defence Force, must be prepared to swiftly mobilize, coordinate, and provide critical assistance during times of catastrophe. Our posture as an organisation must be one of acquiring capabilities and resources that enable us to save lives, alleviate suffering, while providing adequate support to other government departments when required."
These events, Mbambo continued, "are a reminder to the military aviators we graduate today that the environment where they will be operating still remains volatile, uncertain, complex and ambiguous. The answer to such situation is a clear vision, understanding and agility with unshakable resilience. The SAAF is on this pathway."
Mbambo observed that the primary mandate of the South African National Defence Force is to defend and protect the sovereignty and territorial integrity of the republic of South Africa, including safeguarding its land, air and maritime borders against external threats.
"However," Mbambo remarked, "there exist inconsistency between the defence allocation and its mandate. The Department of Defence currently receives less than 1% percent of GDP as its budget. Compared to other militaries in the region, this is miniscule and places an untenable burden on our ability to effectively fulfil our mandate."

Mbambo stressed that understanding the true nature of the "professions of arms" is of the utmost importance for South Africa.
"Despite the various competing demands for funding from the national purse, it is essential to recognize that the Department of Defence serves as a crucial insurance policy for South Africa," he continued.
In order to redefine its purpose and direction, Mbambo says that the Air Force has been heavily invested in the development and implementation of a new strategic direction, outlined in the SAAF long term development plan, which focuses on the following strategic goals:
Developing a safe, healthy, secure, innovative resilient, compliant, and ethical workforce. Developing an integrated, agile, and modernised Order of Battle shaped to provide effective and efficient air and space power capabilities as per the Joint Force Employment strategy and requirements (combat readiness).
Executing innovative, resilient, and cost -effective sustainment programs, adaptable to the fluid environment of operational requirements. Ensuring the Air Force is a major player in the development of military space power on the African continent (space power) and ensuring that the Air Force is a major contributor towards National Government's nation -building project.
Concluding, Mbambo urged the new pilots and navigators to stay abreast of the latest innovations, refine their skills and be prepared to confront the unexpected.
The SAAF Association floating trophy for the student who showed the greatest overall improvement was awarded to 2nd Lt C Dixon.
The Air Command floating trophy, awarded to the student who obtained the highest percentage during the theoretical phase of the Pilots Wings Course, was awarded to 2nd Lt C Visagie, whilst the Air Force Board floating trophy for the student who obtained the highest overall percentage during the flying phase of the Course was awarded to 2n Lt H Vuma.
The prestigious Inkwazi Floating Trophy, awarded to the student who obtained the highest overall percentage on the Pilot's Wings Course, was awarded to 2nd Lt J Perold.
The Air Navigation School Academic trophy, awarded to the student who obtained the highest average percentage during the theoretical phase of the Navigator's Wings Course, was awarded to 2nd Lt C Wessels, who also received the 5th Dimension Technologies Simulator Floating Trophy.
The Community of Hopefield Flying trophy for the student who obtained the highest overall percentage during the flying phase of the Course was awarded to 2n Lt A Adam.
The Air Navigation School Floating Trophy for the best overall navigation student on the Navigator's Wings Course, was awarded to 2nd Lt A Adam.
The newly minted pilots and navigators will now undergo additional line training, in the fighter, transport, or helicopter lines.

DEMOCRATIC REPUBLIC OF CONGO EMERGES AS MWARI'S NEXT CUSTOMER

After selling three Mwari aircraft to Mozambique's military, Paramount is providing six of the aircraft to the Democratic Republic of Congo, which is also a customer for Paramount armoured personnel carriers.


The Mwari was seen in Mozambican markings at the end of January, and now the Democratic Republic of Congo (DRC) has been named as the next customer. During the Africa Aerospace and Defence exhibition in September last year, Paramount just said it had orders for nine from two air forces.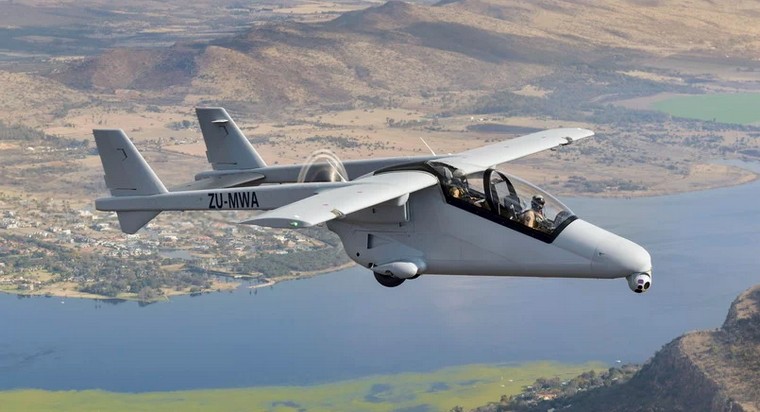 Canadian firm PAL Aerospace will supply intelligence and surveillance systems for the DRC's and Mozambique's Mwaris, according to Africa Intelligence. The aircraft will apparently be equipped with Thales Search Master maritime surveillance radars and MX-15 electro-optical/infrared cameras.
The Mwari was under development for over a decade, originally as the AHRLAC (Advanced High Performance Reconnaissance Light Aircraft), and is the first new clean-sheet manned military aircraft in South Africa since the Rooivalk attack helicopter. First flight of the Experimental Demonstrator (XDM) was in July 2014, followed by the Advanced Demonstrator (ADM), which was built for testing weapons and mission systems.
The Mwari is marketed as a relatively inexpensive alternative to high-end military aircraft for surveillance, maritime patrol and counter-insurgency operations. It can also be used for training. The Mwari has been designed to easily perform multiple missions thanks to an innovative Interchangeable Mission Systems Bay (IMSB), located in the belly of the aircraft, providing near-endless sensor and payload options which can be integrated and be swapped out in less than two hours. Open-architecture and flexible systems allows for the quick and low-cost integration of new pods, avionics, cargo, special mission equipment, weapons and sensors.
The PT6 turboprop-powered Mwari has a service ceiling of up to 31 000 feet, and offers a maximum cruise speed of 250 knots, a mission range of up to 550 nautical miles with ordinance and an overall endurance of up to 6.5 hours. The aircraft also offers a short take-off and landing (STOL) capability, with retractable landing gear optimised for both semi and unprepared airstrips or sites.
Sensors and equipment that have already been fitted to the aircraft include Hensoldt's Argos II electro-optical gimbal, Paramount Advanced Technologies' 420 sensor ball, Thales's Avni thermal reconnaissance system, Sysdel's MiniRaven radar warning receiver, and Reutech's ACR510 radio, amongst others. Future options could include a synthetic aperture radar (SAR).
The aircraft features an unusual twin-boom, single-pusher-engine, high-mounted forward-swept wing configuration, giving the aircraft an unconventional external appearance and providing for excellent external visibility (Paramount is considering air conditioning for the greenhouse-like cockpit). The two-crew are seated in tandem configuration, both being provided with optional Martin-Baker Mk 16 ejection seats, and full HOTAS (Hands On Throttle-And-Stick) side-stick controls. The rear cockpit is fitted with a 21-inch large screen display.
Mwari has been designed with portable production in mind. The aircraft could, depending on customer requirements, be exported in kit format for final assembly in customer countries and can easily integrate into supply chains around the world, enabling scalable mass production.



BENIN ACQUIRES H125M HELICOPTERS

Benin's Air Force has acquired two H125M helicopters from Airbus and is using them to help combat terrorism in the norther region of the country, where 3 000 soldiers are deployed to counter Islamist extremists.


The two aircraft were delivered on 3 February aboard an Ilyushin Il-76 (UR-ZAR) operated by Zet Avia. Earlier this month they were seen taking part in Operation Mirador, Benin's counterterror operation in the north of the country. This has been running since last year, and involves the deployment of 3 000 troops as well as aircraft, armoured vehicles and other assets.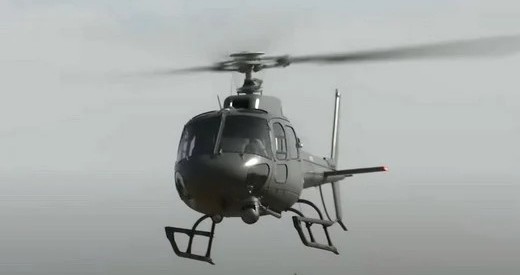 Colonel Faizou Gomina, commander of Operation Mirador, said government troops were deployed in the north-west on the border with Burkina Faso and in the north-east on the border with Niger.
Following delivery, the H125s were each fitted with a TC-300 long-range HD electro-optical/infrared camera system and TM-100 full-featured mission mapping and video management unit from Trakka Systems. The US-based company revealed the systems on the H125s would be used for security, surveillance, and search and rescue missions protecting borders, troops, and critical infrastructure in Benin.
"Trakka Systems is pleased to be a part of the Benin Air Force efforts to modernize their fleet of helicopters with its strategic partner Trade Circle Investment Ltd. Trakka Systems strives to deliver exceptional products coupled with astounding customer service," said Glen Rowling, Vice President of Trakka Systems.
Benin's military previously received two AS550 Fennec helicopters in 2020, according to data from the Stockholm International Peace Research Institute. The air force has only a few serviceable aircraft in use, namely one Mi-8 helicopter, single DHC-6 and MA600 transports, a couple of Humbert Tétras CSM light aircraft, and a BAe 748 transport.
Very little new military hardware has been acquired until recently, with the exception of six CSK-131 armoured personnel carriers from China in 2022, four LH-10 Ellipse trainers from France in 2011-13, three French FPB-98 patrol craft in 2012, six ACMAT APCs in 2016 from France, as well as ten Casspir NG2000 APCS from South Africa in 2013.
In January, the US announced it had delivered a new 10-metre-long patrol boat as well as maintenance and launch facilities to Benin to assist it combat piracy in the Gulf of Guinea. The United States has provided boats to Benin previously - in July 2014 Benin's navy received a Metal Shark boat from the United States to improve maritime security along the coastline of Benin and its neighbours. In 2010, the US donated two Defender Class Boats.
Also in January, Benin received a first batch of eight ex-French VAB armoured vehicles from France, for counter-terrorism and other security tasks. They were to be followed by another seven, equipped with machineguns in overhead turrets and night vision systems.
France has also provided unmanned aerial vehicles (UAVs), protective equipment, armoured vehicles and other equipment to help Benin fight terrorism in the region.
The recent acquisitions are part of broader efforts to expand the country's military to combat terrorism. Islamic State of the Greater Sahel and al-Qaida linked Jama'at Nusrat al-Islam wal-Muslimin have ramped up attacks in the last couple of years, with the country seeing an increase of more than 10 times the number of attacks - from 2 to 25 - between July and December 2022 compared to the same period in 2021, according to the Armed Conflict Location & Event Data project (ACLED).
Attacks were previously limited to Benin's northern border with Burkina Faso as well as vast tracts of national parks where terrorists are able to hide, organize and stage attacks. Since June 2022, however, militants increasingly have attacked populated areas around the parks. Dozens of soldiers and civilians have been killed - a May 2023 attack killed 13 people.
In a December 2022 state of the nation speech, Beninese President Patrice Talon said the military response in 2022 included more than $130 million to recruit nearly 4 000 security personnel, modernize equipment and begin fortifying bases, while building 10 operating bases and "several dozen" fortified positions. In April 2023, the government announced the recruitment of five thousand new soldiers to step up the fight against terrorism.

FIRST FIVE-BLADED H145 IN AFRICA ORDERED BY AERIOS GLOBAL AVIATION (AGA)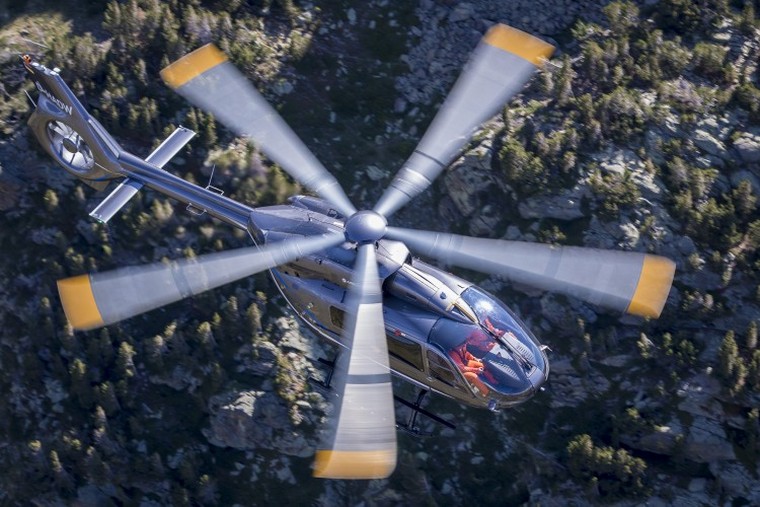 "The latest multirole version of the H145 was the move we had wanted to make since it was first announced. We already operate two H145 helicopters. The latest H145 is perfect for our current and future operations. We are paving the way by pioneering such an acquisition in our country and region" says Malcolm Pitcher, CEO of AGA.

"We are very proud to deliver the first five bladed H145 helicopter in Africa to Aerios Global Aviation (AGA). The H145 is perfectly suited for the African market, it is versatile, and has outstanding performance. We are happy to be expanding our partnership with AGA" says Sebastien Bully, regional sales manager at Airbus Helicopters in South Africa.
The new version of Airbus' best-selling H145 light twin-engine helicopter was unveiled at Heli Expo 2019 in Atlanta in March. This latest upgrade adds a new, innovative five-bladed rotor to the multi-mission H145, increasing the useful load of the helicopter by 150 kg. The simplicity of the new bearingless main rotor design will also ease maintenance operations, further improving the benchmark serviceability and reliability of the H145, while improving ride comfort for both passengers and crew.
There are more than 1,500 H145 family helicopters in service around the world, logging a total of more than six million flight hours. Powered by two Safran Arriel 2E engines, the H145 is equipped with full authority digital engine control (FADEC) and the Helionix digital avionics suite. It includes a high performance 4-axis autopilot, increasing safety and reducing pilot workload. Its particularly low acoustic footprint makes the H145 the quietest helicopter in its class.

DE HAVILLAND CANADA LAUNCHES THE DHC-6 TWIN OTTER CLASSIC 300-G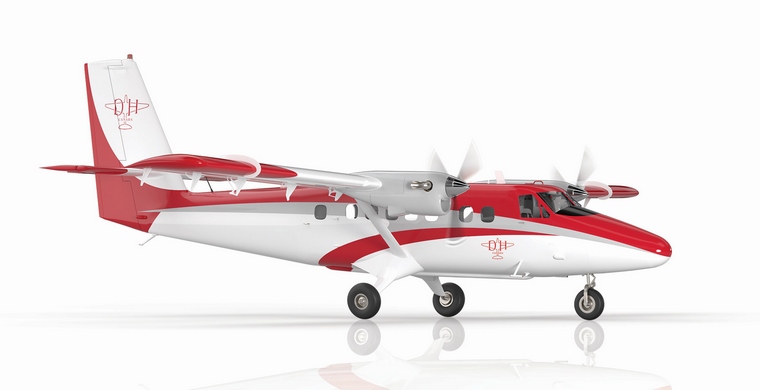 De Havilland Aircraft of Canada Limited (De Havilland Canada) announced the launch of the DHC-6 Twin Otter® Classic 300-G™ with combined purchase agreements and letters of intent totalling 45 aircraft.


"For over 50 years, the DHC-6 Twin Otter has stood alone as the most reliable and versatile aircraft in its class," said Brian Chafe, CEO of De Havilland Canada. "After extensive consultation with our customers, we are poised and proud to take this iconic aircraft to new heights with the new DHC-6 Twin Otter Classic 300-G."
"With the same rugged airframe, propelled by Pratt & Whitney technology, the lighter weight Classic 300-G will deliver increased payload range and decreased operating costs for our customers," added Chafe. "Along with an all-new cabin interior and flight deck featuring the Garmin G1000® NXi fully integrated avionics suite, De Havilland Canada is once again driving the utility transport aircraft market forward."
"De Havilland Canada continues to shape aviation with innovative utility aircraft, and we are proud to offer our G1000 NXi integrated flight deck with the latest version of the iconic DHC-6 Twin Otter," said Carl Wolf, Garmin Vice President of Aviation Sales and Marketing. "The G1000 NXi will bring wireless cockpit connectivity, enhanced situational awareness, visual approach capability, and our fully integrated GFC™ 700 autopilot with envelope protection to the Classic 300-G aircraft."
Over the course of the Paris International Air Show, De Havilland Canada will announce Purchase Agreements with our valued Twin Otter Classic 300-G launch customers.
The Classic 300-G is the fifth generation of the Twin Otter aircraft, joining the current Series 400. All DHC-6 Twin Otters carry passengers, transport VIPs, move cargo, conduct medivac operations, and perform special missions in the world's most unforgiving environments. When mounted on amphibious floats, these aircraft move seamlessly between paved surfaces and water-landing areas.
As De Havilland Canada continues to grow its footprint in Canadian aerospace, the launch of the DHC-6 Twin Otter Classic 300-G will bolster the local economy by creating 80 and 91 permanent production jobs in Calgary, Alberta and Victoria, British Columbia, respectively.

ANCILLARY PROJECT SELECTS TEAMS TO DEVELOP INITIAL CONCEPTS FOR VTOL X-PLANE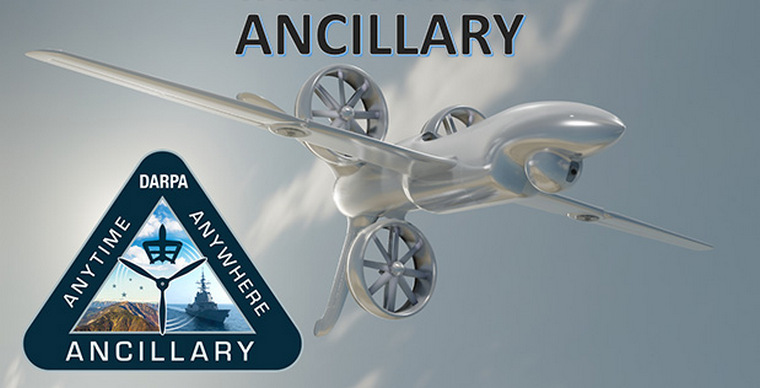 DARPA has selected nine companies to produce initial operational system and demonstration system conceptual designs for a vertical take-off and landing (VTOL) uncrewed aerial system (UAS) that can be deployed and retrieved without the large mechanical launchers and landing/recovery equipment used today.


The AdvaNced airCraft Infrastructure-Less Launch And RecoverY program, nicknamed ANCILLARY, ultimately plans to flight demonstrate innovative aircraft configurations and critical technologies needed for a low-weight, large-payload, long-endurance VTOL uncrewed X-plane.
AeroVironment, AVX Aircraft, Griffon Aerospace, Karem Aircraft, Leidos, Method Aeronautics, Northrop Grumman, Piasecki Aircraft, and Sikorsky will develop VTOL UAS designs, with Navy and Marine missions in mind, during the six-month Phase Ia. Teams then will submit competitive proposals for more detailed X-plane design work.
"The objectives of the program are to develop a small UAS that takes off and lands vertically, like a helicopter, and flies its mission like very efficient winged aircraft, while carrying a significant amount of payload for a variety of missions," said Steve Komadina, the DARPA program manager for ANCILLARY. "We are looking for a VTOL UAS that can operate from ship flight decks and small out-of-the-way land locations in most weather conditions without using typical launch and recovery equipment that is needed for current long endurance, high payload weight aircraft."
ANCILLARY aims to solve a combination of challenging design objectives by bringing together technology developments in advanced VTOL aircraft configurations, advanced propulsion architectures, and advanced control effectors/theory from traditional and non-traditional industry companies.
"The major challenge is developing an integrated flight vehicle that meets the hard objective of combining VTOL, long endurance, and large payload while also meeting requirements for shipboard storage and operations," said Komadina. "A key element is the propulsion system, which needs to have enough power to lift the X-plane vertically while also being extremely efficient in forward flight when power needs are lower."
The project is expected to culminate with X-plane flight tests in early 2026.

JOBY MARKS PRODUCTION LAUNCH, RECEIVES PERMIT TO FLY FIRST AIRCRAFT BUILT ON PRODUCTION LINE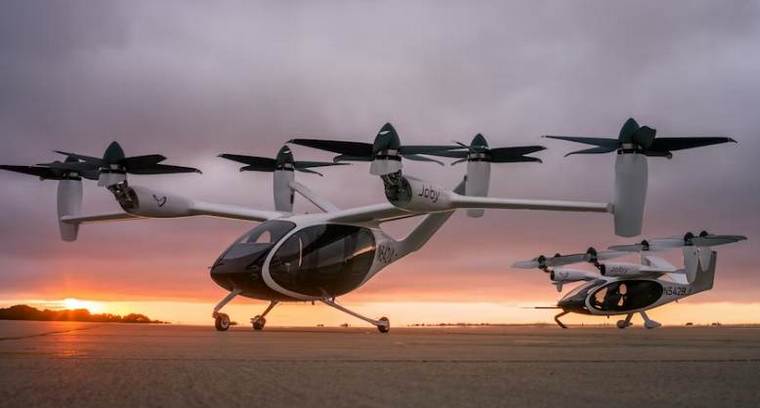 Joby Aviation, Inc. (NYSE:JOBY), a company developing all-electric aircraft for commercial passenger service, today announced it has received a Special Airworthiness Certificate for the first aircraft built at its Pilot Production Line in Marina, California. Issued by the Federal Aviation Administration, the certificate allows Joby to begin flight testing of its first production prototype.

Joby has been flying full size aircraft since 2017 and its pre-production prototype aircraft have flown more than 30,000 miles since 2019. Today's production prototype builds on that experience and marks another important step toward achieving FAA certification and production at scale.
Joby's production prototype aircraft has been manufactured in accordance with a released design and built according to a complete implementation of a quality management system - an important step on the path to achieving the Federal Aviation Administration type certification required to begin commercial passenger operations.
Joby plans to begin commercial passenger operations in 2025 and recently partnered with Delta Air Lines to deliver seamless, emissions-free travel for Delta customers traveling to and from airports. Gail Grimmett, Senior Vice President, Sustainability Performance and Strategic Partnerships at Delta, said: "Today marks an important step forward on the journey to deliver a more sustainable future of travel while elevating the customer experience. The innovation know-how and spirit that drives Joby made today's celebration possible and we're excited to march one step closer to offering this service to our customers."
During today's event, the team behind Joby's aircraft will highlight some of the incredible engineering that sets Joby's aircraft apart as well as confirming the expected performance of its production aircraft.
The aircraft will now undergo initial flight testing before being delivered to Edwards Air Force Base, California, where it will be used to demonstrate a range of potential logistics use cases.
Joby has received a Special Airworthiness Certificate for the first aircraft built at its Pilot Production Line in Marina, CA, allowing flight testing to begin; The aircraft is expected to become the first ever eVTOL aircraft to be delivered to a customer; Production line and aircraft built in close collaboration with strategic partner and investor, Toyota; California Governor Gavin Newsom visited Joby to mark the occasion.

BOEING COMPLETES T-7A FIRST FLIGHT WITH U.S. AIR FORCE

Boeing [NYSE: BA] and the U.S. Air Force today completed the inaugural flight of the service's first T-7A Red Hawk, marking the start of the engineering and manufacturing development (EMD) phase of the program.


During the 1 hour and 3-minute flight, U.S. Air Force Maj. Bryce Turner, 416th Test Squadron, and Steve Schmidt, Boeing T-7 chief test pilot, validated key aspects of the aircraft and demonstrated the power and agility of the Air Force's first advanced trainer to be digitally designed, built and tested. The aircraft is one of five EMD aircraft that will be delivered to the Air Force Air Education and Training Command for further testing.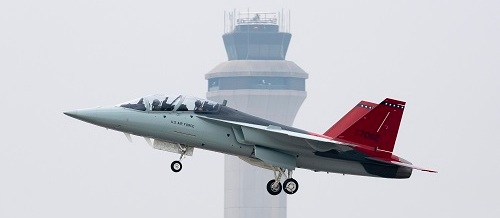 "The stable performance of the aircraft and its advanced cockpit and systems are game changers for U.S. Air Force student pilots and instructors alike," said Turner, whose grandfather and father were both U.S. Air Force fighter pilots. "We've come a long way in training since my family role models flew."
The T-7A's vibrant red tails are a tribute to the Tuskegee Airmen, the first African American U.S. military aviators who flew red-tailed fighters during World War II.
The T-7A will enhance warfighter training through:
Improved pilot readiness: The all-new advanced pilot training system uses high resolution ground-based training systems and simulators to deliver robust and realistic integrated live, virtual and constructive training capabilities.
Safety: Model-based engineering enabled testing throughout the aircraft's design and build to help ensure safety before the first flight. The T-7A's cockpit egress system is the safest of any trainer. Flexibility for any mission: With open architecture software and digital fly-by-wire controls, the T-7A supports training for a wide variety of fighter and bomber pilots and can evolve as technologies, threats and training needs change.
"This first flight with the Air Force represents our team's commitment to delivering a new level of safety and training for fighter and bomber pilots," said Evelyn Moore, vice president and program manager, Boeing T-7 Programs. "We remain focused on engineering ways to better prepare warfighters for changing mission demands and emerging threats."
"This is an exciting time for the entire team," said Col. Kirt Cassell, U.S. Air Force T-7A Red Hawk program manager. "The Red Hawk's digital design integrating advanced training capabilities will drastically improve pilot training for the next generation of fighter and bomber pilots."
The T-7A moved from firm concept to flight testing in 36 months. A combination of model-based engineering, 3D designs and advanced manufacturing increased first-time quality by 75% and reduced assembly hours by 80%.
In 2018, the Air Force awarded Boeing a $9.2 billion contract for 351 T-7A advanced trainers, 46 simulators and support. The T-7A will replace the Air Force's aging T-38 aircraft.


Botswana, near Ghanzi : A Major Blue Air GippsAero GA-8 Airvan, A2-MBE, was destroyed when it crashed into a building during take-off from an airstrip at Eaton and Sons farm, near Ghanzi, Botswana. The two pilots were seriously injured, but the two foreign passengers were fatally injured. According to preliminary information, the runway at the farm is 2,000 meters long, but the southern portion of the runway towards the buildings and farm is 450 meters of gravel, with a 200-metres clearway towards the buildings. The greater, remaining part of the runway, almost 1,350 metres, towards the north, is dirt and grass. A review of an online video shows that the pilots backtracked down the 450 metres of the first gravel portion of the runway, then turned around and commenced their take-off roll. The airplane was unable to become airborne and it crashed into the building and caught fire.

USA, Lake Hamilton, near Memorial Field: A Cessna 177 Cardinal, N3138T, sustained substantial damage when it crashed and sank in Lake Hamilton while on approach to Memorial Field Airport (HOT/KHOT), Hot Springs, Arkansas. The pilot sustained fatal injuries, and his daughter/passenger was seriously injured. "Authorities with the Hot Springs Airport responded to the scene and stated a call was made to the flight tower from the airplane that had been traveling from Kentucky requesting permission to land due to aircraft distress," The FAA reported that the aircraft experienced engine issues while on approach and ditched in the lake.
USA, E of Ravelli County Airport (KHRF), Hamilton, MT: A Curtiss P-40E Warhawk operated by Rare Birds Montana LLC crashed in a field, shortly after take-off from Ravelli County Airport (KHRF), Hamilton, Montana. The pilot died and the aircraft received substantial damage.

Australia; Limbunya Station, NE of Buchanan, 54 nm W of Kalkgurung, NT: A Robinson R22 Beta II collided with terrain at Limbunya Station, NE of Buchanan, 54 nm W of Kalkgurung, Northern Territory, during aerial mustering activities. The pilot died and the helicopter was written off.
Japan, 10 km south of Aomori Airport: A Lockheed Martin F-35A of the Japan Air Self-Defence Force (JASDF), operated by 302nd Tactical Fighter Squadron, suffered a warning on the electric system, on the way back to Misawa Air Base (MSJ/RJSM). The Lightning II made an emergency landing on Aomori Airport (AOJ/RJSA). The cause of the warning was malfunction of system control unit. There were no reported injuries. The sole runway was closed for 20 minutes, causing three commercial flights to be delayed for 40 minutes maximum.

Argentina, Charata, CH: An American Champion 8KCAB Super Decathlon entered a spin and crashed into a field in Charata, Chaco, during a display near the Expo Agronea 2023, an agricultural exhibition. Both occupants, demo pilot Leandro "Leo" Ferraris and copilot Guillermo Tuymans, died in the crash and the aircraft was written off.

Italy, near Novi Ligure, Alesandria, Piedmont: A Schleicher ASK 21 (I-VMHM) and a Schleicher ASH 26E (D-KOSB) crashed following a mid-air collision near the industrial area Cipian, near Novi Ligure, Alessandria, Piedmont. The instructor and a student in the ASK 21 and the pilot of the ASH 26E bailed out safely. Both gliders were destroyed.





2 JULY 1987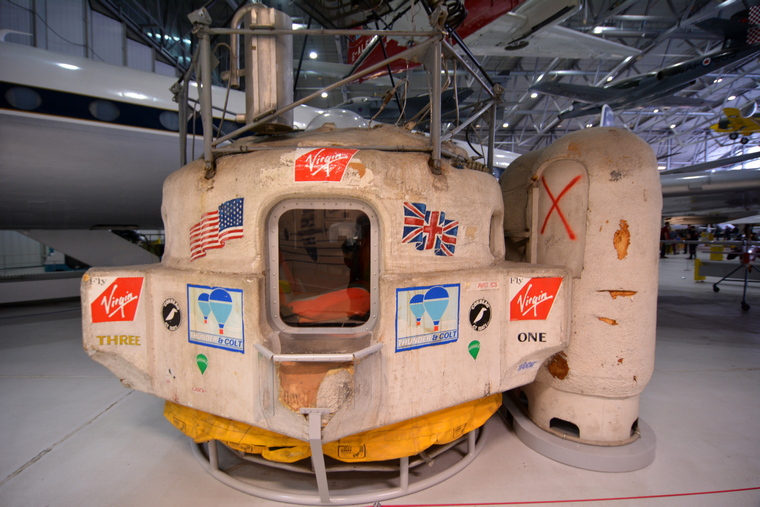 Per Lindstrand and Richard Branson lift off their balloon 'Virgin Atlantic' (at the time, the largest ever flown at 2.3 million cubic feet of capacity) from Sugarloaf Mountain for the First transatlantic flight in a hot air balloon.


There was a dramatic end to the journey when Branson and Lindstrand had no option but to leap from their balloon into the sea after low cloud forced them to descend short of their Scottish landing site. This occurred after their balloon had briefly touched the ground in Northern Ireland before gaining altitude again, only to sink down to the waves, dragging the pair through the water at 100mph.
Both adventurers managed to survive their leap, although Branson, who was the last one left on board, believed that his co-pilot had not made it to safety. In fact, Lindstrand spent over two hours in the sea before being rescued by the Royal Navy. He and Branson were then reunited in the helicopter that flew them to a nearby hospital.
At the time, there was uncertainty regarding whether the pair had been successful in their record attempt. As the balloon had briefly touched the ground in Northern Ireland the team believed their flight had succeeded, but the International Aeronautical Federation required landings to take place on either land or fresh water, with an intact craft. In the end, the record was approved


Pegasus, no mythological flying stallion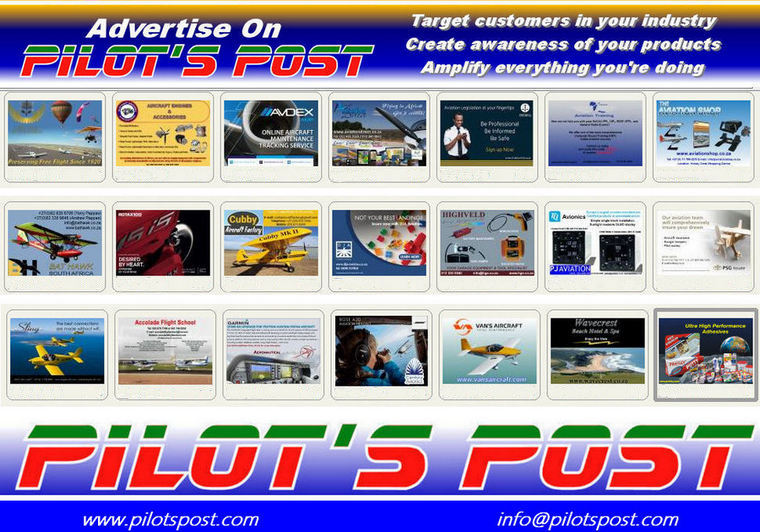 Google Banner Ad