Captain Laurie Kay's love for aviation was born at a very young age, possibly at conception he jokingly adds. At the tender age of six he joined The South African Air Boys Club in Malvern Johannesburg and often rode from Kensington to Rand Airport on the crossbar of one of the older boys bicycle to spend the day watching the comings and goings of the Aircraft operating there, he also spent time at many SAAF bases and fondly remembers going for "filps" in Dakotas and other SAAF aircraft. Laurie did some flying at Brits and was sent solo at only six hours proving his natural ability as a pilot. As he got older the Passion didn't decrease and if anything, it became stronger and by the time he left school all he wanted to do was fly.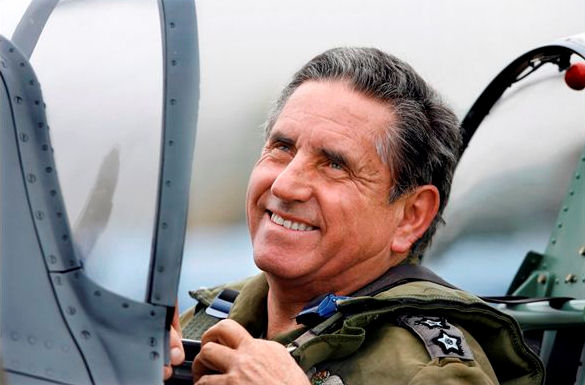 Laurie applied to the South African Air Force but was not successful, being so driven he refused to let this setback kill his dream and applied to every air force in the western world. The Royal Air Force accepted him and he commenced his pilots training in 1967 at RAF Church Fenton, on De Havilland Chipmunks. Laurie's then moved to Jet Provosts at a base called
RAF Linton-On-Ouse
. He did so well there that he was given the choice of where he wanted to go. Laurie decided to fly helicopters and started training on Bell 47G's.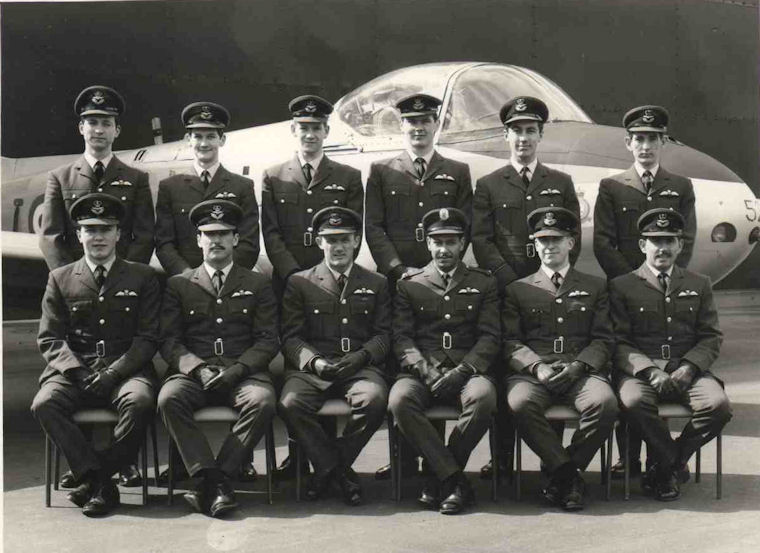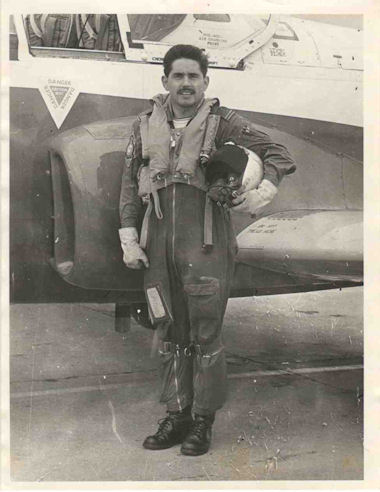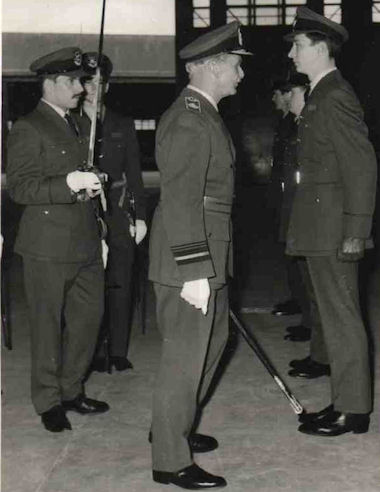 On his return to South Africa Laurie joined the SAAF on a short service contract and was stationed at 5 squadron in Durban, where he did a conversion on his beloved Harvard, an aircraft he still actively flies today at The Harvard Club of South Africa. He later took up a post as an instructor at Central Flying School Dunnottar. While at Dunnottar Laurie met and instructed many of the people that would shape the future of aviation in South Africa. On completion of his short service contract Laurie remained at the SAAF as a Citizen Force Pilot based at 4 Squadron first at AFB Waterkloof and later at Lanseria Airport.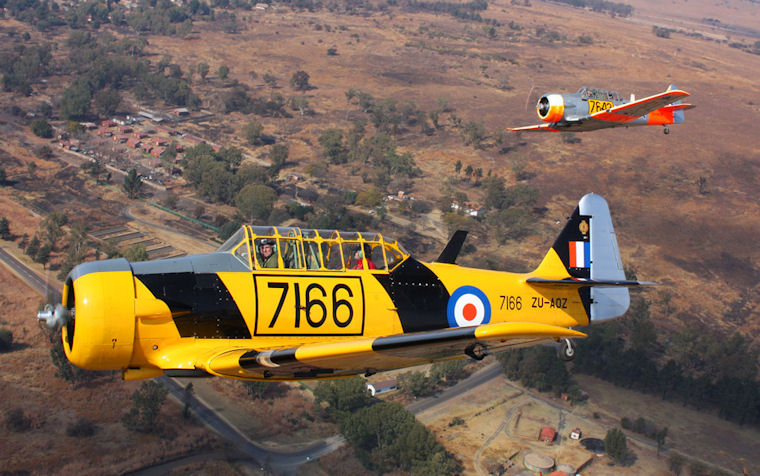 Laurie made the big switch from military to civil aviation in 1974 when he joined South African Airways as a third pilot on Boeing 707's. It was in a 707 that he made his first of many overseas flights from South Africa to Perth. He very quickly moved to co-pilot on 727's and this he achieved within 20 months, 10 months of which were spent doing conversions and soon followed by the co-pilot position on the 747, an aircraft that would become a major part of him for many years to come.
Laurie once again returned to instructing and became a training Captain on the Hawker Siddeley 748, Boeing 737-200 and the Airbus A330. The love affair with the Boeing 747's continued when he became a senior training captain on the 747SP Classic, 200 and 300 variants.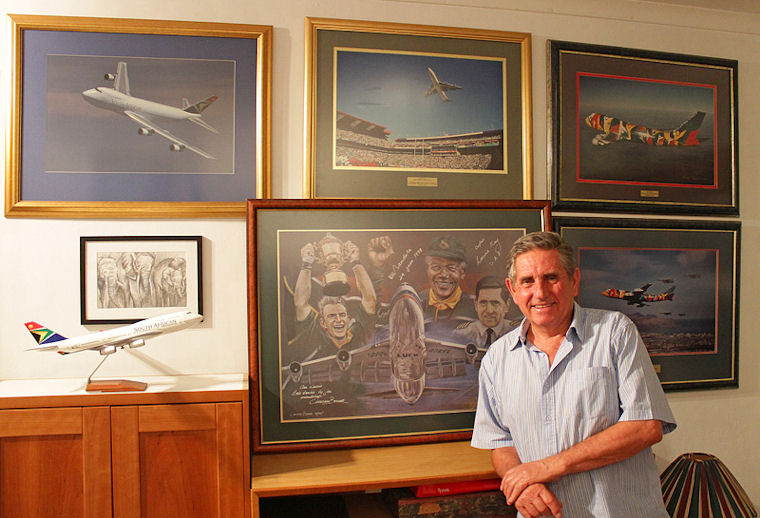 Aerobatics has always played a very big part in Laurie's flying career, in the early 1970's he flew competition aerobatics in an aircraft designed and built by Mr Maitland Ried called the Ried Rooivalk. This was an extremely heavy, hi-powered Bi-plane which he operated from Virginia airport in Durban. Laurie joined Scully Levine, Chris Rademan and Jeff Birch to make up the Winfield aerobatic team which later became the Chubb and then the Shirlock Pitts team.
In 1995 an event took place that resulted in Laurie becoming a household name. Rugby World Cup fever overtook South Africa and the Springboks made it all the way to the final. SAA decide to join the Nation Building effort by allowing Laurie to do a low level pass over the Ellis Park stadium as part of the closing ceremony. "GOOD LUCK BOKKE" was stenciled on the underside of the Boeing 747, the fly-past was kept secret and the whole world was surprised as the aircraft came over the stadium and powered up making it a total sensory experience for all present. We believe this was the first such display ever attempted in the world. Laurie was joined on the flight deck by Senior First Officer Billy Fourie, Senior Flight Engineer Don Coppard, Senior Training Captain Selwyn Thomas, who was responsible for getting the time over target correct and they all did an impeccable job.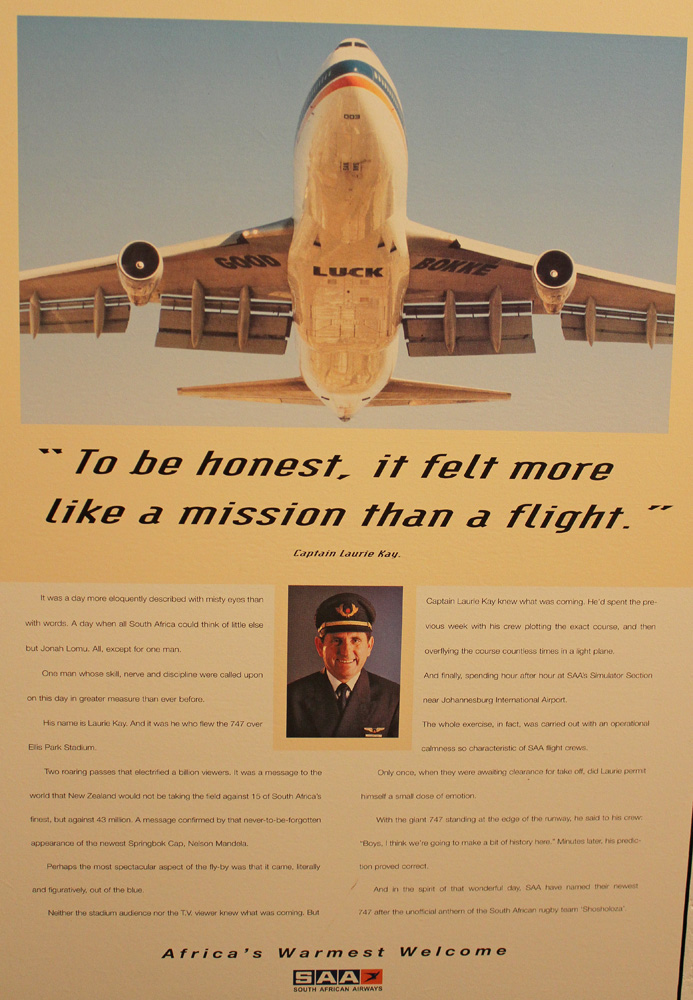 A painting of President Nelson Mandela, Laurie Kay Francois Pienaar and the Boeing 747 to was painted by Chrito Bekker to mark the occasion. The painting was signed by all except Francois Pienaar. Even the 747 made its mark by taxing over the bottom right corner with a paint splattered nose wheel. Laurie proudly displays a copy of this painting in his study at his Glen Austin home.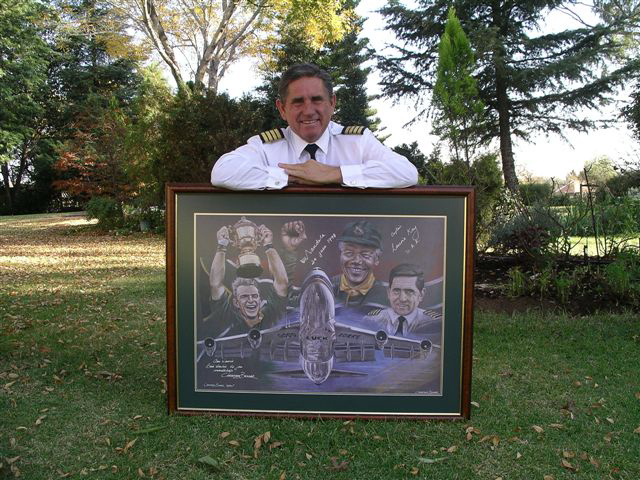 Later that same year Laurie did a similar flight over the FNB stadium for the opening of the Africa Cup of Nations. The three ship formation at the Presidential inauguration of Thabo Mbeki once again had the Nation and the world in awe, never before has a spectacle of this kind been attempted. Laurie was flying the lead 747 Classic with Scully Levine and Johnny Woods on either wing both in 747-400's. In 1996 Laurie flew around the country in the brightly painted Olympic Boeing 747 "Ndizani" which ferried the Olympic team to Atlanta. During the display flight he was joined by four Mirage F1's from the South African Airforce.
In 2000 Laurie was asked to display the 747 at Duxford, another highlight of his illustrious career.
Clint Eastwood contacted Laurie and invited him to help in the production of "Invictus", a movie made about Nelson Mandela at the time of the Rugby World Cup. While filming the movie Laurie and Morgan Freeman became good friends and are still in regular contact. Laurie questioned Clint Eastwood on the phrase used in the movie "Let the record show I have taken control of the aircraft", Mr Eastwood's answer to this was a humoristic "this is Hollywood".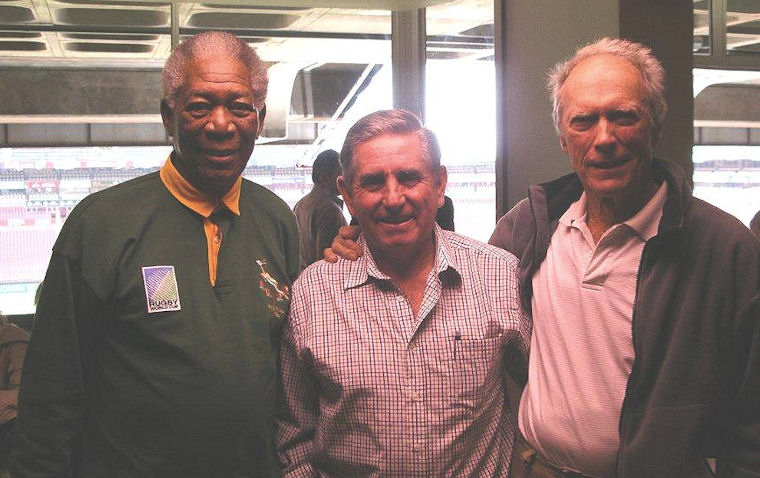 Invitus was by no means Laurie's first exposure to the world of film, Laurie had done stunt flying in movie such as "Die Sersant en die Tigermoth", "African express", "Freedom Fighter" and "King Solomon's Mines", which was the launching point of Sharon Stone's Career.
Laurie has now retired from commercial flying with well over 23000 hours in his logbook. Fortunately he has not stopped flying and he is active at "The Harvard Club of South Africa" taking people for introductory flights and doing the odd Harvard display. One of Laurie's current projects is the distribution of a DVD "Flight for a Nation" covering all the major 747 displays that he has taken part in. The proceeds of which all go to the "SA Guide Dog Association" and is available at 011-705 3512/3 at R120-00, a definte must for all aviation enthusiasts. Laurie loves spending time with his wife Adrian, children Roy, Helen and Laurienne and grandchildren Meg and Hannah.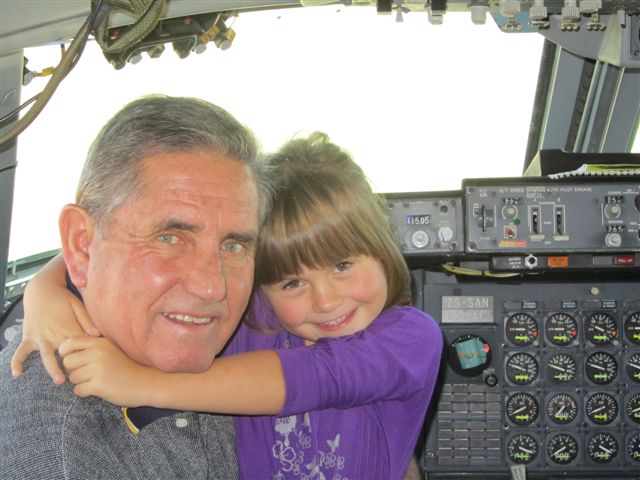 Laurie we salute you and may you continue to inspire our youth to strive for aviation excellence for many years to come.