The long sleek nose of the Comp Air says it all. Even standing still it looks fast and indeed it is. This is an airplane that will easily leave the crowd far behind. The powerful, rugged, Czech-built Walter 601 turbine engine swings a massive three-blade AVIA propeller. Designed originally for the brutal conditions of commercial operations in Siberia and the Russian bush, the Walter is a power plant that's built to last, with minimal maintenance.
The Comp Air received its sleek nose and incredible short take-off ability when Aerocomp replaced the original Continental that was used to power the predecessor of the 7 with a 600-hp Walter 601 D turbine engine. The conversion worked, the already light composite aircraft did not gain any weight. It did however gain the long sleek nose that snugly enclose the large Walter turbine that sets it apart from the rest and makes it instantly noticeable. Beauty, they say, is in the eye of the beholder and for some the Comp Air might be an ugly duckling whilst for others it is a work of art. This ugly duckling, constructed entirely of composite materials, is no slough and is unmatched in its class for speed, climb performance and ease of handling. It goes so fast that it can take off before you get to the end of a hangar and it goes faster almost straight up! The 657 HP Walter turboprop turns the Comp Air 7 into an airplane with capabilities that will thrill fighter pilots, airline captains, and other airborne "power junkies".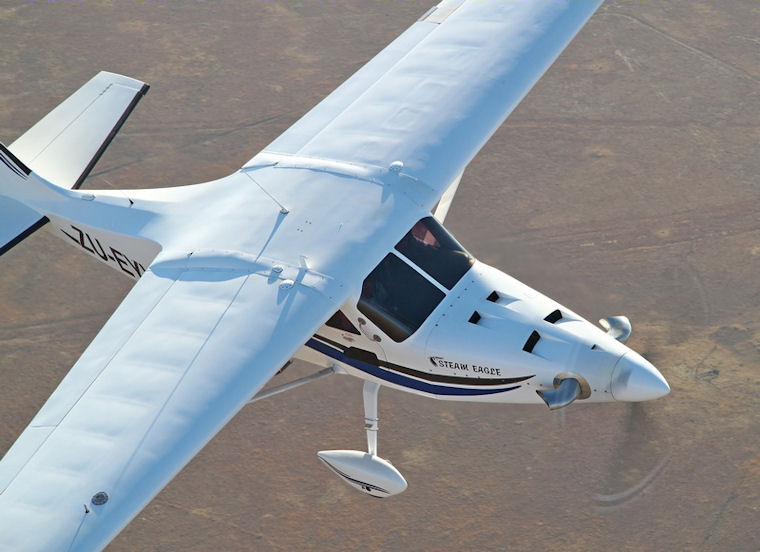 Comp Air's first aircraft was the Merlin, a high wing twin seat single engine ultra light kit plane build in 1987. The firm's second aircraft, the EZ Flyer followed in 2002 and it was the last to have a name. Subsequent types merely had a number starting with the third production model, the Comp Air 3. From then on the type number denotes the number of seats, thus number 4 is four seater and number 6 seats six. Up to number six, all types were fitted with conventional piston powered engines.
The Comp Air 7 carries a pilot and six passengers in its 8.99 m long fuselage and has an empty weight of 1088 kg and maximum take of weight of 1905 kg. The 550 kW Walter M601 turboprop powers the "7" to a maximum speed of 443 km/h, it can cruise at 372 km/h and its range of 1685 km makes it the ideal cruiser for long distance trips. Its climbing rate of 923 m/min, with six jumpers aboard, it can reach 13,000 foot in 13 minutes, making it an instant hit as drop ship for skydivers.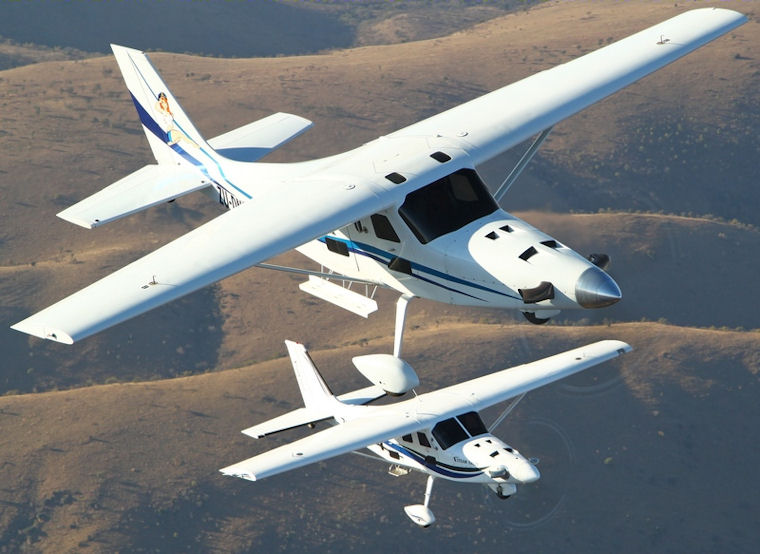 In 2004 Pierre van der Walt and a number of investors obtained the Comp Air agency and a number of aircraft arrived in South Africa, mostly as complete builds. For as long as he can remember Pierre was fascinated by aircraft and so it was quite natural that after leaving school in 1987 he joined the South African Air Force where he spent almost three years before moving to Celair and Peter Celiers at their glider manufacturing company between Amsterdam and Ermelo where he worked on the CellStar aerobatic glider and Eagle 300. This is where his affair with aviation and composite construction started. Sadly Peter passed away and in 1991 Pierre moved to Johannesburg to work for a short stint at Resitex, a company involved in the construction of composite components. Composites was by now firmly in his blood and he spent the next 4 years at Advanced Composite Technologies. Through the EAA Pierre got involved in building Lancairs and in 1995 he joined Aero Experts owned by Francois Joubert where they built the first Lancair 4, ZU-BGT.
Pierre has been involved in the refurbishment of Gliders and the construction of numerous aircraft, including a Kiss and a number of RV's. In 2005 he started Sport Plane Builders and built all the composite structures for the Raven 500. At present he is still involved with Comp Airs and also does assembling and maintenance on NTC aircraft.
Rudie Botes is the owner of ZU-EYV, an absolutely stunning Comp Air 8 fitted with an oxygen system he fondly call the "Steam Eagle." Rudie who holds an ATPL regularly takes his family including their two dogs to their holiday home in Namibia. Besides the Comp Air he owns a Piper Chieftain, Cessna 182 and own a share in a Robinson R44. Rudie always wanted to fly but that dream was delayed until he was 36 when he was financially able to afford it and besides his ATPL, he also hold a Helicopter Commercial license and currently has 2350 hours and 8 types on his license.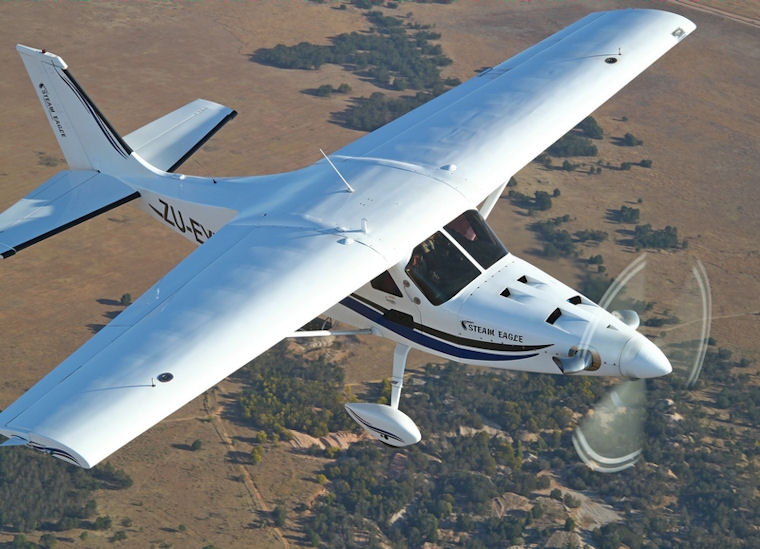 Asked why the Comp Air, he said: "It is an affordable turbine to fly, challenging at times, very fast and can carry an unbelievable load."
Peter Lawson, a pilot with 2185 hours logged of which 1153 are on taildraggers, and owner of the Pretoria Skydiving Club, owns ZU-DNM, a Compair 7XLE. Peter first flew her at the end of November 2008 and completed his conversion to type in the early months of 2009. Peter who hired the aircraft from its original owners with an option to buy it used it until November 2009 when ZU-DNM was registered it his name. It had 150 hours since new at the time.
"She is used mostly for skydiving and with the pilot and five skydivers, she climbs at an average of 1200 f/pm and cruise at 185 knots. "I have 370 hours on the Comp Air with over 1400 take off and landings on this aircraft and she has a total time of 522 hours since new." Peter said.
Those that fly the Comp Air love her speed, looks and reliable Walter Turbine and the fact that where ever you go, she is sure to attract attention.