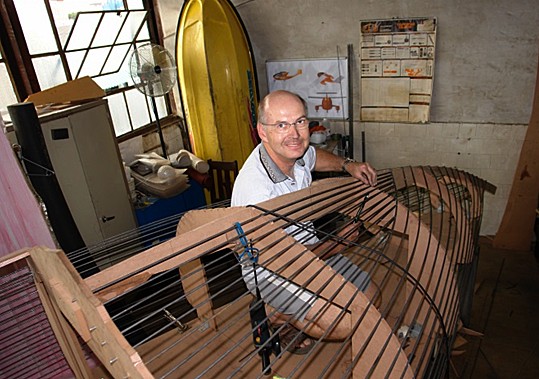 Wolfgang crafting the original C-Wolf fuselage moulds

On Saturday 17 May, about 50 EAA members had the pleasure of visiting Wolfgang Vormbaum's engineering works in New Doornfontein to see the progress of his C-Wolf A.U.V. project. Wolfgang and his son Stefan are members of EAA Chapter 322 Johannesburg. We were all astounded at the engineering and brilliant thinking that is being invested in this innovative aircraft.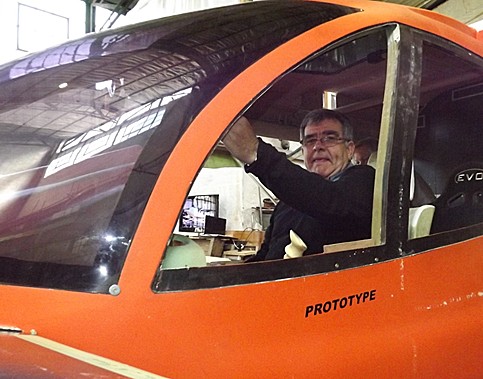 EAA National President Paul Lastrucci in the C-Wolf prototype

Wolfgang, who has never held a pilot's licence, is following a boyhood dream to build an amphibious family aircraft that could be used as a roomy air conditioned 6 seater family transport. When the C-Wolf concept was shown to fellow EAA members for the first time, many people said that it looked similar to a scaled-up Seabee. Wolfgang's reaction was a genuine 'What is a Seabee?' Although it bears a resemblance to the Seabee, it is a completely different concept, being completely of composite construction, designed and built from scratch.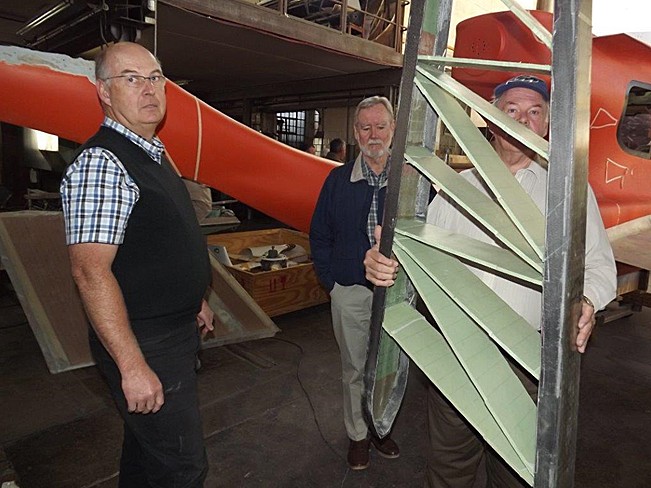 Wolfgang Vormbaum and EAA'ers with C-Wolf fin structure


Wolfgang spent 1400 hours designing and refining the concept and started building on the project in December 2008. Although the C-Wolf is still in the experimental stage of development, the commercial potential is obvious. There is a lot of interest from military and quasi-military authorities in the aircraft from several countries. During AAD 2012 the design even invoked requests for the aircraft's manufacture to be moved to the Middle East which would ensure an initial 25 aircraft order.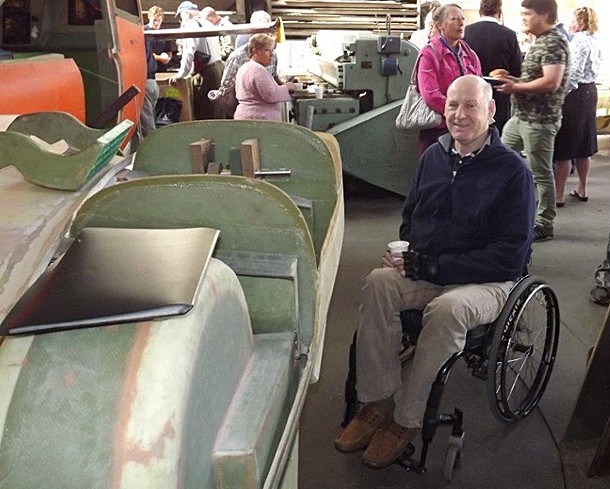 EAA member Arthur Piercy paralysed after a Mirage F1 ejection, visits the C-Wolf. Arthur is also building a Seawind amphibian

The 1,8 ton C-Wolf can be configured for reconnaissance with a 12-14 hour endurance and be operable up 22,000 feet. Useable weight will be around 800kg. The prototype will be powered by the South African designed and built Adept 320T turbo intercooler engine driving a 5-blade MT reversible constant speed propeller. It is projected to provide a 120 knot economical cruise.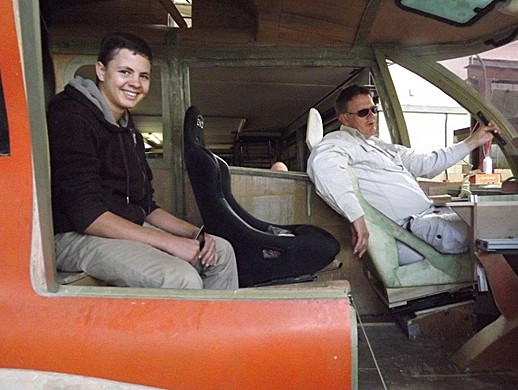 Freddy de Jongh and Dr Frank Persson in the C-Wolf cabin

The aircraft is immensely robust. For slow speed, take-off and landing, slatted Fowler flaps are deployed. Pitch control is achieved with the moving surfaces of the canard and elevator. An all glass panel with three displays is ergonomically laid out and a ballistic chute will also be incorporated.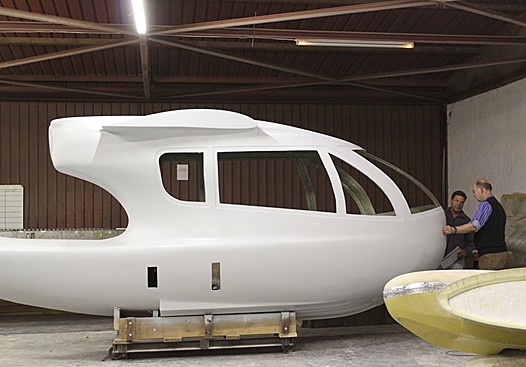 The C-Wolf prototype forward fuselage

Hopefully, taxi tests will be possible in 6 to 12 months' time. The C-Wolf project is outgrowing its present nest and all work will soon have to be moved to new hangars that have been purposely built for the project at Syferfontein, also known as Baragwanath, the home of J.L.P.C.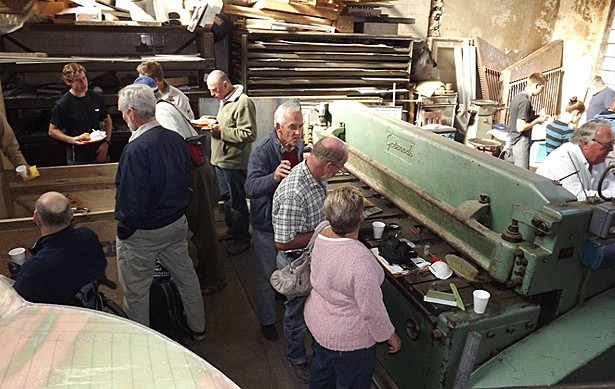 EAA members examining C-Wolf components and engine

It is a great honour for EAA to have innovators such as Wolfgang as a member. At Chapter 322, it is policy to visit different members' build projects monthly if possible, in order to encourage others and also for the members who have been there before and been involved in aviation professionally to offer advice/suggestions and learn from the complexities and techniques involved in these projects.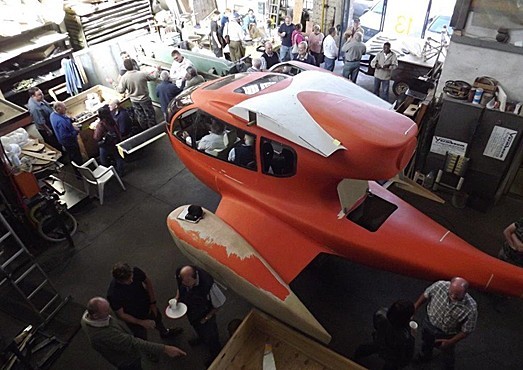 Visitors to the C-Wolf project


EAA has as one of its objectives, education in all forms of aviation endeavours. We all also enjoy the camaraderie that exists during these excursions to the many aircraft projects that are under way by EAA members. EAA Chapter 322 has its own in-house build project where a Teddy (J3 lookalike) is being built at Krugersdorp under the supervision of the Skyworx owner and EAA Technical Officer, Kevin Hopper.
For more information on EAA South Africa visit
www.eaa.org.za