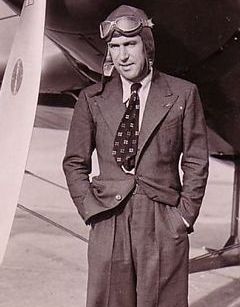 James Allan ("Jim") Mollison MBE. Photo Siver-Snom / commons.wikimedia.org
James Allan ("Jim") Mollison MBE (19 April 1905 - 30 October 1959) was a Scottish pioneer aviator who set many records during the rapid development of aviation in the 1930s.
Born on 19 April 1905 in Glasgow, Scotland, Mollison was attracted at an early age to flying. Obtaining his Royal Air Force (RAF) Short Service Commission at 18, he was the youngest officer in the service, and upon completion of training, was posted to Waziristan.
At the age of 22, Mollison became a flying instructor at Central Flying School (CFS), again setting the record for being the youngest in this role. Shortly after, he transferred to the RAF Reserve and devoted his time to civil aviation.
In 1928-29, he served as an instructor with the South Australian Aero Club in Adelaide, leaving that position to become a pilot with Eyre Peninsular Airways and Australian National Airways.

de Havilland Puss Moth. Photos commons.wikimedia.org

In July-August 1931, Mollison set a record time of eight days, 19 hours for a flight from Australia to England, and in March 1932, a record for flying from England to South Africa in 4 days, 17 hours flying a de Havilland Puss Moth.


Cunliffe-Owen OA-1 G-AFMB. Photo by J.S. Archbold / Australian Armed Forces Museum

Mollison eventually served in the ATA Air Transport Auxiliary in the Second World War. In June 1941 Mollison and an ATA crew delivered Cunliffe-Owen OA-1 G-AFMB to Fort Lamy, Chad. The aircraft was fitted out as a personal transport for General De Gaulle. Jim Mollison was made a Member of the Order of the British Empire (MBE) for his services with the ATA.