THIS WEEK IN MIDWEEK UPDATE

Plan Your Weekend……..Forthcoming Events

Aviation News………. Worldwide Incidents and Accidents

This Week in Aviation History………Advertising Rate Card



This weeks its Linda Lloyd. The fascinating world of a VIP charter flight attendant. To listen to a recording of the live broadcast click on the link:
www.debela.co.za/aviation-radio-show


20 -23: AERO Friedrichshafen - Germany Website:
www.aero-expo.com
22: 22 April Breakfast @ Robertson. Contact Alwyn du Plessis 083 270 5888 e-mail:
boeredata@breede.co.za
3rd Saturday of every month. Microland. Bring and braai. Fires and bykos provided. Fires start from 09h30. Contact person: Nick Swardt 082 441 8011 or Alan Hussey 072 82 2341

FORTHCOMING EVENTS

APRIL

28- 30: Thaba Nchu Airshow. Christiaan Moriaana. 012 543 1736
26 - May 1: SA National Sky Diving Championships. Rustenburg Skydiving Club
29 -1 May: EAA National Convention - Bethlehem Airport EAA Chapter 1500 Contact Francois Marais E-mail:
info@stanfra.co.za
Cell 082 726 8550
MAY


1: Military History Festival Voortrekker Monument Pretoria.
3: EAA Chapter 322 meeting. Dicky Fritz Moth Hall Edenvale. Contact:
editor@afskies.co.za
4: SAAF Museum AFB Zwartkop open practise day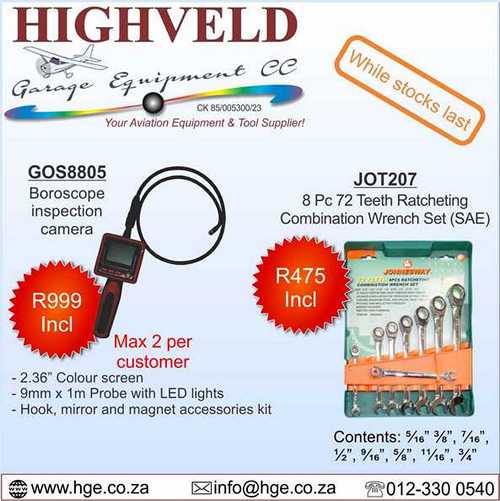 5-6: Battlefields' Sports Resorts' annual fly in. Dundee KZN. Contact Dave O' Halloran e-mail
gm@battlefieldslodge.co.za
6: SAAF Museum Airshow AFB Zwartkop. Contact Tel: 012 351 2290
10: Aero Club of South Africa Annual General meeting. EAA Auditorium Rand Airport. Contact
office@aeroclub.org.za
12-14: Carnarvon Vliegklub will be holding a Fly-in on the weekend of 12-14 May this year. The event will co-incide with the local Agri Show. Contact: Rob Anderson (0832618337)
andersonr@mweb.co.za
13: SAPFA Sheila Taylor Fun Rally, Krugersdorp, Jack Taylor Airfield. Frank Eckard E-mail:
frank.eckard@mweb.co.za
12 - 13: Lowveld airshow. Nelspruit Airfield. Tel: 013 741 6412 Contact Willemien Hodgkinson e-mail:
willemien.hodgkinson@kishugu.com
20-21: SAC KZN regionals. Ladysmith. Contact Annie Boon e-mail:
chunge@mweb.co.za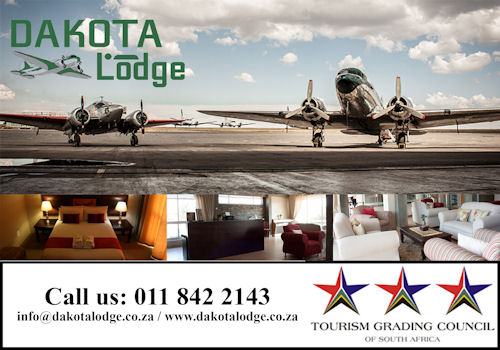 3rd Saturday of every month. Microland. Bring and braai. Fires and bykos provided. Fires start from 09h30. Contact person: Nick Swardt 082 441 8011 or Alan Hussey 072 82 2341
26-28: SAPFA President's Trophy Air Race. Springs Aero Club. Website:
www.sapfa.org.za
E-mail:
Race@sapfa.org.za
. Race director Robin Spencer-Scarr:
robin@stylegroup.com.au
ot Contact Robbie Myburgh e-mail:
roblena@mweb.co.za
Cell: 083 377 0925
27: We are organizing a small breakfast fly-in at the Jack Taylor Airfield (FAKR) Krugersdorp. Breakfast will start from 08h00 and be served all morning. Everyone is welcome so please come join us and let's get a good thing going! We plan on growing this into an annual fly-in so please come support.
27-28: Wings Park Annual Airfest Fly in. All aircraft welcome. Great fun filled weekend with some of the coolest planes and pilots around. Avgas and Mogas available. Jet A1 on request. Safe parking with kilometer long grass runway. Contact Rob Williamson Cell: 082 574 9034 E-mail:
rwhw@iafrica.com
27: Botswana International airshow. Matsieng Airfield (FBMA). Contact Guillaume Knipe E-mail:
Gknipe@work.co.bw
Cell +267 71300646
JUNE

2-3: Newcastle Airshow. Newcastle. Contact Johan Pieters 082 923 0078 e-mail:
johan@champ.co.za
or Christo van der Vyver 083 375 5883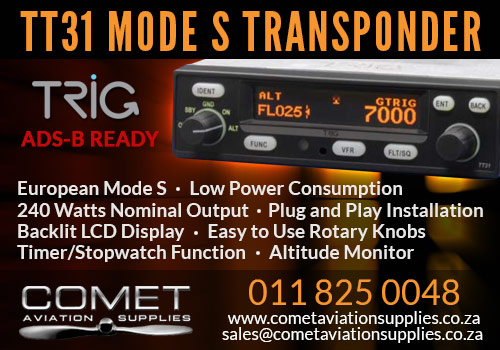 4: SAAF Museum AFB Zwartkop open practise day
7: EAA Chapter 322 meeting. Dicky Fritz Moth Hall Edenvale. Contact
editor@afskies.co.za
10-11: Wonderboom Adrenaline Show. Wonderboom.Contact Chris Briers E-mail:
chris@briersgroup.com
Cell: 082 568 7988
15-18: NAC fly-away. Contact Deneys Potgieter Cell: 082 891 4354 e-mail:
deneys.potgieter@nac.co.za
17: Queenstown Flying Club Centennial Celebrations. Contact Alasdair 0825518375
mac@mactax.co.za
24: Middelburg Aero Club Airshow. Richardt Lovett.
mail@pegasusi.co.za
082 771 8775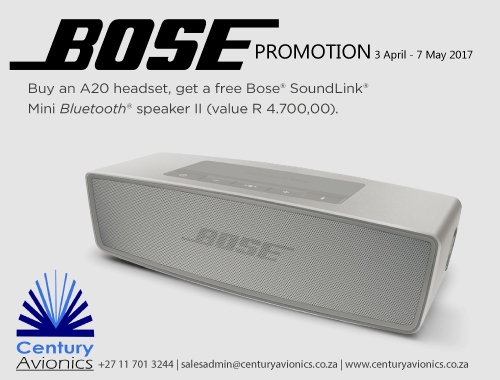 3rd Saturday of every month. Microland. Bring and braai. Fires and bykos provided. Fires start from 09h30. Contact person: Nick Swardt 082 441 8011 or Alan Hussey 072 82 2341
30-3 Jul: Race for Rhinos. Kubu Island Botswana.Contact Chris Briers E-mail:
chris@briersgroup.com
Cell: 082 568 7988
30- 1 July: SA Landing Championship Training Day - Brits Airfield. Contact Mauritz du Plessis email:
whitehouse@worldonline.co.za
, Cell: 083 601 1042



SAAF MUSEUM ANNUAL AIR SHOW "PIONEERING OUR FUTURE" TO BE HELD ON 05 - 06 MAY 2017 AT AFB SWARTKOP AIRFIELD


The South African Air Force (SAAF) Museum annual Airshow and Youth Aviation Awareness Programme will be held on 05 and 06 May 2017 from 08h00 until 18h00 at Air Force Base Zwartkop alongside Old Johannesburg road in Valhalla, Pretoria.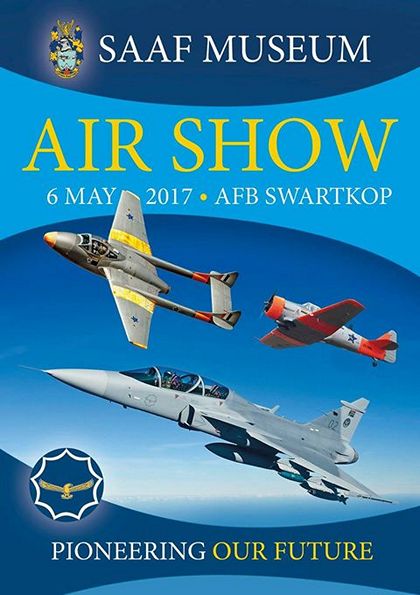 The SAAF Museum Airshow is designed to offer aviation enthusiasts, aviation institutions and publications, the general public as well as current and former members of the SAAF an opportunity to reflect on the memories and representations of history. Thus, the events will depict the evolution of military aviation from both static and flying conditions.
The theme for this year is: Pioneering our Future. The SAAF Museum continues in its endeavors to bring forth the collective history of military aviation in South Africa, as this remains a contested terrain.
The SAAF Museum hopes to raise aviation awareness and highlight to the public the significance of the Museum in preserving the SAAF heritage. Emphasizes will be made on the historical role of museums in the development of society. Museums "are an important means of cultural exchange, enrichment of cultures and development of mutual understanding, cooperation and peace among peoples" of the world.
The Career Expo / Aviation Awareness will introduce the youth from various strata of society to the world of aviation. There will be exhibits from the South African National Defence Force (SANDF) and aviation related industries.
The following aircraft will form part of the flying programme; Gripen, Hawk, Rooivalk, Oryx, Puma, Allouette II and III, Silver Falcons and other SAAF Museum aircraft, complimented by various civilian aircraft.
Tickets are available from Computicket at R80, 00 (children under 16 years free). Children under 16 years old will be given wristbands at the Air Show entrances. In the event where a child is separated from his/her parents, the former will be taken to a childcare centre and parents should immediately approach a mobile South African Police Service station at the Base. Lost children will be kept at the childcare centre, which will be situated inside the Base.
Gautrain bus services will transport members of the public to and from the Centurion Gautrain station, normal fares apply. Aviation enthusiasts are encouraged to make use of this service, as it will allow for easy access to the Base. The City of Tshwane will provide a return transport service from various pick up points to the Air Show.
Public parking will be available around Air Force Base Swartkop alongside Old Johannesburg and Snake Valley road. Military Police in conjunction with Tshwane Metro Police and the South African Police Services will direct and coordinate traffic flow.

ACHTUNG! SPITFIRE!




The Collings Foundation has announced that they'll be bringing one of their latest acquisitions, a British Supermarine Spitfire, to EAA AirVenture Oshkosh 2017. Collings, a nonprofit educational foundation based in Stowe, Massachusetts, was founded in 1979, and has actively toured a number of warbirds around the country, including a B-17 and a B-24, for more than 25 years.
Their Spitfire, a 1942 Mk.IX, numbered BR601, is a veteran of 116 combat missions during World War II. Two aces were known to have flown BR601 during its career with the British Royal Air Force. The first was Australian Tony Gaze, the commanding officer of 64 Squadron RAF who amassed more than 12 1/2 victories (11 plus 3 shared), including a Messerschmitt 262. The other was Colin Falkland Gray, a New Zealander who was also with 64 Squadron. By war's end, Gray had chalked up 27 1/2 victories.
After the war, BR601 transferred to the South African air force, and after serving a few years, was eventually put on static display on a pole. From there, it changed hands several times, heading to England in 1986, then New Zealand in 2008, and back to England in 2014 for final restoration by Biggin Hill Heritage Hangar.

GAME COMPOSITES GB1 GETS TYPE CERTIFICATION FROM EASA



Game Composites was founded in January 2013 Comp by Stuart Walton and German aerobatic champion Philipp Steinbach with the goal to design, certify and produce the world's best aerobatic and touring aircraft.
Production of the first tools and moulds were produced by Silence Aircraft in January 2014 and the fuselage moulds were delivered in February 2015. In February 2016the first fatigue life and subsequent ultimate load test were successfully completed.
In April 2017 The EASA granted certification for the GameBird GB1. The GameBird is the first aerobatic airplane certified since 2011. The FAA certification effort for the GB1 has been conducted concurrently and Steinbach expects the Part 23 paperwork to be in hand in the next few weeks.
AERO FRIEDRICHSHAFEN-THE GLOBAL SHOW FOR GENERAL AVIATION

Photos © Aero Friedrichshafen

Friedrichshafen - Anyone who is a pilot has to be there: The AERO at Lake Constance is the international hotspot for general aviation in Europe. Whenever the subject is general aviation, pilots and trade visitors from around the world clearly turn their attention to "destination FDH." The response at the 25th AERO, which ended on 8 April after four days, was correspondingly strong. The show set two new records: 34,200 trade visitors (2016: 30,800; 2015:33,900) from Europe, Asia, Australia, New Zealand and around the world set a new attendance record at the industry expo. 707 exhibitors was also a new record for the show, surpassing the previous high of 606 set in 2016.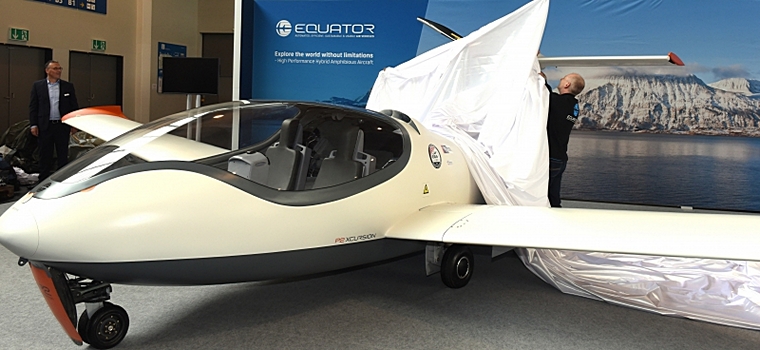 According to many experts, the AERO Friedrichshafen has become the "driver of innovation for general aviation." At Lake Constance, the focus is on the newest trends and world premieres and a highly knowledgeable audience (more than 60 percent of whom are pilots) fills the exhibition halls - an audience that, according to many exhibitors, is extremely well informed and ready to buy.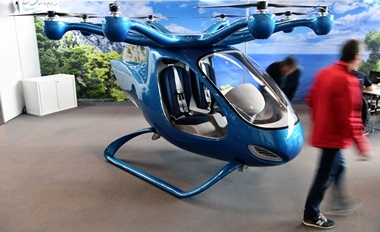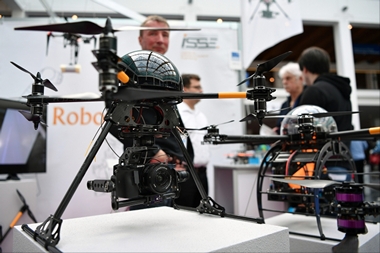 The start of the 25th global show for general aviation at Lake Constance was already record-breaking. A total of 707 exhibitors were on board, a full house befitting the 25th anniversary of the show. The largest general aviation trade show in Europe, the AERO is acknowledged as one of the most important in the world. Gliders, ultralights, powered aircraft and business jets are one hand, as are ultralight helicopters, gyrocopters and many suppliers.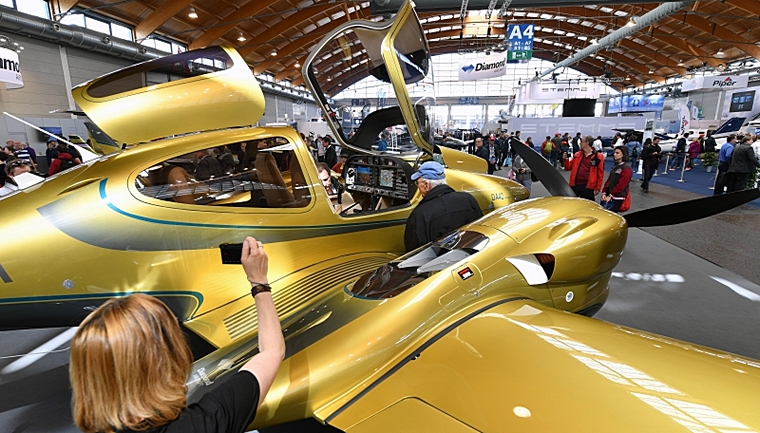 Electric aircraft demonstrated their power as part of an anniversary air show on Saturday. In the field of unmanned aviation, drones demonstrated their remote controlled aerobatic skills, showing what they could do over land and water in crisis situations.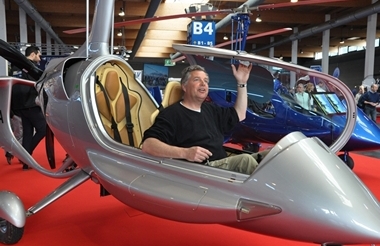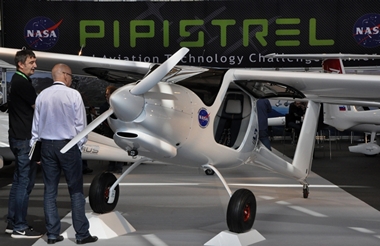 Those who work hard also have to play hard: On the first day of the show, the place to be was the huge AERO 25th anniversary party in the Zeppelin hangar, right next door to the fairgrounds. "There is no better location for such a celebration than one that is under the auspices of Count Zeppelin," said Messe Friedrichshafen CEO Klaus Wellmann and Roland Bosch, who were enjoying an emotional high after many of the approximately 900 guests, most representing exhibitors, gave very positive feedback.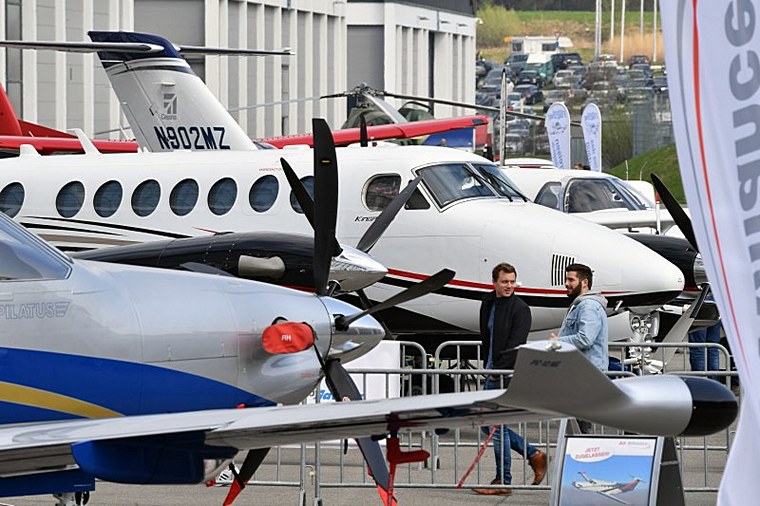 The international revelers enjoyed a stylish AERO party with artistic aviation performances, historic retrospectives, celebratory speeches and a buffet, and really let the champagne corks pop. After all, almost 40 years ago, everything started out small and modest, with just 14 exhibitors. Now, for the 25th AERO, 707 exhibitors from 40 countries have come together for an industry meeting has drawn attention around the world.
SIMPLY THE BEST! THE P & M PULSAR

Whether you're going on a long cross country flight or just over the horizon to a fly-in, this aircraft will draw a crowd upon landing! The unique aerodynamic monocoque composite carbon fiber body shell provides increased strength and rigidity, all at minimum weight. The wrap-over windscreen produces optimum pilot and passenger comfort while retaining full visibility. The cantilever sprung composite main undercarriage soaks up the roughest fields, making rough-field landings an most enjoyable experience. The large 20 gallon fuel tank gives you all day flying without the worry of fuel stops. Add an optional BRS parachute for a maximum 1042 lb. take-off weight. In summary the PulsR is at the cutting edge of microlight design and one where others simply follow.
PulsR is the ultimate touring trike. There are simply no compromises. The most advanced wing paired with a monocoque carbon chassis it is the ultimate cross-country aircraft of its kind.

MAGICAL MUROYA WINS IN SAN DIEGO

Photos © Red Bull


Yoshihide Muroya flew a scorching time in the Final 4 of the San Diego race to pick up the second win of his Red Bull Air Race career. The race was full of surprises but the biggest was Peter Podlunsek claiming his first podium finish of his career in second place.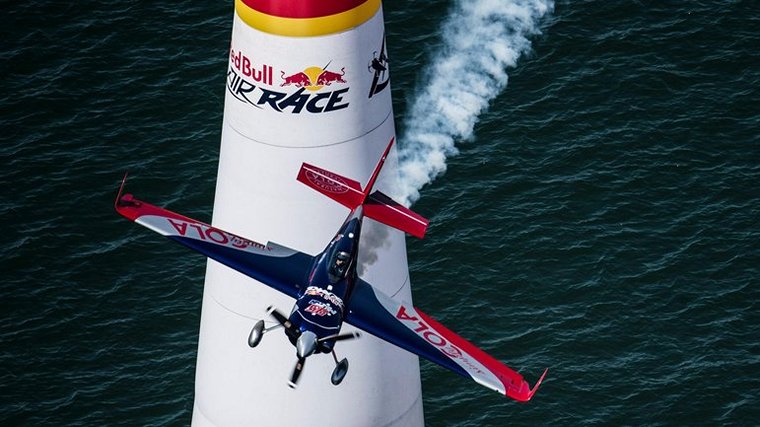 Muroya was first to fly in the Final 4 and posted a blistering time of 58.529s, which was always going to be hard to beat. His smoothness and focus paid off.
Matthias Dolderer was second out of the blocks and was setting faster spilt times, but at Gate 14 he tried to take a too tight angle and clipped the left pylon giving him a three second penalty. Although it put him out of the running, it was enough to see him claim third on the podium.
Third into the track was American Kirby Chambliss. With the fans lining San Diego Bay to cheer on their pilot Chambliss wanted to perform. At the first split he was just 0.001s behind Muroya, but on his second lap he flew too high through Gate 10 and was penalised with two seconds, putting an end to his chance of a race win.
Last into the track was Peter Podlunsek. He must've been feeling the tension entering the Final 4 for the first time in his Red Bull Air Race career. He entered the track and flew smoothly, cleanly and most importantly, quickly. He couldn't quite get ahead of Muroya but due to flying penalty free was quick enough to take the second spot in the race.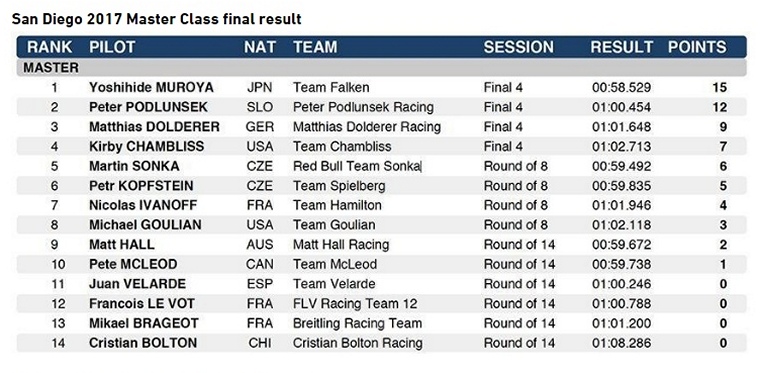 With two races completed, we have seen six different pilots standing on the podium. The 2017 Red Bull Air Race World Championship is wide open.
WELCOME MTOSPORT 2017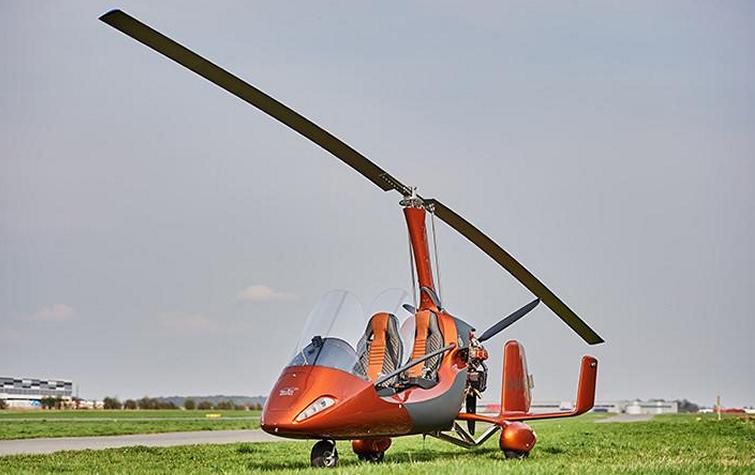 Photo © AutoGro


It's happening: In this very moment, AutoGro presents the new MTOsport 2017 at the AERO in Friedrichshafen! For years, the MTOsport embodies pure freedom and uncomparable flight experience.
Now, we have created a completely new model 2017 within only nine months. In close collaboration with pilots, flight instructors, maintenance specialists, engineers and designers, we have implemented and realized more than 100 innovations on this new MTOsport, creating an aircraft that surely stands out of the crowd like no other. It is the perfect combination of functionality, design and comfort. Give a warm welcome to the new MTOsport 2017 and Enjoy the difference!

Colombia, Bogota: A Lineas Aereas Suramericanas Boeing 727-200 freighter, registration performing a charter freight flight from Bogota to Pasto (Colombia) with 4 crew and a cargo of food, was accelerating for take-off from Bogota's runway 13R at about 12:50L (17:50Z) when the crew needed to reject take-off at high speed but were unable to stop the aircraft before the end of the runway. The aircraft went off the paved surface and came to a stop about 170 meters/570 feet past the end of the runway. There were no injuries, the aircraft sustained minor if any damage.
USA, Alaska: An Alaska Airlines Boeing 737-900, registration N305AS performing flight AS-930 from Seattle, WA to Las Vegas, NV (USA), was climbing out of Seattle when the crew stopped the climb at FL250 due to problems with the cabin pressure but continued the flight into the direction of Las Vegas. About 17 minutes later the crew initiated an emergency descent to 10,000 feet due to the loss of cabin pressure and diverted to Portland, OR (USA) for a safe landing about one hour after leaving FL250.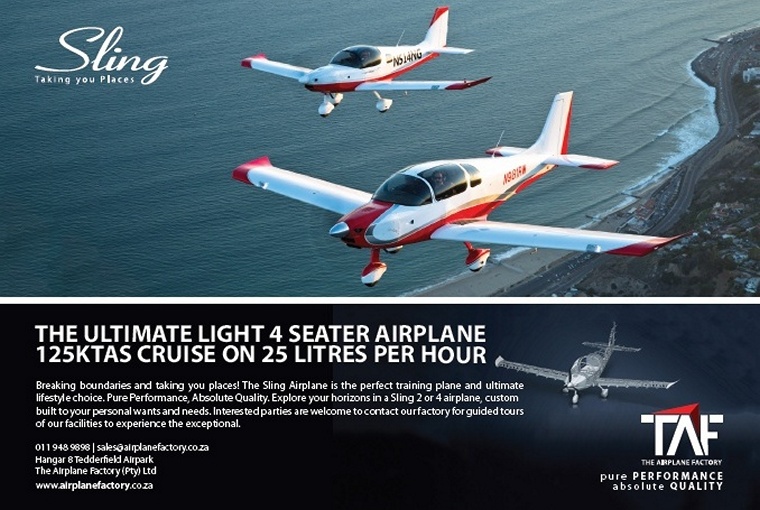 25 APRIL 1868

John Bevins Moisant, designer, builder and pilot of the first aluminium airplane, is born in Kanakee, Illinois.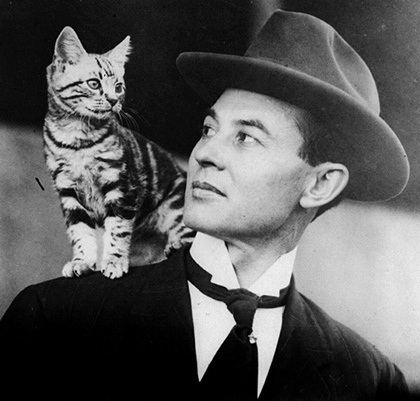 John Bevins Moisant (25 April 1868 - 31 December 1910) known as the "King of Aviators," was an American aviator born of French/Canadian parents, an aeronautical engineer, flight instructor, businessman and revolutionary.
As a pilot, he was the first to conduct passenger flights over a city, across the English Channel, from Paris to London.
John Moisant entered the aviation field in 1909 as a hobby after attending the Grande Semaine d'Aviation de la Champagne air show in Reims, France in August 1909. In the spring of 1910, Moisant took four flying lessons at the Blériot School, headed by Louis Blériot.
Moisant funded his aviation career with proceeds from business ventures in El Salvador, where he had led two failed revolutions and coup attempts against President Figueroa in 1907 and 1909.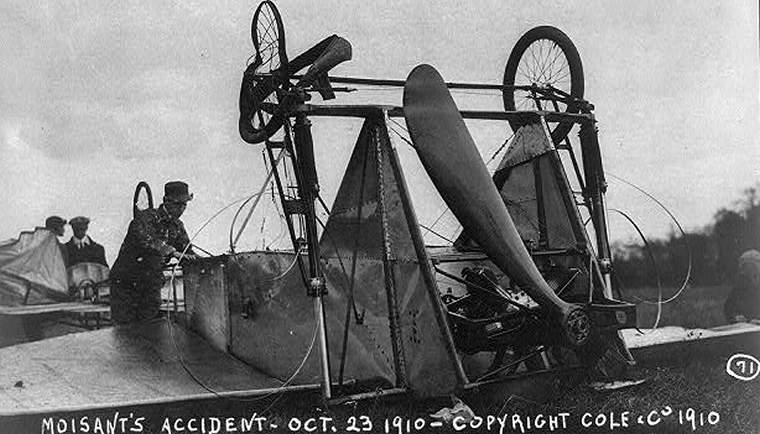 He designed and built two aircraft between August 1909 and 1910, before he became an officially licensed pilot. His first was the Moisant Biplane. This experimental aircraft became the first all-metal aircraft in the world, being constructed entirely from aluminium and steel. This aircraft was completed in February 1910; the Moisant biplane's inaugural flight, and Moisant first flight, ultimately resulted in a crash after ascending only 90 feet.



For a free no obligations quote email sales@pilotspost.com