Henley Model Airfield and Family Entertainment held their Jets over Henley Day on Sunday the 25th of February 2018 at their well-kept airfield south of Henley-on-Klip.
Scale and modern sport jets were present on the day and pilots flew from early in the morning with mostly over clouded conditions all day. First of these scale R/C jets was the Aermacchi MB-339 Frecce Tricolore, a crowd favourite, with the R/C pilot that flew superb displays during the day with very good presentation in the sky.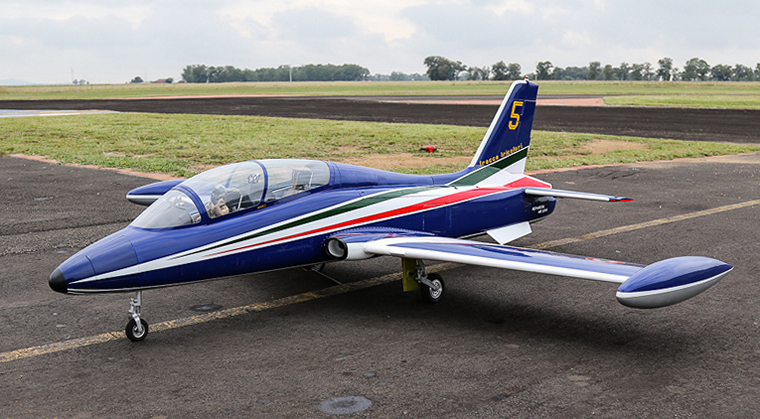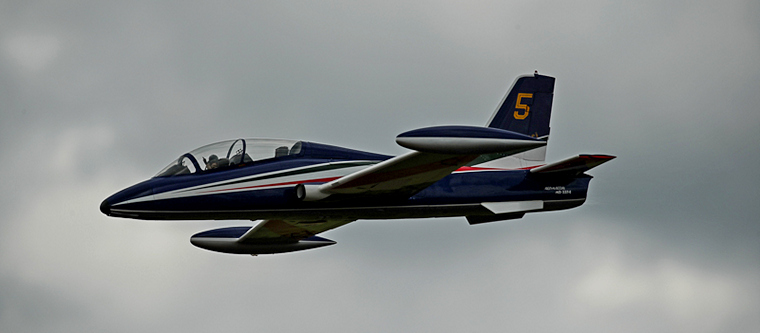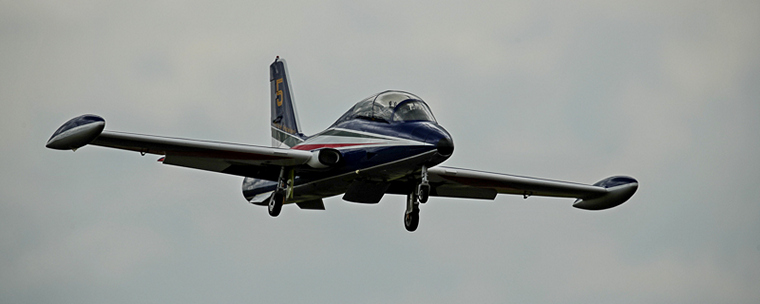 Next up was various sport jets in the form of the Avanti S and Boomerang where the latter is a value for money choice among R/C jet pilots due to its relative low cost to get into flying R/C jets. A composite CARF Models Eurofighter in its bright livery presented quite splendidly in the sky with huge power/noise under upwards vertical movements towards the high cloud base followed by inverted Immelman manoeuvres.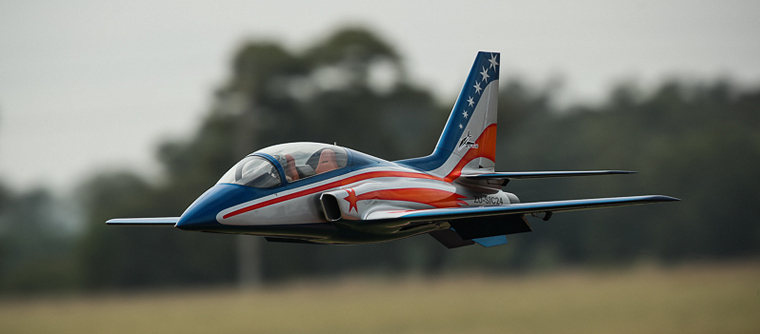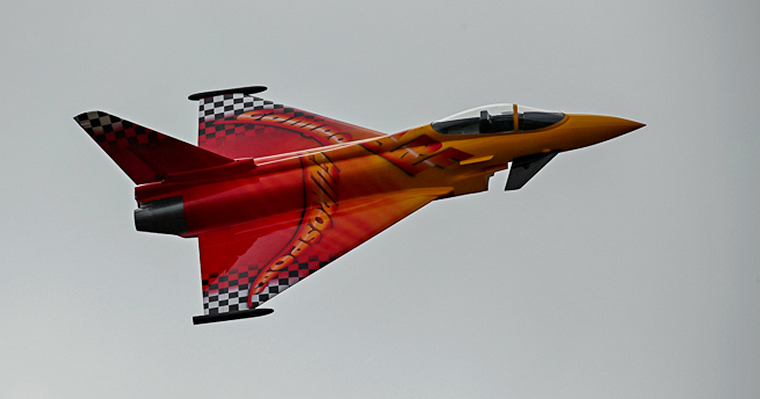 A scale composite Gates Lear Jet 35 build by Dirk Visser from Aviatix was on static display only due to electric problems the previous day during a flight. Powered by two Electric Ducted Fans with 5kg thrust each and weighing in, as is, at 10.3 kg. With 12 cell Li-Po batteries, the total all-up weight is 13.3 kg. This is built locally and will cost you complete without receiver in the price range of $3990-00.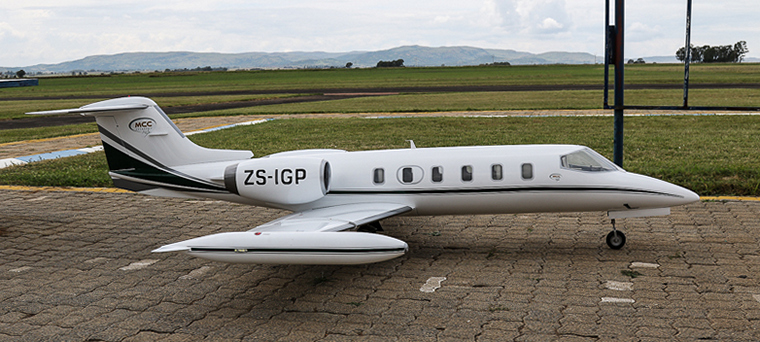 Dean Grobbelaar from Aerial Concepts' Ultra Lightning was as always the quickest R/C jet for the day at the event with numerous high-speed low fly-by passes that was sometimes quite difficult to track rapidly.

Another new sport jet to make its appearance at these events was the large Butura in yellow and red livery. An 18kg thrust Kingtech turbine usually powers these big jets. The Kingtech turbine is a favourite among most R/C jet pilots nowadays due to cost, reliability and after-sales service. This sport jet also presented very well in the air and moves smoothly through the sky without any hassles.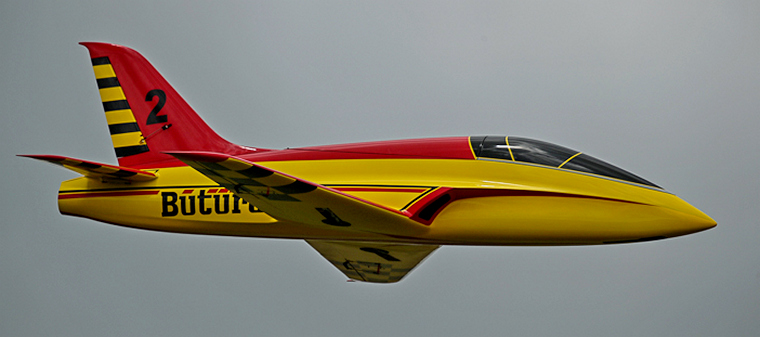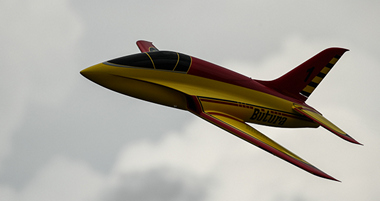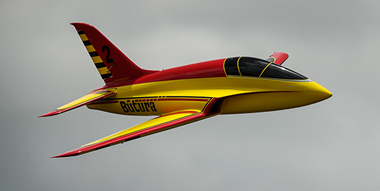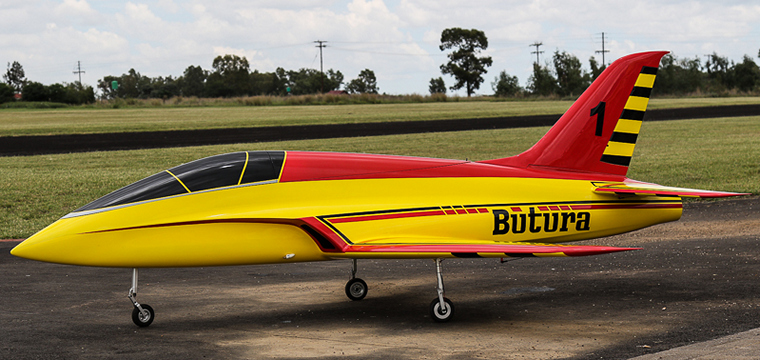 Various military-themed R/C jets were present, from America the Lockheed Martin F-22 Raptor and from Europe the Eurofighter in black livery was put through their paces respectively. These just show that you can fly scale R/C jets with ease and still keep the crowd interested in something familiar that is current to what they know.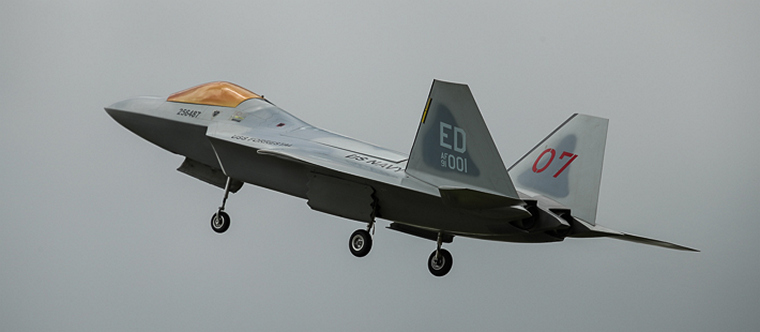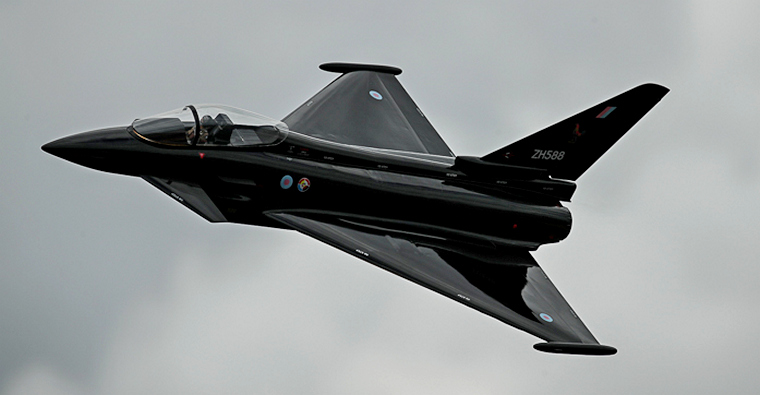 One R/C jet that created a lot of interest among the R/C jet pilots was the black 22kg F-14 Tomcat from Dirk Visser. Powered by two Jetcat 160 turbines and burning 8 litters of jet fuel during 8 minutes of flight. A toothed-belt mechanism built into the fuselage mechanically swings the wings during flight from straight to swept-back. He unfortunately experience undercarriage malfunction after take-off and he tried to recycle the undercarriage during flight without any success. On landing the right-wing wheel misaligned completely, but the big R/C jet, was brought to a controlled standstill with minimal damage to the aircraft itself. Undercarriage improvements are already in sight and an alternative shown at the event after the incident.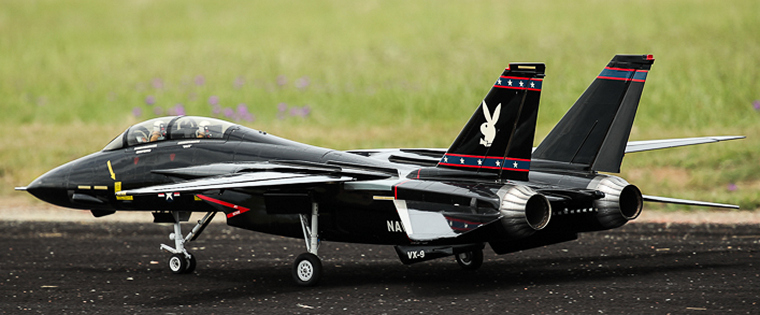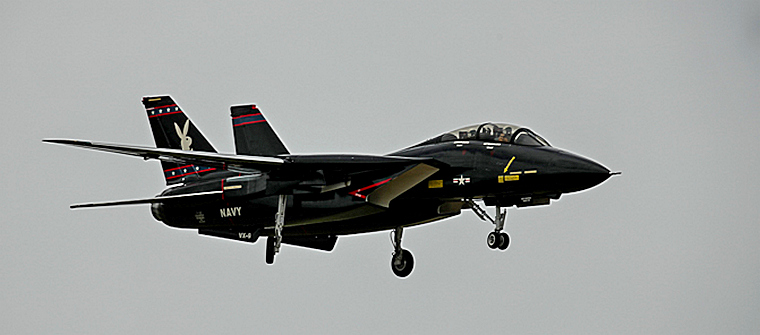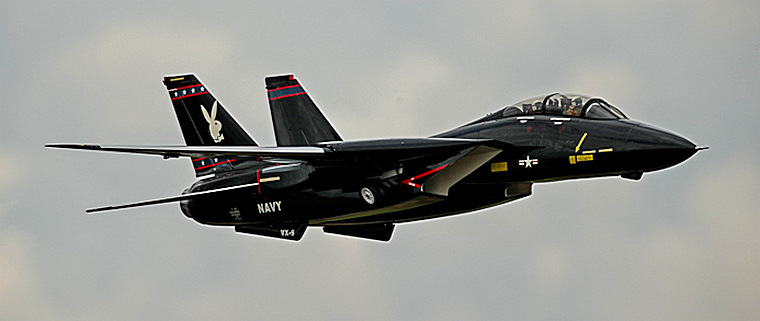 Another R/C jet that had a slight front-wheel undercarriage malfunction during landing was the Super Sabre in spectacular livery as flown overseas at full-size air shows. This model R/C jet presents truly realistic to being full size when seen from close-by, even on the ground in static display format.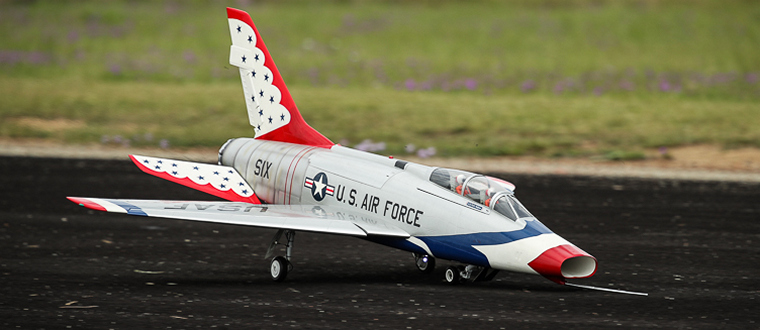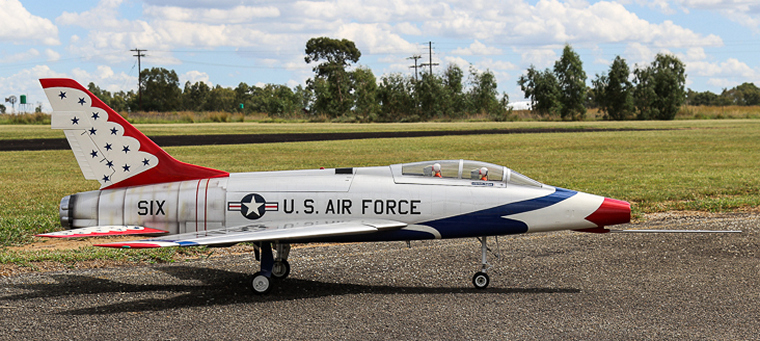 Henley Model Airfield and Family Entertainment under ownership of Marius Vosloo and his dedicated family held a very successful Jets Over Henley! Day and is a must on the R/C model aircraft calendar to attend. For more information, contact Lianie Vosloo who is the manager of this fine facility or like and follow them on Facebook.