Roston, twenty years old is one of South Africa's best radio controlled model plane pilots, in 2013 he was 16 when he won the junior World Championship title and since then has represented SA at the 2015 and 2017 World Championships.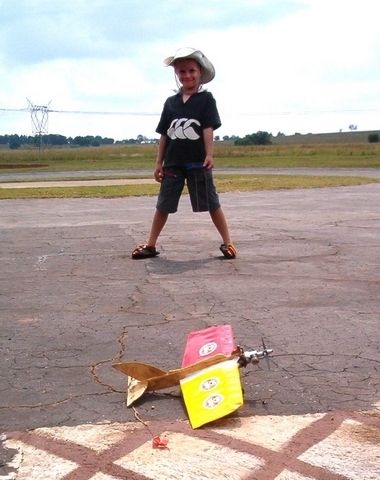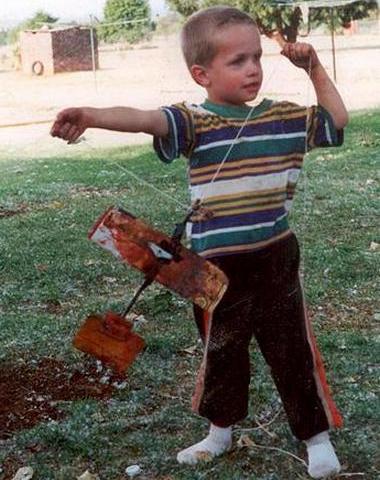 A young Roston with a control line aircraft.


Many wonder how he learned to fly so well. What did it take to make him what he is?
The most important element, in a nutshell, has been the support
,
help and encouragement he has received all his life from fellow model flyers, hobby shop owners, family members, full size pilots, flying clubs and the EAA, they all influenced him. He grew up surrounded by his grandpa's control line model planes and every Saturday he was at the local control line club just watching and having fun. When he was 4 years old he started copying what he saw, making little planes with ice cream sticks and swinging them around on a piece of string. His first real model plane was a 6mm balsa profile model with a Baby Bee motor which he soon learned to take off and land - when the motor would run properly! By the time he was 7 he had his own little flight streak with a 2.5cc motor. This plane flew a lot better than the baby-bee powered one and Keith Renecle, SA's top control line pilot took an interest.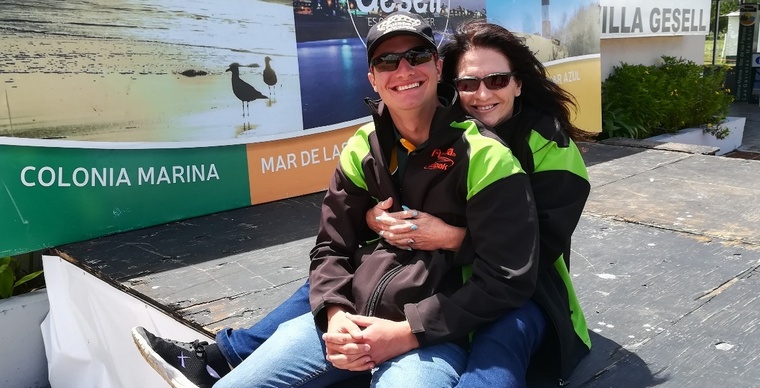 Roston and mom, Susan at the World Championships in Peridot Argentina in 2017

Adults who show interest in what kids are doing do not always realise how they can influence youngsters and how great kids feel when an important person helps them, Support, help and encouragement from Keith Renecle played a huge part in Roston's development as a control line flyer and he was top junior at a number of control line aerobatic competitions. Eventually Roston became more involved with radio control flying. His first radio controlled plane was a Gentle Lady glider with which he learned the basics. Once again the support and help
which was so freely offered played a huge role, this time it was from the members at Barnstormers Model Flying Club. Willem and Christopher Johnson taught him to fly a Wasp trainer and Richard Castigniani, a most easygoing and patient man, sometimes let him fly his planes, boosting young Roston's confidence.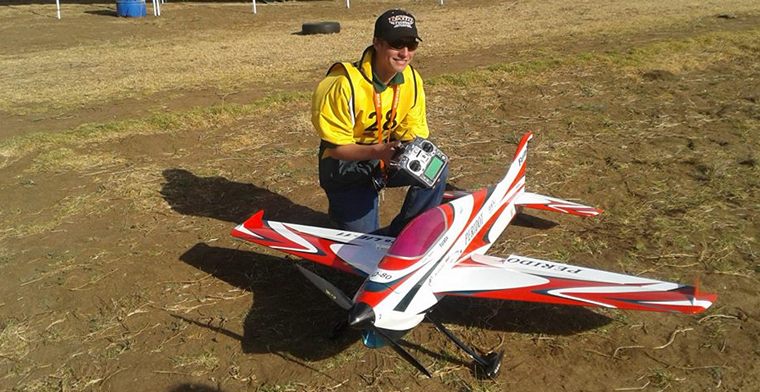 The next big step forward for Roston came in 2008 when he was 11, once again he received support and help, this time from Mike Brews at RC Pilot model shop who gave him a low wing trainer which he used in his first club aerobatic competition. Roston still treasures the photo of him and this plane taken by Mark Hubbard at this competition. He overcame his nerves and flew a solid sequence, showing his determination by landing on the narrow competition runway in a severe crosswind while most other pilots chose to sacrifice the landing points and land on the alternate into wind runway.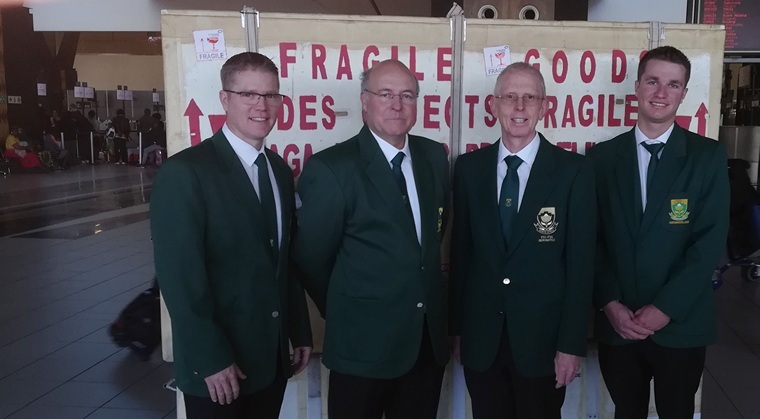 Team South Africa at the World Championships in 2017. From left to right Dr Clinton Carter-Brown, Grant Brook, Andre' Stockwell, Roston Dugmore

After this he began to think he could maybe compete seriously in RC aerobatics and once again major support and help was offered, this time from David Kambouris who had taken over RC Pilot model shop. David offered to sponsor Roston in the National entry level aerobatics sportsman class with Richard Castigniani as coach, of course Roston gratefully accepted this wonderful opportunity and so began the exciting path in aerobatics which led to him becoming South Africa's first junior World Champion. His first aerobatic plane was an electric powered ICONIC and his first season was a massive learning experience, Roston really struggled, the plane was difficult to fly accurately and although he tried his best he did not score well enough in regional competitions to qualify for an invite to the SA Masters - very disappointing - but he kept trying.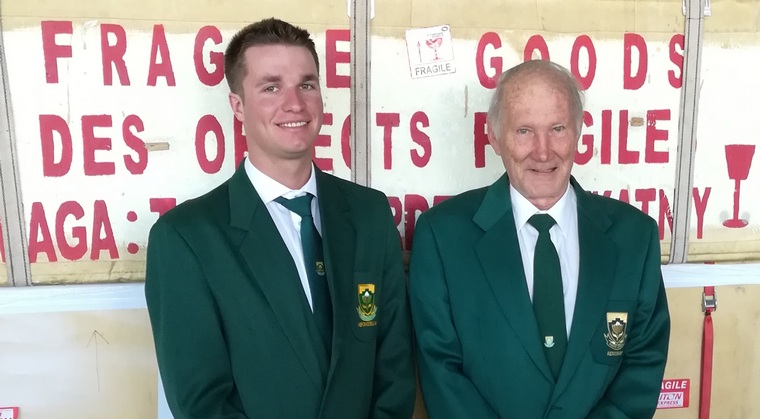 Roston and Grandpa, Roston Dugmore Senior.

The following year, Roston received very timely help and support from a few other senior aerobatic pilots. While flying at a competition in Klerksdorp in very windy conditions, two "Old Hands" Mark Hubbard and Danie Potgieter, recognising his potential and impressed by his perseverance, put a scheme together for Roston to get a more competitive plane. Wow! Although it was an out dated 5 year old plane Roston loved it, it was hugely better than anything he had ever flown and from not being able to achieving qualifying scores in 2010 he went on to win his class at the 2011 Nationals, he was also told SA would have a junior team member at the 2013 world championship.



Roston's F3a plane that he flew in the 2012 Nationals where he finished a credible 10th overall.


Roston decided he would be that junior, the first step was for him to move up from the intermediate class to the international F3a class in a year, a big jump which he had to make because team selection for the 2013 world championship began at the 2012 SA National Championship. There was no time to gradually and methodically move up in stages before finally getting to the international F3a class. Roston immediately started flying a variety of planes four times a week, developing his reflexes and skills with very responsive and agile fun fly planes and indoor aerobatics, he acquired a modern F3a plane and by April was able to enter F3a at the 2012 nats where he finished a credible 10th overall. His goal of qualifying for the 2013 SA team had been achieved.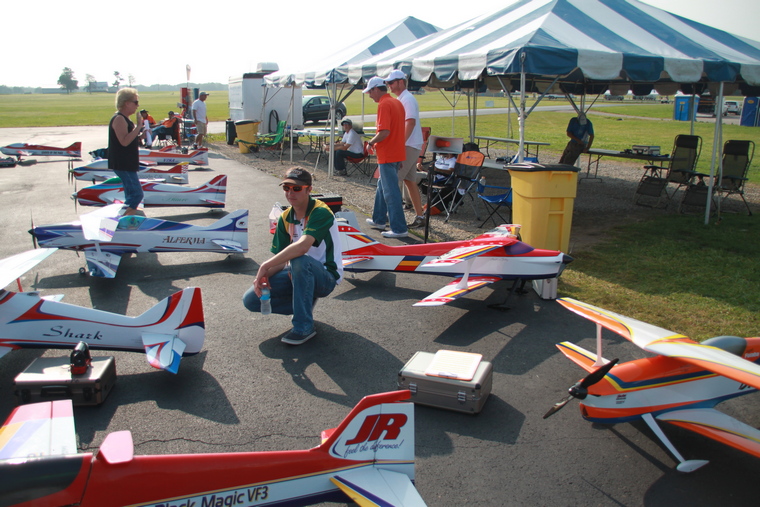 At the 2014 USA Nationals 2014.

Having assured his place in the SA team for the world championship he set his sights on achieving a good result, practising every Sat morning with senior pilots Clinton Carter-Brown and Grant Brook and then again on Sunday afternoons with Andre Stockwell, thinking constantly about shapes, sizes and smoothness. These three men freely imparted all they knew, once again support and help from fellow modellers contributing to his development.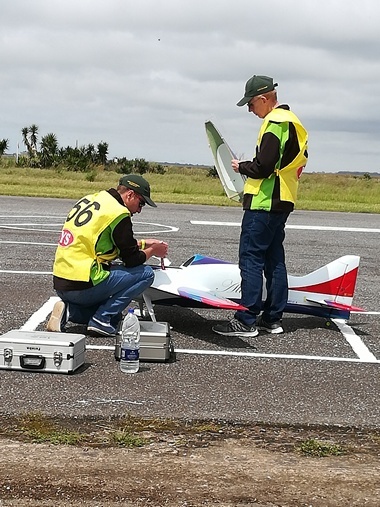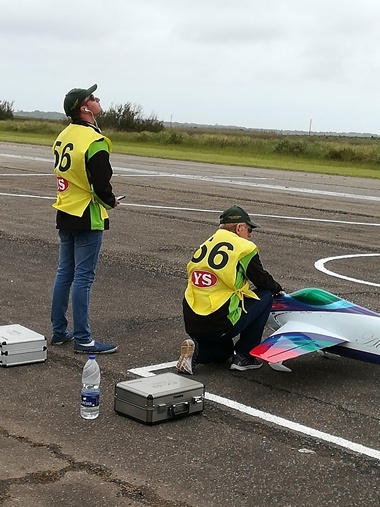 The six months before the world championship was a very busy time, Roston practised every day, sometimes in very unpleasant hot, dusty and windy conditions. This paid off because the competition turned out to exactly that - hot, dusty and windy.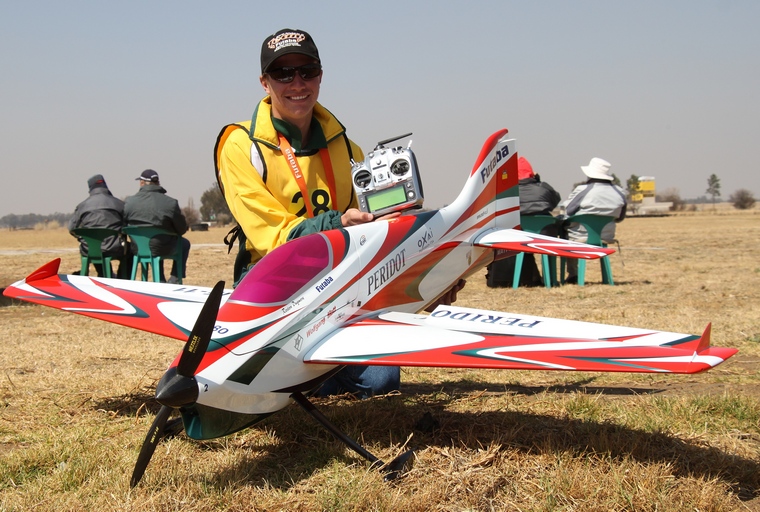 Roston at the FAI Class F3A Aerobatics World Championships-Midvaal 2013.

At the world championship competition in August 2013, caller and mentor Andre Stockwell and team manager Clinton Carter-Brown gave him wonderful support. Conditions were very difficult and the competition was fierce, the final result was only decided in the very last round by about half a percent - Roston had won - and South Africa had their very first aerobatic world champion junior. A stunning result!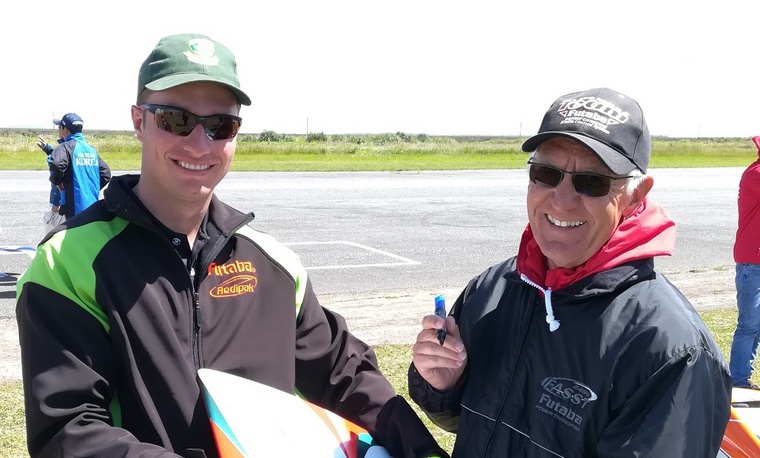 Roston and Wolfgang Matt from Liechtenstein.

Since his 2013 success Roston has received further support and help from many wonderful people, including EAA chapter 322, who collectively made it possible for him to compete at the American Nationals, and two further World Championships, most recently in Argentina which has been reported separately. He is now a qualified model plane instructor and display pilot promoting model flying and encouraging new comers to the sport.
Roston currently holds a PPL and is studying for his CPL, hoping to make a career in aviation.