A Spitfire was always on Bob Deford's bucket list but they are seldom offered for sale and if one finds its way onto the auction block one can expect to pay about R65,000,000 ($5,000,000).

Bob, a retired airline pilot from Prescott, Arizona had time on his hands and so he decided that if he could not buy a Spitfire he will build one. There are quite a few kits available but they are all at best 75% scale and not what he wanted. His Spitfire had to be to scale, look like the real thing and power was to be from a proper V12.
He purchased a set of plans from French homebuilder Marcel Jurca who had created plans, based on a display Spitfire Mk IX in the Air and Space Museum at Le Bourget, Paris for an 1-to-1 scale replica Spitfire powered by a 700-hp V12. Bob and his friend Vern started work on the welded steel tube fuselage with non-load-bearing aluminium covering and wooden wing warbird in 1996.

Next on the list was the engine. Standard Merlin and Griffon Spitfire power plants are costly and expensive to maintain and Bob opted for the beefier Allison V-1710 engine capable of generating 1,400 hp on take-off. The Allison engine started life as a P-39 Airacobra powerplant. Mated to the engine is a Hamilton Standard DC-3 propeller on a standard shaft and an oil system for changing pitch on the propeller. The propeller was rebuilt for a total cost of $6,500 (R84, 500) as opposed to a $100,000 (1,300,000.00) original Spitfire prop. Just over 100 gallons of fuel in two fuselage tanks gives Bob's Spitfire an endurance of about an hour and a half.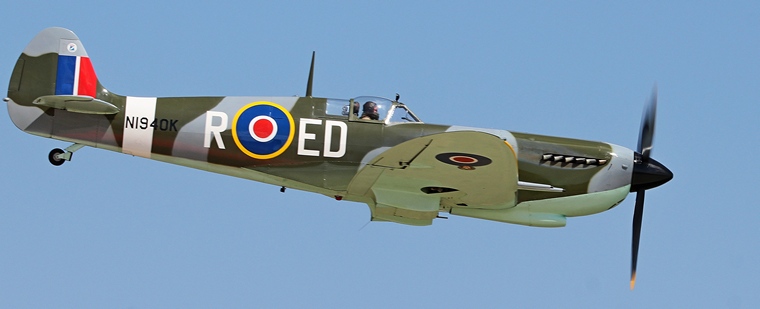 One problem with the Allison engine was that unlike the original Merlin the Allison uses a downdraft carburettor inlet atop of the engine with the air scoop on the top of the cowling whilst the intake on the Merlin's air intake is via a scoop at the bottom of the cowling. A top inlet was a definite no no and Bob designed a duct running from the traditional Spitfire chin scoop back to the firewall and up to the top of the cowled Allison. The exhaust stacks are reproductions like those constructed in Russia for replica Yak fighter projects.

Of the few original Spitfire components on Bob's Spitfire is the characteristic bulging canopy salvaged from another wooden project that never flew. The same airframe also contributed airframe parts like landing gear doors and flaps. Atop of the windscreen are mounted a rear-view mirror. Originals are rare and if available sell for as much as $300 (R3,900.00). During a chance trip to a kitchen store Bob saw a soup ladle and knew that he had found the mirror housing. At an auto parts store he found a convex mirror perfectly that fitted perfectly. The total cost? $12 (R156).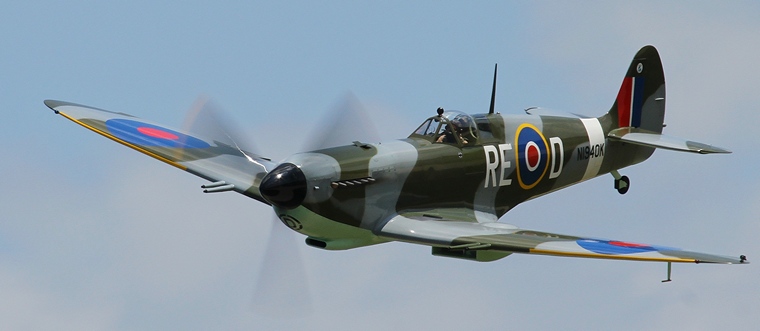 The one-piece wing on Bob's replica spans 36 feet, 10 inches. (11.27 Metres)The wing spar is made of laminated Douglas fir planks hosting wooden ribs. The whole skeletal structure of the wing is sheathed in 3/16-inch aircraft plywood topped with epoxy for protection and smoothness. The main landing gear, the struts of which are newly made, uses T-6 Texan hydraulics and T-28 wheels whilst the brakes support tires normally found on a business twin.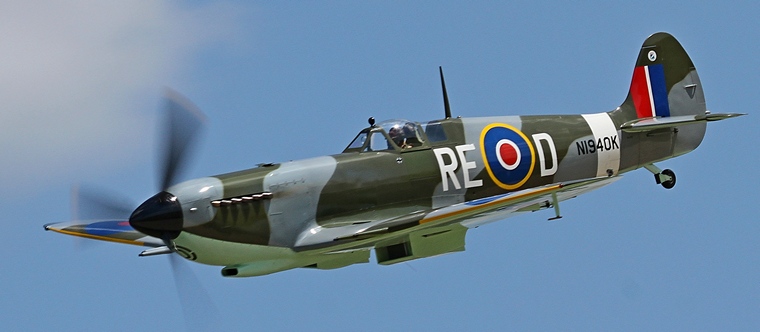 In 2013 Bob and Vern painted the Spitfire replica and at last could stand back and admire almost eight years of blood, sweat and tears. From its snugly cowled Allison to the tip of its elegantly elliptical wingtips the replica is pure Spitfire. Bob has hit 300 mph (480Kph) in a shallow dive at 8,000 feet. Aerobatics is a joy. The wooden wing and steel tube fuselage are stressed for plus eight and minus five gs.
About three months ago before the replica's flight to Oshkosh they added replica 20-mm cannons to the wing, and faired the paint flawlessly.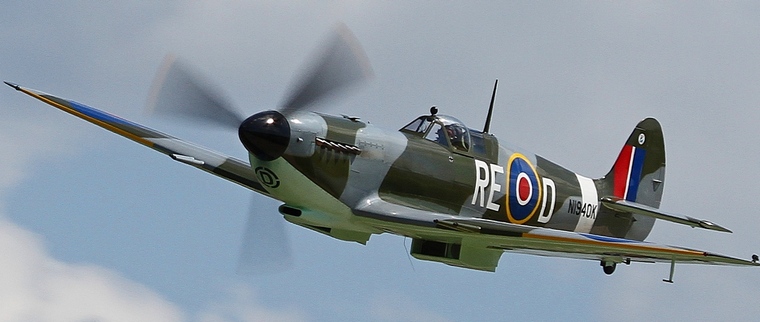 At Oshkosh she shared the sky during one of the afternoon shows with another British legend the de Havilland Mosquito. Bob has blazed a trail with his audacious effort at building such a machine. This special Spitfire was a real inspiration to those who saw it at EAA AirVenture 2015.