Sean D. Tucker has been flying airshows worldwide since the mid-70s and has won numerous aerobatic competitions and in that time has become a legend in his own lifetime.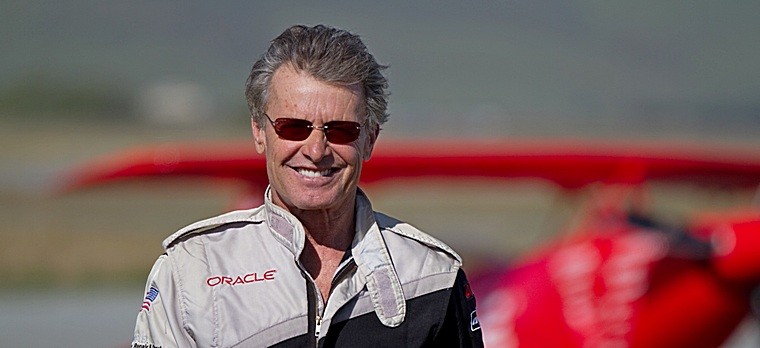 Photo © Sean D Tucker Airshows


When asked about flying airshows, Tucker has said, "I like to think that I bring the fans dreams of flying into the plane with me and there's nowhere I'd rather be than in the cockpit. That's why I train so hard to keep a finely tuned edge."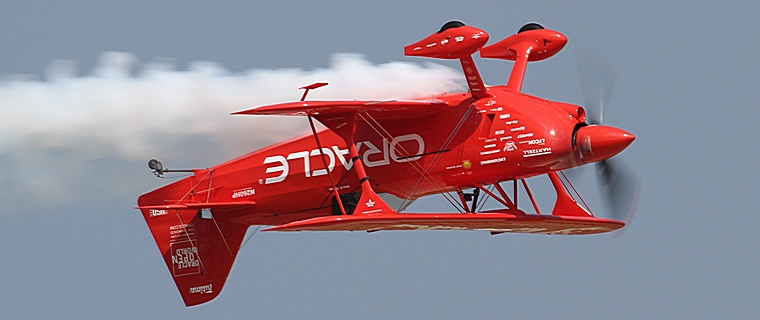 Twice during his display, Sean flies the aircraft backwards, straight-down, tail-first at more than 100 mph. More than half of Sean's manoeuvres have never been duplicated by another aerobatic pilot.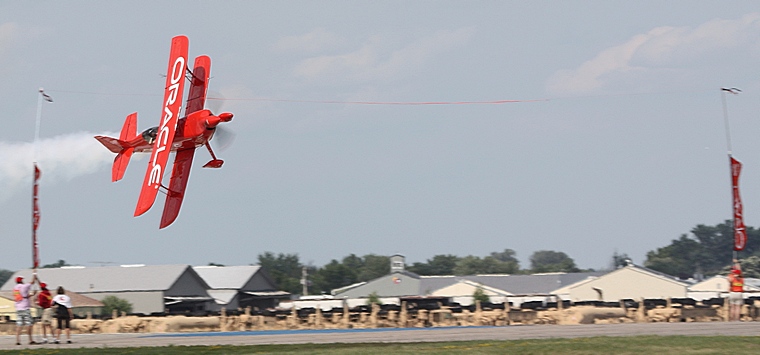 Sean is the only pilot to perform a triple ribbon cut. He flies through the ribbons, which are only 25 feet off the ground, at 220 mph in right knife-edge for the first ribbon, then left knife-edge, and finally inverted.

The level of professionalism and discipline in Sean's airshows is no coincidence. He practices his airshow routine three times every day. To endure the extreme physical demands of his acrobatic flying routine, Tucker maintains a rigorous physical training schedule, working out more than 340 days per year in a routine of jogging and weightlifting on alternating days. His other physical activities include mountain climbing, heli-skiing, cave SCUBA diving, and golfing.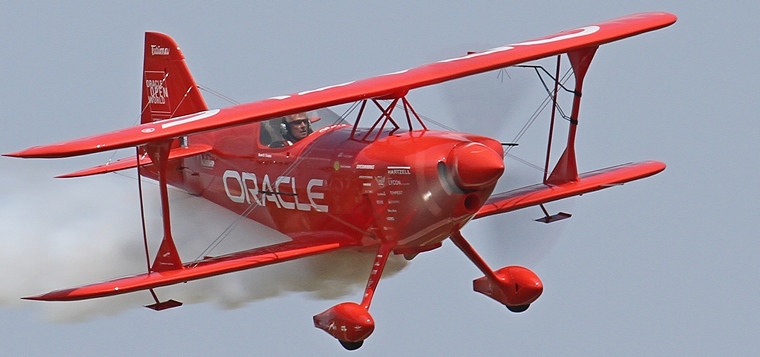 In addition to being a phenomenal aviator, Sean is also a larger than life character who inspires millions of Americans. He is passionate about the Team Oracle program. His goal is to "share the magic of flight with Team Oracle's guests by inspiring and thrilling them. "I want them to go away saying that the airshow was one of the most engaging days of their lives."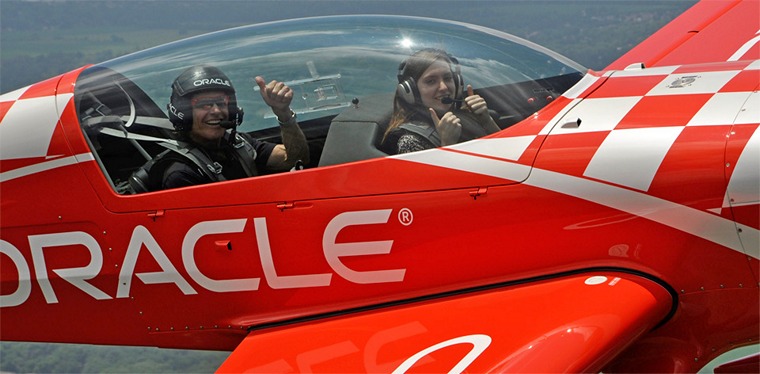 Centerville (Ohio) High School sophomore Alberta Dempsey received the gift of flight and the experience of a lifetime when she flew with EAA Young Eagles Chairman and renowned air show pilot Sean D. Tucker on June 25 in Dayton, Ohio. The flight was the grand prize of the Vectren Dayton Air Show Essay Contest. Photo © EEA

Named as one of the Living Legends of Flight, Sean is a member of an elite group of aviators and astronauts that includes General Jimmy Doolittle, General "Chuck" Yeager, and John Glenn. He is also National Aviation Hall of Fame and International Aviation Air and Space Hall of Fame Inductee, was named one of the 25 Living Legends of Flight by the Smithsonian National Air and Space Museum, a honorary member of the U.S. Air Force Thunderbirds, U.S. Navy Blue Angels, Royal Canadian Snowbirds, Brazilian Air Force Smoke Squadron, U.S. Army Golden Knights and a World Airshow Federation Champion. The list does not end there. Sean served as the chairman of the Experimental Aircraft Association's Young Eagles Program, is a General Charles E. Yeager International Aeronautical Achievements and Living Legend in Aviation Awards winner, was awarded the Bill Barber Award for Airshow Showmanship and is a past U.S. National Advanced Aerobatic Champion.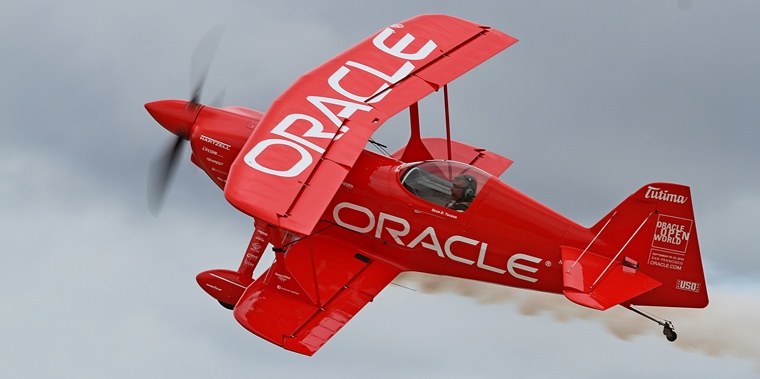 The Challenger III is the latest in Sean D Tucker's line of muscle biplanes. Following the destruction of his Oracle Challenger II he switched to his backup Pitts S2-S and christened it Challenger III. It has since undergone considerable modification. In addition to the 400hp engine and larger control surfaces, the new Challenger III has a revolutionary set of wings with curved tips and eight ailerons which give a max roll rate of 400 degree a second.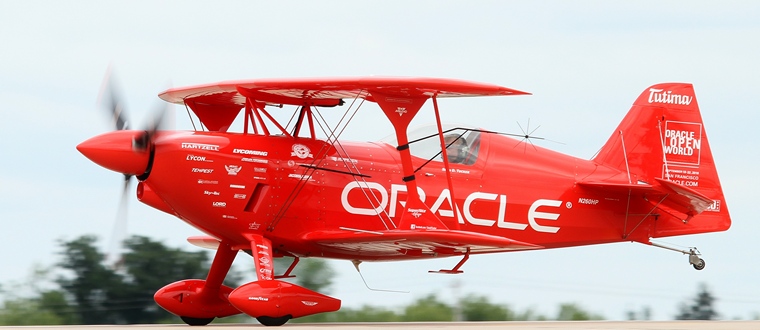 Tucker's airplane, the Oracle Challenger III biplane, is powered by a custom-built Lycoming engine able to produce more than 400 horsepower that features aluminium, drag racing pistons, a cold-air induction system and state-of-the art fuel injection. A composite Hartzell three-blade propeller 'Claw' propeller, the only certified advanced composite propeller available for aerobatic use, is made of a unique combination of carbon fibre and Kevlarô, with an electroformed nickel leading edge erosion shield. It is co-moulded on an integral stainless steel shank that accommodates bolt-on counterweights needed for aerobatic performances.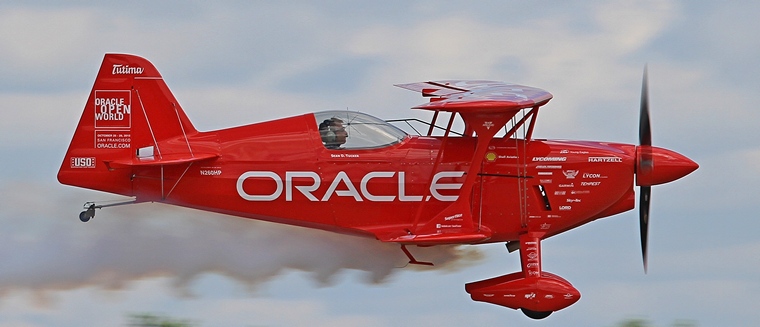 The Challenger III that has a top speed of 300 miles per hour weighs only 1,200 pounds is a tube and fabric airplane, consisting of a steel frame and special fabric skin from the cockpit back to the tail. The vertical fin is covered in carbon graphite while the rudder is covered in aluminium fabric. The tail on the airplane is modelled after the tail used on high-performance radio control airplanes. The airplane wings hold smoke generators, pyrotechnics and cameras.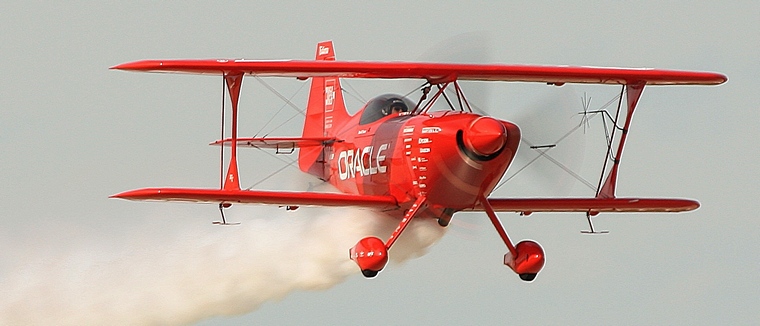 Sean's first accident occurred in 1979, when he had to parachute out of his disabled aerobatic airplane. In 1993, as he was climbing out of the parked stunt plane he used at the time, a Pitts S-2S biplane when a runaway aircraft on the ground collided with his aircraft. Tucker escaped unscathed, but damage to the wings on one side of his aircraft took ten days to repair. In 2006, the elevator (pitch control) system in Tucker's aerobatic aircraft broke during a practice aerobatic flight, forcing him to bail out over an empty farm field in Coushatta, Louisiana. He was uninjured, but the aircraft he was flying was destroyed.
Safety in the airshow environment is of paramount importance and the Oracle Challenger III undergoes regular inspections by A&P/IA and A&P certified specialists who travel with the airplane as part of Team Oracle. Before each airshow season, the Oracle Challenger III is disassembled, inspected and rebuilt according to exact specifications. It's a lengthy process that takes months.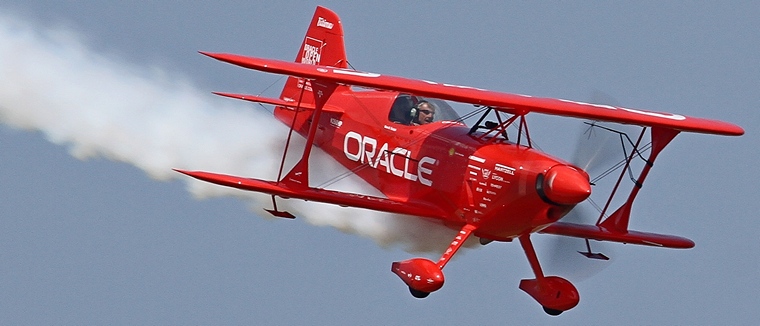 Since his first show in the 1970s Sean has flown more than 1,275 performances at more than 525 airshows, in front of more than 135 million fans and has logged more than 20,000 hours flying time, which is equivalent to flying 24 hours a day for more than two years.