THIS WEEK IN MIDWEEK UPDATE

Plan Your Weekend……..Forthcoming Events…….Aviation News

Worldwide Incidents and Accidents……This Week in Aviation History




1-3: Henley Radio Control Model Fly In. Meyerton, Gauteng. Contact Boet Deneysschen 082 449 4623
2: SAAF Museum AFB Zwartkop open practise day. Officer Commanding Museum
oc@saafmuseum.org.za
012 351 2290
4-7: HAI Heli-Expo. Georgia World Congress Centre, Atlanta, Georgia. Contact E-mail:
rotor@rotor.org
Website:
www.rotor.org


6: EAA Chapter 322 meeting. Dicky Fritz Moth Hall Edenvale. Contact:
ronellathome@telkomsa.net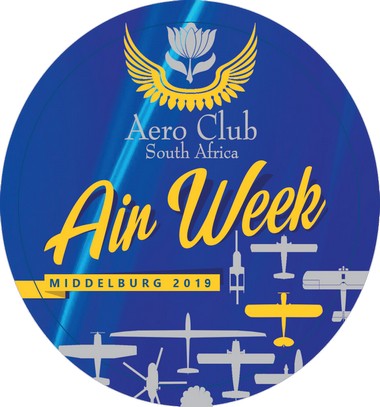 9 & 10: Swellendam Flying Club Sport Aerobatic Club Regional Championships Contact Pieter Venter e-mail:
pventer@vgv.co.za
7-10: Aero Club Air Week at Middelburg. Contact Alan Evens Hanes 011 802 1100 E-mail
sandra@aeroclub.org.za
or
melanie@middelburgaeroclub.com
9: Aero Club Airweek Speed Rally planned Saturday 9th March. Contact Rob Jonkers e-mail:
rob@aerosud.co.za
cell: 082 804 7032
9: Middelburg Aero Club Airshow.
info@middelburgaeroclub.com
12-14 March: Saudi Air Show Thumah Airport, Riyadh. Website:
www.saudiairshow.aero
13-15: Ageing Aircraft & Aircraft Corrosion seminar at OR Tambo International Airport. Contact e-mail:
lmjaviationbookings@gmail.com
23: FASHKOSK at Stellenbosch airfield. Contact Anton Theart Cell: 079 873 4567 E-mail:
gm@stelfly.co.za
3rd Saturday of every month. Microland. Bring and braai. Fires and bykos provided. Fires start from 09h30. Contact person: Nick Swardt 082 441 8011 or Alan Hussey 072 82 2341
23: SAPFA Virginia Fun Rally - Virginia Airport. Contact Mary de Klerk cell: 084 880 9000 e-mail:
maryd@expandingbranding.co.za


3: EAA Chapter 322 meeting. Dicky Fritz Moth Hall Edenvale. Contact:
ronellathome@telkomsa.net
4-6: SAPFA Rally Nationals & Fun Rally - Stellenbosch Airfield. Contact Frank Eckard cell: 083 269 1516 e-mail:
frank.eckard@mweb.co.za
6: Robertson Annual Breakfast fly in. Contact Alwyn du Plessis cell: 083 270 5888 e-mail:
boeredata@breede.co.za
6: SAAF Museum AFB Zwartkop open practise day. Officer Commanding Museum
oc@saafmuseum.org.za
or 012 351 2290
13: Uitenhage Festival. Contact Lourens Kruger e-mail:
lmk@telkomsa.net
cell: 082 320 2615
4-14: Stars of Sandstone Ficksburg, Eastern Free State. Contact
www.starsofsandstone.com
10-13 April: AERO Friedrichshafen, Germany Global show for General Aviation. Contact Stephan E-mail:
stephan.fischer@messe-fn.de
19: Witbank Aeronautical Association fly-in Easter breakfast. Contact Robert Clark for more information.
Comms@flywaa.co.za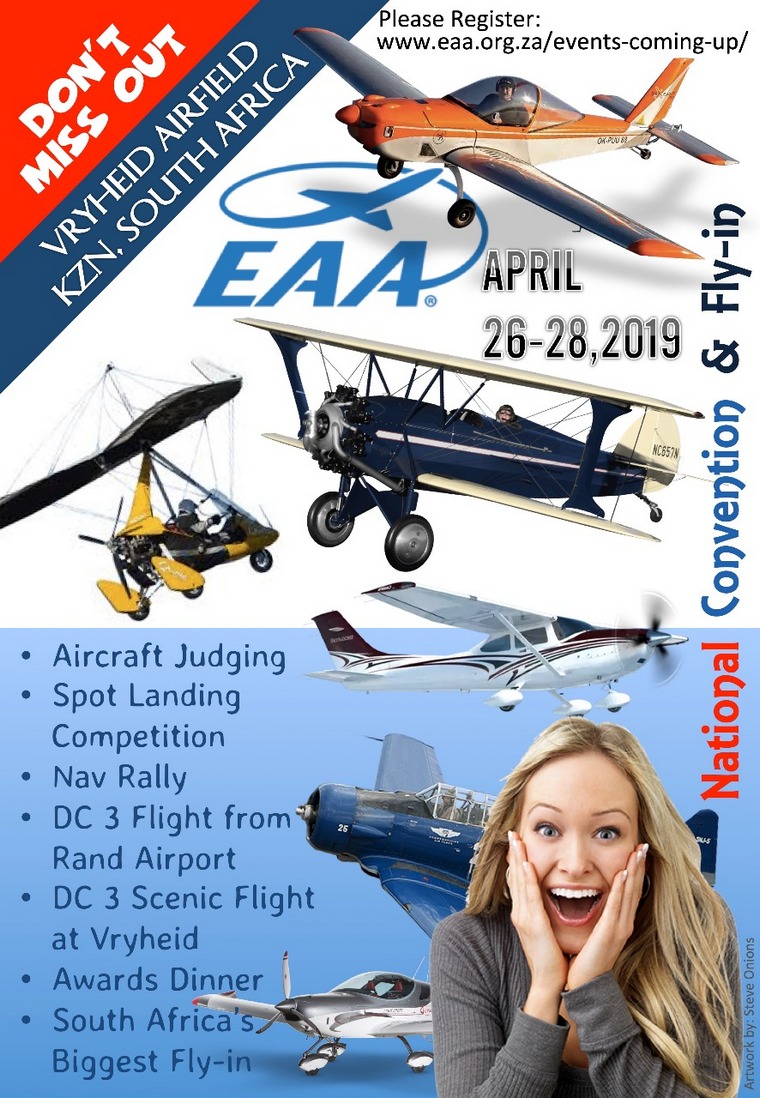 26-28: EAA National Convention Vryheid KZN. Contact Marie Reddy 083 259 7691 Register at:
www.eaa.org.za/events-comin-up/
27: SAPFA EAA Convention Adventure Rally - Vryheid. Contact Rob Jonkers cell: 082 804 7032 e-mail:
rob@aerosud.co.za
27 & 28: SAC Judges Trophy venue TBA. Contact Annie Boon e-mail:
chunge@mweb.co.za


1: EAA Chapter 322 meeting. Dicky Fritz Moth Hall Edenvale. Contact:
ronellathome@telkomsa.net
2-5: SAPFA President's Trophy Air Race - Saldanha Airfield. Contact Rob Jonkers 082 804 7032 e-mail:
chairman@sapfa.co.za
. Website: www.sapfa.co.za e-mail:
Race@sapfa.org.za
4: SAAF Museum airs how at AFB Zwartkops. Contact Officer Commanding e-mail:
oc@saafmuseum.org.za
Tel: 012 351 2290
11-12: NAC Bush Weekend at Letsatsi Game Reserve. Deon 082 458 5719, Deneys 082 891 4354 or JP 083 625 4804.
10 & 11: Lowveld airshow at Nelspruit airport. Contact Monica Fourie Tel: 083 619 3597 e-mail:
monica.fourie@kishugu.com
10-12: Battlefields Fly-in. Contact Dave O'Halloran e-mail:
gm@battlefiedslodge.co.za
14-17: NAMPO Agricultural Trade Show near Bothaville, Free State. Contact Wim Venter Tel: 086 004 7246 e-mail:
Wim@grainsa.co.za
18: SAPFA Sheila Taylor Fun Rally - Krugersdorp Airfield> Contact Frank Eckard cell: 083 269 1516 e-mail: frank.
eckard@mweb.co.za
19 & 20: SAC Free State Regionals at Tempe Airport. Contact Annie Boon e-mail: chunge@mweb.co.za
25: Botswana International Airshow Matsieng Aerodrome (FBMA). Contact Hentie de Wet e-mail:
hentie@dwddrilling.com




The Aviation Radio Show; get all your questions answered in one place. To listen to a recording of the live broadcast click on the link:
www.debela.co.za/aviation-radio-show








CATCH OF THE WEEK, MARK JACKSON'S BLACK HAWK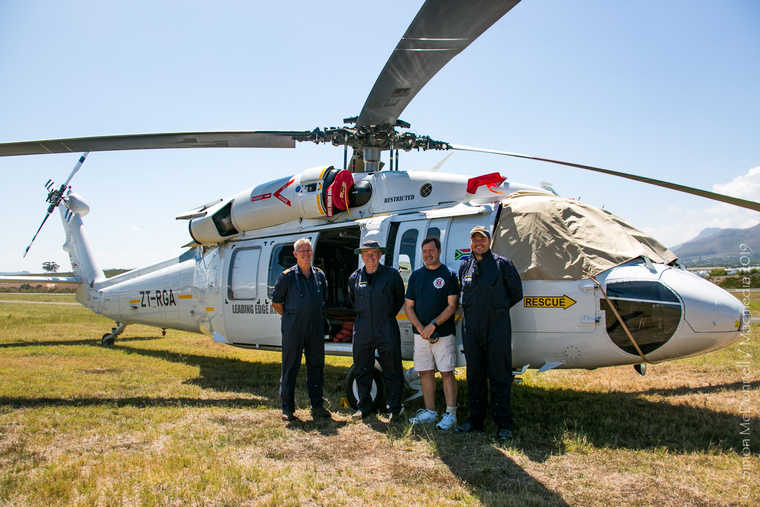 Simon McDonnell grabbed this quick pic of Colin Deiner, Chief Director Disaster Management and Fire/Rescue Services, Western Cape Government with Tosh Ross and the Black Hawk crew. Owner Mark Jackson was off in his Huey fighting fires. Disaster Management and Fire/Rescue Services


Send your catch of the week photos with a brief description to willieb@pilotspost.com and stand a chance to win a prize.




THE AERO CLUB OF SOUTH AFRICA - AIRWEEK 7TH TO 10TH OF MARCH 2019 MIDDELBURG AIRFIELD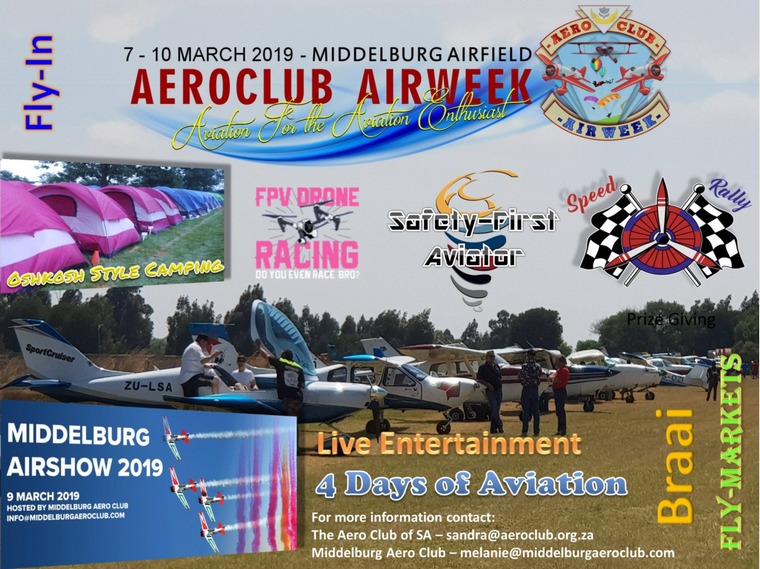 The Aero Club of South Africa is proud to host another Airweek in Middelburg, Mpumalanga. We would like to invite all members of the Aero Club, Aviation Enthusiasts and their families to attend the Airweek.


REGISTRATION AND PARTICIPATION
Kindly complete the RSVP Form to assist us in determining attendance and your participation requirements if you have not already registered.
Use the following link to RSVP
https://goo.gl/forms/c7fHTkvrRxjQnRpi2
ACCOMMODATION AND CAMPING
Bed and Breakfast
Chiné van Aarde would like to assist all Airweek participants with bookings into various Bed and Breakfast facilities within Middelburg.
Please contact Chiné via email info@middelburginfo.com or 071 194 2987
Camp under your wing

A dedicated area is available to camp under your wing. Ablution facilities is in place and an area where you can relax with other aviators.
Neil Bowden "Oshkosh Style" camping

Neil Bowden will once again have a "Tent City" with Tent suites ready when you arrive on the Airfield.
Pilot's suite = R700.00 for the entire event, this suite features exclusive accommodation on the airfield, with a single airbed, the ultimate in comfort, a soft pillow and a blanket.
Crew suite = R900.00 for the entire event, this suite features exclusive accommodation on the airfield with 2 single airbeds, the ultimate in comfort and includes 2 soft pillows and 2 blankets.
The tents can be booked by following this link
https://goo.gl/forms/bYJrdBOaRq44iXRz2
FOOD AND REFRESHMENTS
Beer tent will be available
Breakfast and Lunch
Breakfast and Lunch can be purchased at the Middelburg Rotary tent or from Food Vendors on the Airfield.
Dinner

Braai packs will be available for Thursday and Friday evenings braai. 2 types of braai packs will be available, R65.00 and R75.00 - both packs include Salad and Cutlery.
SATURDAY EVENING DINNER

3-Course meal in the hangar with prize giving. Entertainment and a cash bar at R150.00 per person or R1500.00 per table of 10 seats.
Booking is essential and a limited number of seats available.
https://goo.gl/forms/u6KEjQbewkm36hgx2
SATURDAY AIR SHOW INFORMATION

9 March 2019
Hosted by Middelburg Aero Club
Free entrance for all fly in pilots and pax.
Adults: R100.00
Children: R50.00 (6 to 13 years)
Pensioners: R50.00 (>65years)
Gates open at 10:00. Show starts at 13:00 and ends at 18:00
EVENT ACTIVITIES
Thursday 7 March 2019
• Arrivals
• Evening Bon Fire and Braai
Friday 8 March 2019

• Arrivals and Breakfast
• SAPFA Speed Rally Test Flights
• Drone Racing
• Safety First Aviator Presentation
• Speed Rally Training
• MAD Team Paratrikes
• Epic Team - Paramotors
• Braai
• Speed Rally briefing and Entertainment
Saturday 9 March 2019

• Breakfast and Arrivals
• SAPFA Speed Rally
• Middelburg Air Show and Fireworks Display
• Balloon Night Glow
• Prize Giving and Dinner
Sunday 10 March 2019

• Breakfast
• Departures
Approach Procedure will be communicated soon!
Kind Regards
Yours in preserving free flight
The Aero Club of South Africa



GAMA PRESENTS 2018 YEAR-END AIRCRAFT SHIPMENT AND BILLING NUMBERS

The General Aviation Manufacturers Association (GAMA) released the 2018 year-end results at its "State of the Industry" press conference. GAMA Chairman and Gulfstream Aerospace Corp. President Mark Burns announced that globally, airplane shipments increased 4.7 percent, to 2,443 units in 2018. Airplane billings increased 1.5 percent, from $20.2 billion to $20.6 billion. Worldwide rotorcraft shipments rose 5.4 percent, from 926 to 976 units. Rotorcraft billings decreased slightly, by 0.7 percent.


Notable from these numbers is piston airplane deliveries increased by 5.0 percent, to 1,139 units. Turboprop airplane shipments increased to 601 units. Business jet deliveries improved, from 677 to 703 units. There were 281 piston rotorcraft deliveries compared to 264 in 2017. Preliminary turbine rotorcraft delivery data shows a 5.0 percent increase, to 695 shipments.
"This is the first year since 2013 that we've seen all segments up in deliveries," said GAMA President and CEO Pete Bunce. "New certifications over the last two years, especially in the lighter jet segments, as well as demand in North America are driving the business jet shipment increase. This is also the second consecutive year in which shipments of piston and turbine rotorcraft are up, driven by the introduction of new models to the market."
"While impacts of the U.S. partial government shutdown are still being felt and assessed, we remain optimistic given recent type certifications and other certifications in the product queue that bode well for the large airplane segment to continue its strength," continued Bunce. "Also encouraging is the demand for specific aircraft types we're seeing in North America, the Asia-Pacific and the Middle East and Africa regions."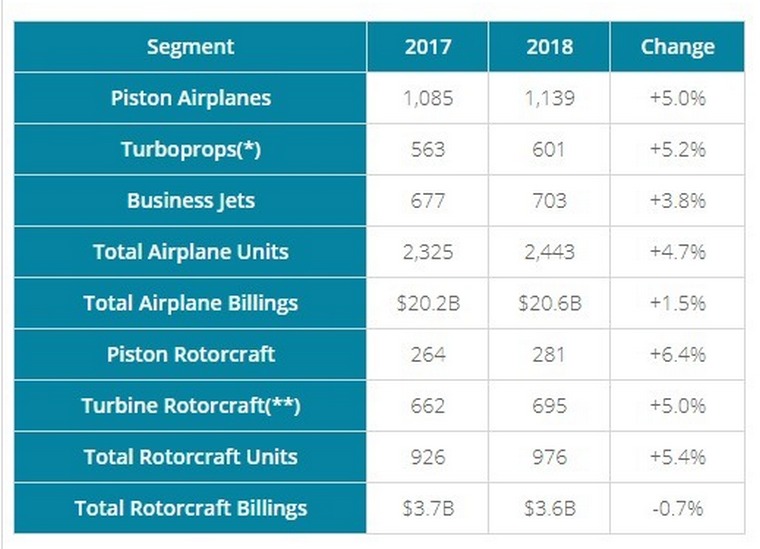 **Leonardo Helicopters fourth quarter data is not available at the time of publication. Leonardo Helicopters will release year-end results in March. GAMA excluded 2017 fourth quarter data for Leonardo in the comparison table.





CIRRUS AIRCRAFT REPORTS STRONGEST DELIVERIES IN A DECADE, HIGHLIGHTED BY VISION JET GROWTH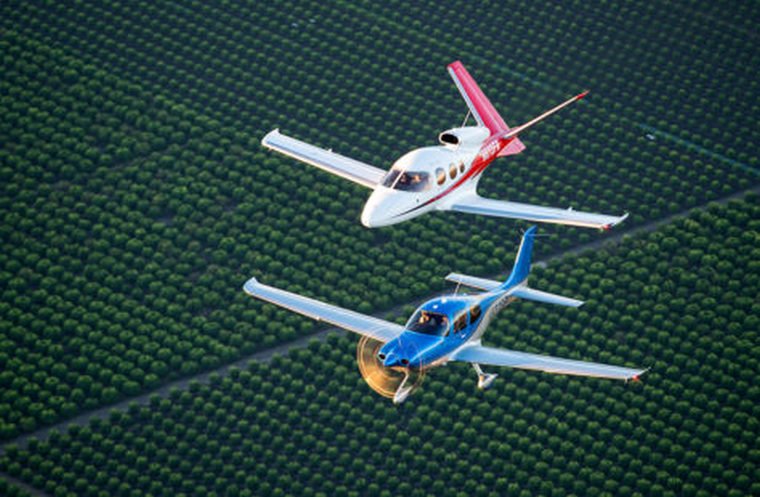 Cirrus Aircraft announced today that new customer aircraft deliveries for the company's best-selling SR Series showed steady growth and reached 380 aircraft in 2018, an increase of seven percent over 2017. The company also announced acceleration of production and delivery of the Vision Jet - the world's first single-engine Personal Jet- with 63 aircraft delivered, resulting in nearly 100 Vision Jets currently in service around the world. Photo © Cirrus


The annual results mark the fifth consecutive year that Cirrus Aircraft has delivered more than 300 SR Series aircraft. Additionally, the current trajectory of Vision Jet deliveries is setting the pace to make the Collier Award winning single-engine Personal Jet one of the best-selling turbine aircraft under $6 million USD. Enterprise growth also propelled continued facilities expansion and employee growth across all Cirrus locations including Duluth, Minnesota, Grand Forks, North Dakota and Knoxville, Tennessee.
Cirrus Aircraft's first high-performance SR Series airplane - the SR20 - was delivered in 1999 and transformed general aviation with intuitive avionics, game-changing performance and revolutionary safety systems, including the Cirrus Airframe Parachute System® (CAPS®). Today's SR Series portfolio includes the SR20, SR22 and the turbocharged SR22T. Last year, the company celebrated the milestone of the delivery of its 7,000th SR Series aircraft and over 10.5 million flight hours in 60 countries around the world.
This year, the company will celebrate 20 years of the SR Series entering the high-performance single-engine piston market. Now in its sixth generation, the SR Series has been the best-selling general aviation piston aircraft in its class for seventeen consecutive years. The G6 SR Series launched in 2017 with the Cirrus Perspective+ by Garmin® flight deck, which includes expanded avionics and flight planning options, luxury automobile-inspired Cirrus Spectra wingtip lighting, cockpit connectivity solutions and premium interior options.
Earlier this year, Cirrus Aircraft announced the addition of the Arrivée Special Edition SR Series inspired by "The Art of Arriving". This unique aircraft expands on the luxury automobile inspired details that define a Cirrus aircraft interior with artisan handcrafted finishes and customization typically only available through the company's unique Xi Design Studio.
In 2016, Cirrus Aircraft ushered in a new era in personal transportation with the FAA certification of the world's first single-engine Personal Jet - the Vision Jet. The turbine aircraft defined a new category in aviation - the Personal Jet - with its spacious pilot and passenger-friendly cabin featuring panoramic windows, reclining seats, comfortable legroom for five adults and two children and the only turbine aircraft with a whole airframe parachute system as standard equipment. 2018 marked a new milestone in the journey of the Vision Jet, with the historic win of the Robert J. Collier Trophy from the National Aeronautic Association.
Last month, the company announced the launch of the next generation Vision Jet- "G2" - with enhanced performance, comfort and safety. Evolutionary features include increased cruise altitude, speed and range, along with a newly-upgraded Perspective Touch by Garmin® flight deck. Innovative technologies unique to G2 include a category-first Autothrottle, Flight Stream connectivity and more. Amenities were also added to the passenger experience, including new executive seats, thoughtfully-engineered noise reduction and a passenger productivity console.
As production of the Vision Jet continues to accelerate, the company will also see the expansion into significant new markets in 2019, with deliveries to customers in Brazil, South Africa and Australia.


AIRVENTURE CELEBRATES 50 CONSECUTIVE YEARS IN OSHKOSH AT 2019 FLY-IN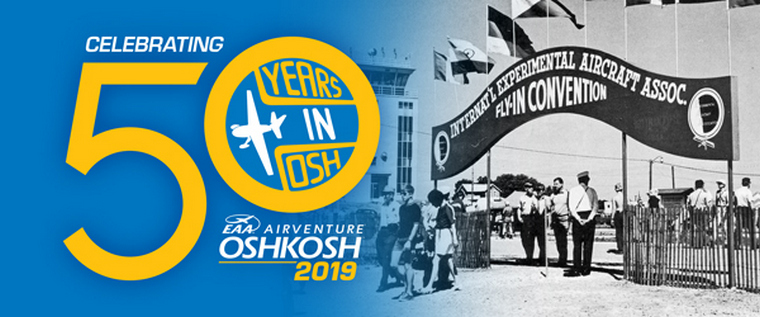 The World's Greatest Aviation Celebration seeks people and aircraft that attended in 1970. EAA is marking the 50th consecutive year of its annual EAA AirVenture Oshkosh fly-in convention in Oshkosh in 2019 with a full schedule of activities for arriving aviators and residents of EAA's hometown. Photo © EAA AirVenture


The EAA fly-in convention was first held in Milwaukee, Wisconsin, in 1953. In 1959, the event moved to Rockford, Illinois, where it was held annually through 1969 before coming to Oshkosh. EAA moved its permanent headquarters from the Milwaukee area to Oshkosh in 1983.
"A half-century ago, EAA founder Paul Poberezny saw Oshkosh as the perfect place to bring together aviation enthusiasts," said Rick Larsen, EAA's vice president of communities and member programs, who coordinates AirVenture features and attractions. "Oshkosh has become synonymous with the World's Greatest Aviation Celebration so it's a natural that we commemorate 50 consecutive years here with events that involve those who attend and those who have made the city such a welcoming place for aviators."
EAA is seeking any of the show planes that were present at the 1970 EAA fly-in convention and inviting the current owners to bring them to Oshkosh next summer. They will be featured in exclusive parking areas on the grounds. In addition, EAA is seeking members and volunteers who will be attending their 50th consecutive fly-in in 2019, and unique memorabilia and stories from the 1970 event that will add to the history of what has grown to be the largest annual fly-in in the world. In 2018, EAA AirVenture Oshkosh welcomed more than 600,000 people from 87 nations, along with more than 10,000 aircraft.
As a thank you to Oshkosh residents for welcoming the aviation world to their city for the past half-century, there will be special offers for community members and additional ways to engage in this historic milestone. Those details and others are still in development and will be announced as they are finalized.
"Over 50 years, nearly every significant aircraft type in the world has landed on the runways at Wittman Regional Airport to be part of the EAA fly-in," Larsen said. "More important are the stories of the people who have come to be a part of this event and the legacy of what is now known simply as Oshkosh. That is what we will be celebrating in 2019."

HELIGO RECEIVES ITS FIRST AIRBUS H145 HELICOPTER FROM MILESTONE AVIATION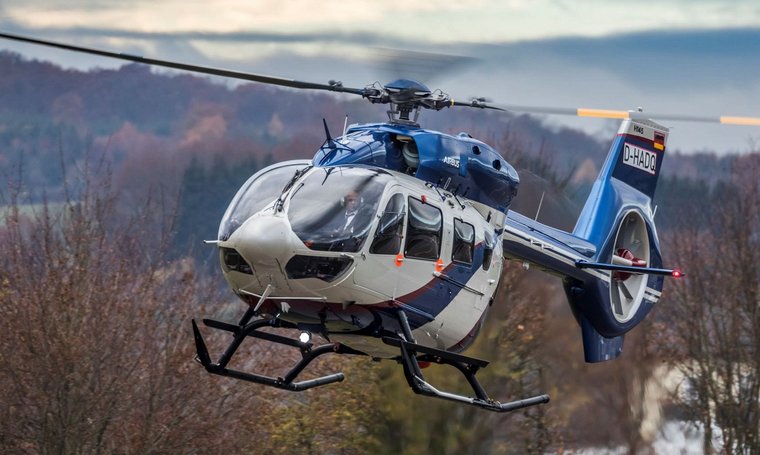 Milestone Aviation Group Limited (Milestone), a GECAS company and the global leader in helicopter leasing, and Airbus Helicopters announced today that Heligo Charters Private Limited (HCPL), a Mumbai-based non-scheduled helicopter operator has taken delivery of its first H145 helicopter. The helicopter's configuration will allow it to perform a variety of missions. The aircraft taken on lease from Milestone will start operations soon in the state of Jharkhand. Photo © Airbus.

"We take immense pride in the fact that Heligo has placed its trust in Milestone's certainty of execution to deliver the aircraft, coupled with our financial and technical capabilities. We look forward to continuing to grow this long-term relationship," said Michael York, Senior Vice President of Commercial at Milestone.
HCPL is a leading onshore and offshore helicopter services provider to the oil & gas industry, corporate and VIP travel in India.. The company currently operates 10 helicopters, including four Airbus AS365 N3 Dauphins.
"HCPL will use the versatile H145 helicopter for a variety of missions. With enhanced safety features and a reputation for reduced maintenance, the H145 is an ideal craft for performing diverse roles," said Capt K Padmanabhan, CEO, Heligo Charters Pvt Ltd.
Airbus' H145 is the latest member of its 4-tonne-class twin-engine rotorcraft product range - with designed-in mission capability and flexibility, especially in high and hot operating conditions. Compact in size, this helicopter's small footprint and large, flexible cabin makes it the aircraft of choice for a variety of missions. It provides latest technologies, like the advanced cockpit design with the most modern Human Machine Interface (HMI) and state-of-the-art Helionix® avionics, more powerful engines, an enhanced transmission system and a Fenestron® anti torque-device.
These new technologies are combined with the rugged and proven design elements of the H145 - the main rotor system and the multipurpose cabin. Built-in safety aspects include an energy absorbing fuselage and seats and crash-resistant fuel cells. Compared to other helicopters in its class, the H145 offers a significantly larger cabin featuring excellent outside visibility for pilots, crew and passengers; a roomy cabin with no partitions, center or door posts; and unrivalled side and rear loading capability.
Airbus will be displaying a similar H145 at Aero India 2019 in Bengaluru from 20 - 24 February 2019.



THREE PEOPLE, ONE AVIATION-ENTHUSED FAMILY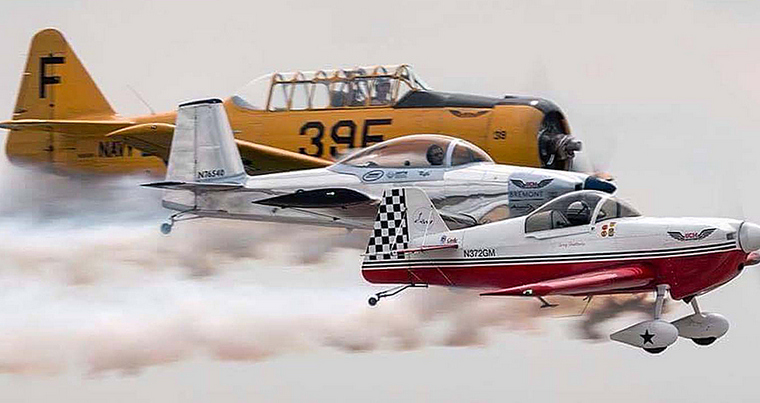 The Shetterly Squadron is scheduled to make its debut at EAA AirVenture Oshkosh this year, but it will not be the first time AirVenture attendees have seen the members fly in Oshkosh. The team consists of Greg, Joe, and Jeff Shetterly. The group is unique in that not only is it a father and sons act, but they don't fly the same type of aircraft. © AirshowStuff


"We're flying three completely different airplanes, so especially when it comes to formation aerobatics, the airplanes act quite different when you're manoeuvring vertically. … It's an interesting challenge to get three airplanes to fly well together," Joe said.
Greg, EAA 535127, flies a DR-107 One Design, Jeff, EAA 727110, pilots an SNJ-6 called the Radial Rumble, and Joe mans an RV-8 making for one spectacular show spanning the spectrum from homebuilt competition aerobatic airplane to antique warbird. Depending on the air show and the air space restrictions, they have different routines, which consist of combinations of solo and formation aerobatics.
Joe has flown at AirVenture three times: heritage flights in the A-10 in 2011, in 2013 in his RV-8, and in 2016 he performed with Greg.
"The first time that I got to fly over AirVenture as a part of a heritage flight was mind blowing, to say the least," Joe said. "I mean, I found myself in formation with aviation legends such as Steve Hinton and Kevin Eldredge and flying in formation with an F-86. I had a very distinct moment there that I'll never forget where I'm looking down and seeing Oshkosh with everyone gathered. … I'm in this formation and I just couldn't hardly believe that it was me and that I was getting to do that."
Greg has more than 20,000 hours of flight time under his belt, which he accumulated over his 42 years of professional flying. He grew up listening to aviation stories told by his grandfather and uncle, so it was only natural to want to share the love of aviation with his family. Greg taught his wife, Micki, and their two sons to fly and now all three of them are flight instructors. Micki serves as the team safety officer and announcer and flies her Citabria or Champ to shows as a support aircraft. In 2013, Jeff bought his T-6 and the family decided to start the beginning of what is now The Shetterly Squadron.
Joe said he is looking forward to performing with his dad and brother at AirVenture 2019. They hope their performance and family story will help generate interest in aviation for years to come.
"We are all passionate about aviation and flying and, specifically, about sharing it with the younger generation," Joe said. "So, that's really the point of everything that we're doing here … to share a passion and to point out that across the spectrum of age and gender and types of flying … there's something for everyone to enjoy."

CESSNA CITATIONS LEAD THE INDUSTRY IN 2018 DELIVERIES; CITATION LATITUDE RECOGNIZED AS MOST DELIVERED MIDSIZE BUSINESS JET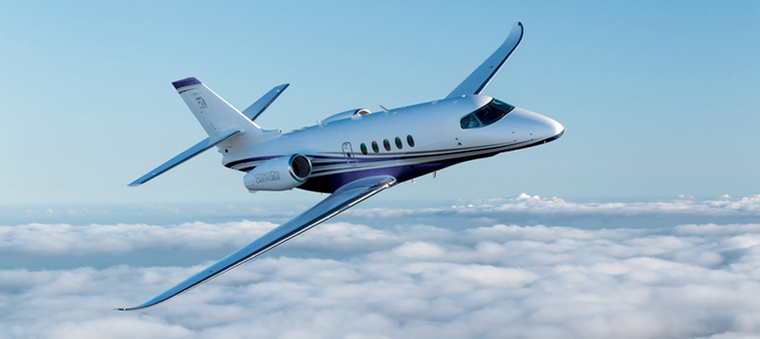 Textron Aviation Inc., a Textron, Inc. (NYSE: TXT) company, announced that its Citation aircraft were the most-delivered business jets of 2018 according to the annual shipment and billings report published by the General Aviation Manufacturers Association (GAMA). Textron Aviation delivered 188 business jets - including 57 Cessna Citation Latitude aircraft - winning the midsize segment for the third consecutive year and outselling its closest competitor four to one. Photo © Cessna.

"Leading business jet deliveries in 2018 is a continued testament to the trust our valued customers place in the Citation family," said Rob Scholl, senior vice president, Sales and Marketing. "We're honoured to see that customers and operators have responded by making the Latitude their midsize platform of choice for three years running."
Recognized for its mission flexibility and low operating costs, the Citation Latitude has grown in popularity with operators worldwide. In 2018, the midsize jet earned certification in Australia and China and today, the aircraft is certified in 43 countries. The worldwide fleet has amassed more than 150,000 flight hours since entering service in 2015.
The jet's class-leading take-off field length of 3,580 feet provides greater access to airfields usually reserved for smaller aircraft, allowing operators to land closer to their final destinations. Inside, the Latitude's flat floor cabin delivers a new level of comfort to the midsize segment, and features like Bluetooth connectivity and a custom wireless cabin management system give passengers cabin control from their personal devices.

SWISS GOVERNMENT RECEIVES PILATUS PC-24 AND NOW FLIES IN TYPICALLY SWISS STYLE




The Swiss government officially took delivery of the Pilatus PC-24 ordered in 2014 on 18 February 2019. The brand-new PC-24 Super Versatile Jet replaces a business jet supplied by a North American manufacturer and previously used for government flights. Photo © Pilatus.

Ueli Maurer, President of the Swiss Confederation, took delivery of the PC-24 at a simple handover ceremony held in Berne. The Swiss Air Force will operate the aircraft for the Swiss government. The government jet sports a modern, white-grey livery with striking Swiss cross on the tail fin plus the words "Swiss Air Force". The aircraft serial number is 121, indicating that it is the 21ST PC-24 to come off the production line. The military registration is T-786.
"I'm delighted the Swiss government opted for a Swiss product, and will travel aboard the PC-24 - the new 'Swiss Air Force One' - in the future! This choice sends a very important signal for our brand-new business jet. I'm confident that other governments will adopt the PC-24 once they see the unrivalled opportunities and flexibility which it offers", commented Pilatus Chairman Oscar J. Schwenk.
The generous cabin with flat floor offers sufficient space for eight passengers plus crew and luggage. In addition to the spacious cabin and speed, government passengers will also enjoy other benefits such as the large cargo door fitted as standard and the jet's ability to use very short runways. In other words, the Swiss Federal Councillors can now fly closer to their final destination, thereby saving precious time.
The aircraft will be used primarily for travel within Europe. The PC-24 has a range of 2,000 nautical miles (3,704 kilometres) and flies at a speed of 440 knots (815 kilometres per hour). The PC-24 is much less expensive to operate than jets of similar cabin size.
Pilatus is proud and thanks the Swiss government for its confidence in the brand-new Swiss business jet by Pilatus. The management and all employees are delighted that from now on, the government will fly in typical Swiss style: with the Pilatus PC-24.

AERIAL FIREFIGHTING TO BE FEATURED AT AIRVENTURE 2019



Aerial firefighting will be a major theme at EAA AirVenture Oshkosh 2019 with support from the U.S. Forest Service and other aircraft operators and manufacturers. Photo © EAA AirVenture


"EAA is pleased to have the opportunity to showcase aerial firefighting and most importantly to give our attendees the opportunity to better understand this important aspect of aviation and salute those that make it happen," said Rick Larsen, EAA vice president of communities and member programs, who also coordinates AirVenture features and attractions.
EAA will be working with the U.S. Forest Service and other entities to bring various firefighting aircraft to AirVenture to allow visitors to see them up close.
"We have an opportunity to expose a broader audience to how our operations commence and the tremendous ability to showcase the firefighting pilot and the firefighter on the ground," said Chad Runyan, north zone aviation officer for the Eastern Regional Office of the Forest Service. "Typically, the only people that really understand what we're doing are people actively in the fire because we have to close down airspaces and protect our area. The general public doesn't really get to see these systems, how they all interact and how they all work, in a static setting."
Exact details on firefighting aircraft scheduled to appear and other programming around the aerial firefighting theme will be released in the coming months.


USA, A Delta Airlines McDonnell Douglas MD-90 performing a flight from Milwaukee to Atlanta with 164 people on board, was en-route when about 25nm west-north-west of Chattanooga the aircraft encountered a frontal weather system and received a lightning strike. The left hand engine began to vibrate prompting the crew to reduce the engine to idle and to divert to Chattanooga for a safe landing about 25 minutes later.
Brazil, Fernando De Noronha: A GOL Linhas Aereas Boeing 737 on a flight from Recife to Fernando De Noronha attempting to at the destination airport was forced to make a go-around since an Azul Brazilian Airlines Embraer ERJ-195AR was taxiing back on the active runway.
Iran: Iranian investigators believe an ATR 72-200's unauthorised descent below minimum safe height resulted in its being caught in a mountain wave, and that its crew failed to carry out the procedures necessary to recover from a stall. The Iran Aseman Airlines aircraft struck a mountain peak as its crew tried to evade cloud while descending towards Yasouj on 18 February last year. None of the 66 occupants survived.
Romania, near Tuzla Airfield: A Diamond DA42 Twin Star operated by the Regional Air School impacted open field near the Tuzla International Airport, under unknown circumstances during a training flight. One occupant died, another was seriously injured.
Guyana, Eteringbang Airport: A Cessna U206G Stationair 6 II operated by Fenix Aviation impacted trees and terrain while on approach to the Eteringbang Airstrip, under unknown circumstances. The pilot did not survive and the aircraft was damaged beyond repair.




20 FEBRUARY 1875

Birth of Marie Marvingt, French athlete, mountaineer, aviator and the most decorated woman in the history of France. First woman to fly combat missions as a bomber pilot during WWI, a qualified surgical nurse, first trained and certified Flight Nurse in the world. She worked for the establishment of air ambulance services throughout the world.


Marie Marvingt's first flight was 1907 she ascended as a passenger in a free-flight balloon. On 19 July 1907, she piloted one and in September 1909, she made her first solo flight as a balloon pilot. Two months later on 26 October 1909 Marvingt became the first woman to pilot a balloon across the North Sea and English Channel from Europe to England. She earned her balloon pilot's certificate (#145) from the Aero-Club Stella in 1910.
In September Marvingt had her first flight as a passenger in an aeroplane piloted by Roger Sommer. During 1910. On 8 November 1910 she became she was the third Frenchwoman received a pilot's licence from the Aéro-Club de France.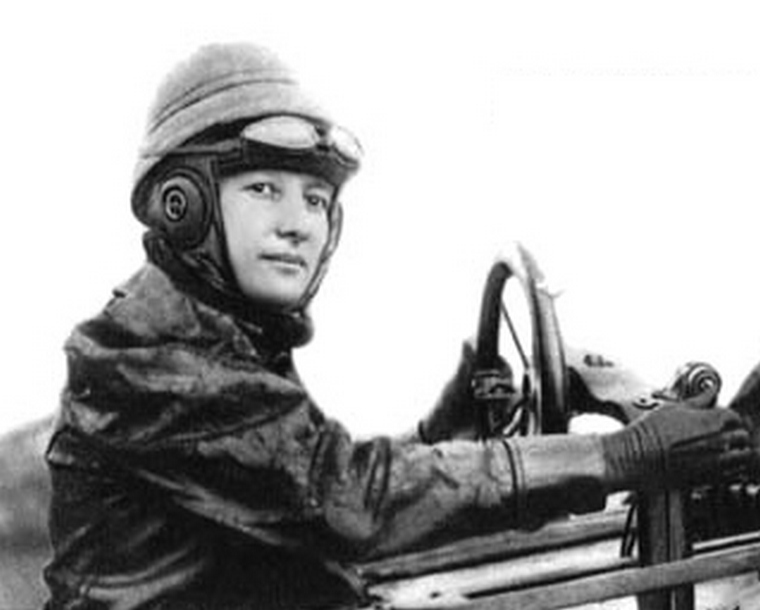 Marie Marvingt in a Deperdussinin in 1912. Photo © commons.wikimedia.org

During World War I she disguised herself as a man and, with the connivance of a French infantry lieutenant, served on the front lines as a soldier, 2nd Class. She was discovered and sent home but later also served as a Red Cross nurse.
In 1915 Marvingt became the first woman in the world to fly combat missions when she became a volunteer pilot flying bombing missions over German-held territory and she received the Croix de guerre (Military Cross) for her aerial bombing of a German military base in Metz.
Marie Marvingt died on 14 December 1963, aged 88, at Laxou.