The AISA I-115 is a low-wing single-engine military tandem seat primary trainer development of the civil side-by-side seat I-11 which had its first flight on 20 June 1952. It went into service with the Spanish Air Force in 1956.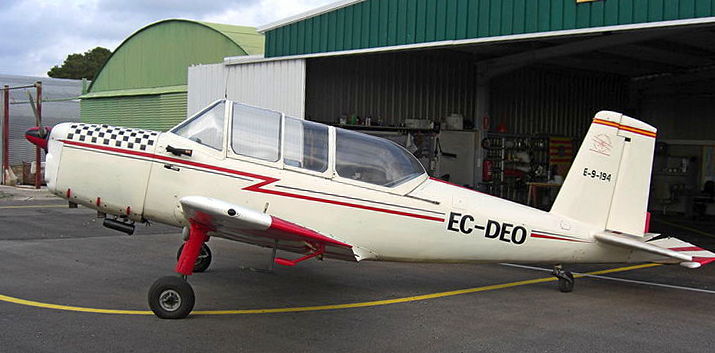 Photo © Toyocada/commons.wikimedia.org

Like the I-11 the I-115 had an all wood structure and most surfaces were plywood covered apart from fabric covered ailerons and flaps. The low, tapered, straight edged and square tipped wings had two spars and stressed plywood skin. The fuselage was a wooden monocoque. The tandem cockpits were enclosed with a long, glazed cover with independent sliding sections for both instructor and pupil. Dual controls and instrumentation included provision for blind flying.
About 200 I-115s were delivered to the Spanish Air Force. The E.9 was in service from 1956 to 1976. Despite the long service, there was criticism of its spinning behaviour and its weight.
Many I-115s were sold to civilians at the end of their military service and in 2014 seven were still on the Spanish civil register. Three of these were in museums but were active until at least 2009.
Specifications:

General characteristics

Crew: 2
Length: 7.35 m (24 ft 1 in)
Wingspan: 9.54 m (31 ft 3 in)
Height: 2.10 m (6 ft 10 in)
Wing area: 14.0 m2 (150.6 ft2)
Empty weight: 612 kg (1,346 lb)
Gross weight: 900 kg (1,980 lb)
Powerplant: 1 ◊ ENMA Tigre G-IV-B four-cylinder inverted air-cooled, 112 kW (150 hp)
Performance

Maximum speed: 240 km/h (149 mph)
Cruising speed: 204 km/h (127 mph)
Endurance: at 70% power 3 hours 30 min
Service ceiling: (service) 4,400 m (14,430 ft)
Rate of climb: (initial) 3.75 m/s (686 ft/min)