THIS WEEK IN MIDWEEK UPDATE

Plan Your Weekend……...Forthcoming Events……..Aviation News

Worldwide Incidents and Accidents……This Week in Aviation History



There are no events planned for this weekend that we are aware off.



21-31: SAC Unlimited World Championships in France. Contact Annie Boon e-mail:
chunge@mweb.co.za
24: Bethlehem Airshow. Contact Stephan Fourie e-mail:
fouriesj1491@gmail.com
26-31: SAPFA World Precision Flying Championships - Castellon Spain. Contact Hans Schwebel cell: 082 656 3005 e-mail:
hans.s@britsgranite.co.za


6-7: Heidelberg Varkfees Fly-inn. For more information go to
www.varkfees.co.za
7: SAAF Museum Airshow AFB Zwartkop. For more information Mark Kelbrick Cell 082 413 7577 or E-mail:
markkelbrick@yahoo.com
7: SAPFA Grand Central Fun Rally - Grand Central Airport. Contact Rob Jonkers cell: 082 804 7032 e-mail:
rob@aerosud.co.za
14: Vans Fly in to Kitty Hawk. Contact Frank van Heerden e-mail:
frankvh@sandown.co.za
. website:
www.fakt.co.za
8-13: World ANR Championships - Santa Cruz Portugal - Contact Hans Schwebel e-mail:
hans.s@britsgranite.co.za
cell: 082 656 3005
21-22: PMS South Africa is proud to present the South African Nationals Plastic Model Builds 2019, hosted by IPMS Cape Peninsula. This is the premier event on the South African scale modelling calendar and promises to attract the cream of the crop in scale plastic modelling.
24: Puma Energy Rhino Park Fly-in. Contact Juan at
juan.thessner@pumaenergy.com
28: Wings & Wheels Matjhabeng Welkom airport. For more information contact Ian Buchanan 083 388 1678 or Dirk Smit 082 558 3914


19: SA Landing Championships - Brits Airfield - Contact Ron Stirk e-mail:
melron@mweb.co.za
cell:082 445 0373
26: SAPFA Baragwanath Fun Rally - Baragwanath Airfield. Contact Frank Eckard cell: 083 269 1516 e-mail:
frank.eckard@mweb.co.za




TAKING A HARD LOOK AT AVIATION INSURANCE


Premiums in both general aviation and airline insurance have suddenly increased substantially, says Reon Wiese, aviation specialist at PSG Insure. ''We had hoped for steady increases from insurers to balance out premium prices and to rectify the market over the next few years, but we've suddenly seen premiums harden, even if a client has had no claims." Premium increases on helicopters have gone up 100-300%, while fixed wing policy increases are at around 30%.
International impact
Clients often forget how small the world is when it comes to aviation and that international events impact the local industry too. The global centre of aviation insurance is based at Lloyd's of London. Rates were previously too low on a global scale to absorb losses, so against this backdrop, insurers have had to proactively push premiums upwards.
Issues with Boeing 737 Max aircrafts have had plenty negative press coverage in recent times and the mysterious disappearance of Malaysia Airlines Flight 370, followed by Flight 17 being shot down some months later, have not helped the industry either. Beyond the tragic loss of life, the costs are almost unimaginable for insurers and underwriters to carry, particularly as premiums were too low in the past.
Arrivals and departures
The last decade saw many insurers, underwriters and brokerages adding aviation to their offerings, with new and smaller players offering cheap coverage. Wiese says this has been unsustainable for some as losses have been realised. While the risks facing the industry are perceived too great to allow for gradual increases, insurance remains essential.
This very expensive, essential industry requires very specific insurance, with a long-term solution to truly go the distance. Often, insurance is a condition of maintaining a finance or lease contract too.
Cruise control
Taking a different approach to what is insured is one way to make premiums more manageable, such as having fewer pilots on a policy. "We've moved into a world where it may be too expensive to have aircraft with multiple pilots on one policy. Risk-sharing is a vital part of this industry, to keep clients covered," Wiese says. "Pilots and operators with claim history struggle to get cover in the current market as well".
Wiese flies his own aircraft recreationally and admits that low aviation insurance premiums are attractive, given the costs of operating an aircraft. "But unsustainable premiums can't cover the actual risks, which can really add up in a crisis. It's essential to pay the actuarial priced premium for what you want to cover."
Aiming for a safer landing
There has been consolidation in the market where some smaller aviation insurance players haven't been able to cover the risks they accepted. Wiese says this of course doesn't help anyone in the industry, but regulations require that advisers demonstrate first trying to place a policy in the local market. "So, unfortunately some correction will be needed to smooth out the turbulence in premiums, so that the costs might even out over time. Paying for the right cover in the interim, will pay off, to ensure that potential losses are properly planned for, no matter when they might land," he concludes.

RELENTLESS INNOVATION THE LX-7



The LX7-20 is a 550 SHP Pratt and Whitney powered airplane designed to operate at 285ktas at FL180 with a 5000' cabin altitude on 28gph Jet A fuel. The company is also introducing the fixed gear model--whose name has not been determined yet. Photo © LX-7


"The design philosophy for this aircraft is based on aircraft safety, efficiency, functionality, maintainability, aesthetics and simplicity. The result is an aircraft that provides the operator with a level of "freedom" previously unattainable," said David McRae, one of the company's owners.
"The LX7 costs around the same as a new Cirrus SR22 G5 or Cessna TTx, will give the airplane much of the appeal of an FAA certificated high-performance single but with greater speed than you can find in a Part 23 model." wrote Robert Goyer of Plane and Pilot.
With the introduction of these aircraft, the LX7 family covers both fixed gear and retractable gear, pressurized cabin environments, and piston or turbine engine options.
The LX7 exceeds industry standards in every relevant category, with a list of features and advantages so long that the plane has its own website (check it out at LX7aircraft.com).
Highlights include:
Handling: The LX7 expands on the aircraft manufacturing technologies that RDD has developed on experimental projects for Airbus and others. This gives the LX7 a stall speed of 63 knots, resulting in dramatically improved handling characteristics compared to the original IV-P.
Avionics: Standard equipment for the LX7 includes a two-screen Garmin G3X Touch Flight Deck, the latest in WAAS technology coupled to the autopilot, with envelope protection and an emergency level function.
Performance: The LX7 climbs at 2000 ft/min to reach cruising speeds of 260 KTAS @ 24 gph and 250 KTAS @ 18 gph. The combination of speed and endurance will take you miles beyond where other aircraft have to stop for fuel, making your trip shorter and more enjoyable.
Range: Coast to coast without stopping? It's totally possible with the LX7, with reserves left over. This aircraft will take you over 2,100 miles before you have to make a fuel stop. Fuel capacity is 180 gallons.
Safety: Full-aircraft BRS parachute, Garmin EFIS with Active Traffic, Forward looking terrain, synthetic vision, and Satellite and ADS-B weather, AmSafe inflatable seatbelts for the forward occupants, and a pressurized cabin environment, single piece wing with dual spars.
"The LX7 offers owners an unparalleled combination of performance, safety, luxury and value," added McRae. "There's just nothing else like it out there.



EPIC AIRCRAFT DEFINING A NEW STANDARD IN TURBOPROP AVIATION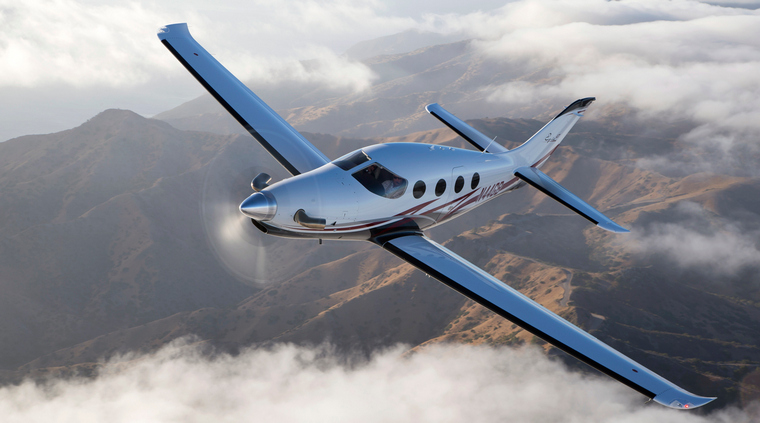 Ready for launch. Climb out at 3,000 feet per minute, fully loaded, quickly and efficiently reaching altitudes you may not have flown through before. Level off at a maximum authorized ceiling of 34,000 feet. Stretch as you relax in the spacious cockpit, surveying an instrument panel more reminiscent of your luxury car than an aircraft. Photo © Epic Aircraft.

The Epic's ergonomically-designed flight deck consolidates pilot workflow and data management, returning aviation to what it should be: intuitive, engaging and fun. With a range of over 1650 nautical miles carrying a payload of 1100 pounds fully-fuelled, your destination options are endless, especially given Epic's superior slow-speed handling and short-field performance. Imagine the possibilities…
The powerful 1200 HP Pratt & Whitney PT6A-67A engine placed on the aerodynamic airframe of the E1000 delivers true 'jet-class' performance. The remarkable strength of carbon fibre composite technology allows for optimal speed and durability. The result: an airframe that seamlessly moves through the air, allowing the E1000 to travel at over 325 KTAS- faster than any single-engine turboprop on the market - and rivalling the performance and speed of most personal business jets. We invite you to review actual fleet performance data for Epic Aircraft relative to the competition.
The E1000 is sleek and statuesque, with elegant lines that draw attention on even the busiest ramps. The cockpit and cabin are spacious, with generous head and legroom able to accommodate 6'8? tall pilots and passengers. The leather reclining seats are each equipped with side pockets, small item & technology storage, headset jacks, power ports, beverage holders, air vents and fingertip-adjustable LED reading lights. Versatile carbon fibre tray tables provide multiple configurations for ease of use and functionality. Electronically-dimming windows offer precision control over light, glare, heat and UV rays. Configurable cabin seating optimizes passenger and cargo requirements. Once airborne, the technologically-advanced sound proofing reduces engine noise and enhances cabin comfort.

PHILIPPINE NATIONAL POLICE CHOOSES R44S FOR TRAINING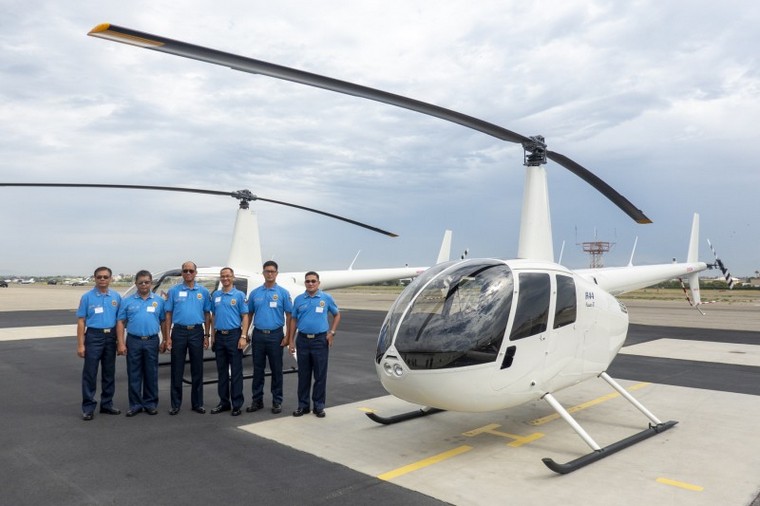 Robinson Helicopter Company delivered two R44 Raven IIs to the Philippine National Police (PNP). The aircraft were purchased through Robinson's long-time dealer Lionair Inc. (Manilla, Philippines), marking the first acquisition of Robinson helicopters by the Philippine government. Photo © Robinson Helicopters.


The PNP is the armed civilian national police force tasked with law enforcement throughout the Southeast Asian country's 7,000+ islands. The acquisition is part of an overall effort by the government to strengthen and expand its law enforcement.
Upon their arrival in Manila, the R44s will be turned over to the Special Action Force Aviation Unit (SAF-AU) to be used for training. Police Lt. Colonel Ruel Zalatar, Chief of PNP-SAF-AU, who has logged significant time in various rotorcraft, believes the R44 is well suited for training and enhancing police-related skills namely surveillance, patrol, and aerial reconnaissance. The R44's ease of maintenance and low operating costs allows more pilots to receive additional training before moving up to the fleet's higher category rotorcraft.

SEA LION SUCCESSFULLY COMPLETES MISSION DEMONSTRATION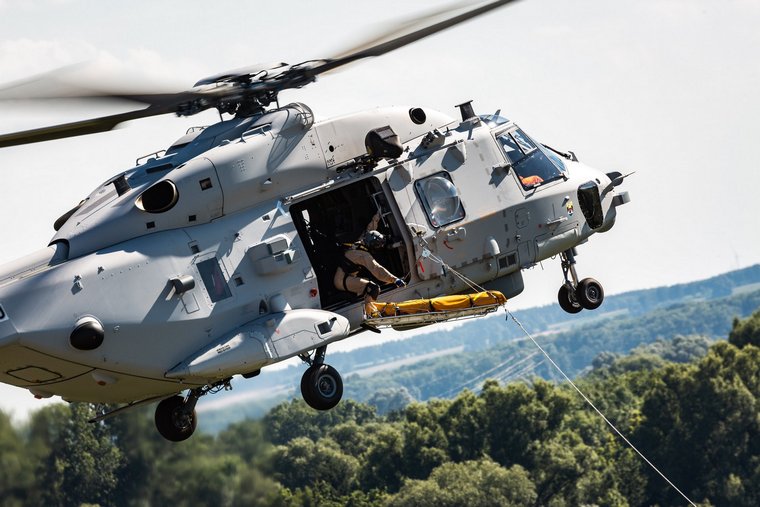 Donauwörth, The NH90 Sea Lion successfully completed mission demonstrations for its relevant roles in the German Navy, including SAR missions, in July. Photo © Airbus


Representatives of the Navy and the procurement agency BAAINBw participated in the tests that covered operations using a rescue hoist, checking navy reconnaissance capabilities, and dropping off commandos and Special Forces equipment, including an inflatable boat. Delivery of the first Sea Lion helicopters is scheduled for the end of 2019. Altogether 18 helicopters are on order.
The NH90 military helicopter is a modern, multi-role aircraft designed to meet the most stringent NATO standards. Developed in two versions - tactical troop transport (TTH) and NATO frigate helicopter (NFH) - the NH90 contains a unique, fully integrated mission system for operations in the most demanding conditions over land and sea, day and night.



PUT TO THE TEST: THE ADVANCED F-15 IS READY FOR THE FIGHT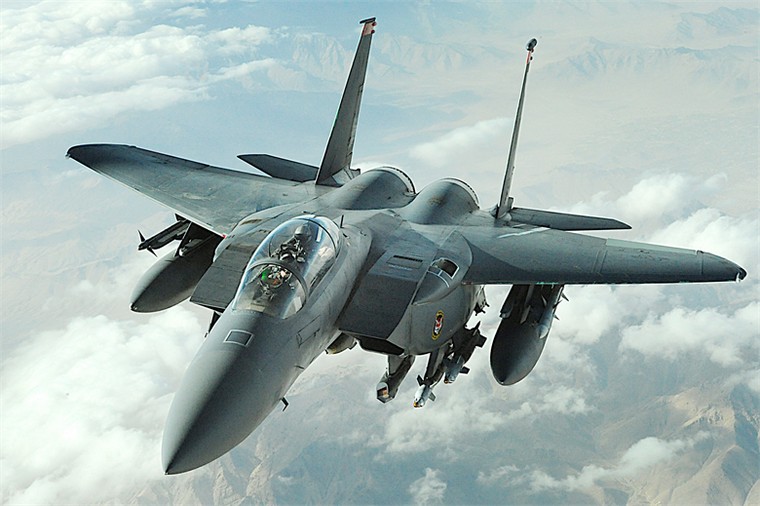 A combined U.S. Air Force and Boeing flight test team just wrapped up nearly five years of rigorous testing on the Advanced F-15. They tested the aircraft's systems and flight controls in Palmdale, Calif. More than 15,000 test points were covered to assure safety, quality and performance. Photo © Boeing

"Take my word, it's not your father's F-15," said Matt Giese, Boeing Test & Evaluation chief F-15 test pilot. "This jet has capabilities like we've never seen before."
Capabilities like a fly-by-wire control system for greater manoeuvrability and angles of attack; arguably the world's fastest fighter mission computer able to process 87-billion instructions per second; and expanded weapons carriage that can bring up to 12 missiles and assorted munitions on a single aircraft into the fight.
"Integrating advanced technologies has made this unbeaten platform contemporary and future ready," said Prat Kumar, vice president and program manager, Boeing F-15 programs. "The Advanced F-15 remains ahead of threats now and into the future making the Eagle an enduring attack air platform."

AIR SEYCHELLES TAKES DELIVERY OF AFRICA'S FIRST A320NEO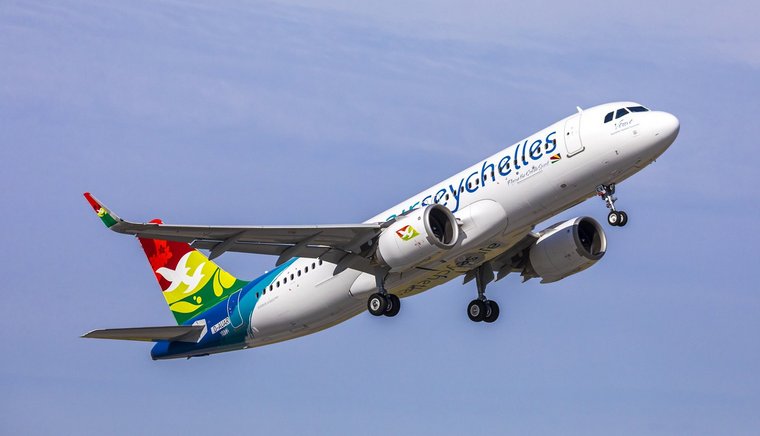 Air Seychelles, the national airline of the Republic of Seychelles, has taken delivery of Africa's first A320neo on lease from CDB Aviation, becoming the first African airline to operate the A320neo aircraft. Photo © Airbus.


The new aircraft will allow Air Seychelles to increase capacity on its network, while delivering significant fuel savings and reducing the airline's operating costs. Air Seychelles' new A320neo is equipped with a new inflight product reflecting the latest trends in air travel industry, offering passengers greater level of comfort and an enhanced travel experience. With its widest single-aisle cabin, the A320neo allows Air Seychelles to offer unmatched comfort in all classes and Airbus' 18-inch-wide seats in economy as standard.
The A320neo is the world's most advanced and fuel-efficient single-aisle aircraft. Air Seychelles' A320neo jetliner is powered by the new-generation LEAP-1A engine from CFM International and features large, fuel-saving wingtip devices known as Sharklets.
With the addition of 32 new Airbus operators in the continent since 2010, today 243 Airbus aircraft are flown by African airlines, out of which, 145 aircraft are A320 Family. This is a testament to the appeal and performance of the world's best-selling single-aisle aircraft family across the continent.
The A320neo and its derivatives are the world's best-selling single-aisle aircraft Family with over 6,600 orders from more than 100 customers. It has pioneered and incorporated the latest technologies, including new generation engines and the industry's reference cabin design, delivering 20% fuel cost per seat savings alone. The A320neo also offers significant environmental benefits with nearly a 50% reduction in noise footprint compared to previous generation aircraft.

Italy, Rome: A Norwegian Boeing 787-8 on a flight from Rome Fiumicino (Italy) to Los Angeles (USA), was in the initial climb out of Rome's runway 16R when an engine (Trent 1000) failed raining debris onto the ground below. The crew stopped the climb at 3000 feet, secured the engine and returned to Rome for a safe landing on runway 16R about 23 minutes after departure. Twenty-five vehicles and twelve houses were damaged by debris falling off the aircraft, one man on the ground was hit too but was not seriously injured. Local residents reported glowing pieces of metal rained down in the hundreds.
USA, Boston: The US Federal Aviation Administration is investigating an incident in which an air ambulance pilot allegedly fell asleep at the controls. The former Boston MedFlight pilot fell asleep while conducting a flight from Martha's Vineyard to a Boston hospital on June 24. The pilot overflew the designated helipad at the hospital, but the transport was completed successfully, and there were no injuries to the patient or flight crew.
France, Charles de Gaulle Airport: A fire occurred in a mini-furnace of an Airbus A330 with 393 on board whilst flying from Paris to Montreal forcing the crew to return to the airport just eight minutes after take-off. The aircraft landed safely. The fire was extinguished before the arrival of fire fighters. The flight was cancelled.
Russia, Domodedovo: A S7 Airlines Boeing 737-800 on take-off from Moscow Domodedovo for a flight to Simferopol (Ukraine) overran the end of the runway before the aircraft became airborne. The aircraft continued the flight for a landing on Simferopol's runway 19 without further incident. A later runway inspection found glass debris at the runway end and detected five damaged runway end lights. An inspection of the aircraft after landing in Simferopol showed three tyres had been damaged, the landing gear had glass embedded.
India, Assam: An Indian Air Force Sukhoi Su-30 fighter jet on a routine training mission crashed in farmlands in India's north-eastern state of Assam. Both pilots ejected safely from the aircraft and were rescued. One of the pilots suffered injury in his leg.
USA, Washington: - More than a quarter of Air Mobility Command's C-130 Hercules fleet are being temporarily removed from service after "atypical" cracking of the lower centre wing joint, also known as the "rainbow fitting" was found during scheduled depot maintenance. A total of 123 of 450 C-130H and C-130J aircraft will be temporarily grounded while inspections occur.




21 AUGUST 1989

Unlimited class racer Rare Bear, a highly-modified Grumman F8F-2 Bearcat, sets a new piston-powered speed record of 850.24 kilometres per hour (528.32 miles per hour) at Las Vegas, Nevada.



The Bearcat that became Rare Bear was a severely damaged wreck when discovered by Lyle Shelton in 1969. It had been abandoned next to a runway in Valparaiso, Indiana after it crashed there from a throttle-on torque roll in 1962. The airplane had been stripped by parts hunters, so Shelton found a fuselage, wing centre section, landing gear and a right wing panel, but little else.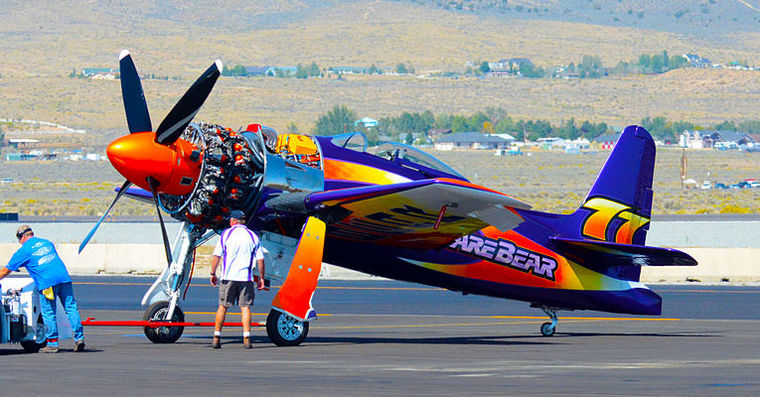 Photo © D Ramey Logan commons.wikimedia.org


Shelton bought the wreck and restoration began. One of the major modifications made during the rebuild involved installing a more powerful Wright R-3350 from a Douglas Skyraider.
Just a week after its first flight, the Bearcat appeared in its first National Championship Reno Air Race, sporting the name "Able Cat", where it finished a respectable 5th in the Unlimited Class. During the 1976 air race in Mojave California, Shelton experienced an engine failure and had to perform a belly landing.
The aircraft was not raced again until 1980, when it was renamed "Rare Bear". From 1980 until present day, Rare Bear has scored eleven more victories in the Unlimited Class.[3] A three-blade propeller, consisting of blades from a Lockheed P-3 Orion propeller, in a Lockheed Constellation hub, was fitted to the aircraft in 1988.
Rare Bear has set many performance records for piston-driven aircraft, including the 3 km World Speed Record of 528.33 mph (850.26 km/h) set August 21, 1989, which still stands in this class, and a new time-to-climb record (3,000 meters in 91.9 seconds set in 1972 (9842.4 ft - 6,426 fpm), breaking a 1946 record set in a stock Bearcat.