THIS WEEK IN MIDWEEK UPDATE

Plan Your Weekend……...Forthcoming Events……..Aviation News

Worldwide Incidents and Accidents……This Week in Aviation History

Notice Board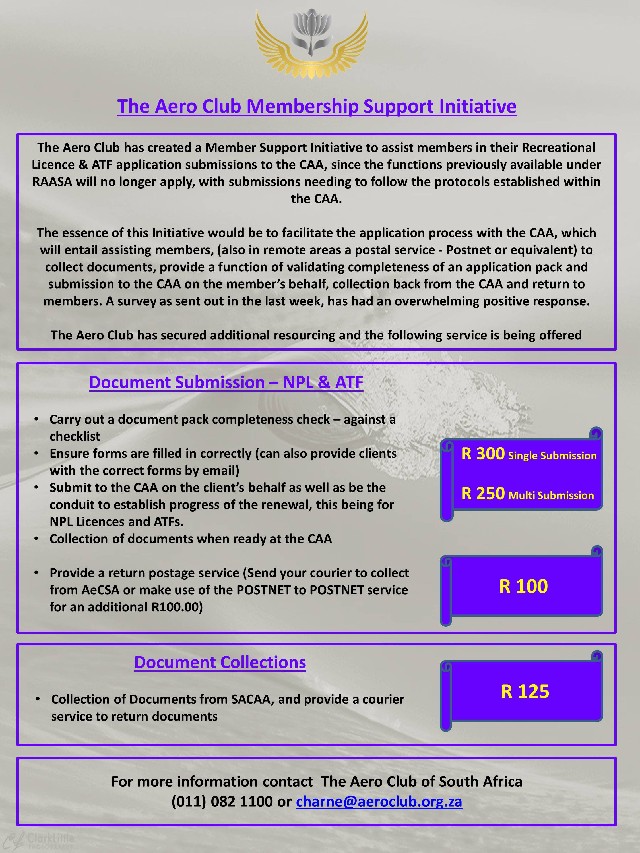 28: Witbank Spring Bash Fly-in. Wareberry Lodge, Hazyview. Camping and more. Contact Marcia 082 892 5954
29: Barnstormers Radio Model Warbirds Airshow. For more information go to
www.barnstormersmfc.com
28: Wings & Wheels Matjhabeng Welkom airport. For more information contact Ian Buchanan 083 388 1678 or Dirk Smit 082 558 3914



5-6: Western Cape Regional Aerobatics Swellengrebel, Swellendam. Contact Annie Boone at
chunge@mweb.co.za
19: SA Landing Championships - Brits Airfield - Contact Ron Stirk e-mail:
melron@mweb.co.za
cell:082 445 0373
26: SAPFA Baragwanath Fun Rally - Baragwanath Airfield. Contact Frank Eckard cell: 083 269 1516 e-mail:
frank.eckard@mweb.co.za
26: SAAMA RC Model Helicopter Heli Fun, Bloemfontein. For more info go to
www.reynekepark.co.za


2: SAPFA Rally Championships - Stellenbosch airfield. Contact Frank Eckard cell: 083 269 1516 e-mail:
frank.eckard@mweb.co.za
8-10: EAA Sun n Fun Brits Airfield. For more information contact Marie Reddy 083 259 7691
9: EAA Sun & Fun Adventure Rally - Contact Rob Jonkers e-mail:
rob@aerosud.co.za
cell: 082 804 7032
16 : Aero Club of South Africa annual awards. For more information contact AeCSA office 011 082 1100 E-mail:
office@aeroclub.org.za
22: World Canopy Piloting Championships Wonderboom South Africa.
23: SAPFA Springs Speed Rally - Springs Airfield. Contact Jonty Esser cell: 082 855 9435 e-mail:
jonty@promptroofing.co.za
30 to 1 December: SAC Ace of Base Vereeniging Airfield. Contact Annie Boon e-mail:
chunge@mweb.co.za




TEXTRON AVIATION'S ICONIC CITATION FAMILY MARKS 50 YEARS OF BUSINESS JET INNOVATION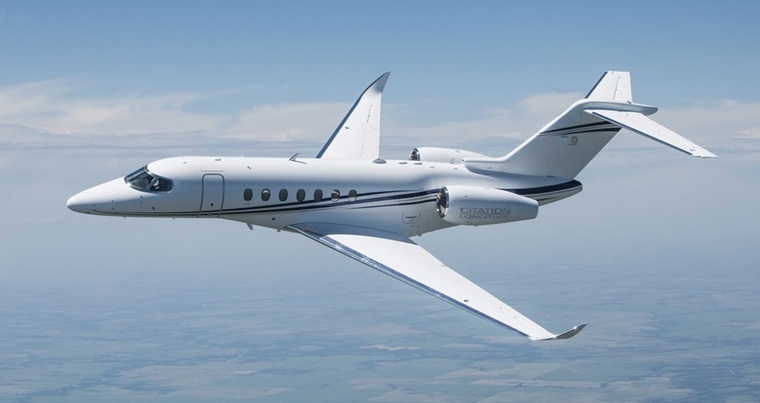 Aviation Inc., a Textron Inc. (NYSE:TXT) company, this month celebrates 50 years since the inaugural flight of the first Citation jet, the Cessna Citation 500. Today, the Citation family represents the most-popular line of business jets with more than 7,500 aircraft delivered worldwide amassing more than 35 million flight hours. These impressive machines are renowned for their ability to combine reliability, efficiency and comfort with advanced technology and class-leading performance. Photo © Cessna.

"From that first Citation flight 50 years ago and through every Citation model produced since, our business jet programs are deeply rooted in the combined efforts of our employees, our suppliers and our customers," said Ron Draper, president and CEO of Textron Aviation. "Today's range of Citations - from the entry level Citation M2 up through the Citation Longitude - incorporates our unwavering commitment to value-added innovation, design and production excellence and unrivalled customer support."
Launched in October 1968 as the Fanjet 500, the new business jet combined the company's expertise as the market leader in producing single and twin-engine general aviation aircraft with its proficiency in producing military jet aircraft. The prototype, rechristened Citation 500, made its first flight 15 September 1969 from the company's Wichita facility.
A hallmark of the company has always been responding to customer desires for more advanced operational capability and efficiency, and the Citation family quickly evolved with larger aircraft, more progressive technology and enhanced cabin comfort and productivity. That spirit of innovation continues today with more advanced design and production processes.
The current Citation business jet family consists of seven models with seating from 7 to 12 passengers. We've set the standard for the small jet market. The Cessna Citation M2 is transformed for 21st century operations, while the Citation CJ3+ and Citation CJ4 share the Model 500 design heritage. Cessna Citations continue to lead this segment, with over 5,000 light jets delivered worldwide, offering customers the broadest range of products on the market "The same vision that led to the creation of the original Citation 50 years ago still guides us today," Draper said. "We are building on our history as an industry leader and investing in the future to continue to exceed customer expectations."



EMBRY-RIDDLE SELECTS DIAMOND DA42-VI FOR MULTI-ENGINE TRAINING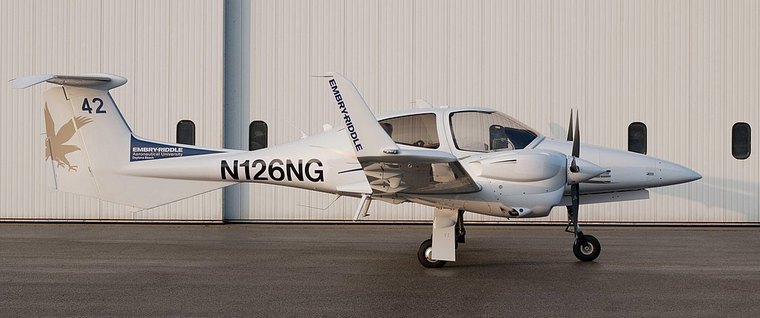 Diamond Aircraft is honoured to have Embry-Riddle select the Diamond DA42-VI for their Prescott and Daytona campuses," said Scott McFadzean, chief executive officer of Diamond Aircraft Industries Inc. "Embry-Riddle has been at the leading edge of aeronautical training for decades, and Diamond represents the leading edge of general aviation aircraft, with an all-composite design, proprietary jet fuel piston engines and Garmin G1000 NXi glass cockpits, so the partnership is a natural fit for both organizations." Photo © Diamond Aircraft.


"In keeping with Embry-Riddle's rigorous focus on aviation safety, new aircraft for our fleet were selected following an exhaustive evaluation by a team of experts on both our Prescott, Ariz., and Daytona Beach, Fla., campuses," said Dr. P. Barry Butler, president of Embry-Riddle. "We are honoured to extend our successful, long-term relationship with Diamond Aircraft Industries to replenish the Embry-Riddle fleet with DA42-VI aircraft, to provide our students with a highly effective and reliable training platform that will serve them well."
"The Diamond DA42-VI aircraft offer superior high-altitude performance and are fully compliant with Federal Aviation Administration ADS-B (navigational) requirements," Professor Parker Northrup, Flight Department chair on the Prescott Campus said. And added that the planes offer "full authority digital engine control," known as FADEC, and therefore will prepare Embry-Riddle students to fly with the most up-to-date technology.

BOMBARDIER DELIVERS FIRST OF THREE GLOBAL 6000 BUSINESS JETS TO JOIN LUFTWAFFE FLEET




Delivering best-in-class reliability, leading-edge technology and Bombardier's signature smooth ride, Global 6000 aircraft are ideal for government missions and VIP transport Bombardier to deliver two more Global 6000 aircraft for German government use in 2019. Photo © Bombardier


Bombardier has proudly delivered the first of three Global 6000 business jets destined for use by the Luftwaffe, Germany's air force. The Luftwaffe a long time Bombardier aircraft operator, will use the Global 6000 business jets to fulfill political and parliamentary transport requirements.
"Bombardier is incredibly pleased that the Luftwaffe will add the Global 6000 aircraft to its fleet," said David Coleal, President, Bombardier Aviation. "Our Specialized Aircraft team has built longstanding relationships with governments around the world who trust in the safety and performance of our products."
Bombardier's Specialized Aircraft division delivers custom solutions to operators, with a diverse portfolio of aircraft that can fly the most demanding and critical missions in various configurations. Bombardier Global aircraft are especially attractive because of their excellent dispatch reliability, speed, agility, endurance and optimized operating costs.
Powered by Rolls-Royce BR710 engines, developed and manufactured by Rolls-Royce Deutschland in Dahlewitz, Germany, the Global 6000 aircraft has enough range for non-stop flights between continents, which is ideal for political and parliamentary transport requirements. The Global 6000 aircraft also delivers a smooth ride that reduces the fatigue of frequent travel for both passengers and crew, while its advanced Bombardier Vision flight deck features a head-up display with both Enhanced and Synthetic Vision for a better pilot experience.
The delivery of the Global 6000 aircraft deepens Bombardier's substantial ties to Germany, where it is the leading provider of business jets. Bombardier Transportation, a global rail industry leader, is headquartered in Berlin.



EMBRAER DELIVERS ITS FIRST E195-E2 TO AERCAP AND AZUL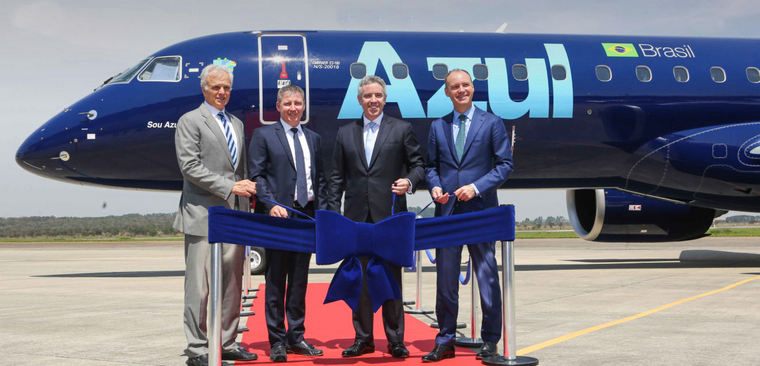 Embraer delivered in a ceremony to be held at its main facility in São José dos Campos, its first E195-E2, the biggest of the three members of the E-Jets E2 family of commercial aircraft. The recipients are AerCap, the world's largest aircraft leasing company, and Azul Linhas Aéreas Brasileiras S.A. Azul is the global launch operator for the E195-E2 and has placed firm orders for 51 of the type. The airline will receive another five aircraft in 2019. Photo © Embraer.

"Today's delivery is a momentous occasion," said John Slattery, President & CEO, Embraer Commercial Aviation. "It's the largest commercial aircraft Embraer has ever built. Passengers are going to love the new interior and airlines are going to love the extraordinary operating economics. It's absolutely ideal for Azul's low-fare business model and for AerCap's fleet portfolio. I'm proud of everyone on the Embraer team who worked so hard to see this day."
Azul is configuring the E195-E2 in a single class layout with 136 seats and will deploy the aircraft on several domestic and international routes.
"Over the last 10 years Azul revolutionized the Brazilian aviation market. We have helped to double the domestic market by providing service to regions, cities and communities that have never had service before, all thanks to the Embraer E195-E1 aircraft. Now with the E195-E2 we are ready to launch the next chapter in Brazilian aviation. We could not be prouder to bring this Brazilian aircraft, built with Brazilian technology and innovation to the Brazilian skies", said David Neeleman, Azul's founder and chairman of the board. "The E2 represents the next significant step in Azul's fleet transformation, further powering our margin expansion story well into the years to come", concluded Neeleman.

"Everyone at AerCap is thrilled to deliver the world's first Embraer E195-E2 aircraft to Azul. We have no doubt that this incredible aircraft will drive two of Brazil's global leaders to new heights. We wish both Embraer and Azul every success with the E-Jets E2 program and we look forward to working with both of them for many, many years to come," said Aengus Kelly, CEO of AerCap.
In April, the E195-E2 received its Type Certificate from three regulatory authorities: ANAC, the Brazilian Civil Aviation Agency (Agência Nacional de Aviação Civil); the FAA (U.S. Federal Aviation Administration) and EASA (European Aviation Safety Agency).
Flight tests confirmed that the aircraft is better than its original specification. Fuel consumption is 1.4% lower than expected - that's 25.4% less fuel per seat compared to the current-generation E195. Maintenance costs are 20% lower. The E195-E2 is the most environmentally friendly aircraft in its class, having the lowest levels of external noise and emissions. The cumulative margin to ICAO Stage IV noise limit ranges from 19 to 20 EPNdB, 4.0 EPNdB better than its direct competitor.

EMBRAER DELIVERS THE FIRST MULTI-MISSION AIRLIFT KC-390 TO THE BRAZILIAN AIR FORCE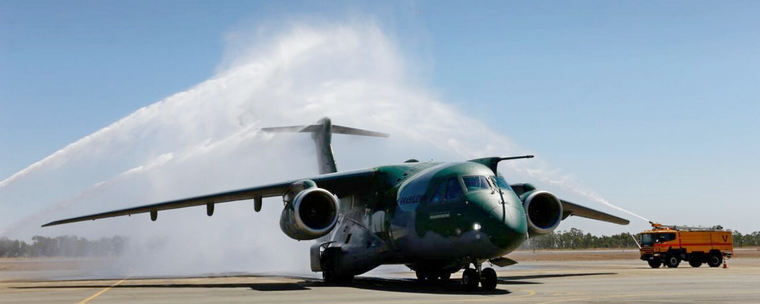 Embraer delivered to the Brazilian Air Force (FAB) the first multi-mission airlift KC-390 at a ceremony held at Anápolis Air Base, in the mid-western state of Goiás, starting preparations for the aircraft's entry into service by FAB's First Troop Transport Group (1st GTT). Embraer has been conducting theoretical and practical training with the Air Force teams to start operations. Photo © Embraer.


The KC-390 was developed as a joint project between the Brazilian Air Force and Embraer to set new standards for efficiency and productivity in its class, while presenting the lowest life-cycle cost in the market. The program represents a significant advance in terms of technology and innovation for the Brazilian aeronautics industry and an operational improvement for FAB's transport aviation. In 2014, FAB signed a firm order for 28 units of the KC-390 aircraft and initial logistical support. The aircraft are produced at the Gavião Peixoto factory, in São Paulo state.
The KC-390 was granted the Type Certificate by the Brazilian civil aviation authority ANAC (Agência Nacional de Aviação Civil) in 2018, when it achieved Initial Operational Capability (IOC), which ensures that the necessary conditions have been met for the aircraft to start operations.
"The incorporation of the KC-390 into the Brazilian Air Force is a milestone in military aviation. Its modernity will bring an implementation and improvement in the doctrine of use of this multi-mission vector, greatly contributing to the fulfillment of the mission to control, defend and integrate the 22 million square kilometers under our responsibility", said the Brazilian Air Force Commander, Lieutenant-Brigadier Antonio Carlos Moretti Bermudez.

"The entry into service of the KC-390 by FAB represents an important milestone for the program and it will certainly increase the growing international interest for this aircraft, consolidating the path to new sales", said Jackson Schneider, President and CEO of Embraer Defense & Security. "We are confident that the KC-390, in addition to successfully fulfilling the missions required by our Air Force, will have a positive economic impact on job creation and new investments in Brazil, as well as high value-added exports."
In order to maximize the operational availability of the KC-390 fleet in the fulfillment of the respective missions, FAB and Embraer Services & Support signed a comprehensive five-year services and support contract. Under the agreement, Embraer's portfolio of solutions TechCare will be responsible for logistical and engineering support, maintenance control, component repair, support staff for the aircraft entry into service, materials supply and an additional package that includes structural analysis, maintenance bulletin development, and aircraft painting, among other services.
The KC-390, which was recently ordered by the Portuguese Government, can carry out various missions including humanitarian support, medical evacuation, search and rescue, forest fire fighting and superior cargo and troop transport and launch capabilities, as well as aerial refuelling.



ROMANIAN MINISTRY OF INTERIOR ORDERS THREE AIRBUS H135S FOR AIR MEDICAL SERVICES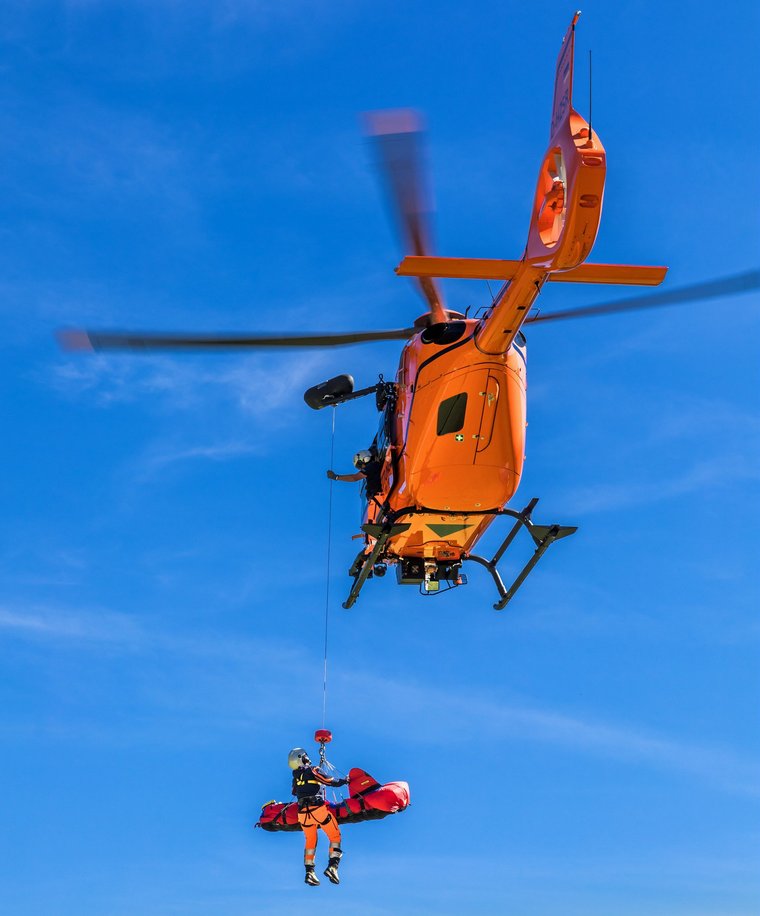 Airbus Helicopters and the Romanian Ministry of Interior have signed a contract for the purchase of three H135 helicopters and associated support and services for air medical services and search and rescue (SAR) missions in the country, following a four-year framework agreement signed at the end of July 2019 that foresees the procurement of up to ten H135s. Photo © Airbus.

Airbus Helicopters and the Romanian Ministry of Interior have signed a contract for the purchase of three H135 helicopters and associated support and services for air medical services and search and rescue (SAR) missions in the country, following a four-year framework agreement signed at the end of July 2019 that foresees the procurement of up to ten H135s.
"During 15 years of air medical services - the well-known SMURD mission, the H135 has proven its utility, being a rotorcraft, which adapts rapidly to all types of requests. All advantages - mainly the flexible maintenance, management of space for the transport of passengers and patients, the speed, the capability to land in a limited area, the possibility to operate life-saving medical interventions during flight, the capability to fly during day and night, and its versatility for mountain missions thanks to the hoist - are essential when it comes to critical life saving missions", said Commander Dache Paul Catalin, IGAv general inspector.
"Airbus has been an active player in Romania for almost 50 years and we are proud that the Ministry of Interior has selected the H135 for such critical missions. As a market leader with more than 600 helicopters in service for air medical service missions worldwide, I have no doubt that it will be a valuable life-saving asset to the country," said Georges Durdilly, Head of Airbus Helicopters in Romania.
Airbus Helicopters has delivered more than 1,300 H135s to customers around the globe who are logging more than 400,000 flight hours per year. The H135's operational scope includes law enforcement, air medical services, private and business aviation, the maintenance of industrial wind parks, and military training. The H135 is the main reference in air medical services, available in a wide range of dedicated interiors that maximize operators' choice in configurations, providing ample room for single-patient or dual-patient transport. The H135 family of helicopter has clocked more than 5 million flight hours, being in service with more than 300 customers worldwide.
LEONARDO DELIVERS ITS 1,000TH AW139 HELICOPTER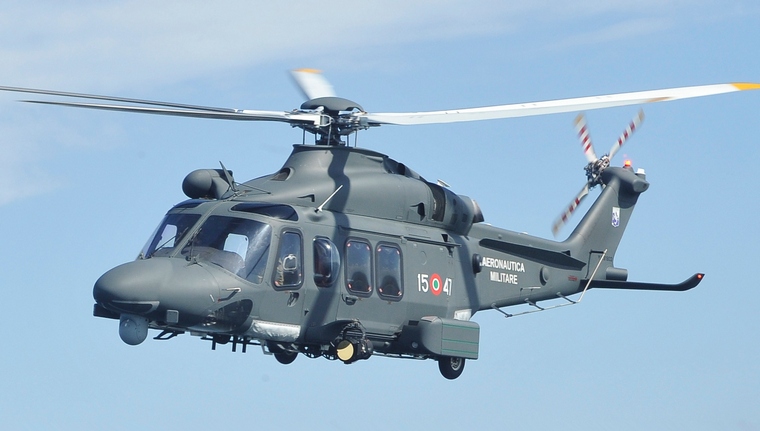 Leonardo delivered today its 1,000th AW139 helicopter. The event represents a historic achievement: the AW139 is the most important helicopter programme in the last 15 years at an international level, and it is also able to set a production record in the Italian aviation industry's outlook. The 1,000th machine of this model was delivered to Italy's Guardia di Finanza during an official celebration which was held at Leonardo's plant in Vergiate (Varese - Italy), in the presence of institutional representatives, customers, partners and suppliers, as well as the company's top management and employees. Photo © Leonardo.


The AW139's first flight dates back to the beginning of 2001. The helicopter boasts orders of over 1,100 units from more than 280 customers in over 70 countries on all continents. The aircraft has shown extraordinary levels of reliability and operational capabilities with almost 2.5 million flight hours recorded since the first delivery took place at the beginning of 2004. Data of use testify the extreme versatility of the AW139 which satisfies any market need: more than 30% for public utility tasks such as search and rescue and air ambulance, law enforcement, firefighting, disaster relief; over 30% for offshore transport; around 20% for military tasks; the rest account for VIP, institutional and corporate transport missions.
Leonardo's CEO, Alessandro Profumo, said: "What we celebrate today is much more than the success of a product or of a company. It is the global affirmation of an asset of our entire country. Thanks to the commitment, knowledge and professional skills present at Leonardo and to our products, like the AW139, our host of technologies and history of flight innovation - these all form important pillars of our industrial capabilities. The AW139 is a striking example of the role that Leonardo plays and intends to continue to have in the world. All our values are reflected in the AW139: continuous innovation, internationalisation, proximity to the market and to the customer, and the enhancement of human resources".
Leonardo Helicopters' Managing Director, Gian Piero Cutillo, added: "With the AW139 the company has been able to create an extraordinary programme with international roots and with its global success this has allowed us to reach the top of the industry's world helicopter market. Without the self-denial, the preparation and the passion of workers from different generations and nationalities who believed in and worked on its development, and who still follow it in its operational path by constantly confronting the market and customers, all this would not have been possible."
The AW139 fleet has a global presence: around 30% in Europe, almost as much in Asia and Australasia, 15% in the American continent, followed by the Middle East. The international success of the AW139 is so important that to meet market demands the helicopter is produced on different assembly lines both in Italy, in the Vergiate plant, and in the United States in Philadelphia.

The AW139, along with Leonardo's other new generation models, has played a significant role in the evolution of the market. These aircraft have contributed to the company taking a 40% share of the world's civil sector in terms of value in 2018.
The AW139 has grown significantly in just a few years, adapting to the changing needs of customers. The maximum take-off weight increased from 6.4 to 7 tons. Almost 1,000 mission kits and equipment have been certified. With advanced protection systems against icing, the AW139 can fly in all weather conditions. This model is also the only one in the world capable of continuing to fly for over 60 minutes without oil in the transmission, twice as much as the 30 minutes set by the certification authorities. Despite the experience and maturity achieved in 15 years of operational activity, the AW139 remains a young and modern programme, destined to play a leading role into the future.
The AW139 represents a turning point in the rotary-wing sector through the introductory concept of the Leonardo "helicopter family". The AW139 is, in fact, the forefather of a helicopter family comprising of the smaller and lighter AW169 and the larger and heavier AW189. Models, the only case in the world, that share the same design philosophy, the same high performance, the same flight characteristics and the same certification standards, as well as the same approach to maintenance and training. A concept that allows operators with large diversified fleets, with models ranging from 4 to 9 tons of weight, to create significant synergies in crew training, flight operations, maintenance and logistics support.

SIKORSKY SHAPING THE FLEET OF THE FUTURE




LEONARDO PUTS FORWARD ITS AW149 FOR THE LATEST/FUTURE GENERATION TACTICAL TROOP HELICOPTER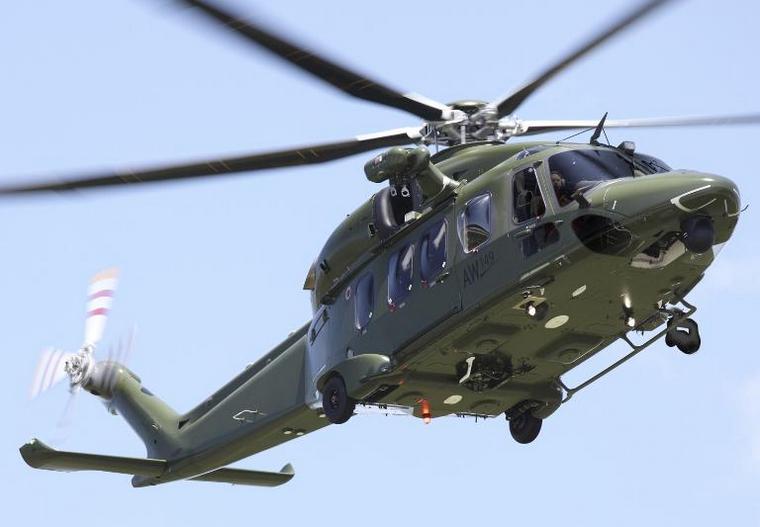 The modern, reliable and cost-effective aircraft is rapidly configurable to meet a wide range of military missions: Troop transport/troop insertion (carrying up to 16 fully-equipped troops or up to 19 passengers), cargo re-supply/external lift, CASEVAC/MEDEVAC, search and rescue (SAR), Special Forces operations and combat SAR, Command and Control (C2), and close air support. The AW149 has been certified by the Italian Directorate of Air Armaments (ARMAEREO). It has already been selected in the export market where it is in service today. Photo © Leonardo.

Leonardo is pitching the twin-engine AW149 to customers around the world which are considering replacing their fleets of ageing multi-mission helicopters and it could be an ideal solution for the UK. In line with this strategy, the AW149 is designed to meet the operational needs of military commanders with excellent levels of safety and survivability and attractive through-life costs. Features such as 4-axis autopilot, advanced open system avionics architecture and large sliding doors for ease of access for troops and equipment make the AW149 an ideal candidate to replace legacy platforms as they go out of service. The twin-engine type features excellent hot & high performance and a max cruise speed (ISA, MTOW, SL) of 287 km/h 155 kt.
Presented with the aircraft at DSEI 2019 is an integrated replica sensor suite which includes the Osprey radar, SAGE electronic support measures (ESM) and a MAIR missile warner. The Leonardo sensors are representative offerings forming part of an integrated Defensive Aids Suite (DAS). The aircraft can be tailored to meet future customer requirements.
An AW149 will soon be based at Yeovil showing its technologies and how it can be developed further to meet specific operational demands.
The multi-role military helicopter can carry a variety of armaments such as: 2 x 7.62 mm/2 x 12.7 mm machines guns (internal), 2 x 20 mm gun pods, 2 x 12.7 mm gun pods, 2 x 2.75" rocket launchers and 2 x ATM launchers. Tailored payload and weapon system solutions are available thanks to the modern open architecture design.
The AW149 is designed to carry a host of weapons and stores on external carriers and on the window gun mount. The helicopter is able to provide unparalleled crew safety. Contributing to its high battle survivability the aircraft features crashworthy fuselage and seats, heavy duty landing gear, self-sealing fuel tanks, fully integrated DAS along with additional armour protection, a unique 50 minutes 'run dry' capable MGB and advanced avionics and sensors allowing outstanding situational awareness. The AW149 is also designed to operate in confined areas under hostile environments.


Japan, Narita Airport: A high level of alcohol was detected in the system of a Japan Airlines pilot after he took a mandatory pre-flight Breathalyser test. The male captain, 58, was scheduled to fly from Narita airport to Nagoya. However, the pre-flight test showed his blood alcohol level to be above the limit set by the airline for flight crew. The flight was delayed after the captain was taken off the plane and replaced at the last minute. JAL said the captain was drinking at a restaurant where he reportedly consumed five lemon-flavored cocktails and half a bottle of red wine. The airline said it will dismiss the captain.
Brazil, near Manaus-Eduardo Gomes International Airport: A Cessna 208B Grand Caravan operated by TwoFlex with ten on board crashed in a wooded area on take-off from Manaus-Eduardo Gomes International Airport in Brazil. All ten on board survived the accident. The aircraft was damaged beyond repair. A thunderstorm was present in the area around the time of departure.
Spain, Barcelona: A Vueling Airbus A320-200N on a flight from Malaga was on approach to Barcelona when the crew reported smoke in the cabin. The crew requested priority on approach and continued for a safe landing on Barcelona where they taxied to the gate, but then initiated an emergency evacuation via slides. No injuries were reported.
West of Ireland, Atlantic Ocean: An Etihad Airways Boeing 787-9 Dreamliner on a flight from Abu Dhabi to Washington, D.C. diverted to Dublin, Ireland following a thermal runaway of a lithium battery of a passenger's tablet device. The situation was managed swiftly by the crew and the aircraft landed safely in Dublin. The device was removed and the aircraft continued to its destination two hours later.
Indonesia, Illaga: A PT Carpediem Aviation Mandiri de Havilland DHC-6-400 Twin Otter on a freight flight from Timika to Ilaga (Indonesia) with one passenger, three crew and 1700kg of rice, was enroute about 15 minutes prior to estimated landing in Ilaga when radio contact with the aircraft was lost. Search flights have been dispatched. The local police station at Ilaga reported the weather enroute was "good enough" for the flight.




24 SEPTEMBER 1930

John W. Young, an American astronaut who walked on the Moon on 21 April 1972 during the Apollo 16 mission, was born.


Young enjoyed one of the longest and busiest careers of any astronaut in the American space program. He was the first person to fly into space six times, twice journeyed to the Moon, and as of 2007, is the only person to have piloted four different classes of spacecraft.
Young earned a Bachelor of Science degree with highest honours in Aeronautical Engineering from the Georgia Institute of Technology in 1952. After graduating Young entered the United States Navy. He served as fire control officer on the destroyer USS Laws until June 1953 and completed a tour in the Sea of Japan during the Korean War. Following this assignment, he was sent to flight training. In January 1954, he was designated a Navy helicopter pilot. After receiving his aviator wings on 20 December 1954, he was assigned to Fighter Squadron 103 (VF-103) for four years, flying Grumman F9F Cougars from USS Coral Sea and Vought F8U Crusaders from USS.
In 1965 Young flew on the first crewed Gemini mission, and then commanded the 1966 Gemini 10 mission. In 1969 during Apollo 10, he became the first person to fly solo around the Moon. He then walked on the Moon and drove the Lunar Roving Vehicle on the Moon's surface during Apollo 16, and is one of only three people to have flown to the Moon twice.
Young also commanded two flights of Space Shuttle Columbia: STS-1 in 1981, the Space Shuttle program's first launch, and STS-9 in 1983. Young served as Chief of the Astronaut Office from 1974 to 1987, and retired from NASA in 2004.
He passed away on 5 January 2018.