The Aerotec A-122 Uirapuru Brazilian military trainer aircraft that first flew on 2 June 1965 and was a low-wing monoplane with tricycle undercarriage that accommodated the pilot and instructor side-by-side.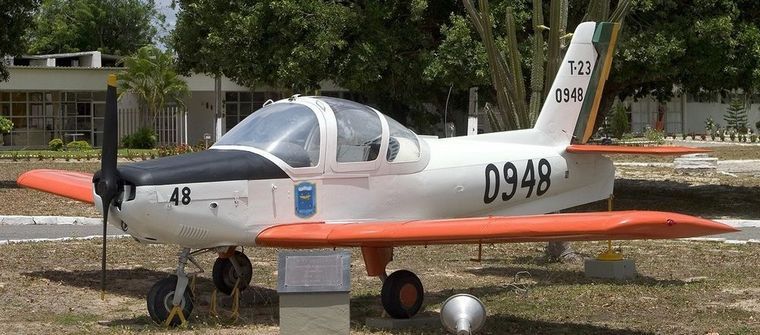 In October 1967, when the Brazilian Air Force ordered thirty Uirapurus, it was still flying obsolete Fokker S.11s in the training role. They eventually ordered another seventy for a total of 100. The Bolivian Air Force ordered 36 examples in 1974, which flew until 1997 and in, 1975, the Paraguayan Air Force bought eight aircraft to replace the Fokker T-21 (S.11). Most of them were withdrawn from service in 1992.
Thirty others were sold in the civilian market. A total of 155 were built, including prototypes by the time production finished in 1977.
General characteristics

Crew: Two
Length: 6.60 m (21 ft 8 in)
Wingspan: 8.50 m (27 ft 10ĺ in)
Height: 2.70 m (8 ft 11 in)
Wing area: 13.50 m≤ (145.3 ft≤)
Airfoil: NACA 43013
Empty weight: 540 kg (1,191 lb)
Max. take-off weight: 840 kg (1,825 lb)
Powerplant: 1 ◊ Lycoming O-320-B2B 4-cylinder horizontally opposed air cooled, 119 kW (160 hp)
Performance
Never exceed speed: 307 km/h (165 knots, 190 mph)
Maximum speed: 225 km/h (122 knots, 140 mph)
Cruise speed: 185 km/h (100 knots, 115 mph)
Stall speed: 88 km/h (48 knots, 55 mph)
Range: 800 km (429 nm, 495 mi)
Service ceiling: 4,500 m (17,000 ft)
Rate of climb: 4.0 m/s (787 ft/min)
Endurance: 4 hours