Compiled by Willie Bodenstein



The DeLand Showcase held at the DeLand Municipal Airport (KDED) in the town of DeLand is an annual, three-day event focused entirely on recreational flying and sport aviation. DeLand Municipal Airport, Florida's premier recreational airport, is located 40 miles north of Orlando and 15 miles west of Daytona Beach and the campus of Embry-Riddle Aeronautical University.
This ideal location, combined with the area's rich aviation history, has supported many aviation entrepreneurs over the years, keeping DeLand Municipal Airport at the forefront of general aviation technologies. Its location offers convenient transportation by land, sea, or air and the weather in early November is perfect for a fun Florida weekend.
The Showcase welcomes all aviation enthusiasts, of all ages, especially those just becoming interested in the fun side of flying. Visitor were able to enjoy demo flights, interactive workshops, educational forums, keynote speakers, food concessions, live music, underwing camping, pre-owned aircraft sales and more.
More than one hundred exhibitors, including two that market South African products, this year promoted their products and services. Featuring all kinds of sport aircraft, ultralights, trikes, rotorcraft, powered parachutes and paragliders, engines, avionics, pilot gear and flight schools, DeLand is one of only half a handful of general aviation exhibitions worldwide.
Exhibitors at this year's Showcase did brisk business. In alphabetical order some of the major manufacturers of LSA aircraft that were present at Deland were: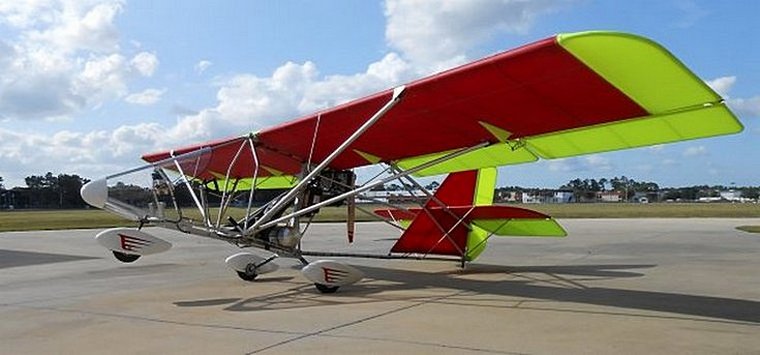 The Aerolite 103 is a professionally built, ready-to-fly, legal Part 103 single-seat ultralight type aircraft. The Aerolite 103 was designed by long-time aviation enthusiast Terry Raber in 1996. The first prototype Aerolite 103 flew on 6 October 1996.

Between 1997 and 2012, Terry produced hundreds of Aerolite 103's. The aircraft has always been extremely popular and highly regarded by both experienced and newer pilots alike.
In 2012, Terry made the difficult decision to pursue other non-aviation business interests and decided it was time for the Aerolite 103 design to have a new home. Terry contacted U-FLY-IT Light Sport Aircraft's owner, Dennis Carley to inquire if he had an interest in carrying on the manufacturing of the Aerolite. After a brief, yet very productive conversation, plans were implemented to facilitate the relocation of the Aerolite production facility to U-FLY-IT's base of operation in DeLand, Florida. Production of the Aerolite 103 continues to adhere to the highest aviation standards, delivering years of safe pleasure flying to those who own or fly one. It is arguably the best value of any Ultralight Aircraft available!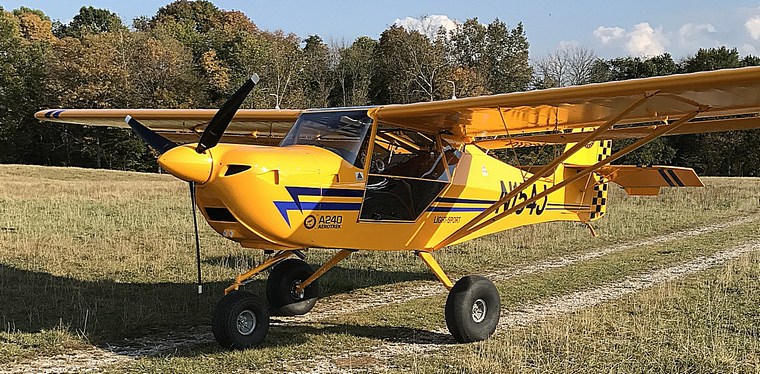 The Aerotrekô A220 and A240 are factory-built two-seat aircraft manufactured by Aeropro CZ in Europe. Aeropro has been producing aircraft since 1990 with now over 500 aircraft now flying around the world. The Aerotrek A220-A240 are modern designs with excellent performance and features -- built with the finest workmanship and materials resulting in a completed aircraft of the highest quality.

The Aerotrek A220-A240 are FAA-approved S-LSA (Special Light Sport Aircraft) that are especially distinctive for having a quick-folding wing design (only one-person, only 10 minutes!) and amazing visibility. The Aerotrek A220-A240 are aircraft intended to work ideally under the new "Sport Pilot / Light Sport Aircraft" rules. With the Aerotrek A220-A240 aircraft having S-LSA approval, they can be flown by existing Private and Recreational pilots (who are not required to maintain an FAA Medical Certificate to fly aircraft in the LSA category), but also by people holding the new "Sport Pilot" license. For info about the "Sport Pilot / Light Sport Aircraft" rules.
The Aerotrek A240 is available with standard tires (with wheel pants), or with larger tundra tires, or with "biggie" tundra tires. The best thing is with our A240 the plane can be switched back and forth between standard tires and big or biggie tires very quick and easy.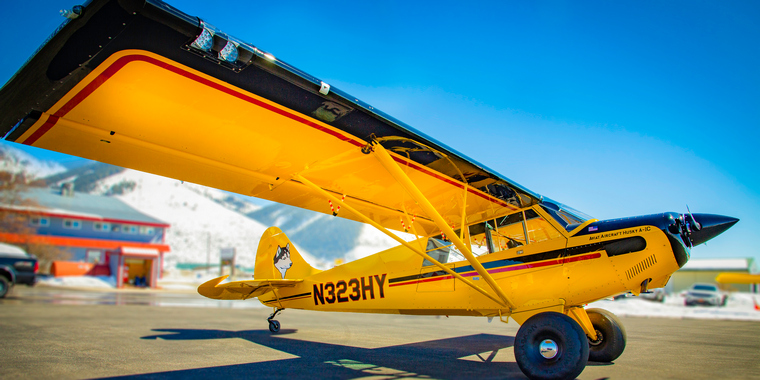 Design work by Christen Industries began in 1985. The prototype first flew in 1986, and certification was awarded the following year. With more than 650 aircraft sold between its introduction and 2008, the Husky was one of the best-selling light aircraft designs of the period.

The Husky features a braced high wing, tandem seating and dual controls. The structure is steel tube frames and Dacron covering over all but the rear of the fuselage, plus metal leading edges on the wings. The high wing was selected for good all-around visibility, making the Husky ideal for observation and patrol roles. Power is supplied by a relatively powerful (for the Husky's weight) 180 hp (134 kW) Textron Lycoming O-360 flat-four piston engine turning a constant speed propeller.
The Husky has been used for observation duties, fisheries patrol, pipeline inspection, glider towing, border patrol and other utility missions. Notable users include the US Department of the Interior and Agriculture and the Kenya Wildlife Service, which flies seven on aerial patrols of elephant herds as part of the fight against illegal ivory poach.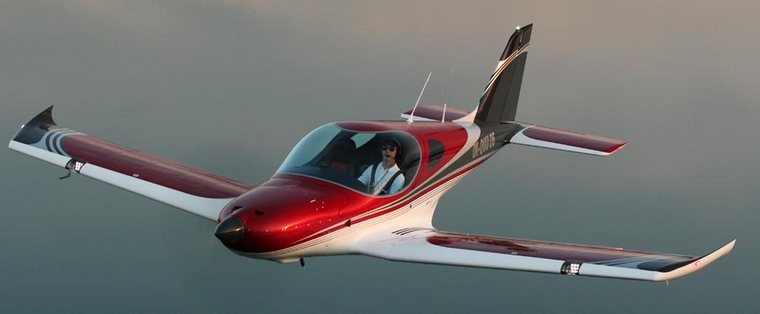 The BRM Aero Bristell NG was introduced at the AERO Friedrichshafen 2011 show, where the retractable gear version was shown. The aircraft was designed to comply with both European microlight rules and also the US light-sport aircraft regulations, by using different versions for each regulatory environment.


The BRM Aero Bristell NG 5 is a Czech designed ow-wing, two-seat side-by-side configuration. The NG 5 is made from aluminum and features a 130 cm (51 in) wide cabin at the shoulder, with a bubble canopy over the cockpit.
The standard engine is a 60 kW (80 hp) Rotax 912UL, with the 75 kW (101 hp) Rotax 912ULS, the 71 kW (95 hp) ULPower UL260i/iS and the 88 kW (118 hp) ULPower UL350iS powerplants optional. The 115 hp (86 kW) Rotax 914, 85 hp (63 kW) Jabiru 2200 and 120 hp (89 kW) Jabiru 3300 are also available.
The aircraft is supplied as a complete ready-to-fly aircraft.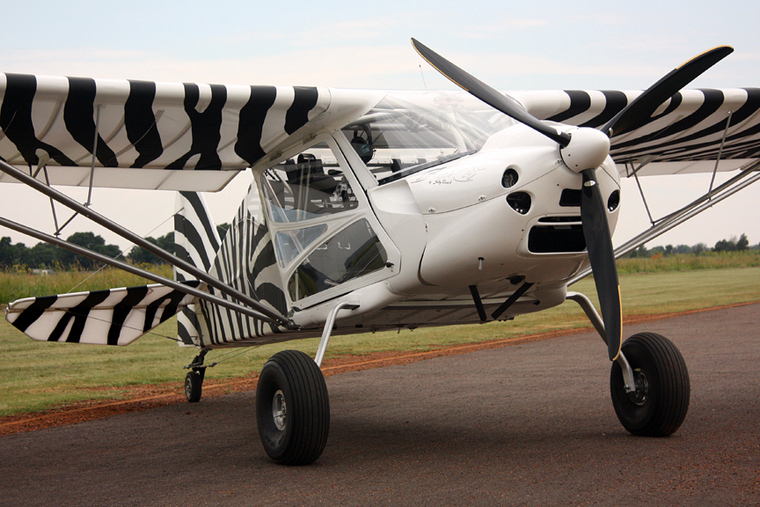 One of the two South African products at Deland was the Rainbow SkyReach BushCat. Manufactured at Springs Airfield, the BushCat is supplied as a kit for amateur construction or as a complete ready-to-fly-aircraft.

The design is a US Federal Aviation Administration accepted special light-sport aircraft with the Rotax 912UL, Rotax 912ULS, the 85 hp (63 kW) Jabiru 2200 and 64 hp (48 kW) Rotax 582 engines fitted.
The BushCat is a two-place, side-by-side configuration, strut-braced, high-wing monoplane. It features dual throttles, a single center-mounted control stick and flaps controlled by a ceiling-mounted bar. Landing gear options are tricycle gear, conventional landing gear and floats.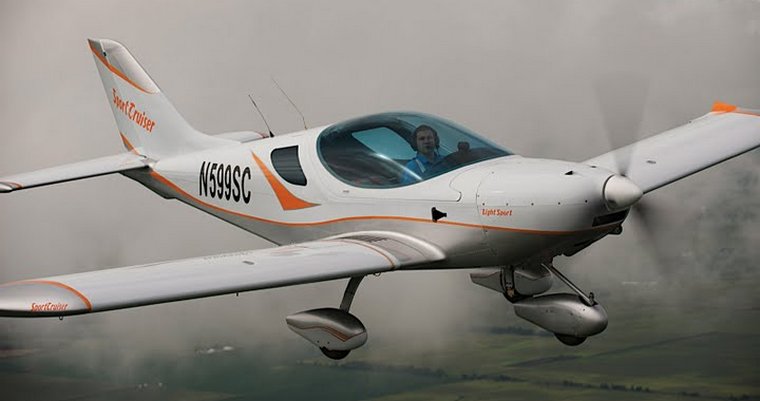 The LSA category Sportcruiser all-metal low-wing mono-plane one of the most popular light sport airplanes in the world, is simply loaded with features. A full glass cockpit, along with a dual axis autopilot, and the safety of a BRS aircraft parachute system and much more, are offered as standard features.


Successfully operated in more than 30 countries all around the world, the 600th unit was produced and placed on the market in the early 2017, making the SportCruiser one of the most successful aircraft of the entire LSA category.
The SportCruiser is by far the most spacious in its class, which provides utmost level of comfort and a highly ergonomic arrangement to the flying crew. Power is by the proven Rotax 912 ULS2 100 Hp engine giving the Cruiser a range of 516 NM (953 km) with 30 min. reserve.
The SportCruiser has been approved for operation in the USA in the LSA category according to the FAA Accepted ASTM Consensus Standards and can be operated in other countries recognizing this regulation, e.g. South Africa, Australia, Israel and UAE countries.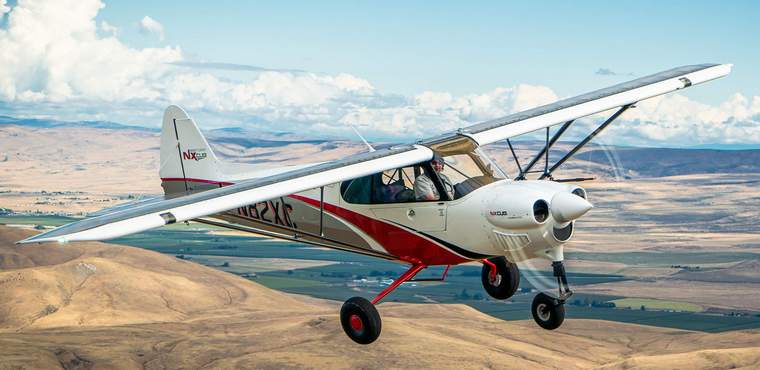 For 35 years, CubCrafters has been in the business of advancing the classic Piper Super Cub, legendary for its bush flying and off airport performance.


While their engineering has further improved STOL performance, they have also focused on improving every aspect that makes the Super Cub platform uniquely capable. The result is a range of modern adventure aircraft that are designed and engineered for backcountry flying.
Pilots are rewarded with not only STOL performance, but also remarkable flight characteristics, uncommon comfort & ergonomics, unmatched range and class-defining utility.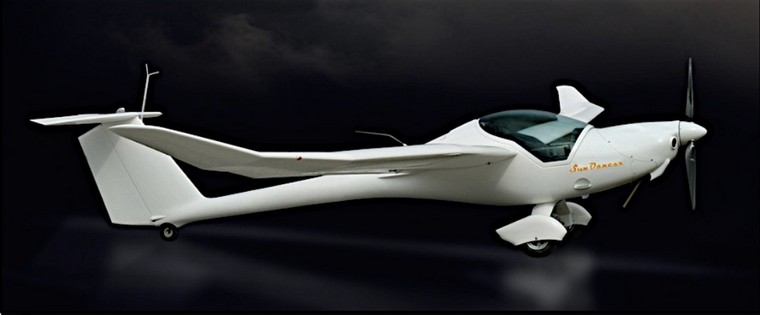 State of the art design and construction techniques combined with space-age composite materials allows Distar Air to produce one of the most advanced composite aircraft on the market today.
?

Flown as a touring motor glider, SUNDANCER offers you the best of both worlds. With the engine shut down and the propeller feathered, you can climb to cloud base in a thermal or run the spine of a mountain on ridge lift. Unfeather the propeller, start the Rotax engine and your transition to a touring motor glider is complete.
With a 800nm range on 26 gallons of fuel, you can fly off on a great adventure. And flown as a glider with a glider rating and a self-launch endorsement, no medical is required. Insurance and financing are available.
Sundancer is available in both tricycle and tailwheel versions.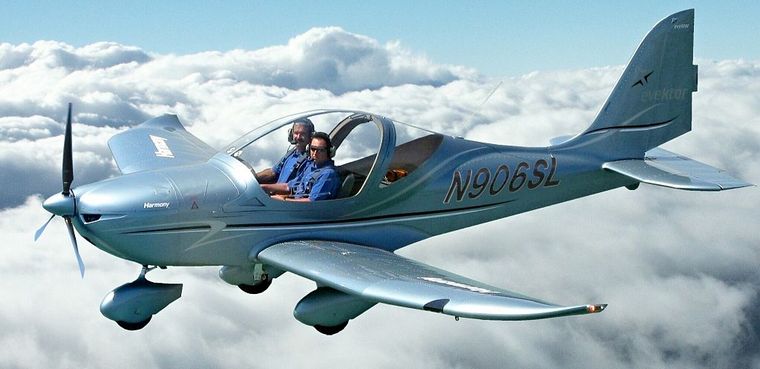 Evektor-Aerotechnik dates back to 1970 when Aerotechnik was established as a producer of small general aviation airplanes. Its first aircraft were gyrocopters and motor gliders. The company produces a range of light sport aircraft, training, advanced ultralight aircraft and electric aircraft.

Introduced in 1997, the SportStar became the first light sport aircraft accepted by the American Federal Aviation Administration in 2004. The modern design, outstanding flight characteristics and half the operating costs compared to conventional training aircraft make the SportStar RTC an excellent training platform for PPL / LAPL Training, Night Rating and CPL Single Engine Training, Solo Time Building, Maintaining Pilot Licenses and also for Pilot Touring.
Design is based on the EASA JAR-VLA certified aircraft and reflects the latest development in design, safety and cockpit comfort found in modern light sport aircraft, the SportStar has a modern durable airframe, excellent flight characteristics, easy maintenance and low operating costs. During operation owners especially appreciate the reliable Rotax engine, which has low fuel consumption and saves costs through automotive fuel usage.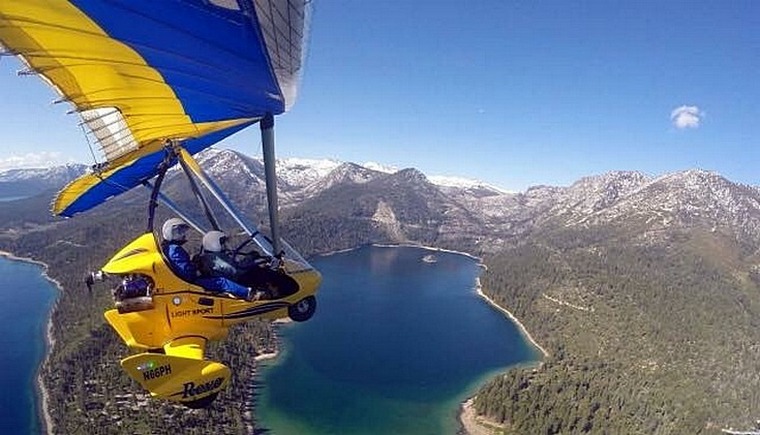 The name Evolution Trikes comes from the long evolution of aircraft that preceded the Revo. Each trike before it was evolving into what is now called the Revo, which is short for Revolutionary.

Designed to comply with the American light-sport aircraft category, the Revo has been accepted as an S-LSA and is supplied as a complete ready-to-fly-aircraft.
The Revo, made from welded steel tubing, features a strut-braced hang glider-style high-wing, weight-shift controls, a two-seat -in-tandem open cockpit with a cockpit fairing, tricycle landing gear with wheel pants and a single engine in pusher configuration. Its North Wing Reflex double surface wing covered in Dacron sailcloth has no kingpost and uses an "A" frame weight-shift control bar. The powerplant is a four-cylinder, air and liquid-cooled, four-stroke, dual-ignition 100 hp (75 kW) Rotax 912ULS engine or 80 hp (60 kW) Rotax 912UL.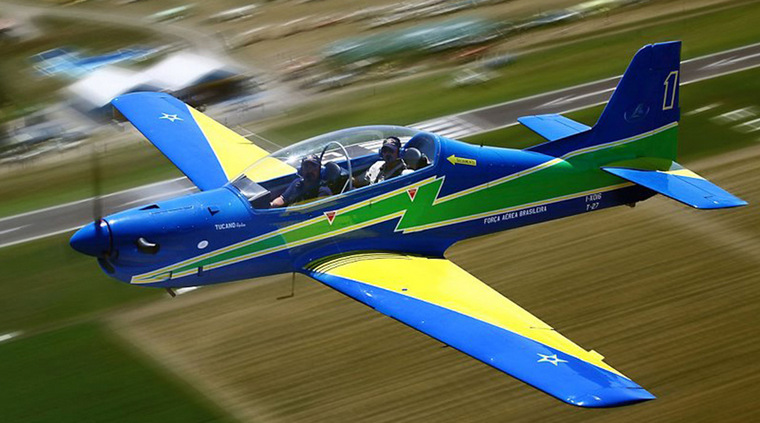 The Flying Legend Tucano Replica is scale replica of the 1980s vintage Embraer EMB 312 Tucano turboprop trainer and features a cantilever low-wing, a two-seats-in-tandem enclosed cockpit under a bubble canopy, retractable tricycle landing gear and a single engine in tractor configuration.


The aircraft is supplied as a kit for amateur construction or as a complete ready-to-fly-aircraft. A fixed gear model has been developed for the US light sport aircraft market.
The Tucano is made from 2024-T3 aluminum and 6061-T6 aluminum sheet. Its 8.41 m (27.6 ft) span wing has an area of 10.0 m2 (108 sq ft) and is equipped with flaps. Standard engines available are the 100 hp (75 kW) Rotax 912ULS four-stroke powerplant, with the 115 hp (86 kW) Rotax 914 and 125 hp (93 kW) D-Motor LF39 optional.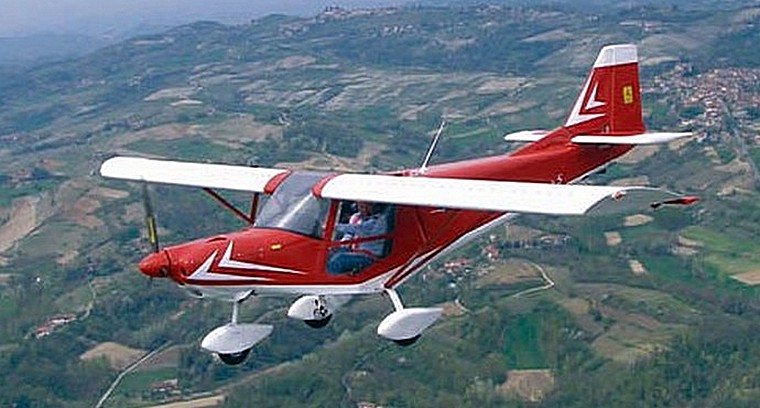 The ICP Savannah is a high wing, single engine, ultralight with side-by-side seating for two produced in Italy by ICP srl. It has sold in large numbers, particularly in Europe. The Savannah is sold in both kit and ready to fly form.

A conventionally laid out two seat aircraft, the Savanah is commonly registered as a light-sport aircraft in the United States and as an ultralight in some other jurisdictions and is considered a microlight aircraft in New Zealand.
It has much in common with the Zenith CH 701, though the Savannah has a different empennage; later versions have further diverged from the Zenith, particularly in the wing design. Manufacture (both ready to fly and kits) is done in the ICP premises located in Castelnuovo Don Bosco (Piedmont, Italy), where the firm moved on September 10, 2009 from the original plant in Piovŗ Massaia.
Structurally, the Savannah is a metal semi-monocoque. Most variants have a constant chord wing. Savannahs have been powered with a variety of small engines in the 35-70 kW range. The cabin seats two side by side under the wing, the newer XL version having increased width and enhanced glazing. Aft, the fuselage is flat sided, with the underside rising towards the tail. The rectangular tail plane and elevators use a conventional airfoil.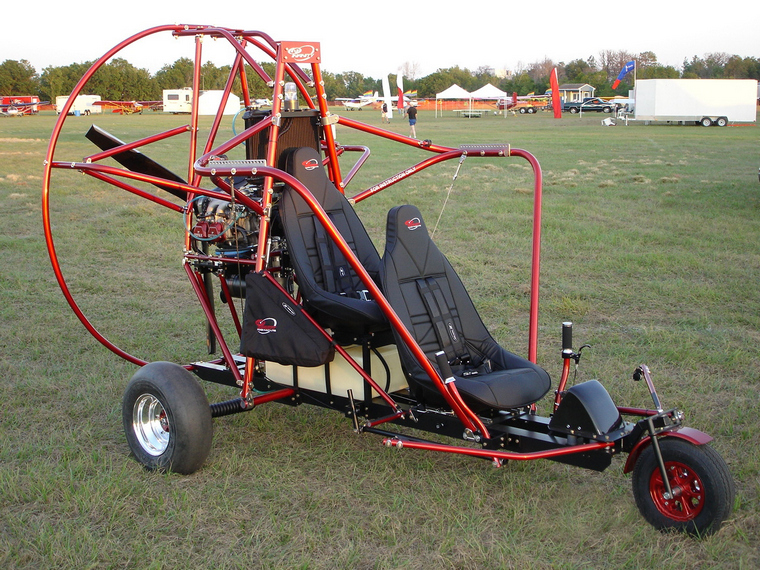 From its early beginning in 2001, Infinity Power Parachutes has been a machine for the ages. Today, Infinity has expanded its designs to offering single and 2-seat options, as well as an array of other options such as engine, frame, and accessory choices.

Model choices include the Challenger 503, the Commander 582, and the Commander 912. With an eye on innovation, Infinity now offers a drop-axle kit, which has become very popular. Also available are a variety of replacement parts for current and old-style Infinity planes, as well as Destiny PPCs.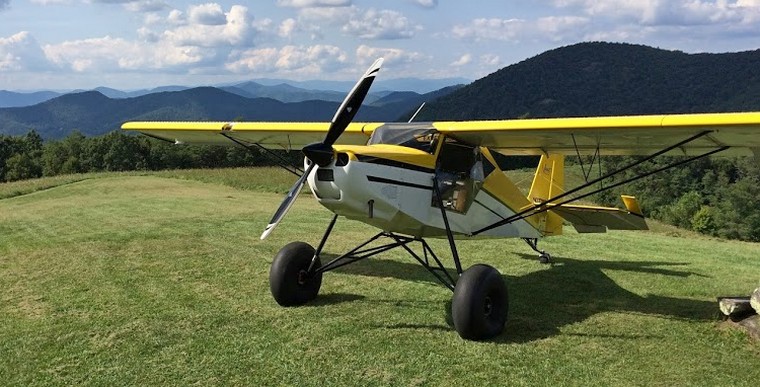 Just Aircraft LLC is an American aircraft manufacturer based in Walhalla, South Carolina and founded by Troy Woodland in 2002. The company specializes in the design and manufacture of STOL light aircraft in the form of kits for amateur construction and complete ready-to-fly light-sport aircraft.
The Superstol is a development of the Just Highlander and differs by the addition of automatic leading-edge slats, a long stroke air shock robust landing gear with 29 in (74 cm) tundra tires, Fowler flaps and a newly designed tailplane. The resulting design features a strut-braced high-wing, a two-seat-in-side-by-side configuration enclosed cockpit accessed by doors, fixed conventional landing gear and a single engine in tractor configuration. It is designed for operation on rough airfields.
The fuselage is made from welded 4130 steel tubing, while the wing uses an aluminum spar and aluminum ribs, all covered in doped aircraft fabric. The wings are supported by "V" struts with jury struts and can be folded for ground transportation or storage without the need for disconnecting fuel lines or control connections. Standard engines available include the 80 hp (60 kW) Rotax 912UL, the 100 hp (75 kW) Rotax 912ULS or Rotax 912iS, the 115 hp (86 kW) Rotax 914, 85 hp (63 kW) Jabiru 2200, the 120 hp (89 kW) Jabiru 3300 and the 80 hp (60 kW) Volkswagen air-cooled engine, four-stroke powerplants. The SuperStol can take-off and land in under 150 ft (46 m).

Magni Gyroplanes, experimental in the US, are imported from Italy and 51% owner built. Magni claims that their product is the most durable, economical, and forgiving to fly of all modern gyroplanes.

Designs developed include the two-seat open cockpit M-14 Scout, the two-seat M-16 Tandem Trainer, the small single-seat open cockpit M-18 Spartan and the two side-by-side enclosed cabin M-24 Orion.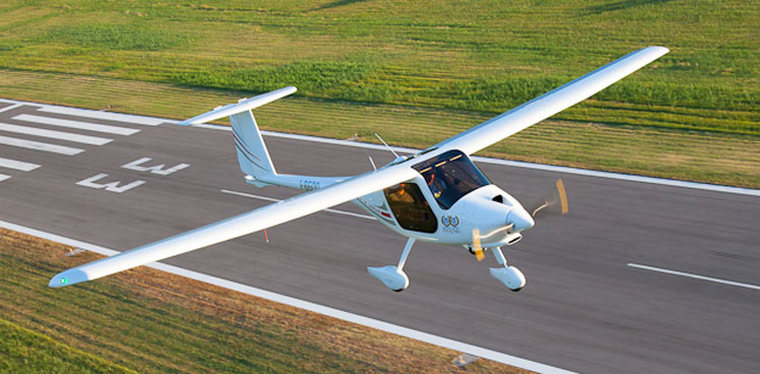 Initially Pipistrel produced only powered hang gliders, designed by Ivo Boscarol, who produced experimental ultralight trikes with a group of his friends as a private enterprise starting in the mid-1980s. In 1992 the company was officially registered as Pipistrel.

In the mid-1990s, when composite materials became more widely used, the company moved from the production of powered hang-gliders to ultralight aircraft that resemble full-sized airplanes. One of the early models, the Sinus, was the first serially-built ultralight made from composite materials.
On 12 October 2015 Pipistrel won an international tender issued by the Indian Ministry of Defence, to supply 194 Pipistrel Virus SW 80 trainers to the Indian Air Force, Indian Navy and National Cadet Corps. By June 2016, Pipistrel had produced 800 examples from the Sinus and Virus series. By May 2018 this number had increased to more than 900.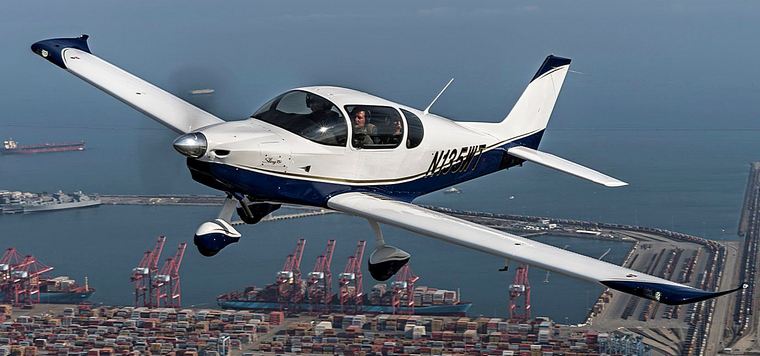 The Sling 4 Turbo was designed with the aim of creating the most practical and desirable lightweight, 4-place Experimental aircraft on the market, a niche not previously filled.

The Sling Tsi is basically an elongated version of its sibling, the Sling LSA, however it uses the more powerful Rotax 914 Turbo and has Gullwing doors instead of a sliding canopy. It can comfortably seat 4 people, carry baggage and still cruise effortlessly and efficiently, making it the ultimate affordable cross-country aircraft.
The Tsi's flying characteristics are very similar to the smaller Sling LSA, perfectly-coordinated with highly responsive controls that are not too sensitive. The Sling 4 Turbo is the perfect aircraft for the home builder who is looking for an affordable DIY 4-place airplane. Aluminum construction is used for ease of maintenance and construction as well as its proven strength and lifetime qualities. The Sling 4 Turbo comes with a variety of customization options that the builder can explore as well as the option for a Ballistic Parachute for safety purposes. No single aircraft can fulfill the special needs of every pilot. Nevertheless, The Airplane Factory believes that the Sling 4 Turbo enjoys a set of qualities that will fulfill the needs, at the highest level, of many pilots around the globe.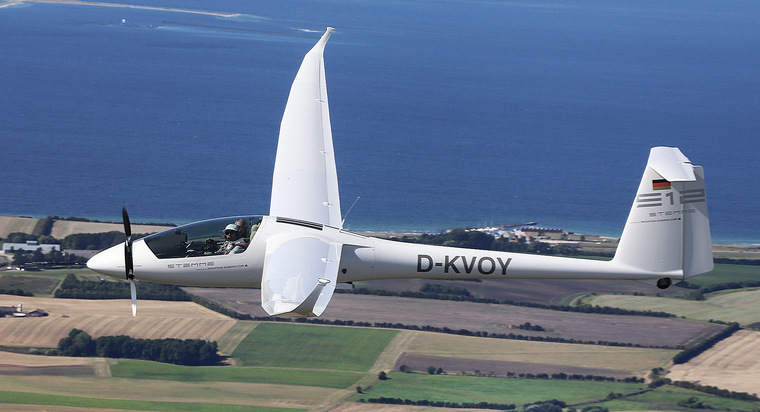 The Stemme S10 is a self-launching sailplane produced by Stemme AG in Strausberg (Germany) since the 1980s. The engine is mounted amidships and it features an unusual folding propeller which is stowed inside the aircraft's nose-cone when the engine is not in use.

The Stemme S12 also has several unusual features such as a tailwheel undercarriage and a side-by-side cockpit. It does not have a tow hook connection so it must self-launch. The two main wheels retract and lower electrically, though they can also be lowered manually if needed. There is an option to fold wings to reduce hangar span to 11.4 m (37 ft 5 in). The engine restart time is 5 seconds. A solar panel can provide additional electrical power during long flights.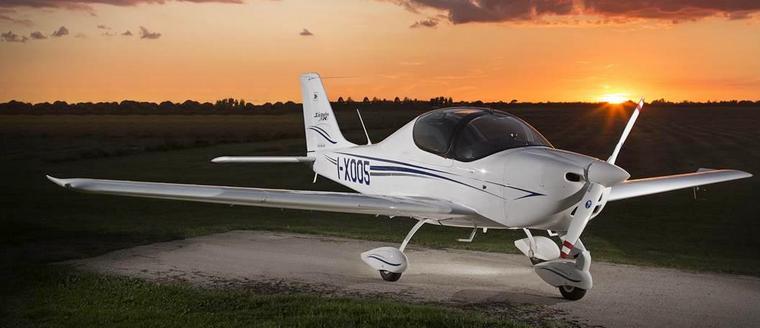 Costruzioni Aeronautiche Tecnam is an Italian aeronautics manufacturer and was founded in 1986. The P represents Italian brothers Luigi Pascale and Giovanni Pascale, veteran aircraft designers and manufacturers who founded the company. Prior to that, they had been responsible for several other aviation-related activities, including design and construction of the twin-engine Partenavia P.68.

At present, the company produces several LSA designs, as well as certificated aircraft. As of 2018, it has delivered 5,000 airplanes worldwide. It employs 250 people. The founding brothers have both died, but Luigi's nephew, Paolo, is CEO and his son, Giovanni is director of operations.
Costruzioni Aeronautiche Tecnam operates two production facilities in Italy. The Casoria facility is located adjacent to Naples Capodichino Airport. The Capua facility is located adjacent to the Oreste Salomone Airport. In 2015 a sales and delivery facility were established in Sebring, Florida, United States to support North American operators. As of 2018 a sales facility exists in Australia.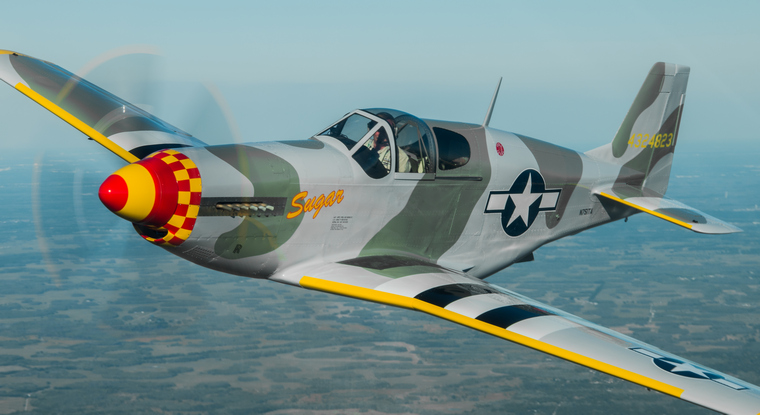 Titan Aircraft's P-51B replica incorporates material and systems not commonly found in comparably priced aircraft. This, combined with Titan Aircraft's renowned reputation for high quality products, superior aircraft performance, and outstanding customer support, is sure to provide the kit builder and pilot a very pleasurable experience.

This kit has a documented build time of 1,600 hours and includes all required materials, components, and fasteners, with the exception of the engine, propeller, and instruments. When equipped with the 245 hp Honda 3.5L V6 engine, a scale 4-blade constant speed propeller and a full complement of necessary flight instruments, a finished T-51B could cost well under $110,000.
Titan Aircraft is providing an aircraft that combines friendly low speed handling characteristics with agility and high performance. The T-51B is rated at a +6g / -4g load limit capability at a weight of 1,650 lbs. When equipped with the Honda 3.5L V6 engine and the landing gear retracted, a T-51B cruises around 180 mph and has a climb rate of approximately 2,500 f/m. In landing configuration, the stall speed is in the 50 mph range.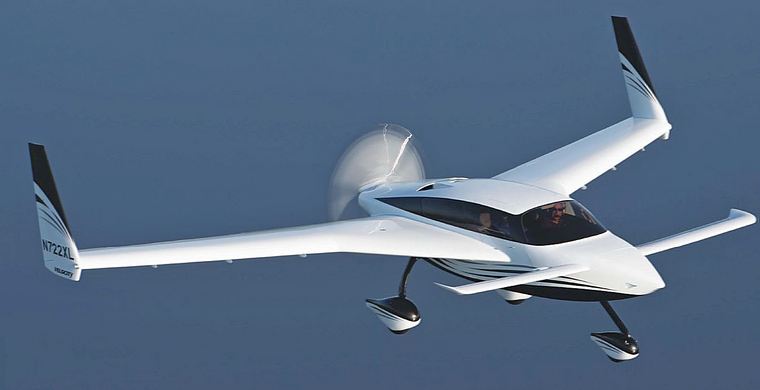 Danny Maher designed and built the first Velocity in 1985. First Flight was in October 1985. The plane was debuted at Sun-N-Fun in 1986. Danny's intention was to design a plane that was much like the Long-EZ with a larger, more comfortable interior.

In 1992, Velocity introduced the "173", also known as the long wing. This model had a longer wing giving it a lower landing speed. The name was a play on the name of a popular model of Cessna, the Cessna 172, the idea being it is one better. Some flying Velocity planes experienced "deep stall" incidents, where the main wing stalled before the canard causing an unrecoverable stall. After a lengthy investigation, Velocity found and solved the cause of these stalls. The 173 included airfoil modifications that prevented the deep stall. The original kit was also modified to prevent a deep stall, and was now known as the Standard model.
In 1986, Scott and Duane Swing purchased a Velocity kit. They developed a retractable gear option for it and begin selling it as an add-on. When the Swings purchase Velocity from Danny in 1992, their retractable gear become a factory option to the kit.
In March 1997, Velocity introduced the XL model, which features a larger cabin and space for a larger engine.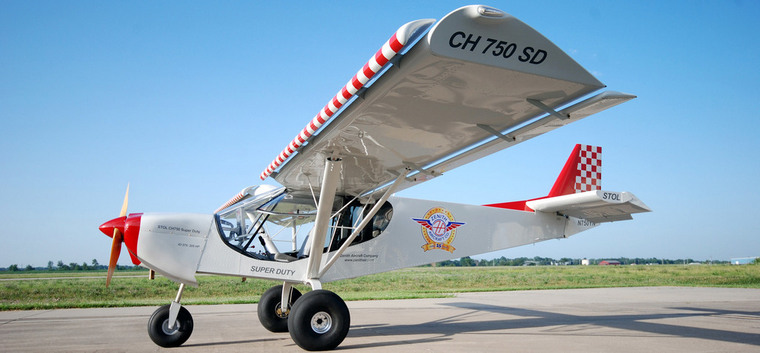 For a quarter century Zenith Aircraft Company has been manufacturing and marketing aircraft kits from its modern production facilities at the Mexico Memorial Airport in Missouri. With customers across the U.S. and around the world, Zenith Aircraft Company is a leading manufacturer of aircraft kits, with a proven commitment to builders and owners.
Zenith Aircraft Company is in the exclusive business of designing, developing and manufacturing kit aircraft. The independent, privately-owned company was formed in 1992 and is based in leased 20,000+ sq.ft. production facilities.
Zenith Aircraft Company acquired the exclusive rights to manufacture and market Zenair kit aircraft designs from designer Chris Heintz. The company is a proud member and supporter of the Experimental Aircraft Assoc. (EAA), the Aircraft Kit Industry Association (AKIA), and numerous other organisations dedicated to the advancement of sport aviation. Zenith Aircraft Company is continuously involved in projects devoted to aviation education and the advancement of sport aviation around the world.