The Bellanca 19-25 Skyrocket II, designed by August Bellanca, the son of the legendary Guiseppe Bellanca, was a six-seat, low-wing cantilever monoplane of conventional configuration with retractable tricycle undercarriage. It was constructed of composite materials, an advanced feature for its time and in test flying, proved to be extremely fast.
Within months of its first flight, the prototype claimed five world airspeed records for an aircraft in its class. The aircraft attracted the attention of NASA, which conducted an aerodynamic analysis of the design, in order to investigate natural laminar flow as a factor of its high performance.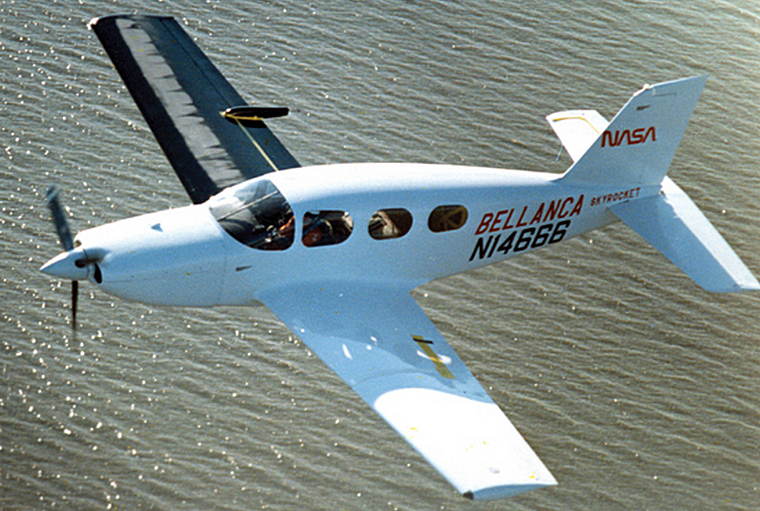 Photo © Public Domain commons.wikimedia.org

Despite its advanced design and exceptionally good performance, it, due to the downturn in the civil aviation market in the United States in the early 1980s, never achieved certification or entered production.
In the mid-1990s, the design was developed into a kit and sold as the Skyrocket III to help fund a new certification programme. The Skyrocket III features greater speed, payload and range and was re-engineered for modular construction.
General characteristics:

Crew: one
Capacity: five passengers
Length: 28 ft 11 in (8.81 m)
Wingspan: 35 ft 0 in (10.67 m)
Height: 9 ft 3 in (2.82 m)
Wing area: 182.6 sq ft (16.96 m2)
Aspect ratio: 6.7:1
Airfoil: NACA 632215
Empty weight: 2,300 lb (1,043 kg)
Max take-off weight: 4,100 lb (1,860 kg)
Powerplant: 1 ◊ Continental GTSIO-520-F air-cooled flat-six, 435 hp (324 kW)
Performance:

Maximum speed: 331 mph (533 km/h; 288 kn) at 29,000 ft (8,800 m)
Cruise speed: 255 mph (410 km/h; 222 kn) at 15,000 ft (4,600 m), 65% power
Stall speed: 65 mph (105 km/h; 56 kn) flaps down
Range: 1,465 mi (1,273 nmi; 2,358 km)
Service ceiling: 30,000 ft (9,100 m)
Rate of climb: 1,900 ft/min (9.7 m/s)