This article is written in the eye of the lockdown but traces a unique event in South African aviation history. I don't think it's an exaggeration.
For a couple of years, many of the Yak owners around the country came together at Virginia Airport to master the intricate art of formation flying. What made this event unique was the calibre of the instructors that accompanied the pilots on each flight. Over the three years, instructors included members of the RAF (including one from the Red Arrows), the SAAF (including the Silver Falcons), ex SAAF pilots, airline pilots and other very experienced instructors and pilots.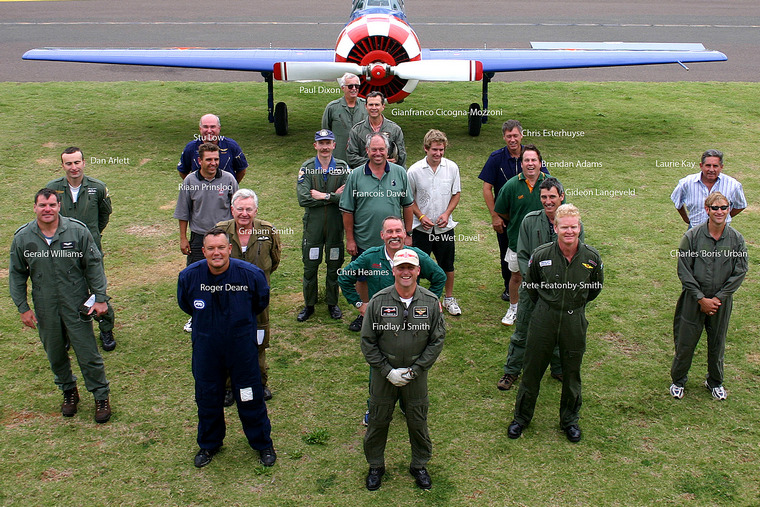 Pilots and Instructors

Gerald Williams proposed the Formation School idea after being involved in a similar initiative at North Weald Airfield in Essex, England. Gerald recalled, "It was a concept that we used in the UK. We had spring and autumn formation schools at North Weald airfield, run by RAF pilots for civilians." The idea was to run a formation flying school to equip civilian pilots with the skills, standard operating procedures and checks to enable them to fly in formation, as well as to become safer and better pilots. The school in England ran twice a year for over twenty years.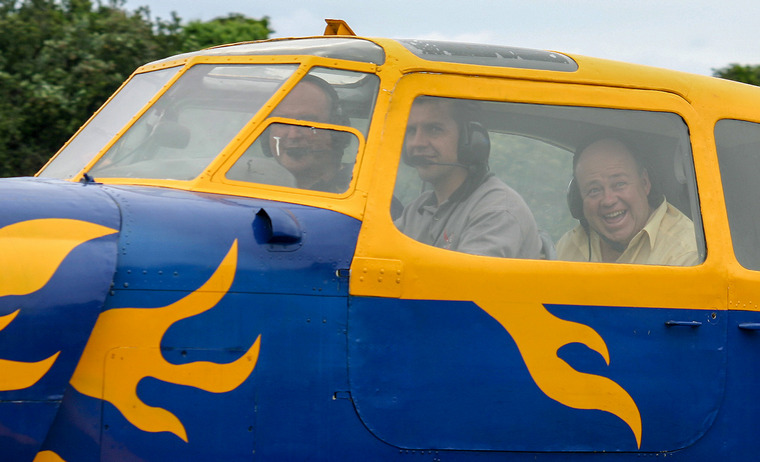 Riaan Prinsloo heads out in the 18T. Note the late greatly missed John Miller in the back seat.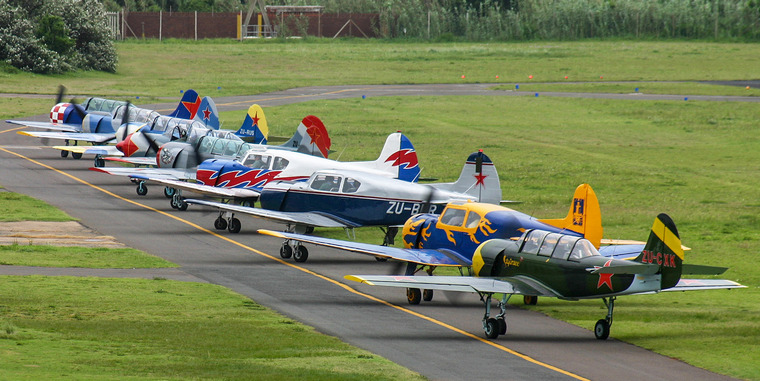 Nine-ship run up prior to departure.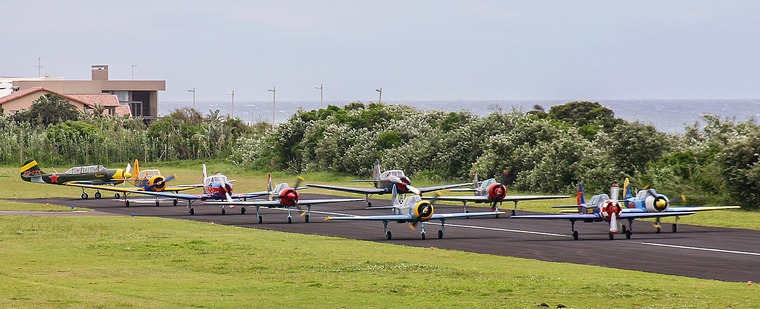 Ready for take-off.




Twin take off.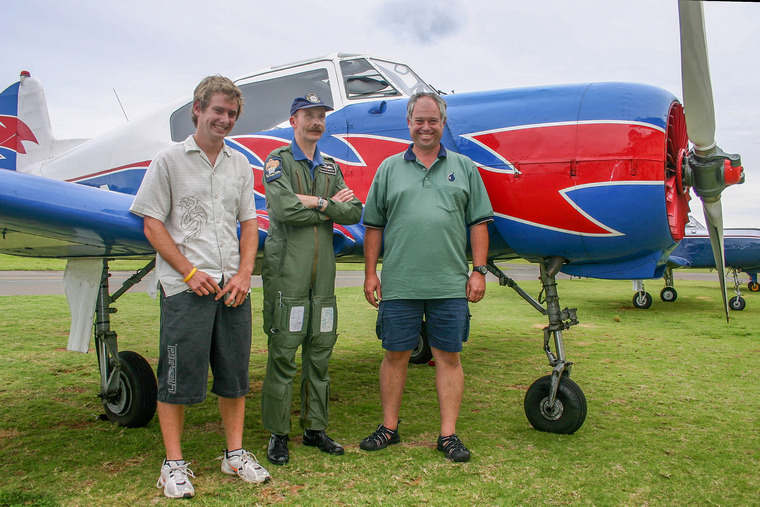 De Wet Davel, Charlie Brown and Francois Davel in front of the 18T.

Welshman Gerald Williams had his Yak 52 based at Virginia Airport in Durban North and at the time there were several other Yaks at the field. Using his UK contacts Gerald was able to bring in highly qualified pilots to act as instructors for the local Yak owners. The KZN Yak owners were joined in year one (October 2006) by a couple of pilots from Gauteng and Cape Town who were keen to learn new skills.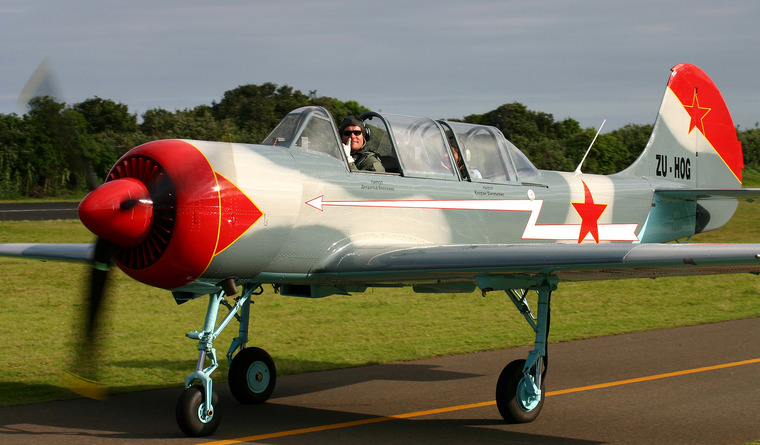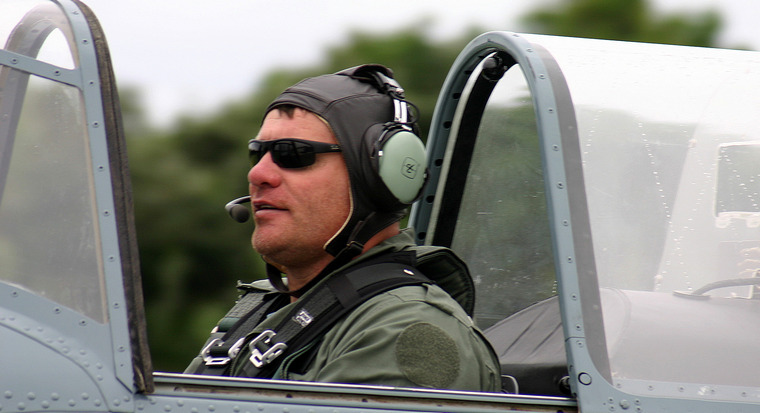 Gerald Williams - ZU-HOG - Yak 52

The chief instructor was R.A.F. pilot Chris Heames. At the time I did not realise what a legend this man is! His CV is exceptional and he has flown some of the most iconic warplanes in his time. He flew four frontline fighters, a feat that will be difficult to surpass. After a great deal of gliding, his career in the Air Force started on Jet Provosts and he then moved onto the mighty English Electric Lightning. He then converted onto McDonnell Douglas Phantoms and was based for many years in Germany. On one occasion he had to eject from his Phantom but was unscathed, living to tell the tale. He then moved on to the swing-wing Panavia Tornado, also in Germany. He had an unnerving incident on this aircraft type too. When he was flying with a pupil one day the swept wings would not move forward for landing and stuck at an angle of 61 degrees. This meant a never before attempted landing at 380 kph as they could not use the slats or flaps! He managed to get it down in one piece.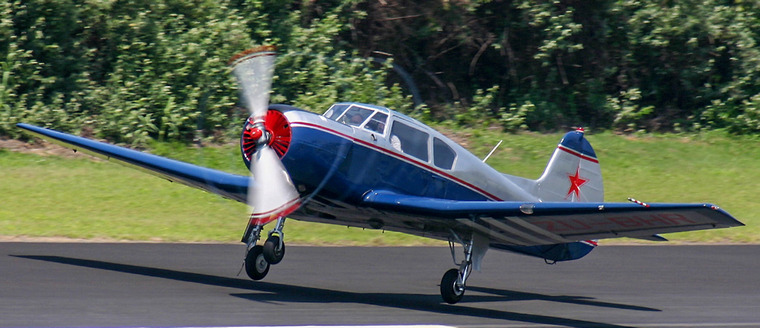 Brendan Adams in the Yak 18T.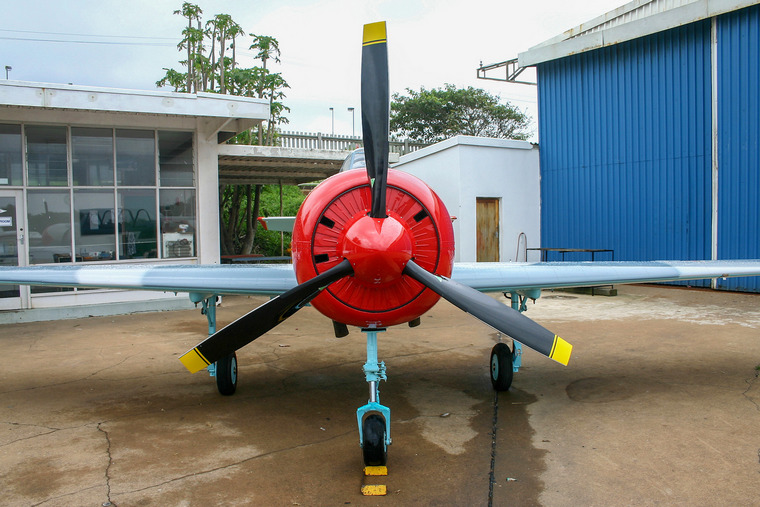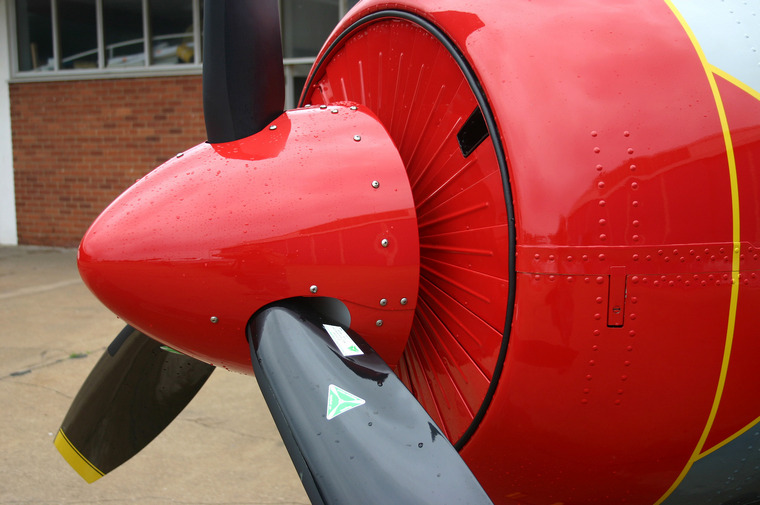 ZU-HOG Yak 52 - the business end.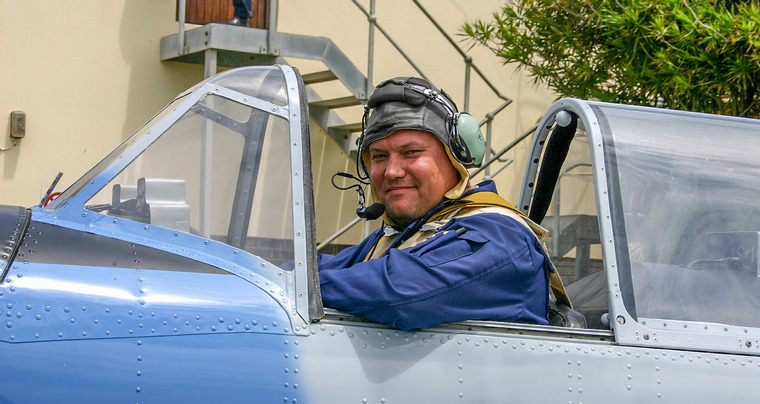 Roger Deare in his Yak 52.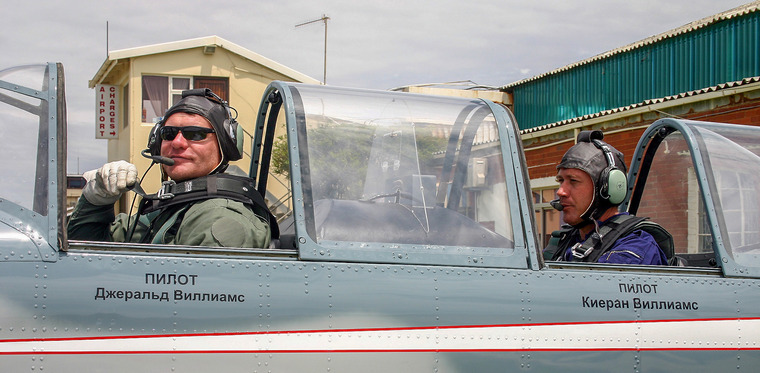 Gerald Williams with the late Chris Esterhuyse in the rear seat. ZU-HOG.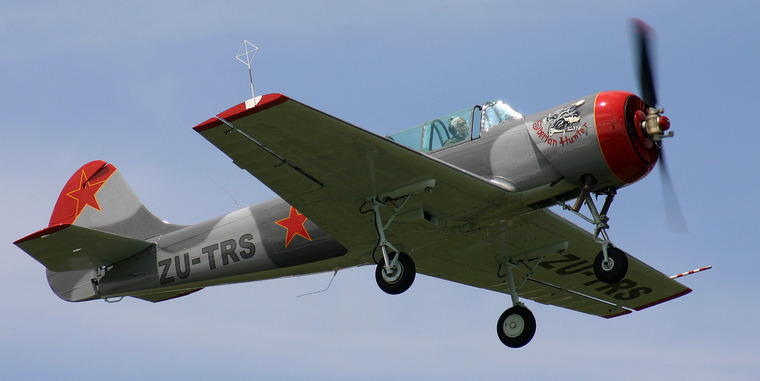 Charles Urban in ZU-TRS.

Chris then went on to fly the Hawker Hunter. He has flown many types of aircraft and ended up in Team Viper, a civilian jet aerobatic team. After having left South Africa, Gerald Williams was also in the team. The Vipers initially comprised a team of four BAC Strikemasters, including Gerald's aircraft ZU-JAK that he had taken back to England. It was re-registered as G-UPPI.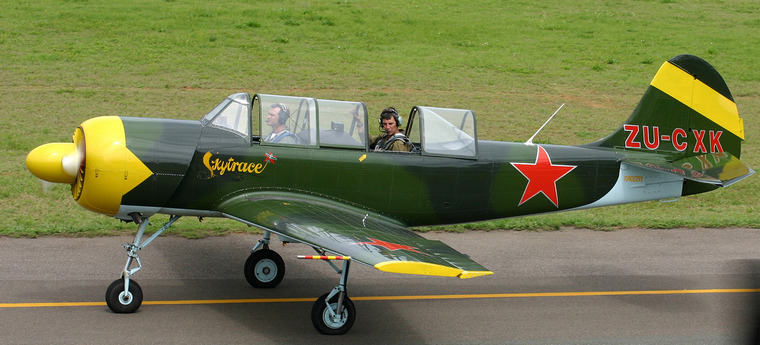 The late Gianfranco Cicogna-Mozzoni with Gideon Langeveld in the back seat.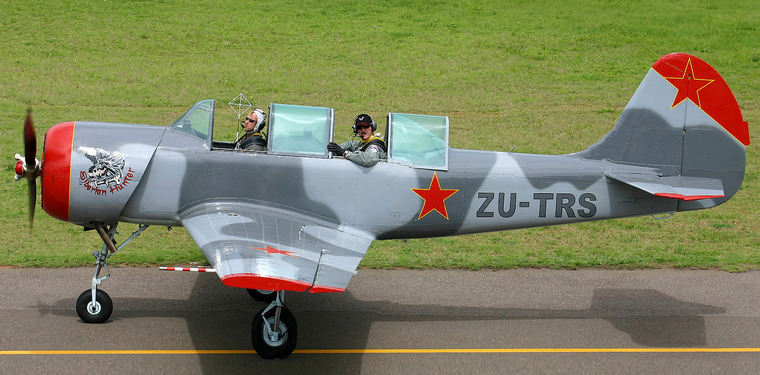 Charles Urban with Johann Venter behind.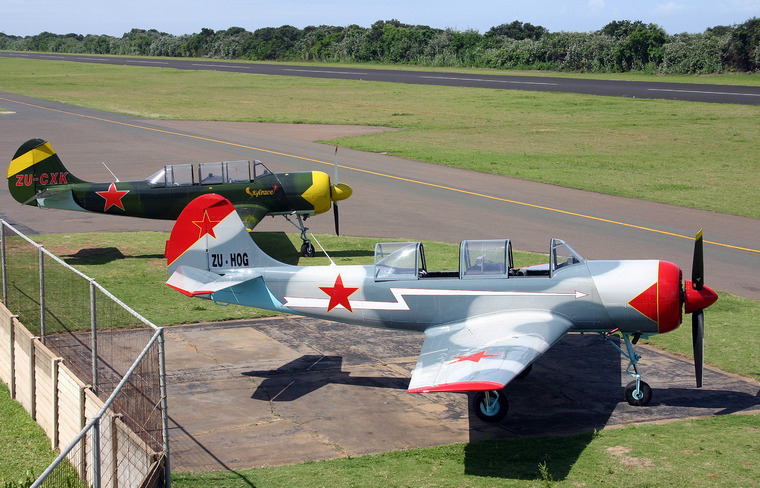 Waiting for the next sortie.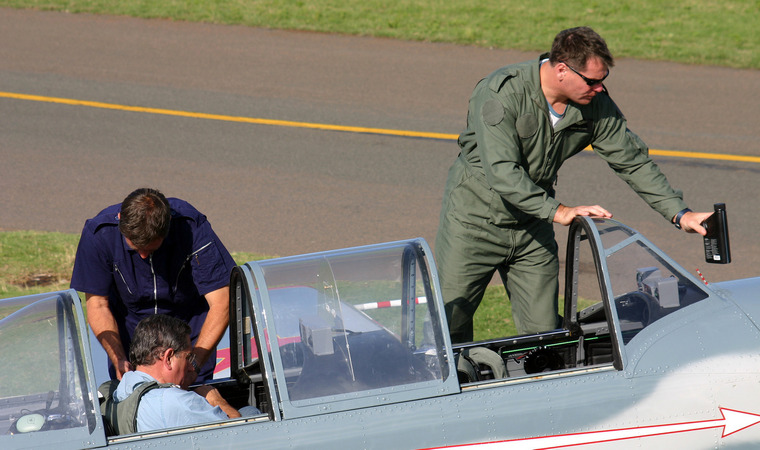 Yak's like oil! Gerald Williams feeds the beast! Chris Esterhuyse helps strap the late Laurie Kay in.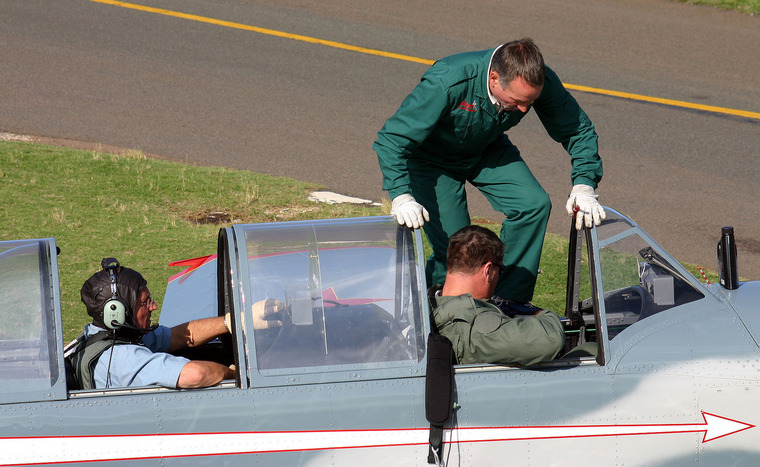 Laurie Kay, Gerald Williams with Chris Heames on the wing.

Team Viper flew the Strikemasters and then Hawker Hunters at shows all over Europe and the Middle East. At one stage, they were flying a five ship Hunter Team! Chris Heames was the leader. Chris has completed more than 13500 hours of flight time including around 3500 hours on gliders. In fact, Chris ended his career flying gliders and instructing cadets. When asked the fastest and highest he has ever flown he said the fastest was Mach 2.05 in a Tornado and the highest was 56 000 feet in a Phantom. These facts were extracted from an interview done by Jon Windover for the Aerobility Charity and can be seen on Youtube. To have such a qualified man passing on his wealth of aviation knowledge to the local pilots was an amazing honour. Chris is a modest man but full of fun.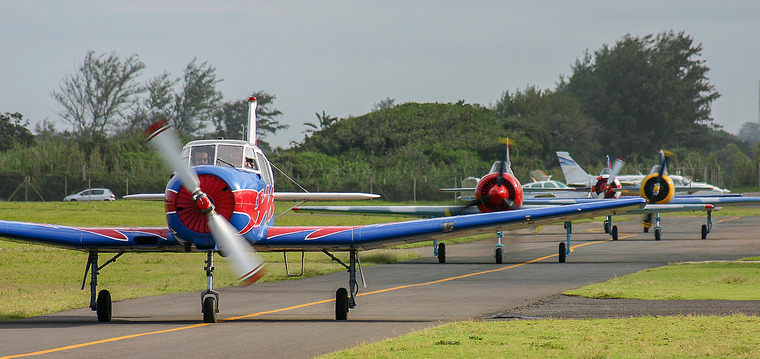 Francois Davel leads out a gaggle of Yaks.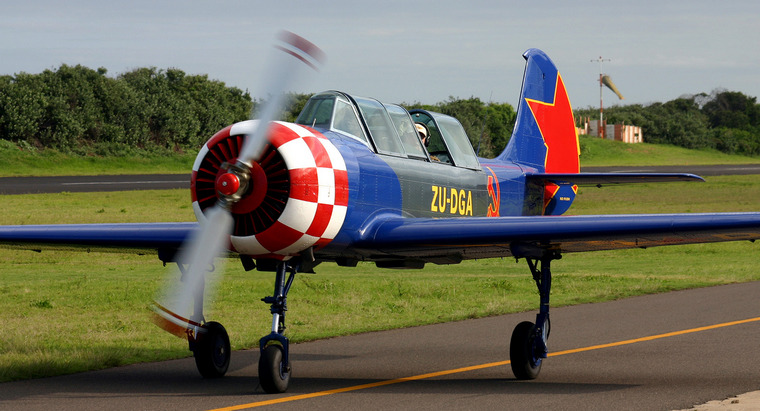 Findlay J Smith with Graham Smith in the back seat of ZU-DGA.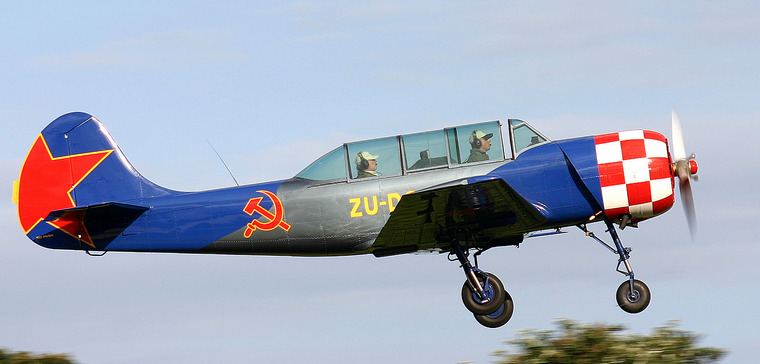 Findlay J Smith with Graham Smith in the back seat of ZU-DGA.




A three ship runs in to Virginia for the initial.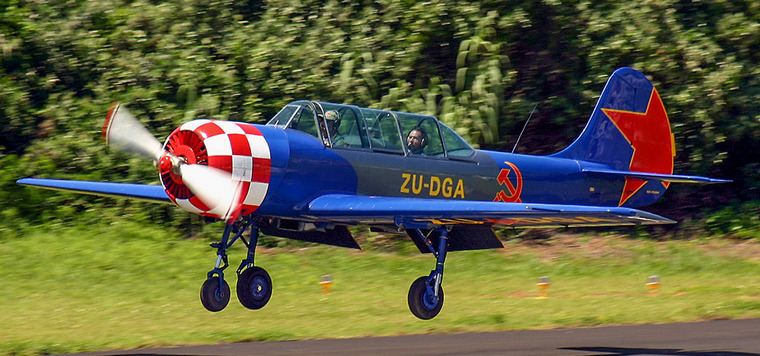 Findlay J Smith with Chris Heames in the back seat of ZU-DGA.

Another RAF pilot instructing was Squadron Leader Dan Arlett. Dan was another RAF Tornado pilot and one with vast experience. He was an operational pilot in Iraq and the Falklands. He was a Hawk instructor and has also flown Strikemasters, Provosts, L29s, L39s and was later a member of Team Viper flying a Hawker Hunter. A few years after Yak week, Dan was quite badly hurt when he had a forced landing in a Strikemaster that had an engine flame out, due to an electrical systems problem.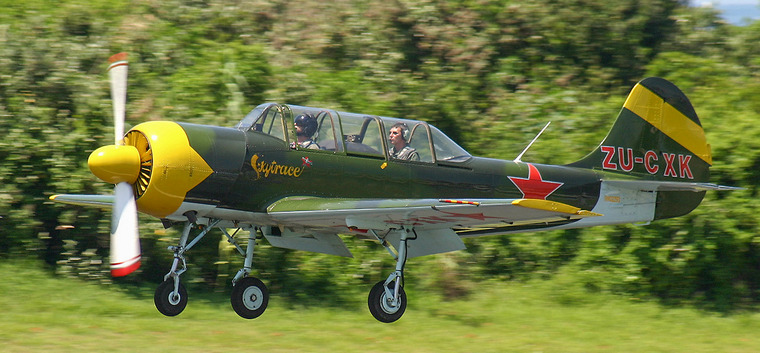 The late Gianfranco Cicogna-Mozzoni with Gideon Langeveld in the back seat.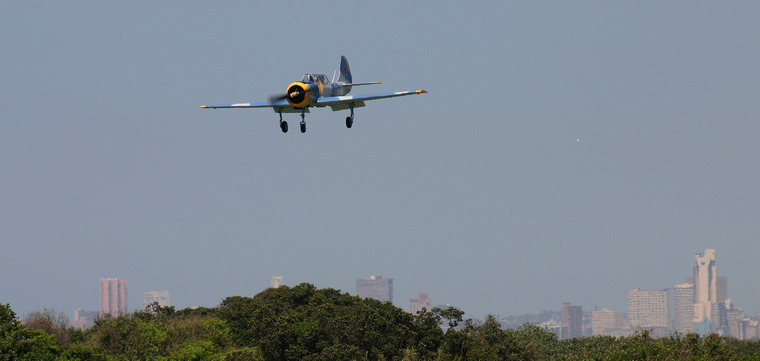 Roger Deare on finals with Durban in the background.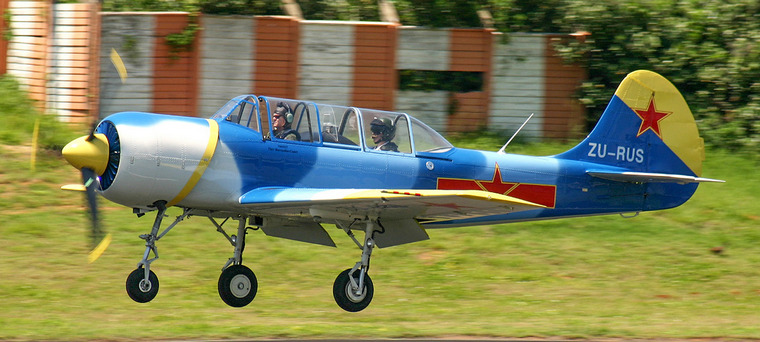 Pete Featonby-Smith landing in his Yak 52.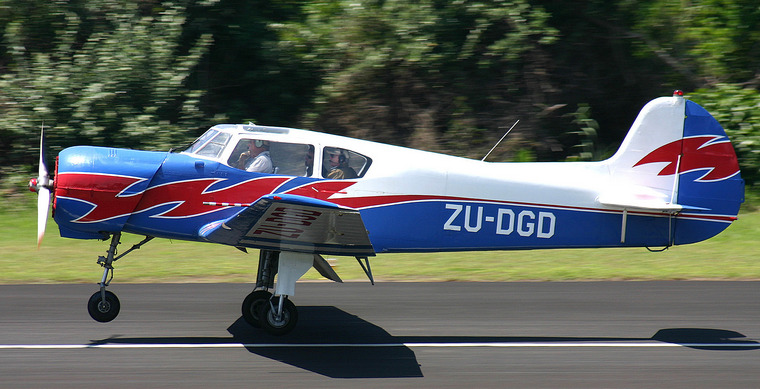 Francois Davel lands his Yak 18T.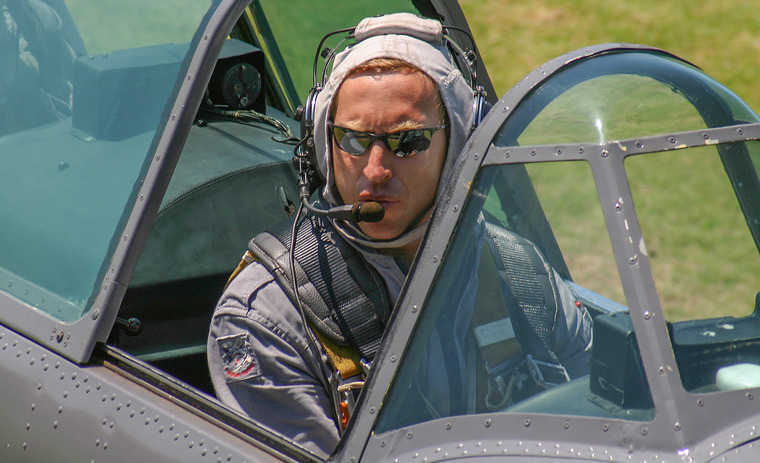 Charles Urban parks after a sortie.

Another legend instructing during the week was Flt. Lt. Charlie Brown. Charlie was also a Tornado pilot in the RAF He is very famous as a Spitfire pilot and has to date flown over 2000 hours on this iconic machine. If you have the money you could have him take you for a flight in a two seat Spitfire with Aero Legends! Charlie is a Spitfire display pilot and has flown at Duxford many times. Some other aircraft he has flown are Jet Provost, Chipmunk, Bulldog, Tucano, Firefly and Tutor.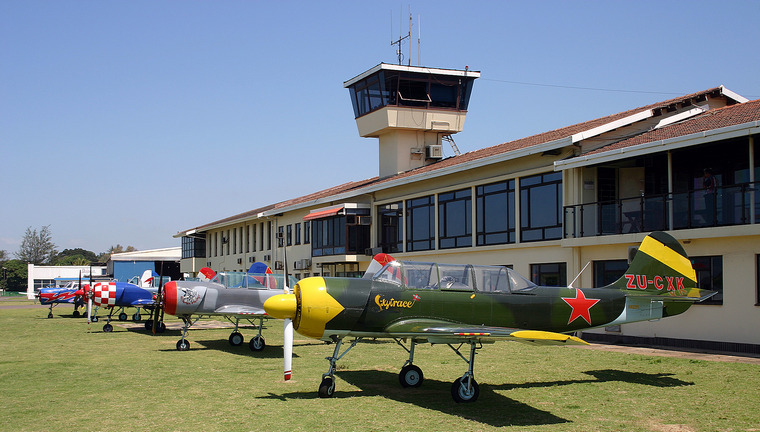 Part of the line up in front of the Virginia terminal and tower.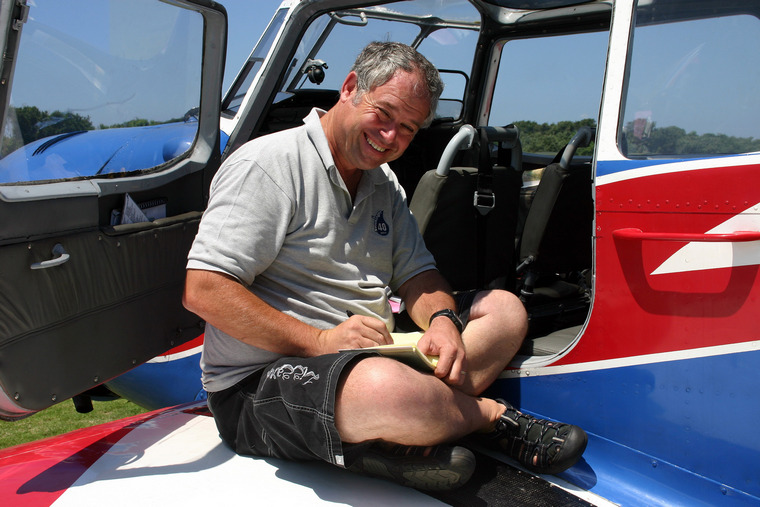 Francois Davel gets the paperwork up to date.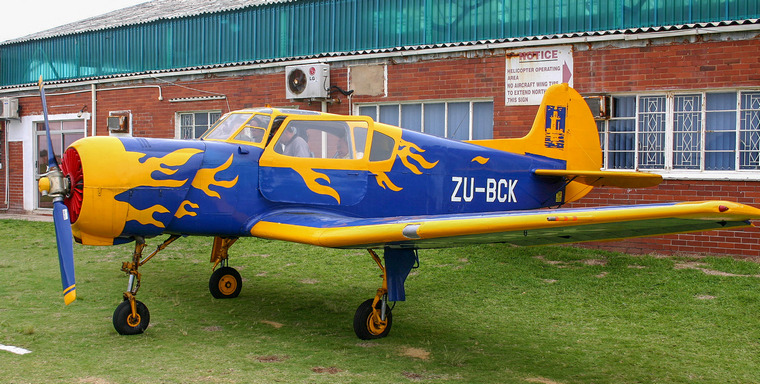 Riaan Prinsloo getting ready to fire up his 18T.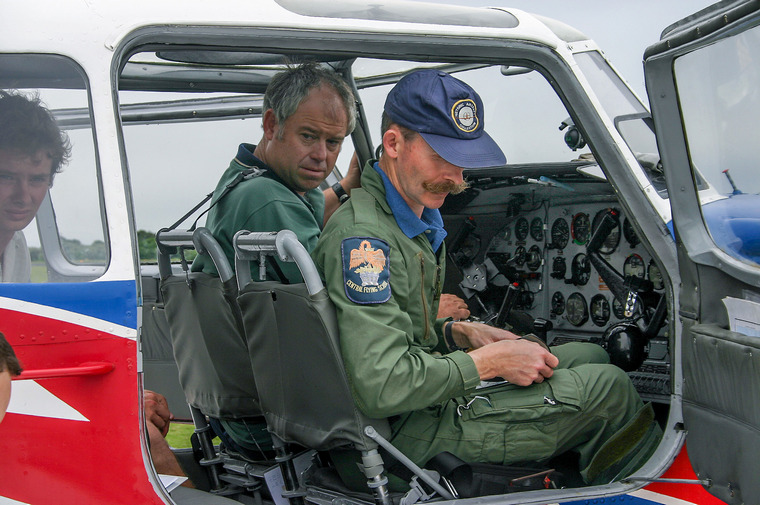 De We Davel, Francois Davel and Charlie Brown prepare for a sortie.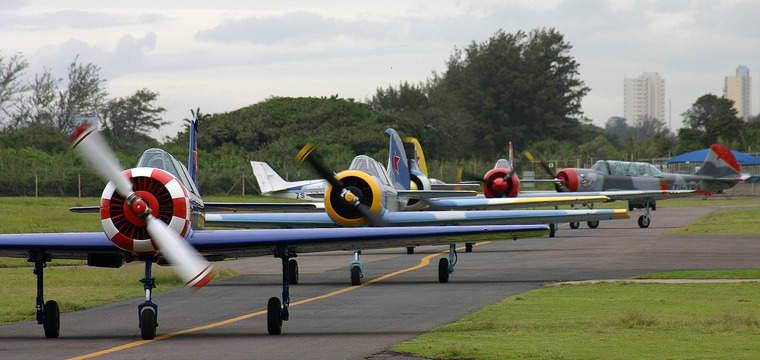 Another sortie heading for the holding point of 23.

The other instructors in 2006 were Stuart Low (local fixed wing and helicopter pilot), Paul Dixon (RAF), Gideon Langeveld (SAA training captain), Major 'Geronkie' Venter (SAAF Cheetah pilot and ex Silver Falcon), the late Chris Esterhuyse (also a fixed wing and helicopter pilot) and the late Laurie Kay. Laurie Kay will always be remembered as the pilot who flew the SAA Boeing 747 over Ellis Park prior to the rugby World Cup final that South Africa went on to win. He did a similar fly past the following year for the final of the Africa Cup of Nations. Laurie flew for the R.A.F. as well as the SAAF before joining SAA and amassing more than 23 000 hours. All in all, this was an illustrious group, who better to use their skills to teach the private pilots?
So, for the first year the trainee formation pilots were as follows: -

Gerald Williams - ZU-HOG - Yak 52 - Durban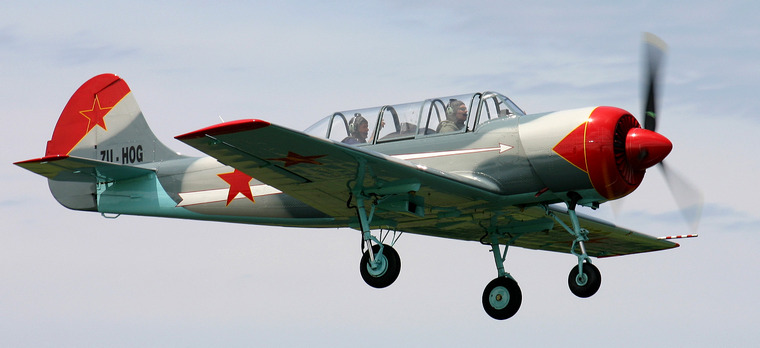 Roger Deare - ZU-CWR - Yak 52 - Durban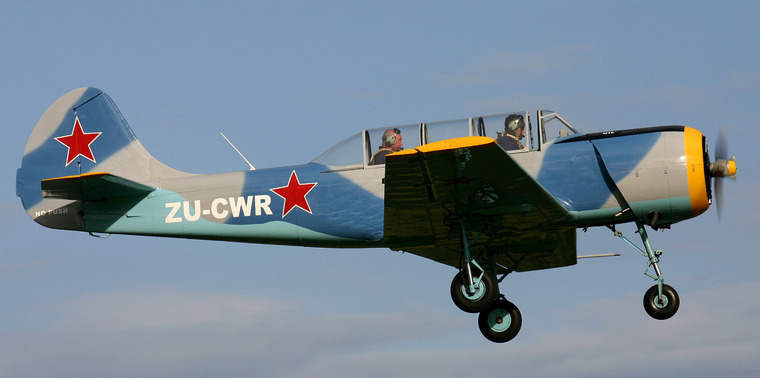 Gianfranco Cicogna-Mozzoni - ZS-CXK - Yak 52 - Johannesburg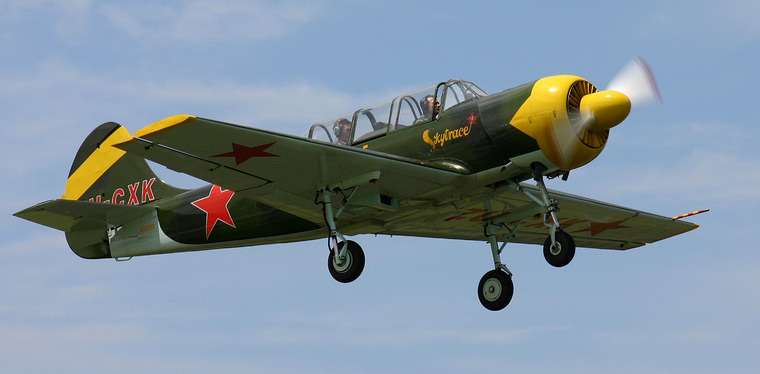 Findlay J Smith - ZU-DGA - Yak 52 - Cape Town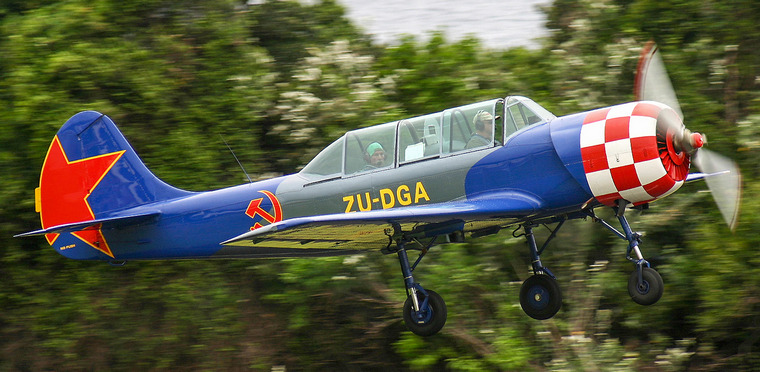 Pete Featonby-Smith - ZU-RUS - Yak 52 - Durban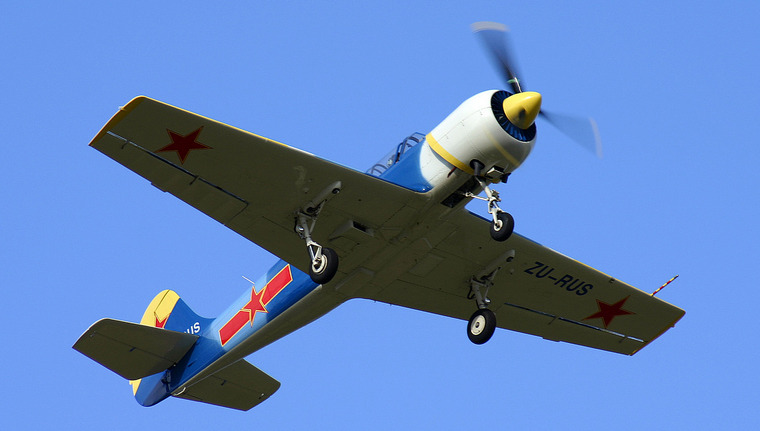 Charles 'Boris' Urban - ZU-TRS - Yak 52 - Johannesburg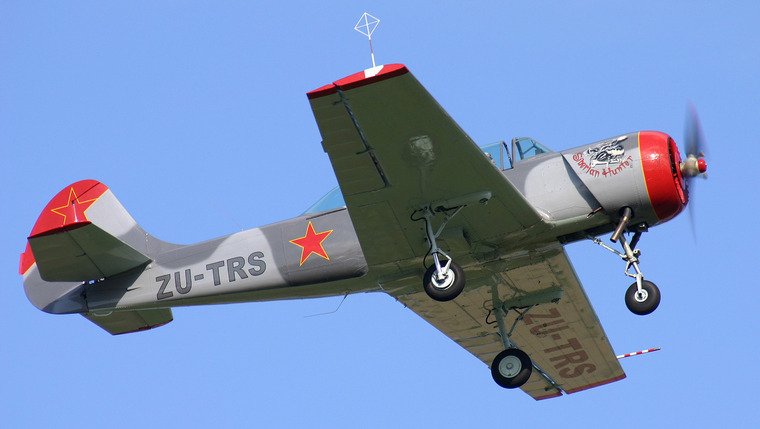 Riaan Prinsloo - ZU-BCK - Yak 18T - Southbroom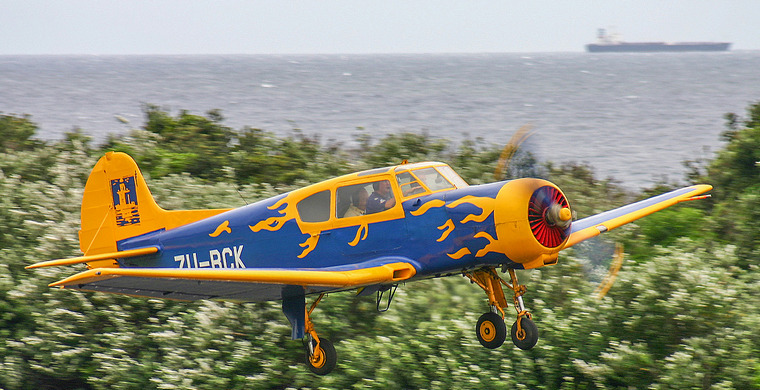 Brendan Adams - ZU-BHR - Yak 18T - Durban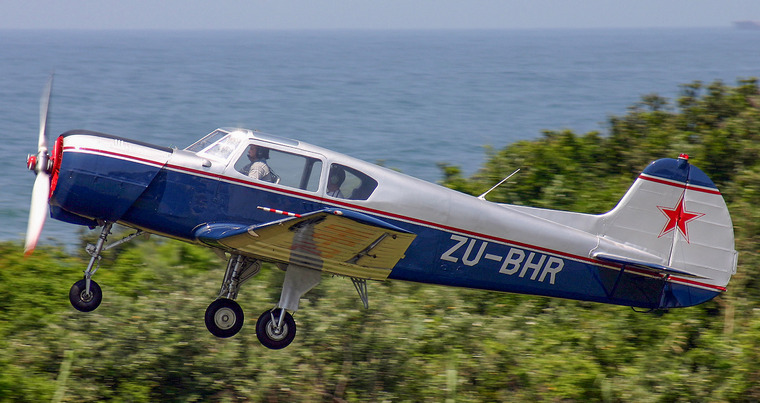 Francois and De Wet Davel - ZU-DGD - Yak 18T - Howick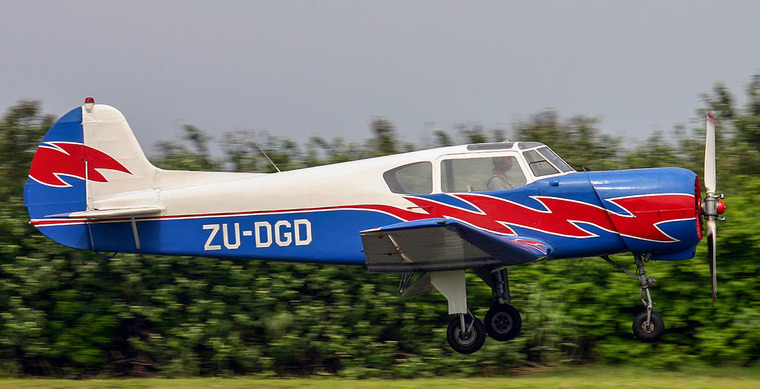 There was a tenth aircraft present and it is believed it was owned by Herman Pretorius, the ex-Pharos Yak 52, ZU-CWJ. He flew up from Margate with Willem Nieuwenhuis in the front seat, for a day visit. It did not take part in Yak Week.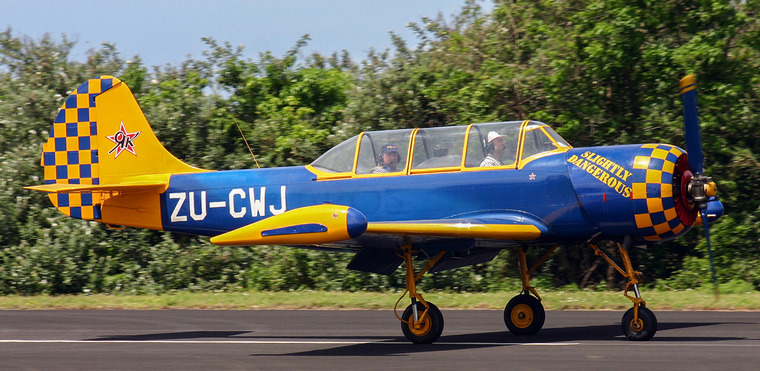 The week began with briefings to explain the principals of safe formation flying and pairing instructors with students. Then they began flying in earnest, completing a couple of sorties a day in smaller groupings to practice and get used to flying in close formation. As the week progressed, they started changing formations from vic to echelon etc. Each flight was briefed in detail prior to take off and there was a de-brief afterwards. At the end of each day there were some very tired students who had sweated and concentrated for many hours. The fact that they had top instructors watching their every move added to the pressure. The instructors were understanding but exacting and experts at getting their charges to relax and perform better.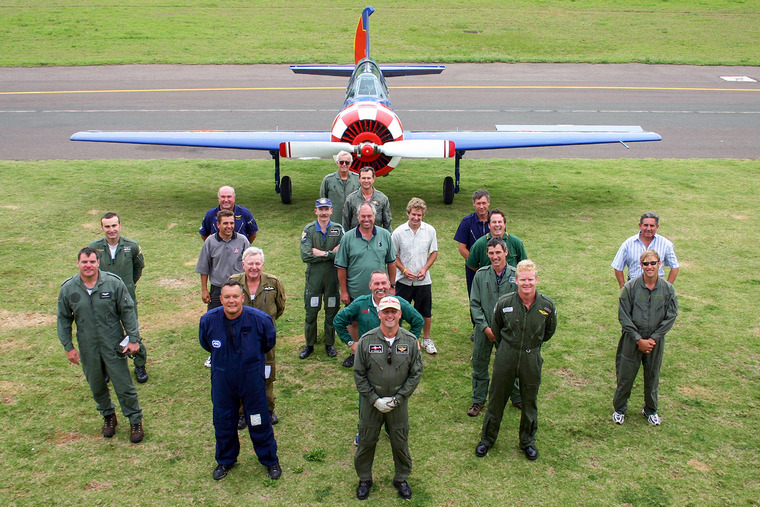 The week culminated with an excellent 9-ship formation fly past at Virginia. Although the week had been a training exercise and not a spectator event, those present at the airfield and on the Durban Wings Club balcony were witness to a little bit of history. In fact, most of coastal Durban were able to see Yak formations flying about all over the place and to hear the distinct throb of the big radial engines.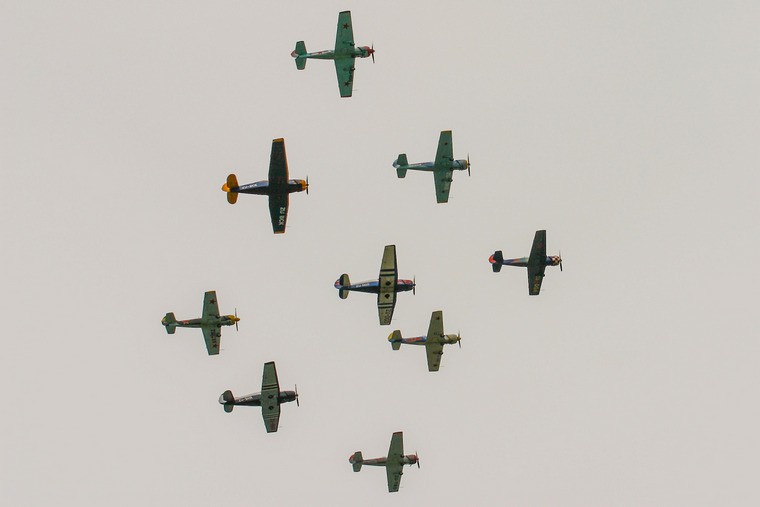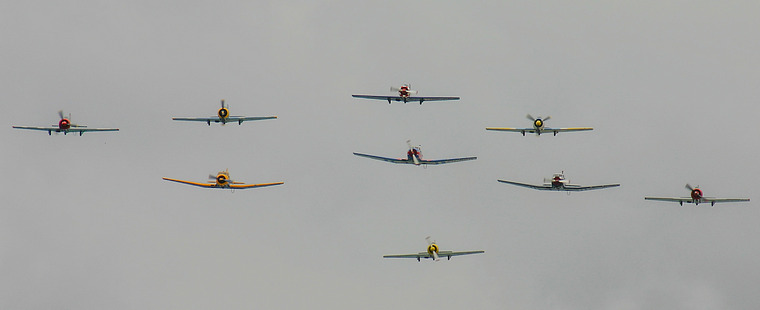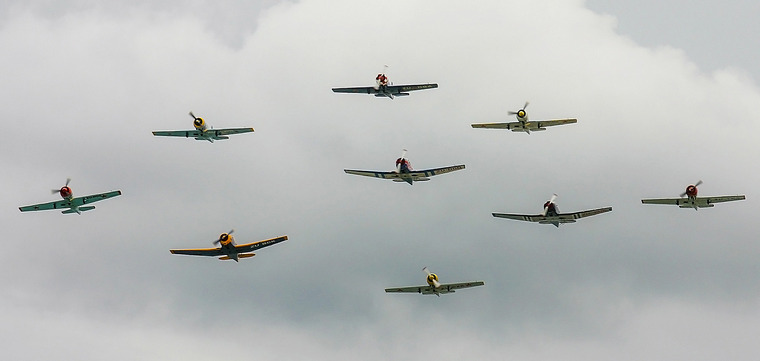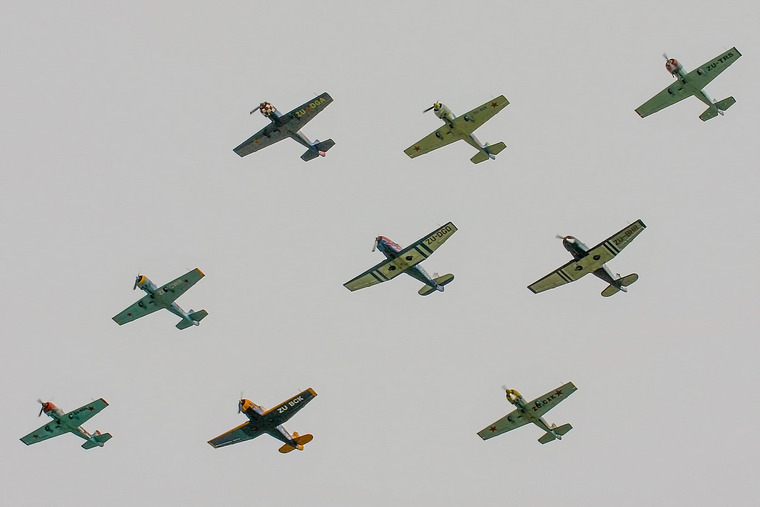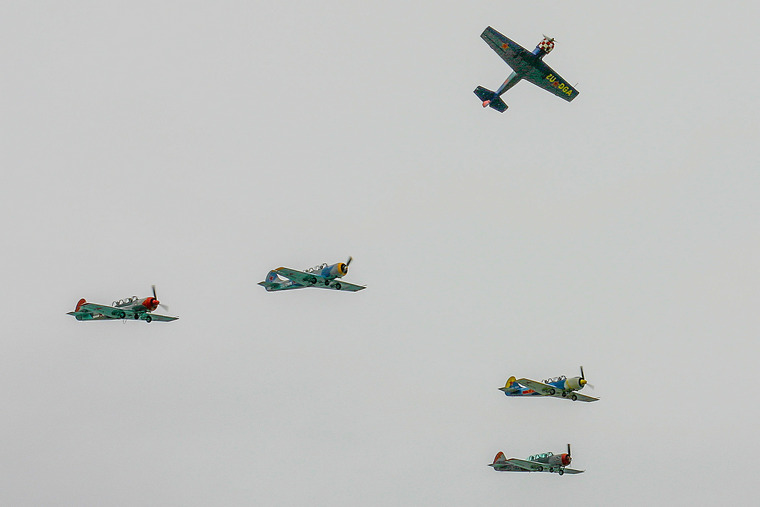 The formation training had proved to be a major success and many participants said it was one of their best flying experiences. The word quickly spread and the following year many more pilots wanted to be included. More about the 2007 Yak Week in part 2.