Compiled by Willie Bodenstein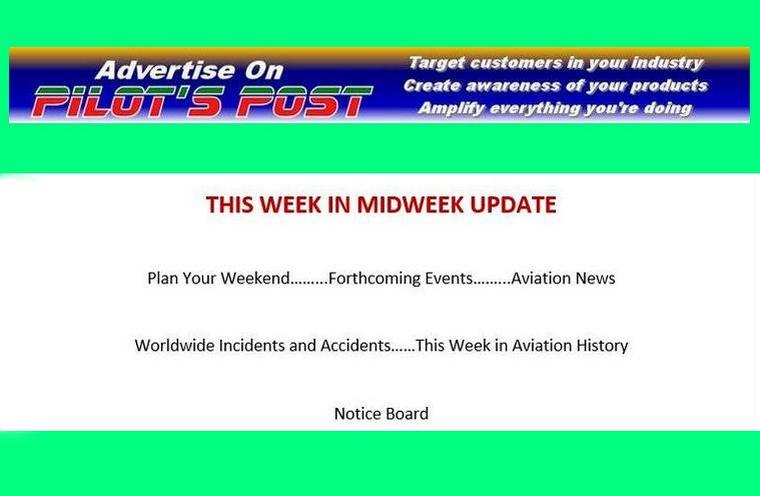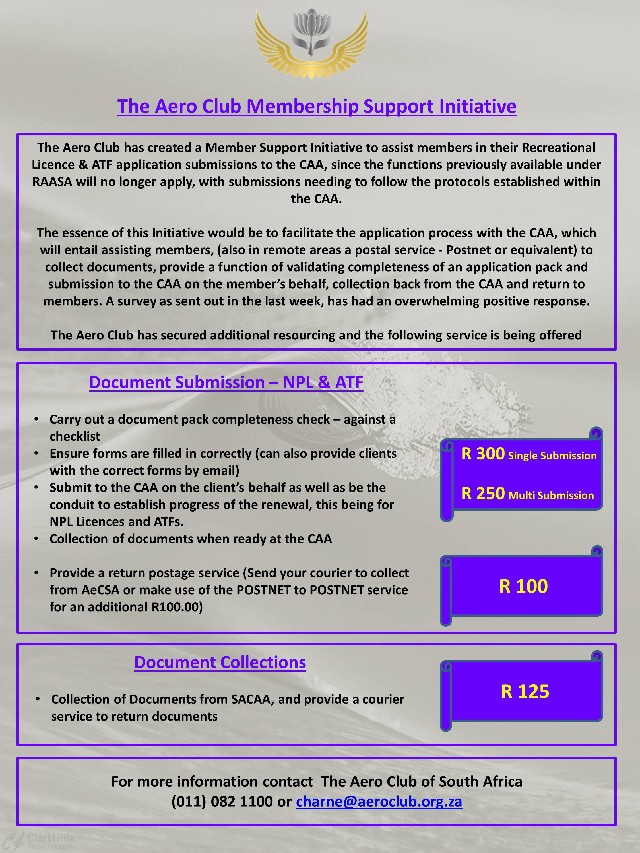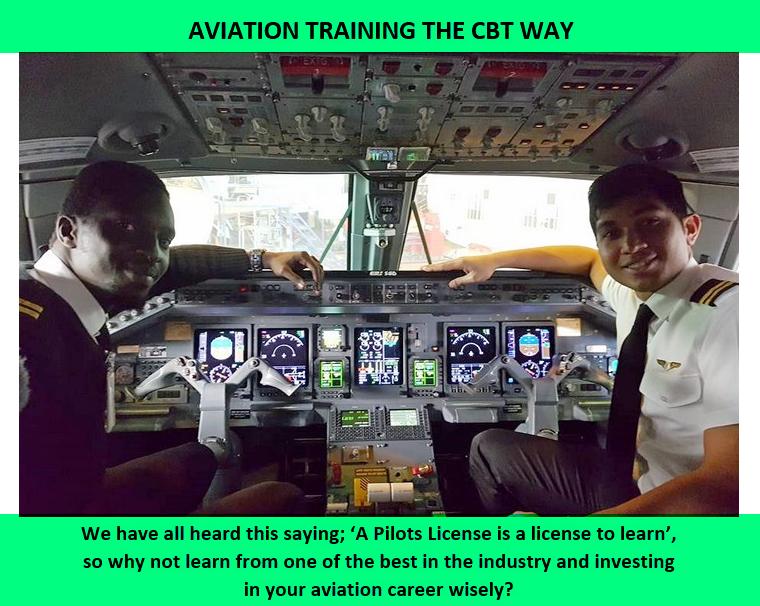 Aviation Training is registered with the South African Civil Aviation Authority (SACAA) Aviation Training Organisation (ATO) and is 100% compliant with the SACAA and meets the standards recommended by EASA and has taken aviation training to new heights with its fully interactive Computer Based Training (CBT) solutions for the theoretical exams for PPL, CPL, IROP, and General Radio.
It is not a rehashed PowerPoint presentation that has been turned into an online 'ground school' but is a fully interactive CBT course that has been developed over the past eight years. CBT allows each person to study at their own pace, allows them to spend as much or as little time on each section and is non-threatening and non-judgmental while providing immediate feedback as the training progresses. You can review sections of the material as frequently as needed, privately and without feeling embarrassed by mistakes. This makes the training much more efficient.
Gone are the days of death by PowerPoint, where they instructor tries to use every type of animation in every slide or worse, chalk screeching on the blackboard.
There is now a system which delivers training and instruction with a computer instead of through a human instructor and is delivered via the Internet so that text and multimedia materials can be accessed from any location at any time of the day. Alternatively, you can download the handy app, which allows you to access it via a tablet or phone offline. The system works with Windows, Android or Apple.
For flight schools who globally have a shortage of instructors, it now means students can pre-prep themselves, thus cutting down on man hours spent on the ground which could rather be utilised in the air. Rather than classroom and book learning CBT is much easier to animate, which helps to form a proper 3D understanding of a concept
Due to the dynamic world we live in, and ever shifting world, the way we learn has changed. Join us today on a digital journey, ditch the old-fashioned classroom and boring monochrome books. Allow us to take you on a vibrant colourful journey to navigate you through the minefield of your aviation exams, while getting your competitive juices flowing with our gamification elements seeing you fly to the top of the leader board.
Aviation Training has conducted ground schools and has been perfecting its notes, gaining a deep insight into the inner workings of the exam system. Now combining its theoretical knowledge, two decades of practical flight and industry experience with cutting edge computer science behind computer-based training. This has been a project in the making for over eight years, fine tuning and tweaking all the aspects to its theoretical knowledge training and has compiled fully interactive CBT courses.
Aviation Trainings' head of training not only runs ground schools in South Africa but also writes manuals for Pooleys, lectures for ASG, Dublin, and Skyguide in Zurich.
Our CFI is a grade one instructor, with over 12,000 hours of flight time and has flown regionally in both Africa and Europe as well as long haul globally. He was also the head of ground school for an airline.
Our Africa Manger, Mark Mansfield has an extensive background in aviation and is very passionate about training.
Our instructors have a wealth of knowledge, and are Instructors, DFEs, TRIs, TKIs, Airline pilots and subject matter experts. All who bring years of aviation experience with them.
The flying is the easy bit, the theoretical is the tough bit, but we can help.
www.aviationtraining.biz
www.youtube.com/channel/UCWw12xcNCHG-2pc-165SBWA


CORONA VIRUS AND AVIATION EVENTS

In line with advice from public health organisations and government legislation that prohibits all events with more than fifty people, aviation events advertised on Pilot's Post will most likely be cancelled or postponed. Those planning to attend or participate in any of these events are advised to contact the event organisers direct for confirmation.






25: Garden Route Airshow at George Airport. Contact Brett Scheuble E-mail: info@gardenrouteairshow.co.za Cell: 084 418 3836
Postponed due to COVID 19. New date 26 September 2020.






1 to 3: Aero Club Air Week at Middelburg airfield. Contact Rob Jonkers E-mail: rob@aerosud.co.za Cell: 082 804 7032
Postponed due to the COVID 19 to a date to be advised.

1 to 3: EAA National Convention at Middelburg airfield. Contact Sean Cronin E-mail: sean@glutek.co.za Cell: 083 447 9895
Postponed due to the COVID 19 to a date to be advised.

1: SAPFA Middelburg Speed Rally Middelburg airfield. Contact Jonty Esser E-mail: jonty@promptroofing.co.za Cell: 082 855 9435
Postponed due to COVID 19. Rescheduled to 21 and 22 August.

2: SAAF Museum AFB Zwartkop Open and practice day

1 to 3: MISASA and SAGPA North meets South at Gariep Dam. Contact Donald Hicks Cell: 083 626 3180 E-mail: wendonair@gmail.com
Postponed due to COVID 19 new date to be confirmed.

5 to 10: Sun 'n Fun Aerospace Expo. Lakeland, Florida, USA. Website: www.flysnf.org
Cancelled due to COVID 19

6: EAA Chapter 322 Monthly Meeting. Dickie Fritz Moth Hall, Edenvale
Cancelled due to COVID 19

8 to 10: 20th Battlefields fly-in to Dundee KZN
Contact Dave O'Halloran E-mail: gm@battlefieldslodge.co.za Cell: 079 496 5286

9: SAAF Museum Airshow at AFB Zwartkop. Contact Mark Kelbrick Cell 082 413 7577 E-mail: markkelbrick@yahoo.com
Postponed due to COVID 19 new date to be confirmed.

16: The Coves annual fly-in closed event by invitation only. Contact JP Fourie E-mail: jp.fourie@nac.co.za Cell: 083 625 4804
Provisionally cancelled due to COVID 19. A new date may be set.

12 to 15: NAMPO Harvest Day at NAMPO Part outside Bothaville. Contact Bennie Zaayman, Wim Venter: E-mail: Wim@grainsa.co.za Cell 082 414 8099
Due to the COVID 19 this event has been re-scheduled for 11 to 14 August 2020

23: EAA AGM at the EAA Auditorium Rand Airport. Contact Sean Cronin E-mail: sean@glutek.co.za Cell: 083 447 9895

23 to 24: SAC Eastern Cape Regionals Wings Park, East London. Contact Annie Boon E-mail: chunge@mweb.co.za

22 to 24: SAPFA President's Trophy Air Race at Ermelo airfield. Contact Rob Jonkers E-mail: chairman@sapfa.co.za Cell: 082 804 7032 Website: www.sapfa.co.za E-mail: Race@sapfa.org.za
Due to the COVID 19 this event has been cancelled but will be reviewed later in the year.

30: Botswana International Airshow at Matsieng Flying Club. Contact E-mail: hentie@dwddrilling.com Cell: +267 713 10935
Provisionally cancelled due to COVID 19. A new date may be set.

31: Fly-Mo fund raising breakfast fly-in at Springs airfield. Contact Fanie Bezuidenhout E-mail: ansan@tiscali.co.za Cell: 083 789 5507
Due to COVID-19 this event has been postponed to a date later in the year.




3: EAA Chapter 322 Monthly Meeting. Dickie Fritz Moth Hall, Edenvale
Cancelled due to COVID 19

5 and 6: Newcastle Airshow. Contact Johan Pieters E-mail: Johan@champ.co.za Cell: 082 923 0078
Due to the COVID 19 this event has been re-scheduled to 3 and 4 October 2020.

3 to 7: Zim Navex Prince Charles Airport, Harare. Contact Marion Kalweit E-mail: zimairrally@gmail.com Tel +26 377 257 0009

6: SAAF Museum AFB Zwartkop Open and practice day

9 & 10: Aviation Mena 2020 Hilton Cairo Heliopolis, Cairo, Egypt. Contact Alison Weller E-mail: alison@accessgroup.aero Web: www.aviationmena.aero
Due to the COVID 19 this event has been re-scheduled to 18 and 19 October 2020.

13: Maputo Air Land and Sea Airshow. Contact Gavin Neil E-mail: airshow@acm.co.mz

13: SAPFA Silver Queen Air Rally AFB Zwartkop. Contact Rob Jonkers E-mail: rob@aerosud.co.za Cell: 082 804 7032

15 to 19: SAC National Championships New Tempe - Bloemfontein. Contact Annie Boon E-mail: chunge@mweb.co.za

20: SAC full day Airshow New Tempe - Bloemfontein. Contact Conrad Botha E-mail: rowco24cc@mailbox.co.za Cell: 082 465 4045






1: CAASA Symposium venue TBA. Sam Keddle E-mail: office@caasa.co.za Tel: 011 659 2345

2 to 4: AERO South Africa Wonderboom National Airport, Pretoria. Annelie Reynolds Tel +27 10 599 6150 Website: www.aerosouthafrica.com or Amanda Dube: E-mail: Amanda.Dube@za.messefrankfurt.com
Due to the COVID 19 this event has been cancelled for 2020.

10 - 11: EAA Taildraggers at Warmbaths airfield. Richard Nicholson E-mail: flybenchmark@gmail.com Cell: 082 490 6227

12 to 17: BAFSA South African Hot Air Balloon Championships. Bill Harrop's, Skeerpoort, North West Province. South Africa. Contact Richard Bovell e-mail: chairman@bafsa.co.za

11- 12: Flying Legends United Kingdom. Website: www.flyinglegends.com Due to the COVID 19 this event has been cancelled

17 - 18: SAPFA Speed Rally at Thabazimbi airfield. Jonty Esser E-mail: jonty@promptroofing.co.za Cell: 082 855 9435.
Due to the COVID 19 this event has been cancelled.

17 to 19: Royal International Air Tattoo United Kingdom. Website: www.airtattoo.com
Due to the COVID 19 this event has been cancelled.

20 to 24: Farnborough Airshow United Kingdom five-day trade show - no public days
Website: www.farnboroughairshow.com
Due to the COVID 19 this event has been cancelled.

22 July to 1 August: SAC Advanced World Champs -
Malelane Airport, Malelane. Contact Annie Boon E-mail: chunge@mweb.co.za

21: CAASA AGM at CAASA House Lanseria International Airport
Contact Sam Keddle E-mail: office@caasa.co.za Tel: 011 659 2345

20 to 26: EAA AirVenture Oshkosh, Wisconsin, USA. Camping on the airfield contact Neil Bowden E-mail: neil1@telkomsa.net
Hotels in Appleton contact Calvin Fabig E-mail: calvin@designer.co.za

23-25 Brits Rally Nationals 23 - 25 July 2020. Contact Frank Eckard E-mail: frank.eckard@mweb.co.za Cell: 083 269 1516






8 to 10: SAPFA Rally Training Camp - Brits Aerodrome. Contact Mary de Klerk e-mail: maryd@expandingbranding.co.za cell: 084 880 9000

22: ASSA - Bethlehem Airshow.
Contact Stephan Fourie at fouriesj1491@gmail.com

21-22: Bethlehem Speed Rally 21 - 22 August 2020 - replaces FAKR ANR. Contact Jonty Esser E-mail: jonty@promptroofing.co.za Cell: 082 855 9435






6: Rand Airport Airshow

11 t0 13: SAPFA Secunda Speed Rally #6.
Secunda Airfield, Secunda, Contact Rob Jonkers e-mail: rob@aerosud.co.za cell: 082 804 7032

16 to 20 AAD - Waterkloof Air Force Base

24: Great Train Race and Fly-in. Heidelberg Airfield
Contact Van Zyl SchultzE-mail: vzs@mweb.co.za Cell: 082 5602275

26: Garden Route Airshow. Contact Brett Scheuble E-mail: info@gardenrouteairshow.co.za Cell: 084 418 3836




3-4: SAC WC Regionals - Swellendam. Contact Annie Boon E-mail: chunge@mweb.co.za

3: SAPFA Witbank Fun Rally. Witbank Airport.
Contact Rob Jonkers 082 804 7032 rob@aerosud.co.za

24-25: SAC Judges Trophy - Tzaneen. Contact Annie Boon E-mail: chunge@mweb.co.za






8 to 14: Training week WFRC 2020, Stellenbosch.
Contact Mary de Klerk, Cell 0848809000, Email maryd@expandingbranding.co.za

16 to 21: World Rally Flying Championships 2020.
Stellenbosch. Contact Mary de Klerk, Cell 0848809000, Email maryd@expandingbranding.co.za

27- 28: SAPFA Springs Speed Rally. Springs Airfield.
Contact Jonty Esser e-mail: jonty@promptroofing.co.za cell: 082 855 9435






5: AeCSA Aero Club of SA Annual Awards. Rand Airport, Main Terminal Building, Rand Airport Rd, Germiston.
Contact Sandra Strydom, email: sandra@aeroclub.org.za Tel: 011 082 1100

5-6: SAC Ace of Base - Vereeniging. Baragwanath Airfield.
Contact Annie Boon E-mail: chunge@mweb.co.za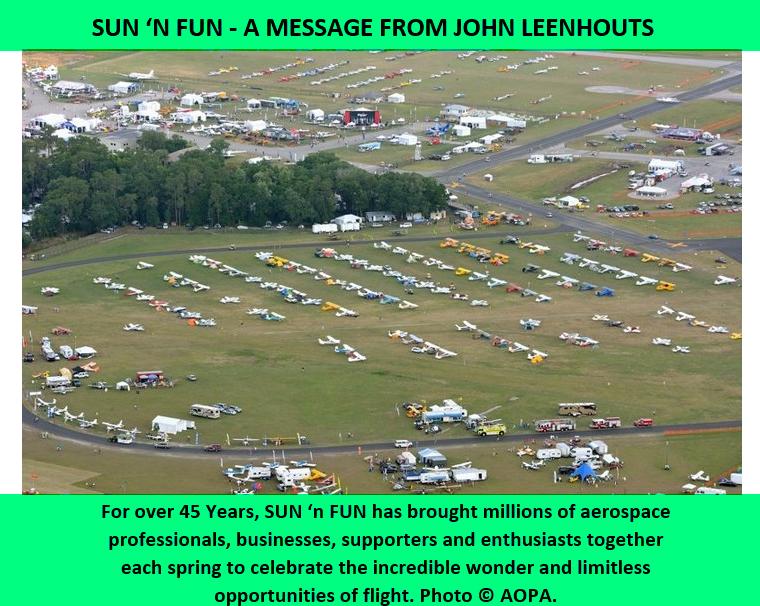 In 2014, we proudly unveiled that the annual SUN 'n FUN event would become the primary fundraiser for the Aerospace Centre for Excellence (ACE), our STEM-based learning campus created to Engage, Educate, and Accelerate the next generation of aerospace professionals. At SUN 'n FUN, serving our local Lakeland, Florida as well as the global aviation community has always been our ultimate mission.
This year, we will serve those same communities by assisting in the defeat of the COVID-19 pandemic. We recognize and acknowledge that this threat has changed the world we live in and that it is our responsibility to join the fight to bring it to as swift an end as humanly possible.
We stand with our local, state and national leaders in supporting public health practices that will bring this outbreak to a halt as quickly as possible. Even now, most of our staff are working from home in compliance with social distancing directives, with those that must come in adhering to strict isolation and sanitation policies.
Unfortunately supporting these initiatives will mean that the 2020 SUN 'n FUN Aerospace Expo will be unable to proceed as originally planned. Regardless of the financial impact, for the safety of all, we will move our 46th event to join with the 47th in April of 2021.
The annual SUN 'n FUN Aerospace Expo provides over $2 million annually for STEM education programs, flight training and aerospace-related college scholarships and hands-on learning facilities. Based on the SUN 'n FUN Expo Campus, this year-round institution reaches over 50,000 students annually, and provides free resources for educators to assist them in delivering high-quality STEM learning material.
To continue providing these critical resources, our team is working hard on bringing the spectacle and excitement of SUN 'n FUN to you in the digital world! We will be utilizing the latest technology to host exciting events and content online in new and innovative ways. While we are of course disappointed that our traditional show must wait until 2021, we are invigorated and excited to announce several things to look forward to in the coming weeks in our brand new "SUN 'n FUN at Home" Series.
We are in the process of a complete overhaul of our website, www.flysnf.org, in order to bring you a brand-new digital experience. Here you will find ongoing updates and information on upcoming events, as well as details for current ticket holders and event partners.
We need your help to continue our mission, so please, visit the website and keep in touch with us on our social media channels. We're already working on making 2021 the best event ever, and we'll look forward to welcoming you back here next spring to celebrate the return of the SUN 'n FUN Aerospace Expo!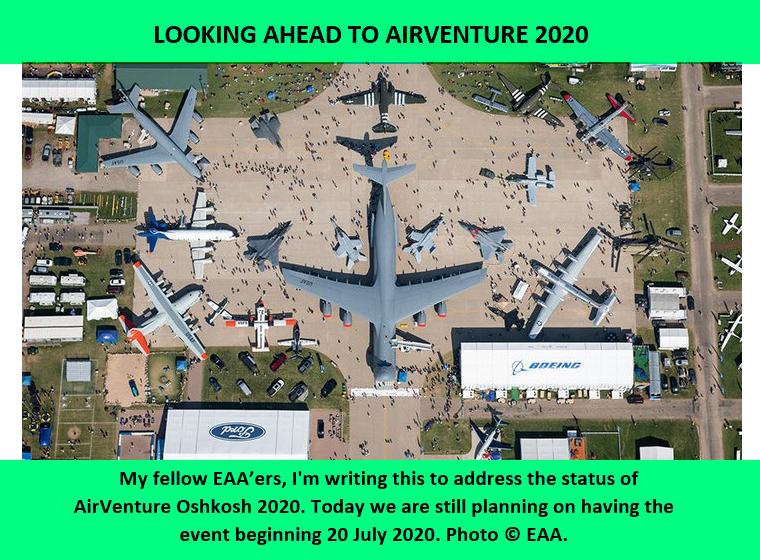 In that context, I wanted to let people know how we're approaching the planning process for AirVenture and to help people understand the timetable as we sort through the ever-changing world events.
Certainly, the world has changed dramatically in recent weeks with the global COVID-19 pandemic, beginning internationally and now at extremely concerning levels within the United States. Most of you reading this are impacted by state-by-state orders to stay home and follow specific CDC guidelines on social distancing, hygiene and other precautions to slow the spread of the virus. The circumstances have changed rapidly here as well, with Wisconsin enacting a stay-at-home mandate until April 24. We are supportive of those restrictions and at EAA, have closed our headquarters, with all staff working from home and adhering to the most stringent standards possible. But thankfully, due to the technology infrastructure investments we have made, a majority of our employees continue to focus on their daily tasks, which include production of your monthly magazine, digital offerings, and of course AirVenture planning.
On a daily basis over the past several weeks, I have had countless calls, emails, and teleconferences with EAA members, volunteers, AirVenture exhibitors, sponsors, aviation manufacturers, our board of directors and EAA employees. This is in addition to assessing the daily influx of CDC data and daily health guidance recommendations from local, state and federal government.
We are also closely following and assessing many of the larger closures of world events. In the case of the Olympics, the world's athletes have already lost crucial training time because of restrictions imposed in response to the viral outbreak. It also is a completely international event. This meant the organizers were forced to make their "go/no go/go later" decision early on. The same holds true with the Democratic National Convention being held in Milwaukee, as they too look at every contingency, including allowing time for preparations to host the proceedings online if need be.
As we look at AirVenture, with our own similarly complex but also radically different set of circumstances, we have the rare luxury of making our decisions just a little bit later. While AirVenture 2020 planning began in earnest at the end of AirVenture 2019, the real onsite preparation work for our annual convention doesn't happen until May. That is when many of our dedicated volunteer work parties arrive in force and start the serious work to prepare the convention grounds. We have already identified those tasks that could be deferred until June, while still enabling us to have a safe and successful event in late July.
Currently our timetable for our next major decision point is not until May. In the meantime, we are continually preparing and in planning mode, which includes a variety of "what-if" scenarios. The choices are stay the course, delay, or cancel. Of course, the ability to delay would be dependent on volunteer support and exhibitor commitment and probably could not be later than late August. Again, it is important to consider all options, but it is also possible that even as I gather and digest incoming relevant information, I may not have any significant updates over the next couple of weeks. We will understand a lot more when we get to the end of April. That is the time most stay-at-home mandates could expire.
I want to ensure you that as our AirVenture planning continues, I will keep you posted. I want to thank everyone for their patience as we weather the "storm before the calm." Frustrating as it is, we're in a holding pattern right now. The best thing we can do is keep a watchful eye on the conditions and make the best decisions as factual information comes in, to ensure the health and safety of everyone attending our event. As aviators, we know that this, like all storms, will pass, and whatever transpires over the next couple of months, EAA'ers will see it through with the mutual support and fellowship that have been the cornerstone of our organization for the past 67 years.
Jack J. Pelton, EAA CEO and Chairman of the Board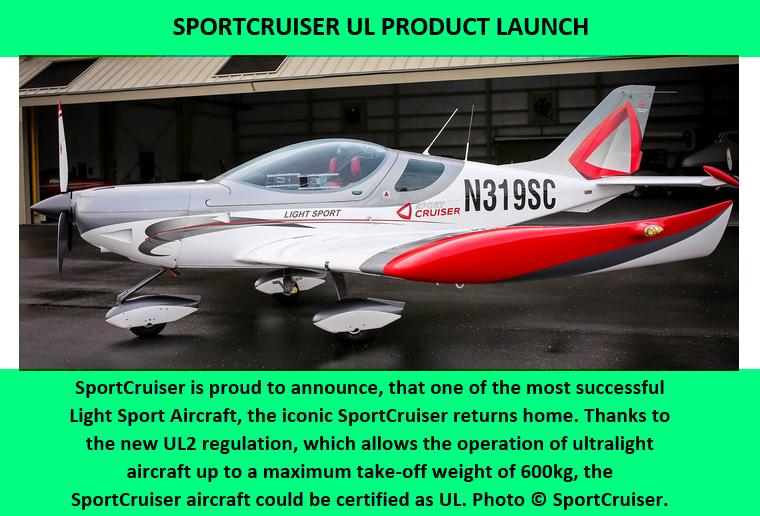 "This is an important milestone for our company. We consider SportCruiser UL as suitable product to our business portfolio. Our airplanes have been popular all over the world, especially by training organisations for their excellent flight characteristics and extremely economical operation. Until today, 550 SportCruisers and more than 100 EASA type-certified PS-28 Cruiser have been manufactured, the most of them are operated in flight schools. These also represent the target group for the new SportCruiser UL." - Sales Director, Czech Sport Aircraft
SportCruiser UL will be manufactured in the same management quality system as the type-certified PS-28 Cruiser, which guarantees the highest possible quality. As the main aircraft units are identical to the PS-28 Cruiser airframe, the SportCruiser UL also has an airframe lifetime of 11,000 flight hours.
The entry price of the aircraft will start from 110,000.00 EUR. However, the aircraft manufacturer has prepared a special price offer of 99,000.00 EUR for the first 10 customers.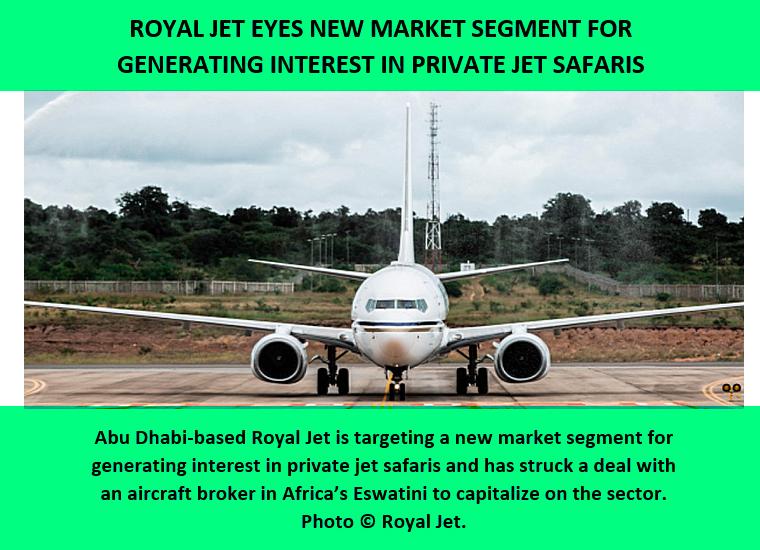 Royal Jet is launching a joint venture with Royal Eswatini National Airways Cooperation (RENAC) and is looking to use its connections with tour operators and high-end resorts as part of its new strategy.
The collaboration will see a Royal Jet Boeing Business Jet (BBJ) based in King Mswati III airport in Sikhuphe, Eswatini.
A VIP configured MD 87 aircraft will also join the fleet and the two companies will jointly market both aircraft.
Royal Jet's CEO, Rob Di Castri, said, "This joint venture demonstrates Royal Jet's commitment to the Kingdom of Eswatini and to Southern Africa in general.
"As of 2020, Royal Jet has been operating head of state missions within Africa for 15 years, however we are taking our commitment to the region to another level."
Royal Jet's commercial director, Simon D'Oyly, said, "We will begin with one 30-Seat Boeing Business Jet, but the intent of both parties is to create jobs, transfer skills and build up maintenance and operational capability locally.
"We believe this will lead to increased opportunities for Royal Jet to serve its core heads of state from an African base and we look forward to serving a greater range of clientele, from business people, to sports teams and high-end tourism."

Rotax is extremely proud to receive this accolade as the winner of this year's aerokurier Innovation Award in the "Propulsion Piston Engines" category, especially when it is the readers of the magazine who have voted. To be honoured by the customers in this way increases our motivation for the future to create new paths, to push the progress and to stimulate the market with innovative products.
Beyond that, the distinguished engine 915iS is being offered this year as a special limited edition on the occasion of the 100 years anniversary of Rotax with a unique design and a special service package.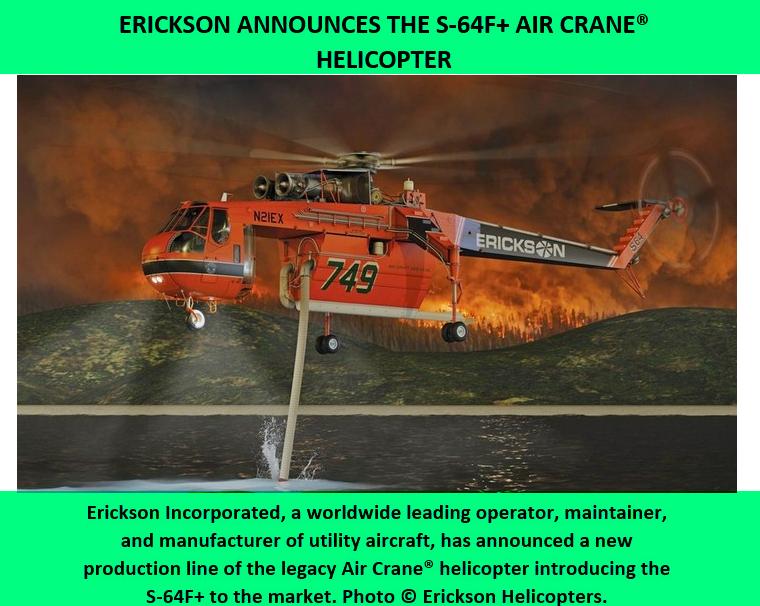 Erickson's recent aircraft orders and deliveries have signalled a demand for the S-64 as a firefighting platform of the future. We will transition to new production aircraft with the future introduction of the S-64F+.
The future S-64F+ will include the following innovations and enhancements: Incorporation of a modern engine, enhancing range and fuel efficiency, new composite main rotor blades, enhanced cockpit and flight control system and improved water cannon to provide best in class performance.
Erickson has identified the investment in product, plant and equipment (PP&E) required to support our customers and these initiatives. Erickson is scheduling meetings with prospective buyers for the S-64F+ with our aviation sales experts.
Erickson is a leading global provider of aviation services specialising in defence and national security, manufacturing, Maintenance Repair and Overhaul (MRO), and Civil services. Erickson Manufacturing and MRO services include manufacturing the S-64 Air Crane® helicopter as the original equipment manufacturer (OEM) as well as manufacturing key aerospace parts for aerospace OEMs. Commercial aerial services include the operation of 20 Erickson owned and operated S-64 Air Crane® helicopters to perform firefighting, powerline construction, timber harvesting, HVAC and specialized heavy-lift for oil and gas. Founded in 1971, Erickson is headquartered in Portland, Oregon, USA, and maintains operations in North America, South America, Europe, the Middle East, Africa, Asia Pacific and Australia.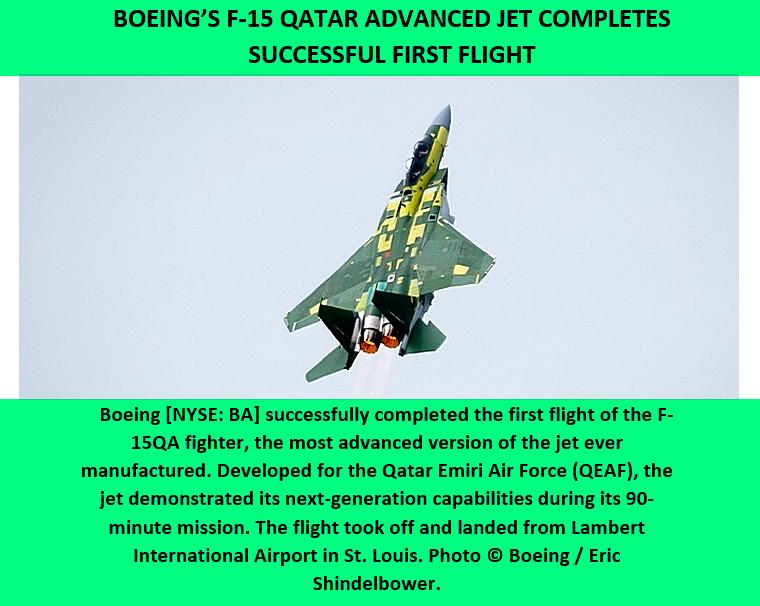 Boeing's flight test team, led by Chief Test Pilot Matt Giese, implemented a precise mission checklist to test the multirole aircraft's capabilities. The aircraft demonstrated its manoeuvrability during its vertical "Viking" take-off and by pulling nine Gs, or nine times the force of earth's gravity, in its subsequent manoeuvring in the test airspace. Checks of systems such as avionics and radar were also successful. A test team monitoring the data in real time confirmed the aircraft performed as planned.
"This successful first flight is an important step in providing the QEAF an aircraft with best-in-class range and payload," said Prat Kumar, Boeing vice president and F-15 program manager. "The advanced F-15QA not only offers game changing capabilities but is also built using advanced manufacturing processes which make the jet more efficient to manufacture. In the field, the F-15 costs half the cost per flight hour of similar fighter aircraft and delivers far more payload at far greater ranges. That's success for the warfighter."
The U.S. Department of Défense awarded Boeing a $6.2 billion contract in 2017 to manufacture 36 F-15 fighter jets for the QEAF. Boeing will begin delivering aircraft to the customer in 2021. In addition, Boeing was awarded a U.S. Air Force foreign military sale contract in 2019 for F-15QA aircrew and maintenance training for the QEAF.
The F-15QA brings to its operators next-generation technologies such as fly-by-wire flight controls, digital cockpit; modernized sensors, radar and electronic warfare capabilities; and the world's fastest mission computer. Increases in reliability, sustainability and maintainability allow defence operators to affordably remain ahead of current and evolving threats.
Through investments in the F-15QA platform and partnership with the U.S. Air Force, Boeing is now preparing to build a domestic variant of the advanced fighter, the F-15EX. F-15EX became a program of record for the Air Force when the National Défense Authorization Act for fiscal year 2020 was signed on Dec. 30, 2019. In January, the Air Force issued public notifications of its intent to award sole-source a contract to Boeing for eight jets. Future plans call for as many as 144 aircraft.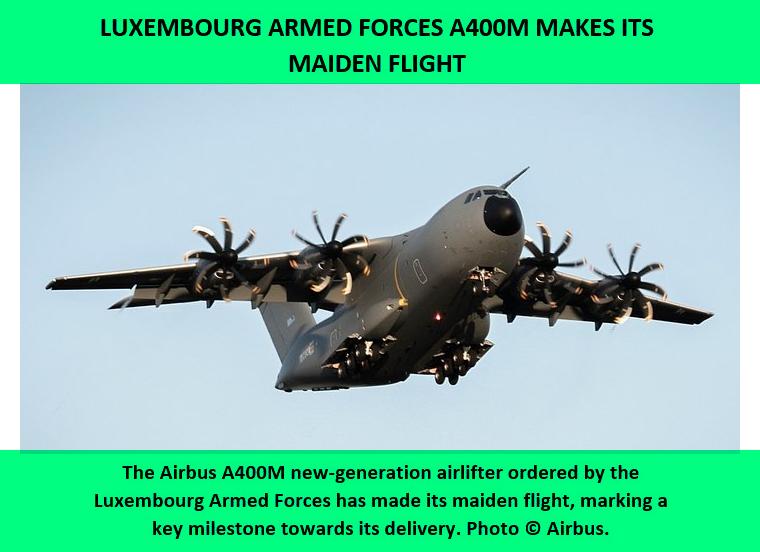 The aircraft, known as MSN104, took off from Seville (Spain), where the final assembly line is located, at 16:08 local time (CET) and landed back on site 5 hours later.
The Luxembourg aircraft will be operated by the armed forces of Belgium and Luxembourg within a binational unit based in Belgium. MSN104 is scheduled to be delivered in the second quarter of 2020.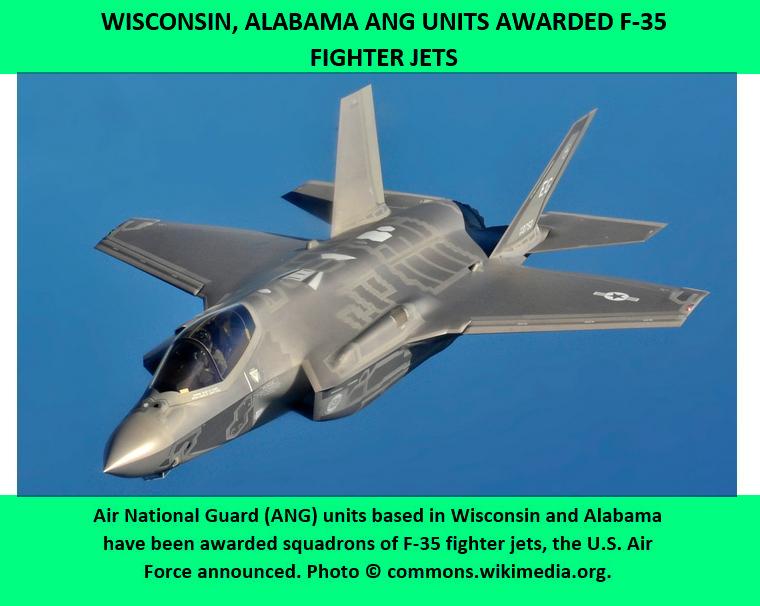 The jets will replace older F-16 aircraft and will allow the Air Force to meet other requirements for readiness and training, the Air Force said in a statement.
The first jets are expected to arrive in late 2023 will be placed with the Wisconsin Air National Guard's 115th Fighter Wing at Truax Field in Madison and with the 187th Fighter Wing at Dannelly Field in Montgomery, Alabama.
Maj. Gen Paul Knapp, leader of the Wisconsin National Guard, praised the awarding of the jets to the base in Madison and said he looked forward to working in partnership with the city and surrounding communities.
"Through collaboration, I'm confident we will continue to be good stewards of the communities in which we work and live," he said.
Three other bases considered for the jets were in Boise, Idaho; Harrison Township, Michigan; and Jacksonville, Florida.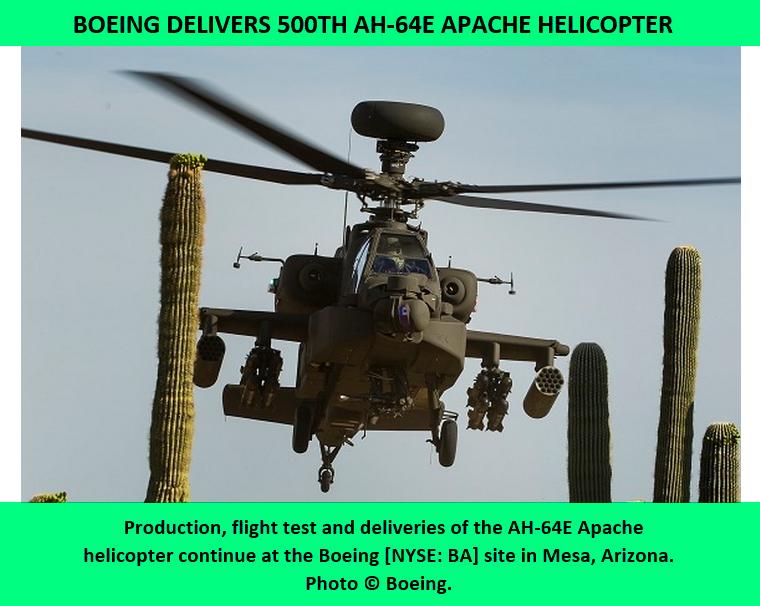 With 500 AH-64E Apaches in service with the United States Army and defence forces around the world, the 'Echo' model provides enhanced performance; joint digital interoperability; situational awareness and survivability with reduced operational and support costs. First delivered in 2011, the AH-64E has been used in combat operations and peacekeeping efforts.
Planned modernization of this multi-role combat helicopter ensures it is ready to fulfil operational requirements globally.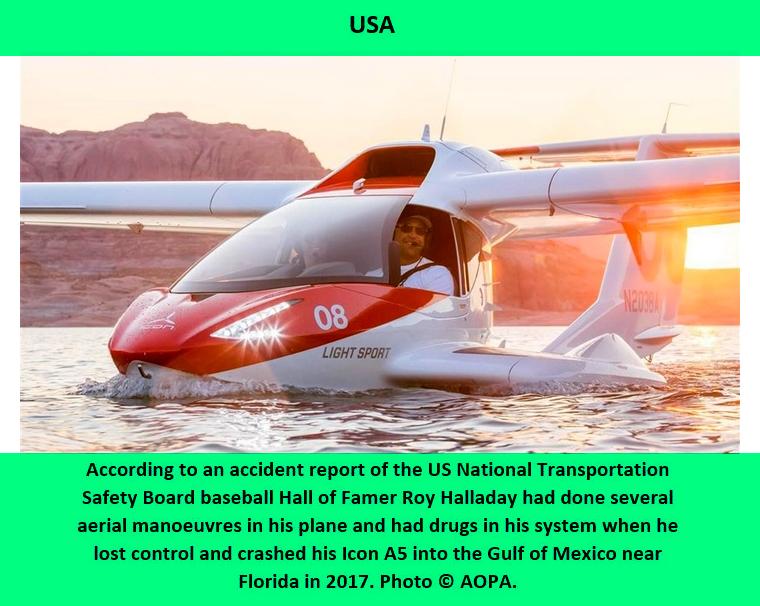 Halladay, 40, died from blunt force trauma and drowning. Halladay, who had tweeted, "flying the Icon A5 low over the water is like flying a fighter jet", was flying alone in his new Icon A5 on 7 November 2017. The report contains details of three manoeuvres with high angles of attack (AOA) and load factors of almost 2 Gs" during the last 2 1/2 minutes of the flight. Although not listing the cause for the crash; it says the defining event was loss of control by the pilot. According to toxicology tests done at the Federal Aviation Administration's Forensic Sciences Laboratory, the pilot had a sleep aid, an amphetamine, an antidepressant, a muscle relaxer, two opioids and Ibuprofen in his system.
Japan, over Ehime prefecture: A Boeing 737-800 of ANA on a flight from Fukuoka to Osaka/Itami, suffered severe turbulence while cruising at FL270 over Ehime. A cabin crew suffered a fracture of a part of her pelvis. The seat belt signs were off at the time of the turbulence. The JTSB has launched an investigation as an accident.
USA, San Francisco: A Delta Airlines Boeing 737-900 on a flight to Atlanta was accelerating for take-off from San Francisco when the right-hand engine ingested two geese prompting the crew to reject take-off at high speed (above 100 knots over ground). The aircraft slowed, vacated the runway about 7100 feet/2150s meter down the runway and returned to the apron. Tower initiated a runway inspection. The flight was cancelled. The FAA reported the #2 engine ingested at least two geese on departure roll and rated the occurrence an incident with unknown damage.
China, Hong Kong: A Cathay Pacific Airbus A350 contacted a parked Boeing 777-300ER (B-KPD) during towing at Hong Kong Airport. The A350 sustained damage to the right-hand winglet while the B777 sustained damage to the left-hand tip of the horizontal stabilizer. No passengers were on board at the time of the incident.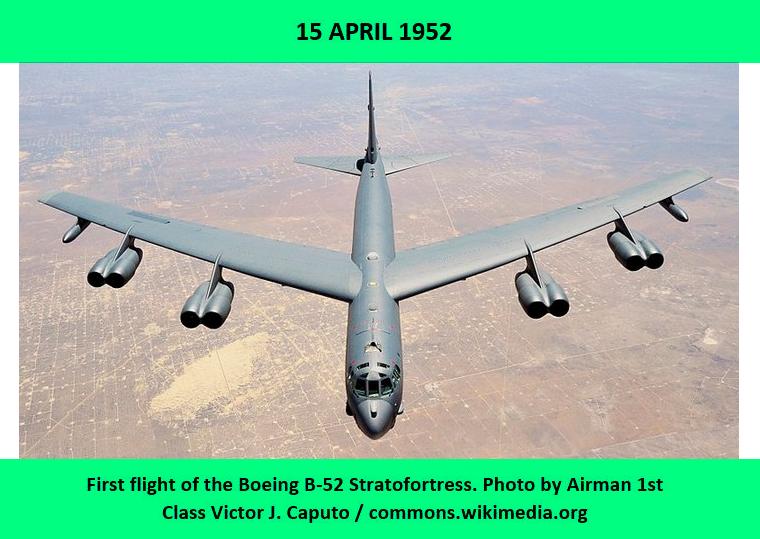 The B-52, capable of carrying up to 70,000 pounds (32,000 kg) of weapons and has a typical combat range of more than 8,800 miles (14,080 km) without aerial refuelling was designed and built by Boeing, which has continued to provide support and upgrades.
The bombers flew under the Strategic Air Command (SAC) until it was disestablished in 1992 and its aircraft absorbed into the Air Combat Command (ACC); in 2010, all B-52 Stratofortress's were transferred from the ACC to the newly created Air Force Global Strike Command (AFGSC).
In July 2013, the Air Force began a fleet-wide technological upgrade of its B-52 bombers called Combat Network Communications Technology (CONECT) to modernize electronics, communications technology, computing and avionics on the flight deck. Weapons upgrades include the 1760 Internal Weapons Bay Upgrade (IWBU), which gives a 66 percent increase in weapons payload using a digital interface (MIL-STD-1760) and rotary launcher.
The 1760 IWBU upgrade will allow the B-52 to carry eight JDAM 2000 lb bombs, AGM-158B JASSM-ER cruise missile and the ADM-160C MALD-J decoy missiles internally. Two bombers will have the ability to carry 40 weapons in place of the 36 that three B-52s can carry.
As of June 2019, 58 are in active service, 18 in reserve and approximately 12 more aircraft in long term storage. Superior performance at high subsonic speeds and relatively low operating costs have kept them in service despite the advent of later, more advanced strategic bombers, including the Mach 2+ B-58 Hustler, the cancelled Mach 3 B-70 Valkyrie, the variable-geometry B-1 Lancer and the stealth B-2 Spirit.
The B-52 completed sixty years of continuous service in 2015. After being upgraded between 2013 and 2015, the last airframes are expected to serve into the 2050s.