Compiled by Willie Bodenstein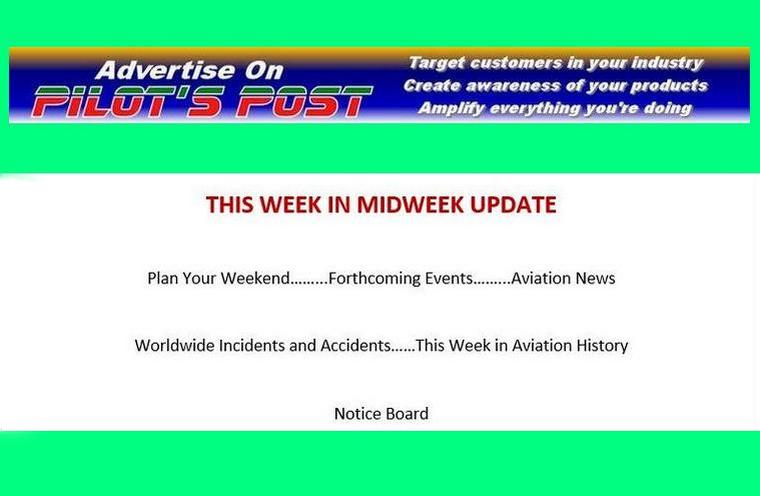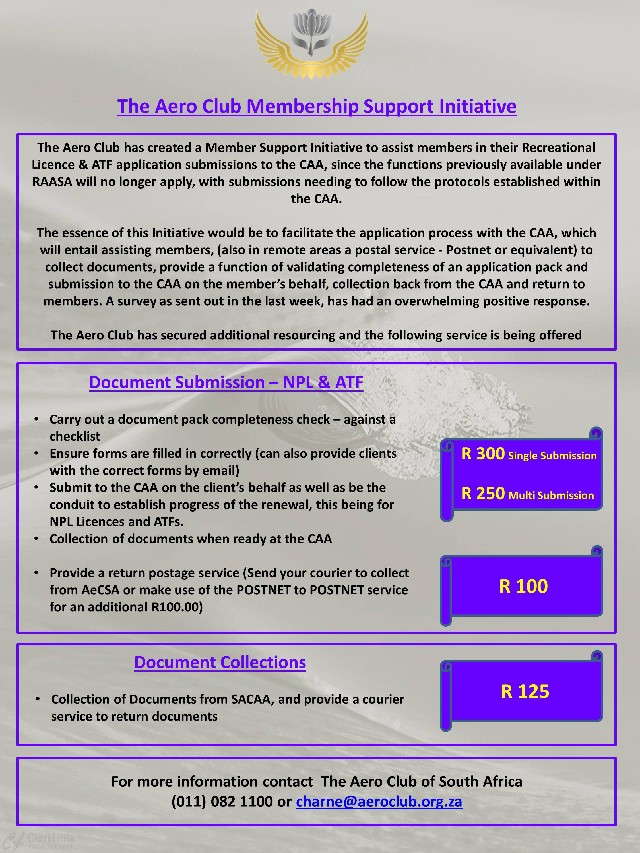 COVID 19 REGULATIONS, INITIATIVES AND AEROCLUB NEWS

CENTENARY YEARBOOK NOW AVAILABLE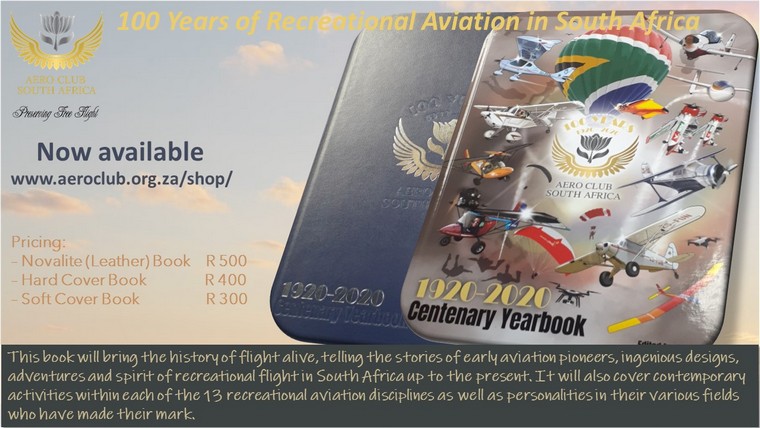 The Aero Club as part of its Centenary Celebrations had planned for a Centenary Year Book to be released in 2020, as part of the wider celebration plan. The book has now been completed covering a rich 460-page (with around 1800 illustrations) compendium of Recreational Aviation in SA through the last 100 years, under the expert guidance of John Illsey as the Editor, with inputs from our membership from all our sections.

The books are now available and printed in Novalite (Leather), Hard Cover & Soft Cover versions, from the Aero Club Website Shop, or from the Aero Club office.

Delivery Options are collected at the Rand Airport Aero Club office, or door to door courier service anywhere in SA. Courier costs will range between R 100 to R 150 per book dependent on location. Volume purchases are also available should this be required.

Pricing:
Novalite (Leather) Bound Book - R 500
Hard Cover Book - R 400
Soft Cover Book - R 300

https://www.aeroclub.org.za/shop/

If you are not a member and wish to join the Aero Club and any of its sections, feel free to do so http://www.aeroclub.org.za/member-renewals-and-new-memberships/


THE CHOCK NORRIS AVIATION THEMED PHOTO CONTEST

Great news! Entries to the Pilot's Post Chock Norris photo competition will open on the 22nd of November 2020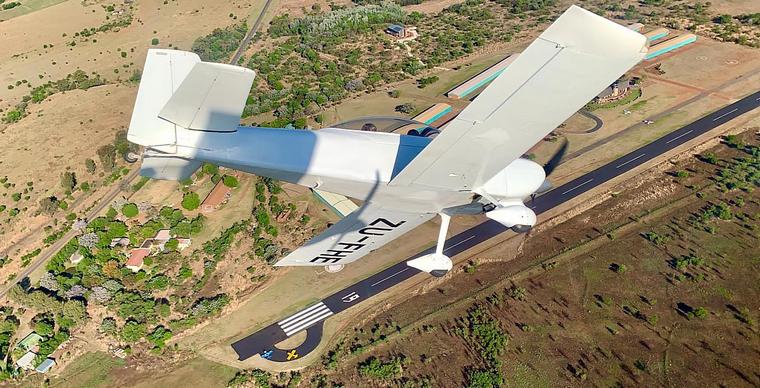 How to Enter:
Entering your aviation related photo is easy and simple. All images must be emailed to pilotspost@gmail.com with the following detail included:
Your name,
Email address,
Telephone number,
Where the photo was taken,
Phone used,
A theme name of the photo (Optional).

Due to the large amount of entries we expect, Pilot's Post will not acknowledge your entry!!

Entry Rules:
1. When entering the competition and by sending your photo to Pilot's Post, you explicitly grant the publication of your submitted photograph at Pilot's Post team's discretion without any remuneration or any other obligation.
2. Submitted photos must be resized to be less than 1 megabyte in size. If full-size photographs are required, the Pilot's Post team will request them from you.
3. Only photos taken by Cell phone will be accepted.
3. All submissions must have an aviation theme.
4. Photo submissions may be cropped and / or resized only. Any other form of photo alteration or manipulation is not allowed and will be disqualified.
5. You may submit up too three entries per week.

Judging:
1. The Pilot's Post team will select the 2 best photos submitted every week and add them into our "Midweek Update" published every Thursday morning, where our readers will then cast their votes by simply clicking the link below the photo of their choice.
2. At the end of each month, a complete article will be published on Pilot's Post to include the weekly photo submissions with the most reader votes. Our readers will then again have the opportunity to cast their votes by simply clicking the link below the photo of their choice. The photo with the highest number of votes will then be judged the Winner of the Month.
3. The competition will run for 6 months and a prize of a set of Chock Norris personalised Aircraft Chocks with leather storage bag valued at R500
and
A voucher from the Pilot Shop valued at R200.00will be awarded to each monthly winner.

Eligibility:
The Pilot's Post "Chock Norris 2020" aviation related photo competition is open only to photographer's resident in South Africa as our prizes are not transferable and can only be redeemed in South Africa. Trustees, Board Members, employees, or interns of Pilot's Post, as well as the immediate family (spouse, parents, siblings and children) and household members of those employees, are not eligible to enter.

Prizes:
A Set of Chock Norris personalised Aircraft Chocks with leather storage bag valued at R500
and
A voucher for The Pilot Shop valued at R200.00





The following events will to take place under the rules controlling the number of people congregating together and are therefore not open to the general public.

28 NOVEMBER
Springs - SAPFA Speed Rally Season 2
Race 4 Finale and Gala Evening. Come and join us in this fast-paced exciting aviation speed and navigation discipline.
All welcome if you think you and your navigator can fly come challenge yourself in this event.
Its great fun and you and your navigator will learn a lot about yourselves and your airplane.
For more information please call Jonty on 0828559435

5 - 6 DECEMBER
Sports Aerobatics Club of SA Ace of Base
Contact Annie Boone email chunge@mweb.co.za

30 JANUARY 2021
SAPFA Rand Airport challenge
Contact Frank Eckard E-mail: frank.eckard@mweb.co.za Cell: 083 269 1516

30 JANUARY 2021
SAPFA AGM at Rand Airport after the rally
Contact Rob Jonkers E-mail: rob@aerosud.co.za cell: 082 804 7032

30 & 31 JANUARY 2021
Sport Aerobatic Club Gauteng Regionals Vereeniging Airfield
Contact Annie Boon E-mail: chunge@mweb.co.za






DEREK FRASCA'S RADIAL ROCKET ENGINE STARTS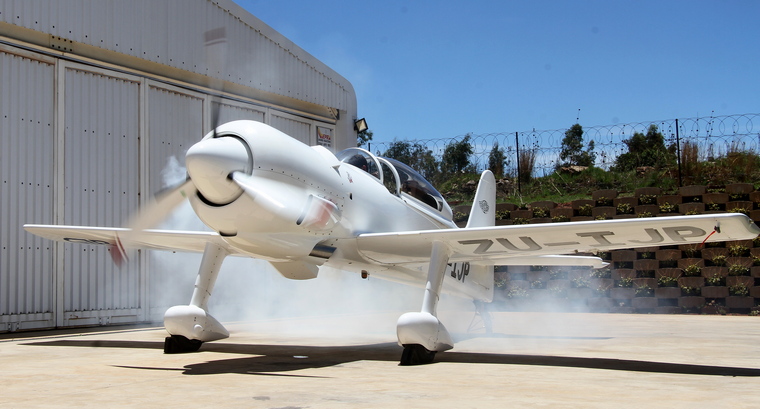 On Saturday 7 November during the Helivate Heli Olympics, I had just happened to walk to Derek Frasca's hanger where, to my delight, his stunning Radial Rocket was parked outside.

The all composite Radial Rocket powered by a 400hp Vedeneyev M-14P nine-cylinder radial engine that took Derek nine years to build, was damaged at Baragwaneth in June 2019 during one of its test flights.
It's not sure when she will fly again but she sounded wonderful.

SONACA 200 OBTAINS SPHAIR CERTIFICATION FROM THE SWISS AIR FORCE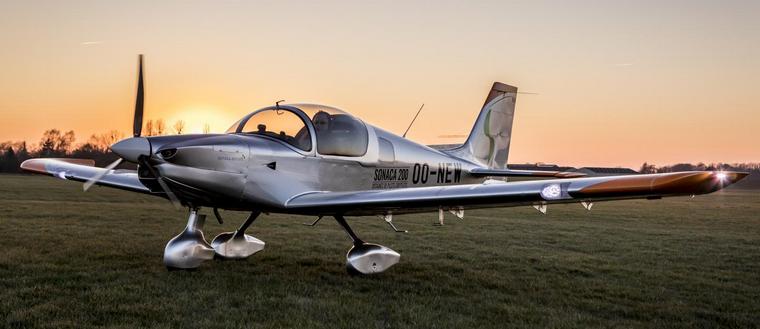 The Swiss Air Force has certified the Sonaca 200 Trainer Pro for the initial aptitude assessment programme called "SPHAIR". The objective of the SPHAIR programme is to discover and assess young talents for a career as a pilot in the Swiss Air Force or general aviation.

To obtain SPHAIR certification, the Sonaca 200 has undergone a thorough assessment on the ground and in flight.
"The Sonaca 200 flies smoothly and precisely. The aircraft is very stable at all flight attitudes and in all speed ranges. It benefits from very good visibility and comfortable seats. The plane also has a significant endurance of nearly seven hours with two people on board".

EUROSTAR SLX AND SL+ RECEIVES APPROVAL FOR MTOW 525 KG FROM THE FRENCH CIVIL AVIATION AUTHORITY



Evektor-Aerotechnik announces receiving French Civil Aviation Authority (DGAC) approval for its innovated "EuroStar SLX" and "EuroStar SL+" aircraft models with increased MTOW to 525 kg. DGAC has approved "EuroStar SLX / SL+" according to the latest aviation regulations for ULM aircraft in France published by the authority in 2019.

With MTOW enhanced to 525 kg while keeping low empty weight "EuroStar SLX / SL+" offers one of the highest useful loads among advanced ultralight aircraft on the market French. This together with range of 1300 km by "EuroStar SL+", outstanding flight characteristics of training aircraft, state of the art Garmin G3X or Dynon SkyView Glass Cockpit and reliability proven by 20+ year of operation make "EuroStar SLX / SL+" popular aircraft for pilot touring, leisure flying and training in ultralight aircraft flight schools.
The first DGAC approved EuroStar SL+ with MTOW 525 kg was handed over to its owner in France by Evektor-Aerotechnik´s authorized distributor for "EV-97 Eurostar" product line in France and Belgium - the company Avianor from Lille on October 24. The aircraft, based at LFQO Lille-Marcq airport, is equipped with modern Garmin G3X Touch Flight Display, G3X Autopilot with GMC305 control panel, Garmin GTR 225 radio, Ballistic recovery system, 100 hp Rotax 912ULS and DUC Swirl 3-L propeller.
Evektor-Aerotechnik has under manufacturing another three EuroStar SL+ / SLX aircraft for France, which are scheduled to be delivered in November. The owner of the first 525 kg MTOW "EuroStar SLX" is pilot training organization Aeroclub Saint Junien based at Aerodrome Maryse Bastié in the Haute-Vienne region. Aeroclub Saint Junien is going to operate "EuroStar SLX" for training of ULM pilots.
Evektor-Aerotechnik supplies its two seat EASA certified, Light Sport Aircraft and ultralight aircraft to private pilots and flight training organizations in 50 countries globally. The fleet of "EV-97 Eurostar" in France has over 130 aircraft, making it one of the biggest ULM aircraft fleets in France.

BEECHCRAFT KING AIR 360 ENTERS INTO SERVICE WITH FIRST DELIVERY OF THE NEWEST FLAGSHIP TURBOPROP



Textron Aviation proudly celebrated the entry into service and first delivery of its Beechcraft King Air 360 turboprop aircraft. The event was commemorated in a special delivery to its launch customer - Stamoules Produce Company, Inc.


The California-based business selected the flagship King Air 360 as its first-ever aircraft purchase due to its combination of outstanding performance capabilities, ease of operation and the enhanced passenger experience, all of which will help expand the company's growing operations.
The Beechcraft King Air 360 is designed and manufactured by Textron Aviation Inc., a Textron Inc. (NYSE:TXT) company.
The momentous occasion marks another major milestone for the legendary King Air turboprop line-up, which has been flying customers throughout the world for more than 50 years. The King Air 360 builds on a reputation of versatility and reliability, offering the latest technological advances in the cockpit, a redesigned cabin and enhancements to passenger comfort.
"This is a special day for Beechcraft King Air turboprops as we begin a new era for such a beloved aircraft," said Rob Scholl, senior vice president of Sales and Flight Operations for Textron Aviation. "We are privileged to welcome Stamoules Produce Company to the Beechcraft family. This upgraded aircraft features innovative technology and next generation capabilities and it will allow this launch customer an opportunity to transform the way they do business."
Stamoules Produce Company is a family-owned business based in the San Joaquin Valley of central California, often referred to as the cantaloupe centre of the world. Specializing in growing and harvesting fruits, vegetables and nuts on its 17,000-acre farm. Stamoules Produce Company has steadily expanded its business since it began in 1927.
"We're very proud to be the launch customer of the new Beechcraft King Air 360," said Katie Stefanopoulos, a family member, who will also serve as corporate pilot for the new aircraft. "When selecting our first aircraft, we looked for a product that would not only give us the performance and flexibility we need to grow our business, but also by a company with a trusted name and expertise in the industry - and we found that in the King Air 360 and Textron Aviation. We were excited to learn of the new upgrades and features to an already exceptional aircraft and I am even more excited to fly."

C-390 MILLENNIUM RECEIVES AVIATION WEEK GRAND LAUREATE IN THE DEFENSE SEGMENT

The Embraer C-390 Millennium multi-mission aircraft, manufactured by Embraer, today received the Grand Laureate in the Defence Segment and the Laureate Award for the "Best New Product" in Defence from Aviation Week Network. The citation for the award reads, "The first C-390 tanker/transport, the largest and most sophisticated aircraft yet developed by Embraer, was delivered to the Brazilian Air Force in 2019."

"To receive an award with as much prestige as the Laureate is a very significant acknowledgement of the exceptional work of all Embraer employees. This is a substantial recognition of the merits of our engineers and the ability of our workforce to execute the development of such an advanced product with excellence," said Francisco Gomes Neto, Embraer S.A. President and CEO. "Embraer's new business strategy seeks to increase revenue and profitability and the C-390 Millennium plays an important role in solidifying the company as a serious entrant in a new market segment."
"We are honoured to receive this award, which recognizes the excellence of our programs and of this aircraft, which was developed to set new standards in its class, bringing exceptional performance complemented by the lowest life-cycle cost in the market," said Jackson Schneider, President and CEO of Embraer Defence & Security. "The C-390 Millennium offers greater flexibility and value to operators performing air transport and air mobility missions, among others."
The Aviation Week Laureates Awards recognize the extraordinary achievements and innovative personalities that represent the values and vision of the global aerospace community. Programs honoured with Laureates Awards have changed the way people work and move around the world. Aviation Week continues to recognize the very best accomplishments in the four pillars of our industry: Defence, Commercial Aviation, Space, and Business Aviation.
In 2009, the Brazilian Air Force (FAB) contracted Embraer to design, develop, and manufacture the C-390 Millennium aircraft as a replacement for its aging C-130 fleet. Deliveries to FAB started in September 2019. The C-390, which was recently ordered by the Portuguese Government, is a new generation multi-mission transport aircraft that offers unrivalled mobility, fast reconfiguration, high availability, and enhanced flight safety, all on a single, exclusive platform.
The aircraft can perform a variety of missions, such as cargo and troop transport, cargo and paratrooper airdrop, aerial refuelling, search and rescue, aerial firefighting, medical evacuation and humanitarian missions.
Flying faster and delivering more value, the Millennium is the right sized platform for major airlift deployment scenarios. Minimized intervals and on condition maintenance, combined with highly reliable systems and components, reduce downtime and costs, contribute to outstanding availability levels and low life cycle costs.
The C-390 benefits from a modern fly-by-wire flight control system with integrated technology that lowers the workload of the crew and increases the safety of its operation. Furthermore, the aircraft can refuel other aircraft in flight, with the installation of removable internal fuel tanks. The aircraft can also be refuelled in flight, thus providing greater flexibility for longer missions. An advanced self-defence system increases the aircraft's survival capability in hostile environments.
Equipped with two International Aero Engines V2500 turbofan engines, the latest avionics, a rear ramp and an advanced cargo handling system, the C-390 is capable of carrying up to 26 metric tons of cargo at a maximum speed of 470 knots (870 km/h), with ability to operate in austere environments, including unpaved or damaged runways. The aircraft can carry troops, pallets, armoured wheeled vehicles and helicopters.

AIRBUS SIGNS CONTRACT FOR 38 EUROFIGHTERS WITH GERMANY




Airbus has signed a contract to deliver 38 new Eurofighter aircraft to the German Air Force. This makes Germany the largest ordering nation in Europe's biggest defence programme.

The order, also known by its project name Quadriga, covers the delivery of 30 single-seater and 8 twin-seater Eurofighters. Three of the aircraft will be equipped with additional test installations as Instrumented Test Aircraft for the further development of the Eurofighter programme.
Dirk Hoke, CEO Airbus Defence and Space, said: "The new Tranche 4 Eurofighter is currently the most modern European-built combat aircraft with a service life well beyond 2060. Its technical capabilities will allow full integration into the European Future Combat Air System FCAS".
The renewed order from Germany secures production until 2030 and comes at a strategically important time for the programme. In addition to an expected Eurofighter order from Spain to replace its legacy F-18s, procurement decisions in Switzerland and Finland are imminent in 2021.
The variant offered in Switzerland corresponds to the configuration of the German Quadriga order. The equipment includes the world's latest electronic radar, future-proof hardware and software and unlimited multi-role capability for engaging air and ground targets.
Eurofighter is Europe's largest defence programme, in which the United Kingdom, Spain and Italy are involved alongside Germany. In addition to technological capabilities, it secures more than 100,000 jobs in Europe.

U.S. NAVY AWARDS SIKORSKY CONTRACT TO BUILD SIX MORE CH-53K HEAVY LIFT HELICOPTERS

The CH-53K has flown more than 2,000 flight hours validating the aircraft's performance, including testing on a ship and in both hot and cold environments. This year, the helicopter completed air-to-air refuelling with a 27,000-lb. external load demonstrating its ability to enable heavy-lift transport from sea to shore.

Sikorsky, a Lockheed Martin company (NYSE: LMT) will build six additional production CH-53K King Stallion helicopters under a new contract for the U.S. Navy. The aircraft will further support the U.S. Marine Corps in its mission to conduct expeditionary heavy-lift assault transport of armoured vehicles, equipment and personnel to support distributed operations deep inland from a sea-based centre of operations.
The six helicopters are part of 200 aircraft Program of Record for the U.S. Marine Corps and their addition makes a total of 24 CH-53K production aircraft now under contract. Under the terms of this most recent contract - known as Low Rate Initial Production (LRIP) Lot 4 - Sikorsky will begin deliveries of the six aircraft in January 2024.
"This contract award is a testament to the government's confidence in the CH-53K platform. This award shows that we are working hard to make the aircraft more affordable," said Major General Greg Masiello, program executive office, air ASW, assault and special mission programs. "The capability and affordability of the CH-53K is important to ensure that we provide a valuable addition to the United States Marine Corps and our friends and allies."

LEONARDO: US EMS OPERATOR LIFE LINK III GROWS ITS FLEET OF HELICOPTERS TO 14 AIRCRAFT

Leonardo announced today that Life Link III, an EMS operator in Minnesota and Wisconsin in the United States, has signed a contract for an AW169 and an AW109 Trekker for air medical transport missions. The helicopters will ensure in-flight critical care and transport patients across the upper-Midwest of the country and delivery is anticipated to take place in the fourth quarter of 2021.

This order marks the entry of the AW109 Trekker into the US for EMS applications and further grows the success of the AW169 in this market.The AW169 features a spacious 222 cubic ft. cabin and Life Link III will have a FAA certified EMS interior which provides 360-degree patient access essential for critical care. The helicopter can travel up to 440 nautical miles, with a top speed of 160 knots and it can climb to 14,500 feet.
The Trekker has high-end EMS capabilities in terms of its interior, performance, advanced avionics and safety standards. The twin-engine helicopter is equipped with Night Vision Goggles (NVG), single-pilot instrument flight rules and a customised interior built to meet Life Link III's requirements.
This sale will increase Life Link III's Leonardo helicopters fleet to 14 aircraft and the company will be the first to operate a mixed fleet of AW119 IFR and AW109 Trekker. These aircraft feature the same core avionics which deliver unique advantages in terms of fleet management, training, safety, and support. The EMS operator's existing fleet comprises of ten AW119Kx which have accrued more than 21,000 flight hours. In addition, in July of this year, Life Link III signed for the first IFR-certified AW119 in the civil market - this aircraft will enable the company to undertake safer operations in challenging weather conditions. The helicopter is expected to be delivered in the third quarter of 2021.
This latest sale represents the growing share of Leonardo's helicopters in the North American EMS market, which now totals more than 110 across a fleet of AW119s, AW109s, AW169s and AW139s. Leonardo is committed to serving and protecting communities around the world, contributing to their sustainable growth by leading in next generation technologies. Partnering with governments, private organizations and industries for the best security and safety capabilities is a cornerstone of Leonardo's BeTomorrow2030 Strategic Plan.
Nearly 240 orders for AW169s have been placed by countries including Italy, the UK, Japan, South Korea, New Zealand and the United States. To date over 70 AW109 Trekkers have been sold to customers worldwide for a range of roles and over 1,500 AW109 series units have been sold globally for the widest scope of missions.

SIKORSKY COMBAT RESCUE HELICOPTER LANDS SECOND PRODUCTION CONTRACT, NEW NAME



Sikorsky will build 12 additional HH-60W Combat Rescue Helicopters (CRH) following a second Low Rate Initial Production (LRIP Lot II) contract award by the U.S. Air Force. The award, announced during the annual Air Force Association (AFA) Air Warfare Symposium in Orlando, Florida, is valued at more than $500 million and follows a string of significant program milestones in 2019, including First Flight, a Milestone C decision by the Air Force, and notice of the first LRIP contract for 10 aircraft.

"This second contract award demonstrates the confidence the U.S. Air Force has in Sikorsky's proven ability to deliver and support the next generation combat search and rescue helicopter," said Greg Hames, Sikorsky's CRH program director. "Our team works daily - and in close collaboration with our customer - to ensure we build and deliver this highly capable and much-needed helicopter to the war fighter."
Secretary of the Air Force Barbara M. Barrett also used the AFA Symposium to reveal the new name for the HH-60W CRH - "Jolly Green II." The moniker is a proud nod to the "Jolly Green Giant," the nickname given to the Sikorsky-built HH-3E, the first production helicopter that could be refuelled while in flight. This rugged aircraft performed critical search and rescue (CSAR) operations during the Southeast Asia War through Operation Desert Storm. The U.S. Air Force retired its last HH-3E in 1995.
"Reviving the Jolly Green name honours our combat search and rescue crews past and present. Those who operate this aircraft will embody the motto, 'These Things We Do, That Others May Live,'" said Barrett during the name reveal event. "In the hands of our airmen, this aircraft ensures the rescue community can perform their duties better than ever."
The U.S. Air Force program of record calls for 113 helicopters to replace the Pave Hawk fleet. During the Engineering & Manufacturing Development (EMD) phase of the program, a total of nine aircraft will be built at Sikorsky's Stratford, Connecticut, facility ? four EMD aircraft and five System Demonstration Test Articles.

GULFSTREAM G500 AND G600 AGAIN EXCEED EXPECTATIONS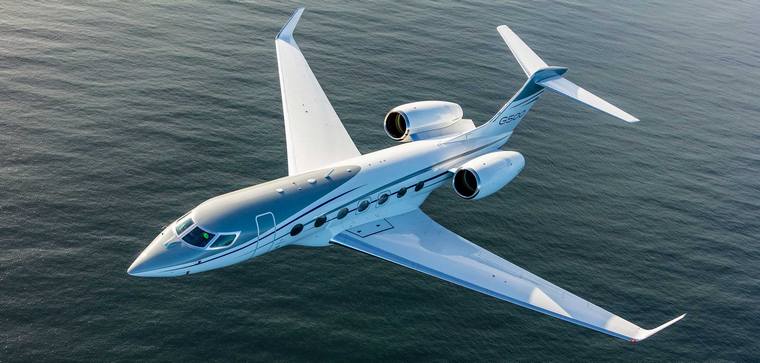 Gulfstream Aerospace Corp. today announced the next-generation Gulfstream G500™ and Gulfstream G600™ have once again demonstrated additional range capabilities through real-time operations.

The newly increased range for the G500 and G600 apply to both the high-speed cruise of Mach 0.90 and the long-range cruise speed of Mach 0.85. The G500 now delivers 5,300 nautical miles/9,816 kilometres at Mach 0.85 and 4,500 nm/8,334 km at Mach 0.90. The G600's range at Mach 0.85 has improved to 6,600 nm/12,223 km and 5,600 nm/10,371 km at Mach 0.90.
"The G500 and G600 have been exceeding expectations since they entered service," said Mark Burns, president, Gulfstream. "This latest demonstrated range increase provides further proof of the tremendous efficiency and versatility of these aircraft. The Gulfstream team is always looking for opportunities to improve aircraft capabilities and the customer experience and we are pleased to deliver another performance enhancement for both existing and future customers."
In addition to the range increases, the G600 now delivers greater payload capacity with full fuel. As a result of Gulfstream's advanced manufacturing and precision-build expertise, the G600's basic operating weight has been reduced by 570 pounds/259 kilograms over original values, bringing its full-fuel payload capabilities up to 2,600 lbs/1,179 kg. This gives G600 operators even more flexibility.
"What's exciting for our existing customers is that these improvements already exist on their in-service aircraft with no modifications required," Burns said.
During the flight-test program for the G500 and G600, both aircraft exceeded initial performance expectations with increased range capabilities. The G600 achieved a second high-speed cruise range increase before it entered service, gaining 700 nm/1,296 km over original projections. The maximum operating speed of both aircraft is Mach 0.925.

WISK RELEASES NEW FOOTAGE OF FLIGHT TESTING IN NEW ZEALAND

In October 2019, the New Zealand Government announced that it was establishing an industry-wide Airspace Integration Trial to work with leading, innovative domestic and international industry partners to safely test and demonstrate unmanned aircraft. Wisk, based in the United States and New Zealand, was announced as the first industry partner to join this program.

Wisk CEO, Gary Gysin, said: "We are delighted to now have a signed agreement with the New Zealand Government, which will propel Cora's entry to the air taxi market. We see this agreement as a sign of confidence in our product and abilities to develop and deliver a safe and reliable air taxi service, starting in New Zealand
Wisk, a joint venture between Boeing and Kitty Hawk, recently shared on its YouTube channel new footage of flight testing underway in New Zealand as the company works toward certification of its two-seat, autonomous eVTOL aircraft. The video includes a transition from cruise flight to hover and landing.
Wisk is currently flying at least seven prototypes of its two-seat model across locations in Hollister, California and Tekapo, New Zealand and is working with the latter to establish early test routes as part of the country's Airspace Integration Trials program.
Wisk hasn't announced its launch city in the United States yet, but CEO Gary Gysin has said bringing autonomous air taxi operations to the U.S. is the company's "North Star."




FRANCE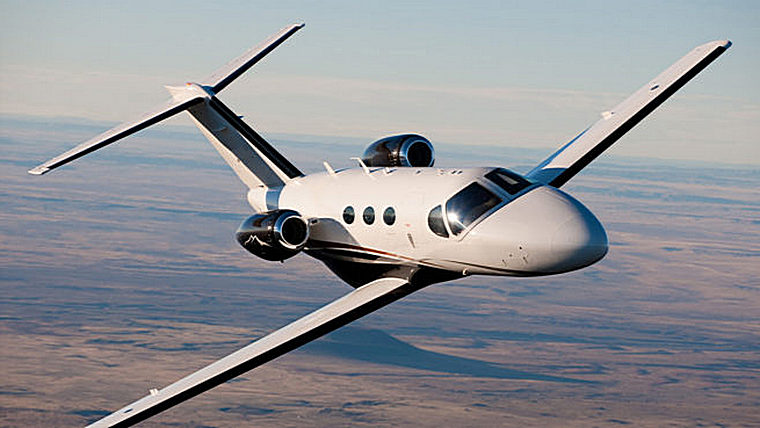 France, Paris-Le Bourget Airport: A Cessna 510 Citation Mustang operated by Ouest Participations SARL touched down 800 metres before the displaced threshold of runway 25 at Paris-Le Bourget Airport in France. The aircraft slid and travelled to the left and departed the left side of the 400 metres after the beginning of the runway and ran 400 metres over the grass before coming to a halt, 50 metres from the runway edge. The pilot resumed taxiing in the grass and came back onto the runway just before taxiway B1. He taxied to his parking spot under his own power accompanied by the ARFF. (Photo Textron. Not the accident aircraft)


Egypt near Sharm el-Sheikh: Five U.S. citizens, one French and one Czech member of the MFO were killed when a Multinational Force and Observers (MFO) UH-60 Black Hawk helicopter crashed during a routine mission in Egypt's Sinai Peninsula. Another U.S. citizen survived and was medically evacuated to Israel. An investigation by the MFO is underway into the cause of the crash, which it said appears to be mechanical in nature.
Guatemala, El Chico, Champerico, Retalhuleu: Law enforcement officers in Guatemala located a jet that had crashed near El Chico in the Retalhuleu Department of Guatemala, about 15 km from the Mexican border. The aircraft had broken up and rolled inverted, presumably during an attempted landing at an illegal airstrip. On board the aircraft packages of narcotics were found, along with one deceased occupant.
India, about 160nm south of Mumbai: An Ethiopian Airlines Airbus A350-900, performing a flight from Riyadh (Saudi Arabia) to Bangalore (India) with 8 crew and freight on board, was enroute at FL410 about 160nm south of Mumbai (India) when the crew decided to divert to Mumbai due to a hydraulic leak. The aircraft landed safely on Mumbai's runway 27 about 45 minutes later.

UK, Heathrow: An EAT Leipzig Airbus A300-600 freighter on behalf of DHL, on a flight from London Heathrow to Milan Malpensa (Italy), was climbing out of Heathrow's runway 27L when the crew declared 'Mayday, Mayday' reporting smoke in the cockpit and stopped the climb at 5000 feet MSL. The crew subsequently donned their oxygen masks. The aircraft returned to Heathrow for a safe landing on runway 27L about 15 minutes after departure and vacated the runway.
Guatemala, Parque Nacional Laguna del Tigre: A burned British Aerospace BAe-125 jet was found by Guatemalen law enforcement officers at an illegal airstrip close to the border with Mexico. It had been used for transporting drugs. After unloading the drugs, the twin engine plane was set on fire.

USA, Laredo TX: An Everts Air Cargo McDonnell Douglas MD-83 on a flight from Fort Worth Alliance, TX to Laredo, TX (USA) with 2 crew, was on approach to Laredo when the aircraft struck a wing tip onto the runway surface. The crew initiated a go around, positioned for another approach to runway 18R and landed without further incident about 10 minutes later.
Paraguay, International Airport Silvio Pettirossi, Asunción: About fifteen aircraft were destroyed during a storm as a hangar collapsed at International Airport Silvio Pettirossi (ASU/SGAS), Luque, Gran Asunción, including, among others, ZP-BGB, a Beechcraft Baron, ZP-BLN, a Piper Malibu (minor damage), ZP-BCV, a Cessna R182 Skylane, ZP-BJO, a Cessna 150M and ZP-TIZ, a Cessna 172M.
Russia, Novosibirsk: A Volga-Dnjepr Antonov AN-124, with 14 people and no cargo on board, departed Novosibirsk and was in the initial climb through about 1800 feet MSL when the transponder signal as well as radio communication was lost. The crew returned the aircraft for a landing back at Novosibirsk but overran the end of the runway on landing by about 200 meters/650 feet. There were no injuries. The aircraft sustained substantial damage to wings, landing gear and engine.
USA, Laconia Municipal Airport NH: A Mooney M20F Executive 21 with two on board sustained substantial damage upon impact with trees short of the runway during a landing attempt into setting sun conditions at Laconia Municipal Airport (LCI/KLCI) in Laconia, New Hampshire. The two occupants onboard the airplane received minor injuries.
Kazakhstan, Atyrau: A SCAT Airlines Boeing 737-500, with 115 people on board, was climbing out of Atyrau when the aircraft flew through a flock of ducks or geese and received a number of bird strikes. One engine (CFM56) ingested a number of birds and began to emit unusual noises. The crew stopped the climb and returned to Aktyrau for a safe landing.
USA, Whidbey Airpark, WA: A Cessna 177B Cardinal with two on board operated by the Lazy Eight Flying Club Inc impacted trees during the approach at Whidbey Airpark (W10), Whidbey Island, Washington. The two people onboard were fatally injured and the airplane was destroyed during the accident sequence.




17 NOVEMBER 1910

Ralph Johnstone, a pilot for the Wright Exhibition Team, becomes the first American pilot to die in a plane crash when his machine breaks apart in mid-air in full view of about 5,000 spectators at Denver, Colorado.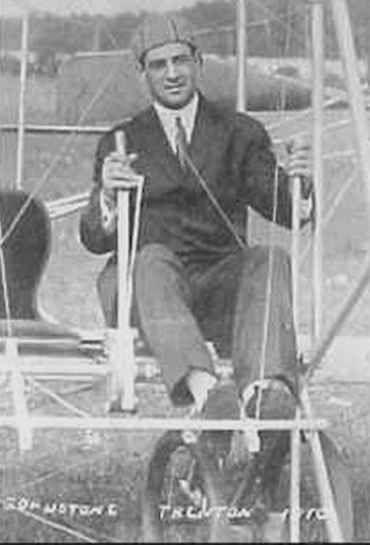 Johnstone was born on 18 September 1880 and became famous as a vaudeville trick bicycle rider who performed a mid-air forward somersault. He later became a Wright exhibition team pilot and on August 17, 1910, he survived a crash at Asbury Park, New Jersey.
On 27 October 1910, the International Aviation Tournament was held at the Belmont Park racetrack in Elmont, New York. The meet offered $3,750 for the highest altitude, another $1,000 for a world record and a $5,000 bonus for exceeding 10,000 feet. Johnstone set a new American flight altitude record of 8,471 feet. During the flight, a gust of wind forced him to fly backwards and he landed near Artist Lake in Middle Island, New York.
On 17 November 1910, in Denver, Colorado, during an air meet Johnstone's Model B that he was flying was still fairly new with factory fresh paint. However, Johnstone had damaged the wing of the plane on a previous landing and superficially repaired the wing. Not properly repaired, the wing collapsed during his next high-altitude flight and Johnstone plunged to his death in full view of the crowd.
PLEASE GO TO
www.youtube.com/channel/UCCuRVZAGodT6sztTeXBGeMw
and subscribe to our YouTube channel