Gaston Tissandier was born in Paris in 1843. He studied chemistry and in 1864 became the head of the experimental laboratory of Union Nationales. He was also a teacher at Association Polytechnique. His interest in meteorology led him to take up aviation.
His first trip in the air was conducted at Calais in 1868 together with Claude-Jules Dufour, where his balloon drifted out over the sea and was brought back by an air stream of opposite direction in a higher layer of air. In September 1870, during the Franco-Prussian War, he managed to leave the besieged Paris by balloon.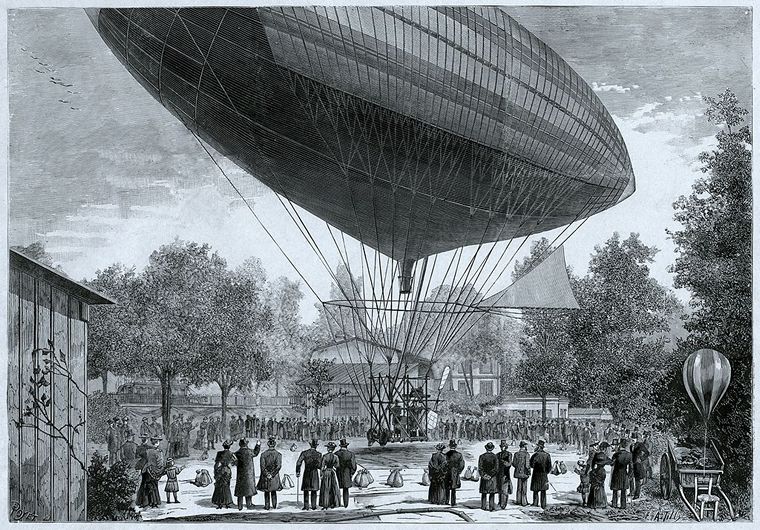 Gaston Tissandier in the electric powered airship. Image © United States Library of Congress.

His most adventurous air trip took place near Paris in April 1875. He and companions Joseph Crocé-Spinelli a journalist, and Théodore Henri Sivel a naval officer, were able to reach in a balloon the unheard-of altitude of 8,600 meters (28,000 feet). Both of his companions died from breathing the thin air. Tissandier survived, but became deaf.
In 1883, Tissandier fit a Siemens electric motor to an airship and on 8 October took to the air thus creating the first electric-powered flight.
Tissandier reported his meteorological observations to the French Academy of Sciences. In 1873 he founded the weekly scientific magazine La Nature, which he edited until 1896, after which it was continued by others. He also authored several books.
PLEASE GO TO
www.youtube.com/channel/UCCuRVZAGodT6sztTeXBGeMw
and subscribe to our YouTube channel