Compiled by and photos by Willie Bodenstein

01.08.2021



For seven days each summer, the aviation community focuses on EAA AirVenture Oshkosh. The event is a testament to the profound passion and diverse interests of aviation enthusiasts from around the world - and the ways in which AirVenture Oshkosh encompasses them all.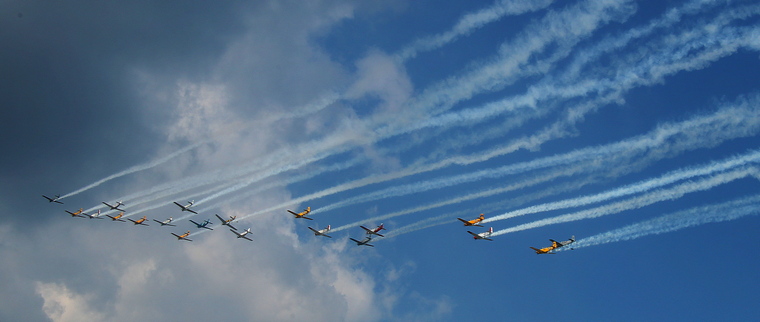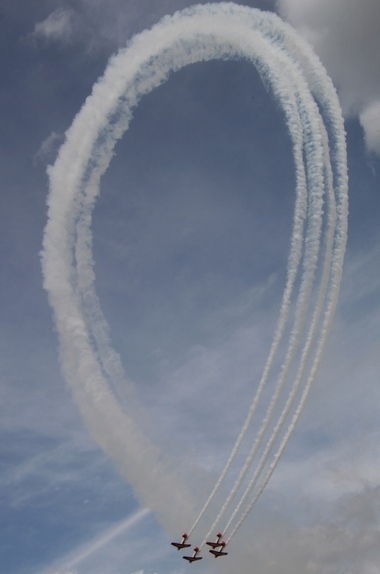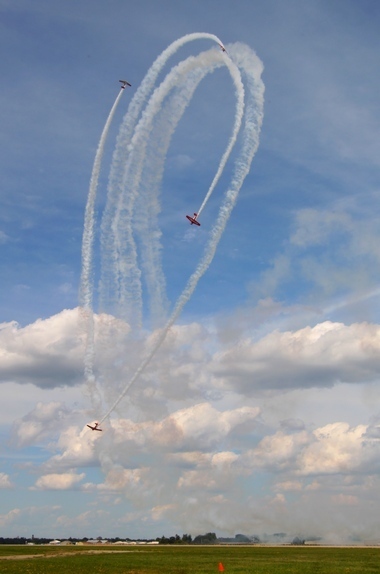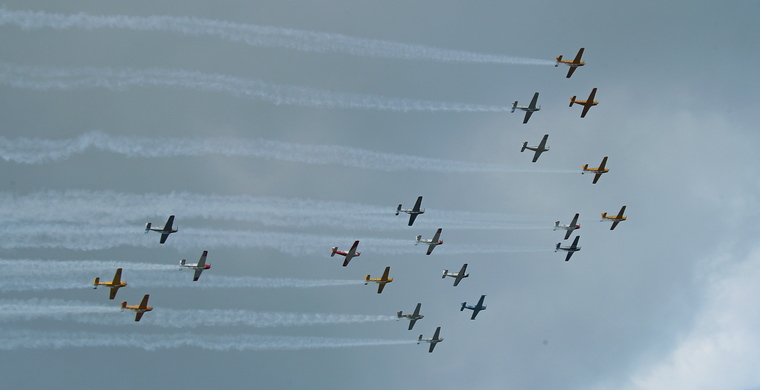 We missed Oshkosh, as it generally known, for the second time in two years after nine years of uninterrupted attendance. Last year because of Covid, and this year with Covid still with us, because of the ban of South Africans flying to the USA.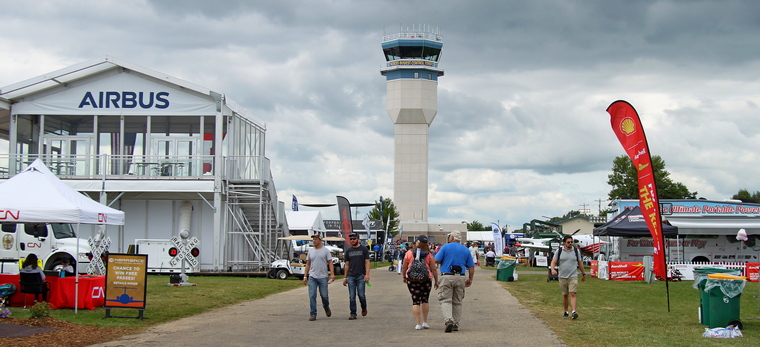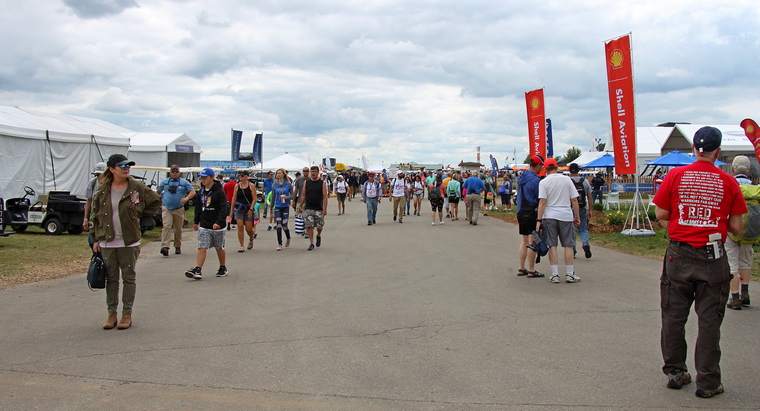 Jack Pelton, EAA chairman and CEO, reported that 2021, the organization's 68th fly-in, kicked off its return on Monday with a week-long forecast of mostly ideal weather and record attendance of people and airplanes. In the three days leading up to the show, 7,928 aircraft had flown into Oshkosh, more than double the 3,500 over the same period in 2019, the last year AirVenture was held due to the worldwide pandemic.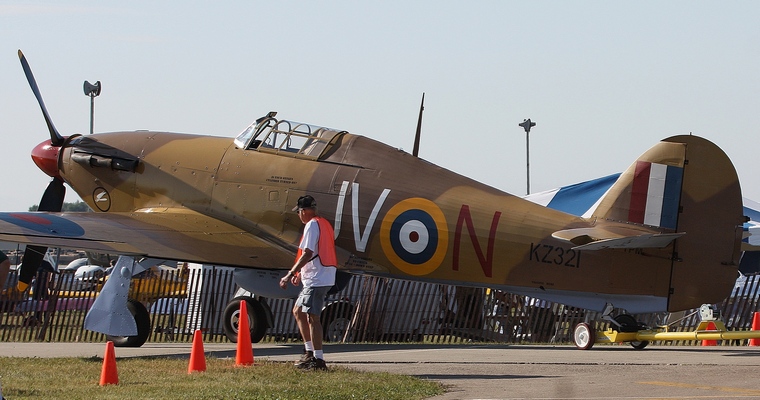 The theme of 2021 highlighted the aviation history of World War II. Subsequently, the afternoon air shows on Friday and Saturday featured programs that chronologically recollected aviation history during the war. Aircraft involved spanned those used by the Army Air Forces and U.S. Navy during that time, as well as a variety of international aircraft from that period. All were involved in each of the 90-minute shows presented each day.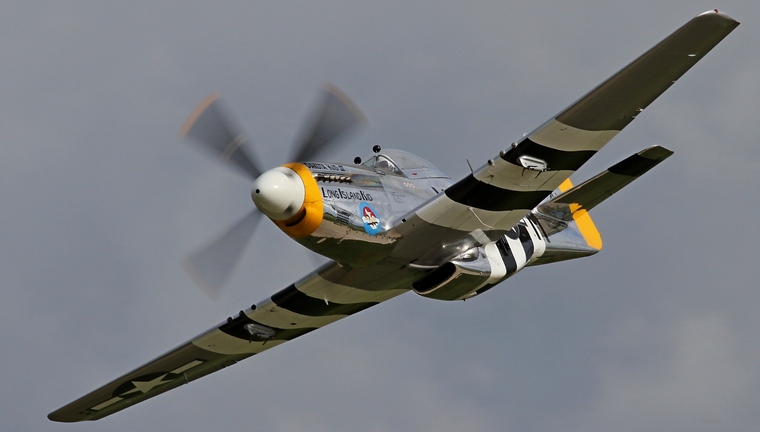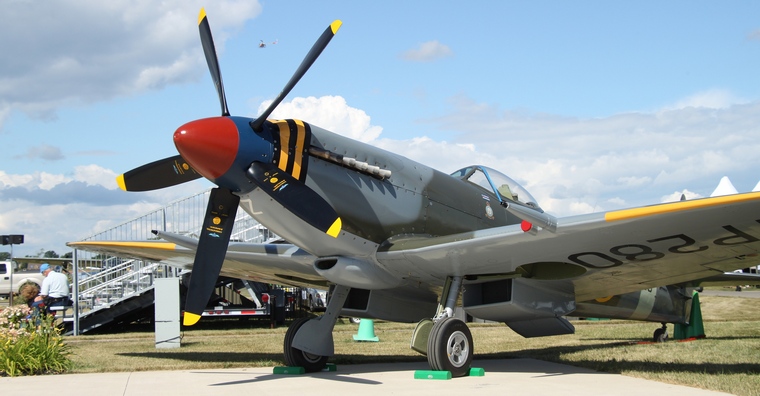 "EAA AirVenture Oshkosh is already the world's largest annual gathering of warbird aircraft, so it's natural that this big commemoration would take place here," said Rick Larsen, EAA's vice president of communities and member programming, who coordinates AirVenture features and attractions. "The EAA Warbirds of America and other select owners of these magnificent aircraft will showcase the evolution of air power during that period and salute the people who built, flew and maintained these aircraft 75 years ago."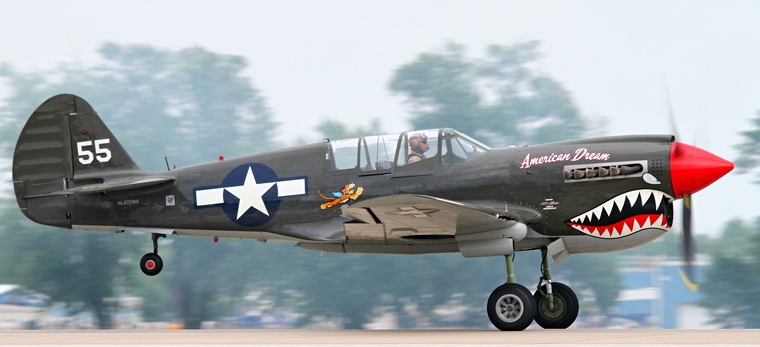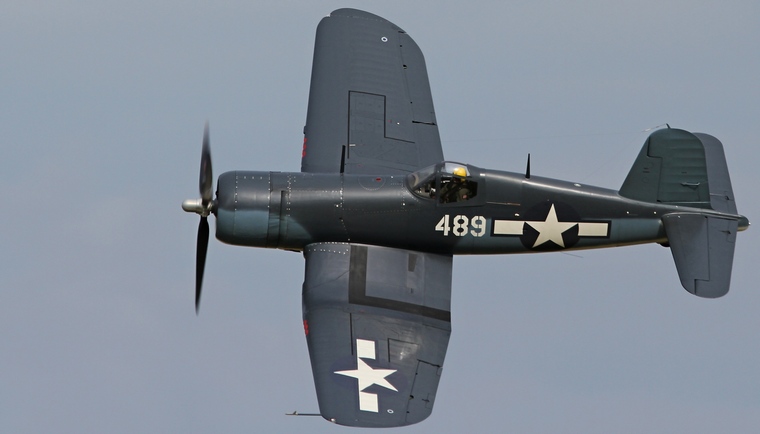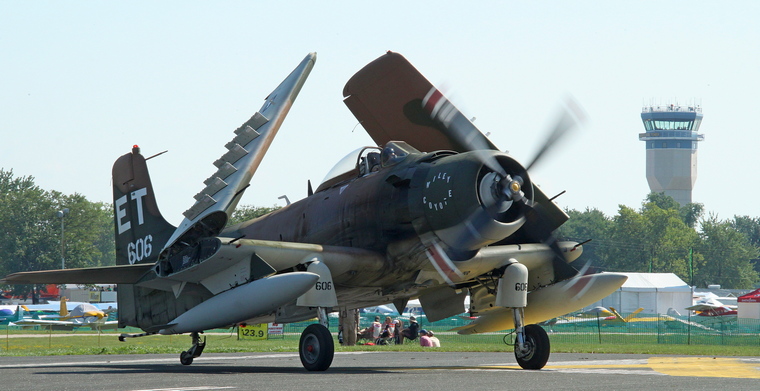 Among the aircraft featured was a P-40 Tomahawk, Supermarine Spitfire, P-38 Lightning, F6F Hellcat, C-47 Skytrain, Hawker Hurricane, P-51 Mustang, F4U Corsair, B-25 Mitchell, B-17 Flying Fortress, B-29 Superfortress and others.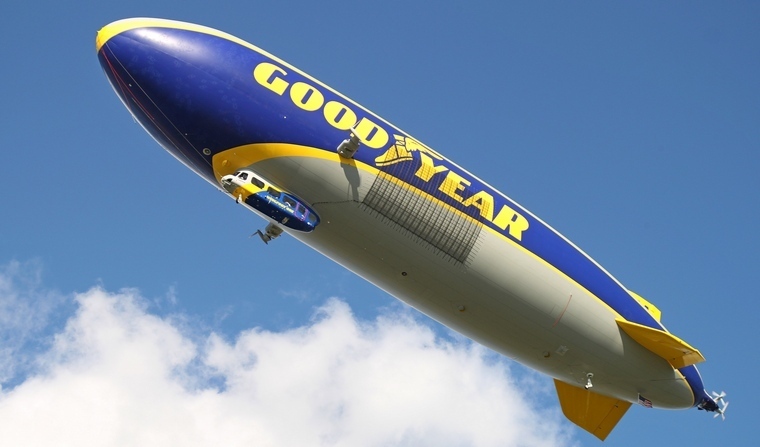 The Goodyear Tire & Rubber Company's newest airship, Wingfoot Three Goodyear's Wingfoot Three arrived in Oshkosh on Monday, 26 July and was on display and flew at various times during the event.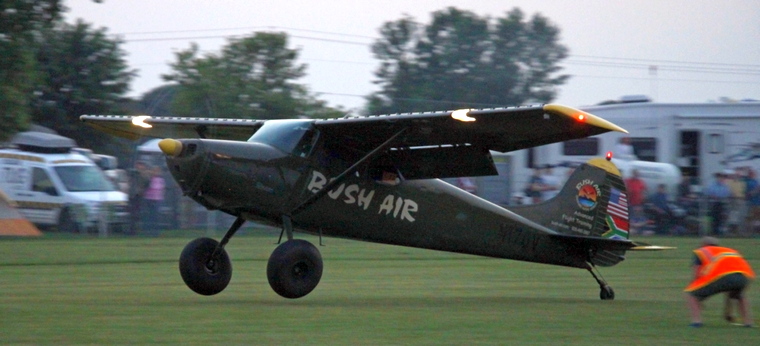 An exciting attraction at EAA AirVenture Oshkosh 2021 was the return of Twilight Flight Fest. This event was held on Monday and Tuesday, Thursday and Friday at the Fun Fly Zone in the ultralights area at 8 p.m. There was a variety of light aircraft activities, including STOL aircraft demonstrating their impressive short-take-off-and-landing capabilities.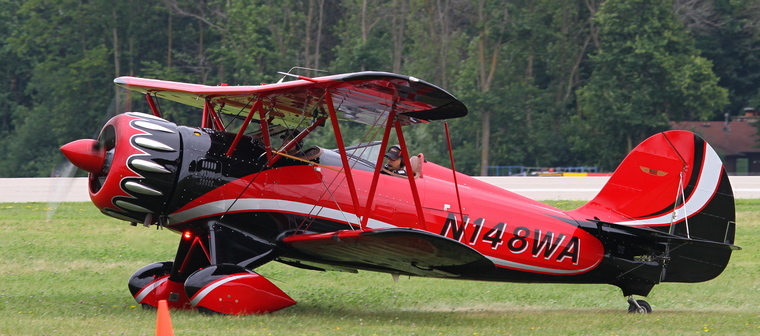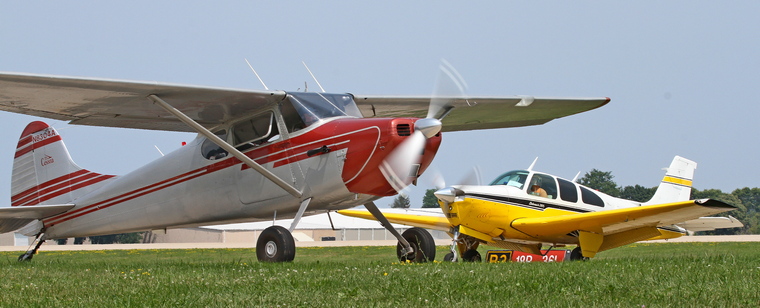 Throughout the week, the Twilight Flight Fest evening program included appearances from the Red Bull Air Force skydivers and 3D RC demonstrations. The Red Bull Air Force showcased what's possible with parachutes and wingsuits, while the 3D RC demonstrations included an opportunity to see these large-scale RC aircraft show off their spectacular manoeuvres, including light laser, and smoke effects.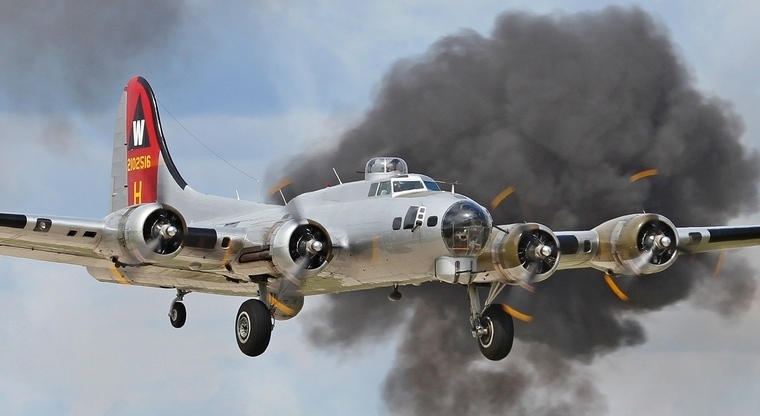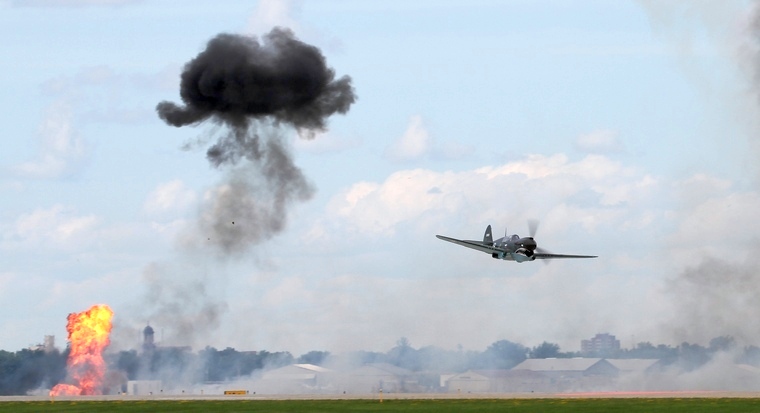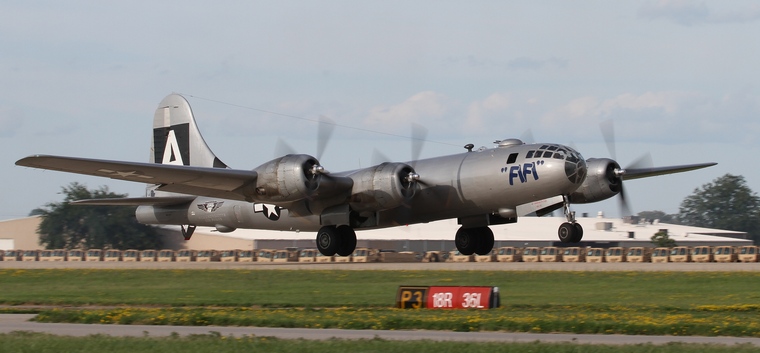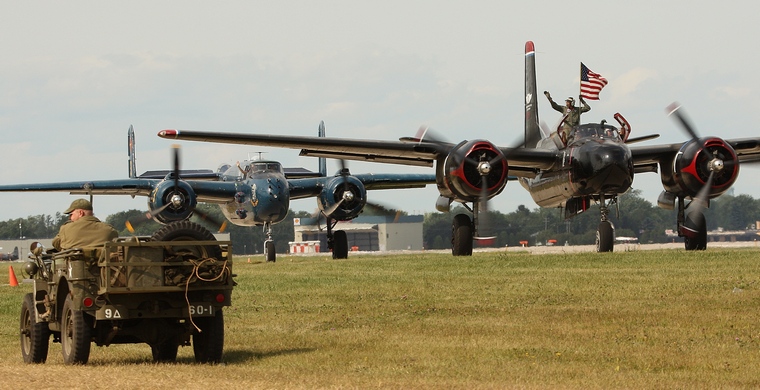 On Wednesday morning, the US National Weather Service predicted a significant storm threat beginning at approximately 20.00. These predictions are usually extremely accurate and when broadcast over the public address system, one should make way to a shelter as soon as possible. The predictions resulted in the closing of most operations for starting at 17h00 on July 28. Because of the cancellation of all evening activities on Wednesday, the night air show was rescheduled for Thursday evening. The very efficient free public transportation systems at the event grounds were allowed to continue to operate as long as weather conditions allowed. As part of its arrangement to assist camping on the AirVenture grounds, those who wish to take shelter because of weather conditions, EAA was ready to run buses to transport people to shelter. Buses were scheduled to run continual routes and pick up people at shower buildings and Red One Markets.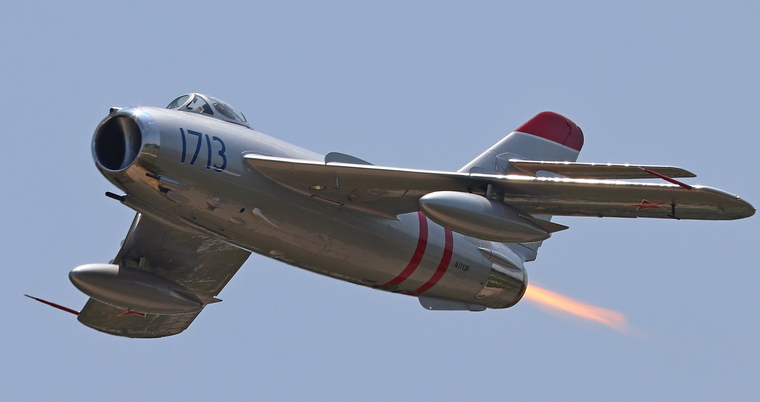 Fortunately, the storm moved south through Fond du Lac County first and then into Dodge and Washington counties. It then moved into Jefferson, Walworth and Waukesha counties before heading east to Milwaukee, Racine and Kenosha. At the time the warning came, there were about 40,000 campers at Camp Scholler and 8,000 aircraft at Wittman Airfield.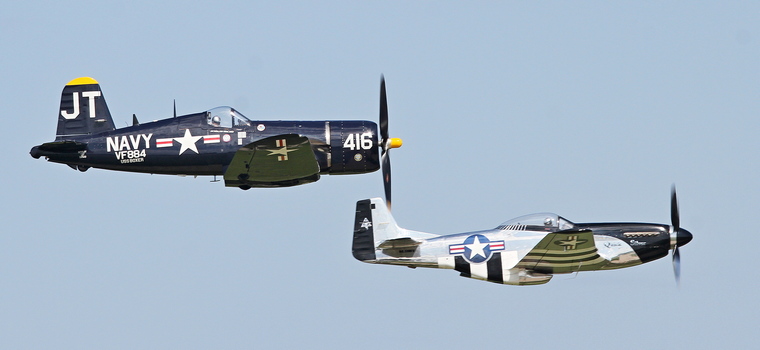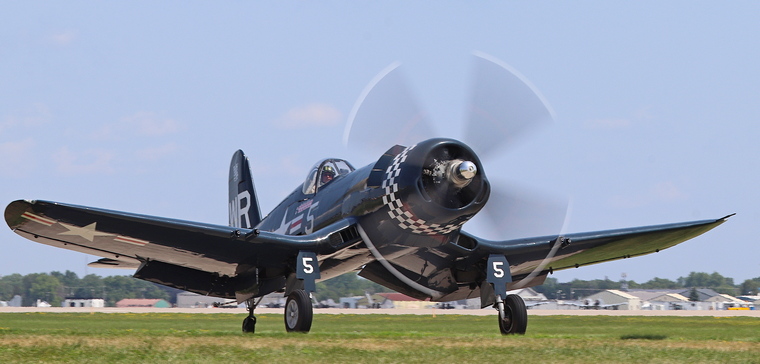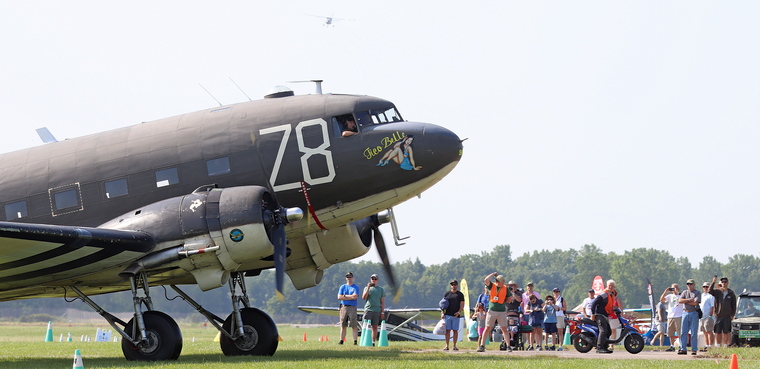 The famous Fagen Fighters WWII Museum brought its newly restored Grumman F6F-5 Hellcat, as well as its Lockheed P-38L Lightning and Curtiss P-40K Warhawk. Other rare warbirds that attended were a Grumman F4F-3 Wildcat (Lewis Air Legends), Supermarine Spitfire (Dakota Territory Air Museum), and Hawker Hurricane (Dakota Territory Air Museum) and a Douglas SBD Dauntless recovered from Lake Michigan was on display on a trailer in the warbirds area.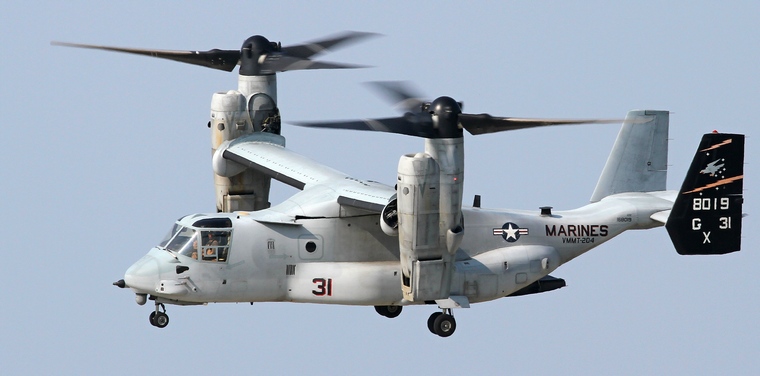 The U.S. Air Force Special Operations Command (AFSOC) brought a wide spectrum of its aircraft designed for unique missions as part of its presence to AirVenture. AFSOC is comprised of highly trained, rapidly deployable Airmen, who specialize in unique skills such as parachuting, scuba diving, rappelling, motorcycling, survival skills and more. The AFSOC aircraft were on ground display with several participating in air show flying demonstrations.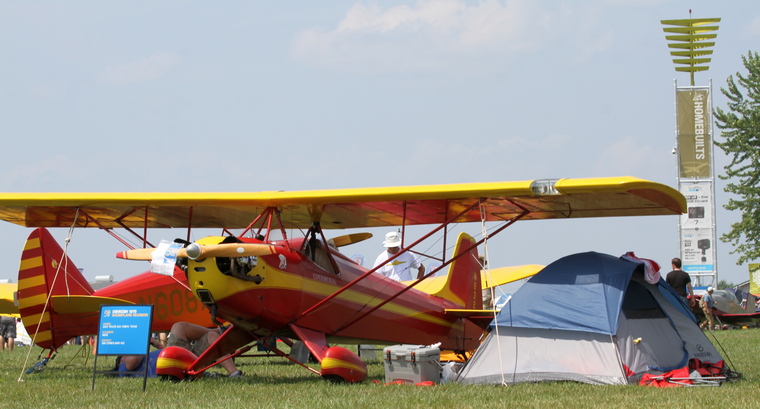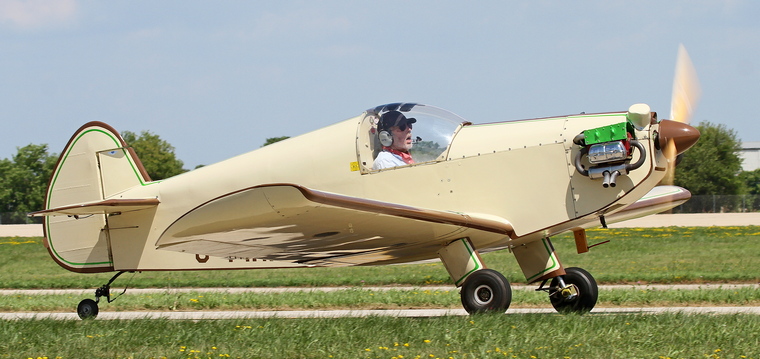 As per usual, some of the world's top air show performers were at EAA AirVenture as part of the afternoon and night air show line-ups. AirVenture 2021 featured nine air shows over the seven days, including night displays on the Wednesday and Saturday evenings on July 28 and 31 respectively.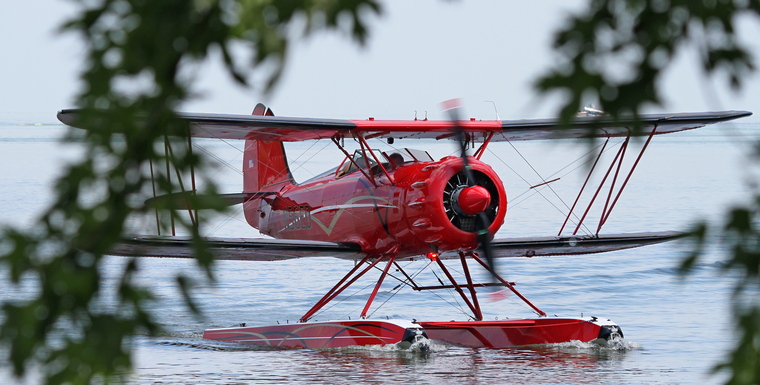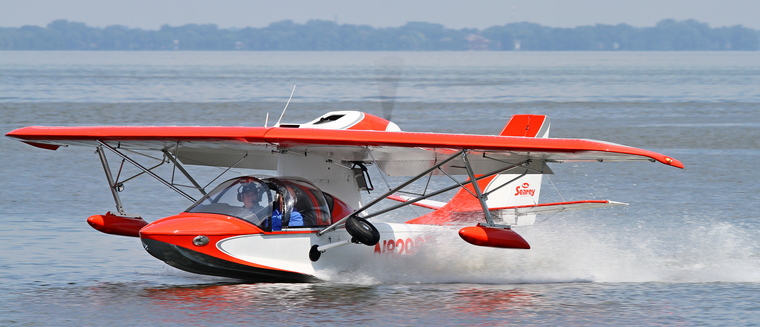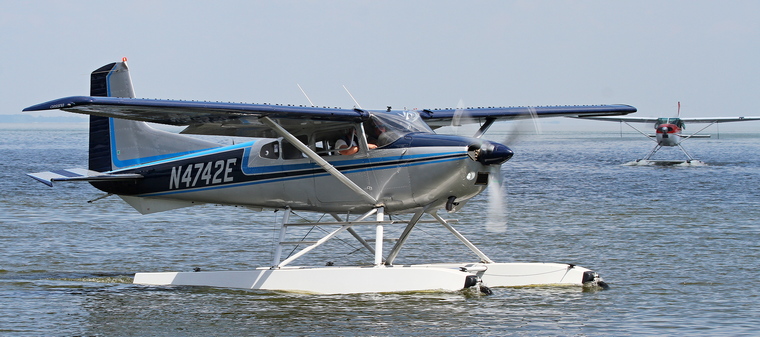 AirVenture is significant to the companies that serve a broad spectrum of the aviation community. It enables EAA's commercial partners to have an unmatched forum to present their innovative products and services to the most dedicated community of aviation consumers from all around the world. As has now become the norm, more than 800 companies again had a presence at AirVenture 2021.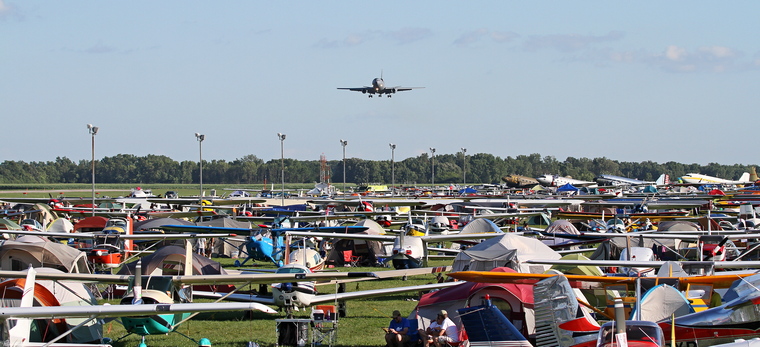 A number of South African companies were, like in previous years, back at Oshkosh. Amongst them was Sling Aircraft who unfortunately because of Covid, had to cancel their planned flight of the new high wing from SA to AirVenture. However, they were again well represented at Sling Island in the Home Builders section.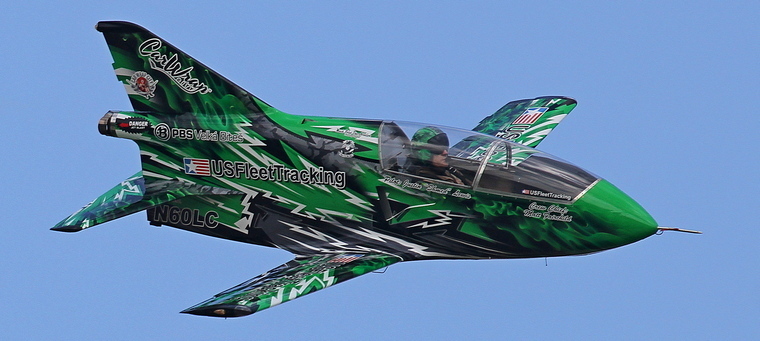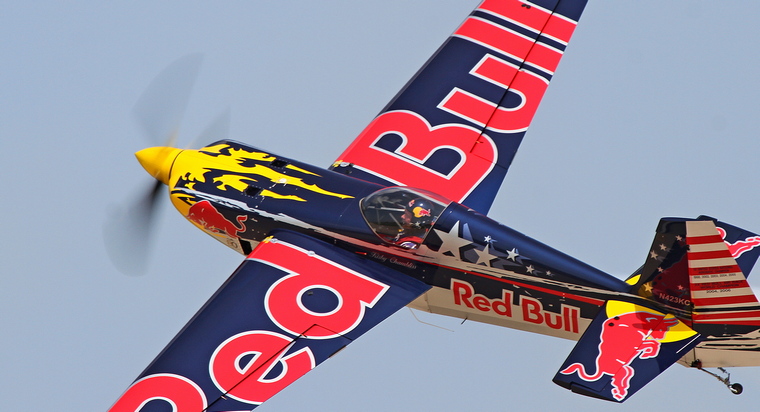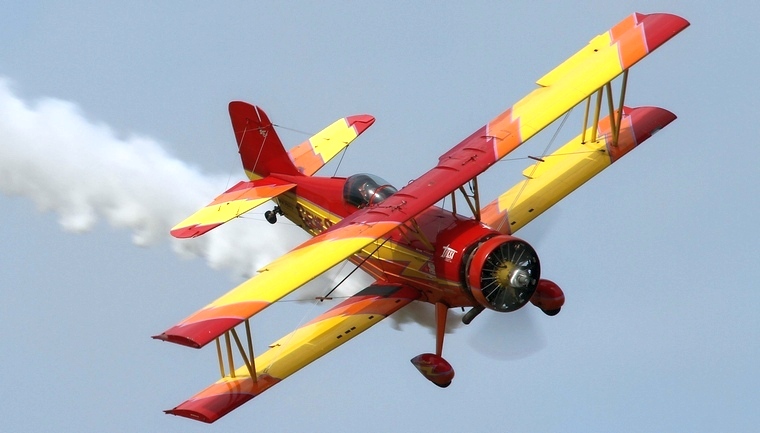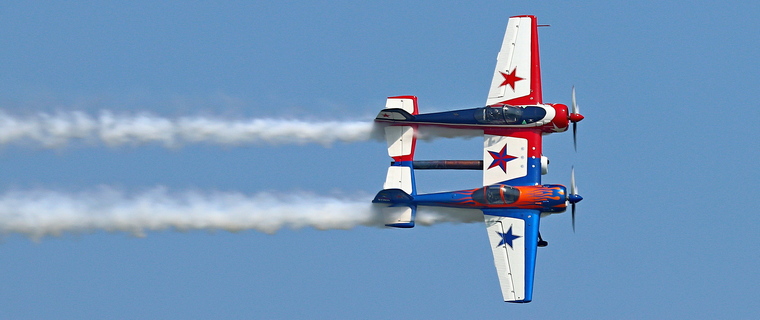 Long time AirVenture exhibitors ADEPT was back and has promised that they will soon have some ground-breaking reveals. So was Rainbow Skyreach, manufacturers of the Bushcat, marketed in the USA by BushCat USA - AeroSport, LLC. Vans Aircraft whose exhibit is just down the road from Sling Island, announced that their newest project, the RV-15 will be a high-wing, backcountry-capable, total-performance, all-metal airplane. Currently, there aren't any more details available on the highly anticipated aircraft. According to Vans, the design is fairly well along its way.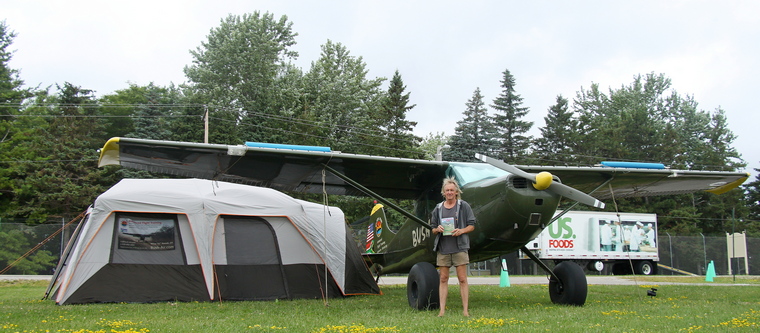 Another reason why visitors flock to Osh is the large number of forums that teaches one anything from aircraft covering to bush flying that is held during the seven days. One of these forums that has proved extremely popular is the bush or outback flying forum presented by CC Pocock, who is now a US resident.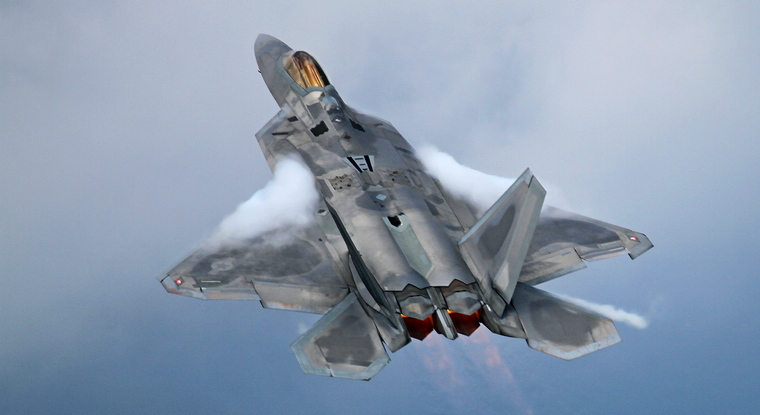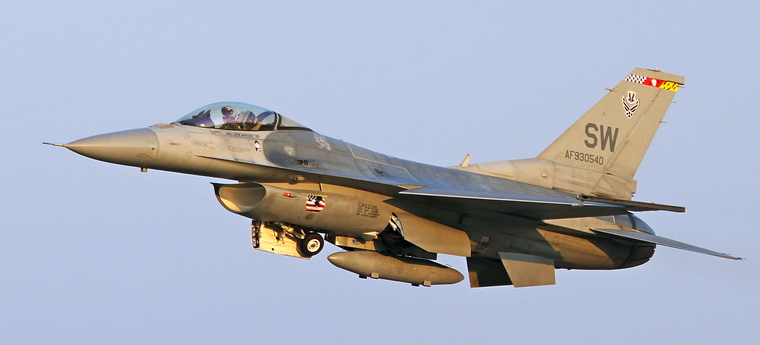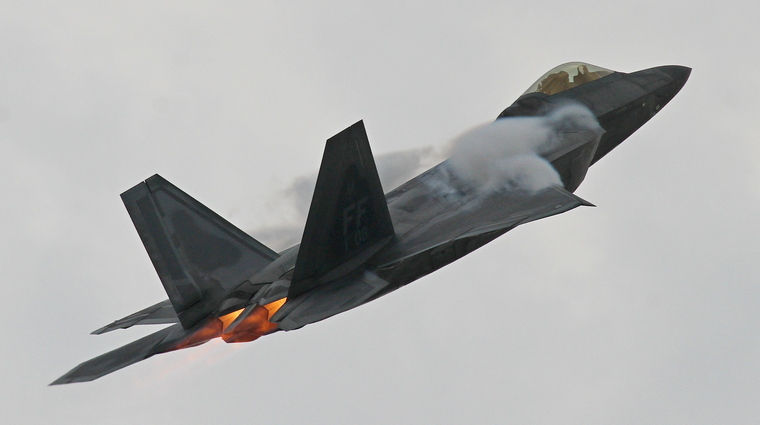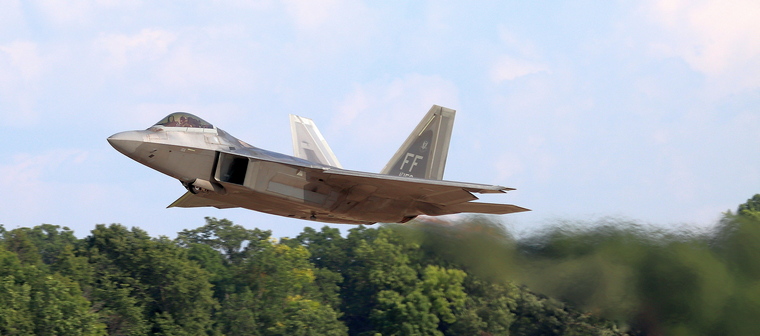 For those interested in facts and figures here are some about the EAA. Total income in FY 2021, was $28.8 million, down $24.4 million or 48.9 percent from FY 2020 mainly because of the cancellation of AirVenture 2020. However, investments increased to $8.8 million, up $6.8 million or 340 percent, from FY 2020. EAA's operating income was $20 million in FY 2021, down $31.2 million or 60.9 percent, from FY 2020, mainly due to no income from AirVenture. Donations were also down $2.2 million in FY 2021, to $9 million. At fiscal year-end, EAA had total assets of more than $116.5 million.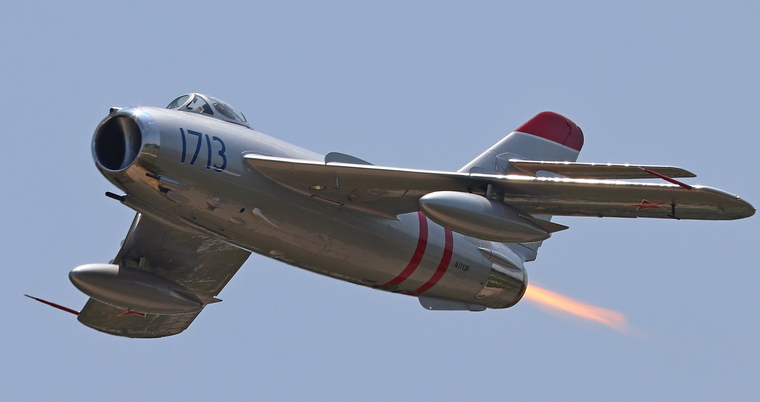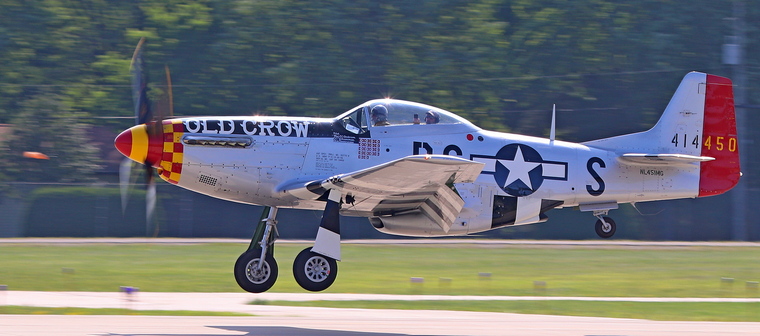 EAA membership decreased by 6.9 percent to 224,975 during FY 2021, likely due to the loss of renewals and new joins that occur during AirVenture. However, recent membership campaigns have recovered a considerable portion of that loss and total membership is now at 240,651.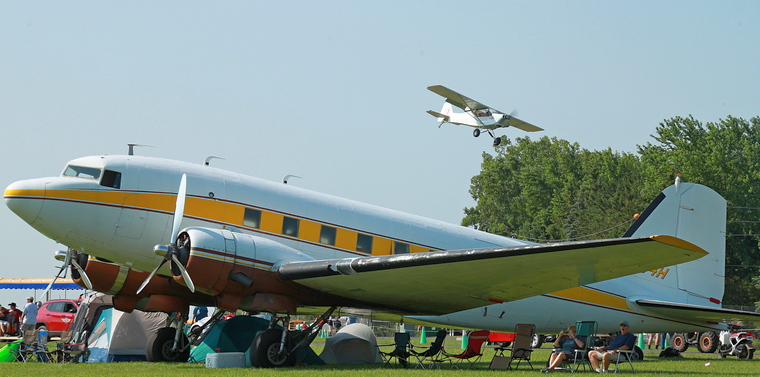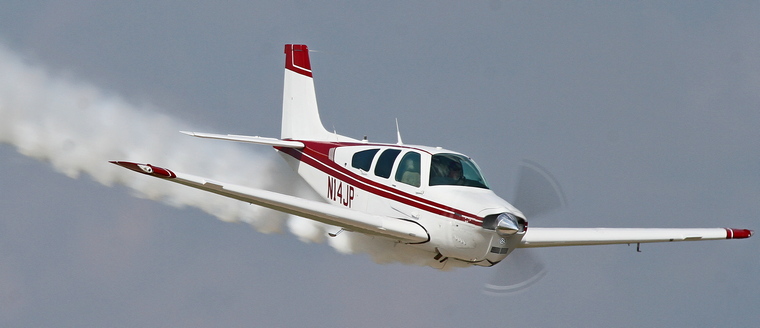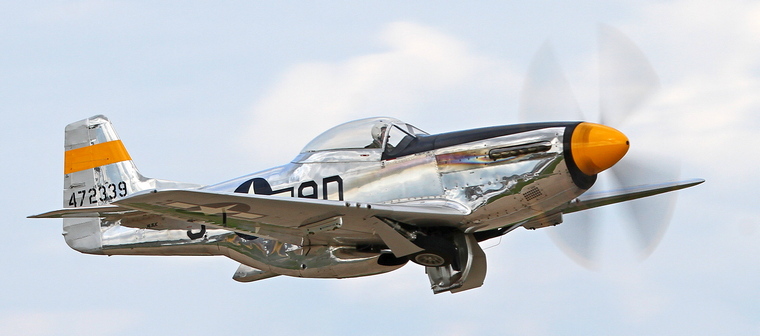 Photos used in this report have been sourced from our library solely as a reminder of what we missed and to illustrate to those that have never been what they will see and experience if they do go.
If all goes to plan, Juri and I will not be at AirVenture 2022 but
Pilot's Post
will be represented by Jaco Pitout, our Gauteng correspondent. It will be Jaco's first visit to the world's greatest aviation event and he will bring a fresh perspective to our daily reports. Juri and I will again be doing the UK shows, with a repeat visit to the Mach loop and maybe add a surprise or two to our international month.
PLEASE GO TO
www.youtube.com/channel/UCCuRVZAGodT6sztTeXBGeMw
and subscribe to our YouTube channel