Compiled by Willie Bodenstein




Google Banner Ad



CHANGES TO SAA REGIONAL FLIGHT SCHEDULE FOR DECEMBER AND JANUARY





After careful appraisal of ongoing passenger volumes, SAA is adjusting its flight schedules to accommodate passenger requirements.

The airline will remove from the schedule its daily return service to Maputo in Mozambique. The decision is effective from December 1, 2021, and passengers holding tickets will be re-accommodated on codeshare flights operated by Mozambique Airlines, TM (LAM).
SAA's Interim Executive Commercial Simon Newton-Smith says, "When SAA resumed operations at the end of September, we committed to constantly monitor passenger volumes and revenue on all routes. Demand on this service has not met expectations and for the time being, this change is in line with our strategy of being transparent in management and fiscally responsible."
Newton-Smith says take up on two new routes, to Lagos in Nigeria and Mauritius has been encouraging and new services to other destinations are also being considered for 2022.
Other adjustments being made for the December '21 and January '22 holiday season, are due to the expected slow demand on traditionally non-travel days, as customers spend their time with families and friends.
Return flights to Accra in Ghana have been adjusted and will not operate on 25th December 2021 and 1st January 2022. Kinshasa, DRC flights have been adjusted and will not operate on 24th December 2021 and 31st December 2021. All Passengers will be re-accommodated on the next available SAA flights.
SAA had operated 4 days a week to Lusaka since September to 30 November 2021. SAA had scheduled additional frequencies to fly 7 days a week from December, however further adjustments were made to the schedule to operate 5 days a week from the 1st of December. Affected passengers will be re-accommodated on the next available SAA flights.
Notes Newton-Smith added "No airline likes to cancel flights but we are committed to success and sustainability of our airline, while we meet our valued customer requirements. We apologise to customers for any inconvenience and full assistance will be provided to all customers holding an SAA ticket on flights that are withdrawn from the schedule.
Customers should refer to issuing offices for assistance." Passengers who no longer wish to travel may cancel their booking and are able to receive a full refund (inclusive of taxes) or opt for the credit voucher which will be offered to the original form of payment.
KEYS TO SAFELY RESTORING GLOBAL MOBILITY: SIMPLICITY, PREDICTABILITY, PRACTICALITY




The International Air Transport Association (IATA) called on governments to adopt simple, predictable and practical measures to safely and efficiently facilitate the ramping-up of international travel as borders re-open. Specifically, IATA urged governments to focus on three key areas:

1. Simplified health protocols
2. Digital solutions to process health credentials
3. COVID-19 measures proportionate to risk levels with a continuous review process
The industry's vision to address the complexity is outlined in the newly released policy paper: From Restart to Recovery: A Blueprint for Simplifying Travel.
"As governments are establishing processes to re-open borders, in line with what they agreed in the Ministerial Declaration of the ICAO High Level Conference of COVID-19, the Blueprint will help them with good practices and practical considerations. Over the next months, we need to move from individual border openings to the restoration of a global air transport network that can reconnect communities and facilitate economic recovery," said Conrad Clifford, IATA's Deputy Director General.
Google Block Ad
The Blueprint aims to facilitate the efficient ramping-up of global connectivity. "We must have processes in place to safely and efficiently manage the ramping-up of international travel as borders re-open. With over 18 months of pandemic operational experience and traveller feedback, we know that a laser-focus on simplicity, predictability and practicality is essential. That is not the reality today. Over 100,000 COVID-19 related measures have been implemented by governments worldwide. This complexity is a barrier to global mobility that is exacerbated by the inconsistencies these measures have created among states," said Clifford.
Focus Areas
Simplified health protocols: The aim must be protocols that are simple, consistent and predictable.
Key recommendations include:
Remove all travel barriers (including quarantine and testing) for those fully vaccinated with a WHO-approved vaccine and enable quarantine-free travel for non-vaccinated travellers with a negative pre-departure antigen test result.
These recommendations are supported by public opinion research of travellers which revealed that:
80% believe that vaccinated people should be able to travel freely
81% believe that testing before travel is an acceptable alternative to vaccination
73% believe that quarantine is not necessary for vaccinated travellers
Digital solutions to process heath credentials: The management of travel health credentials (vaccination or testing certificates) should be handled digitally and enable travellers to complete the process in advance so that they can arrive at the airport ready-to-travel. This will facilitate automated check-in processes, reducing airport queuing and wait-times.
Key recommendations include:
A digital health credential to record health status. The European Digital Covid Certificate (EU DCC) is widely accepted and a recognized good practice, with 22 non-EU States currently having equivalence agreements with the EU DCC.
A digital web portal or application through which passengers can present their travel health credentials directly to the respective governments for verification. Aruba's web portal and Canada's ArriveCAN app are good examples from which other countries can learn while Australia's Digital Passenger Declaration platform promises to further streamline processes. IATA Travel Pass can integrate with government solutions to assist with data collection and verification. IATA is working with several governments, including Australia to ensure a united process,
A web-platform providing clear explanations of entry requirements tailored to the individual passenger's residence status, health status, travel history and any other required variable. The Swiss Federal Office of Public Health Travelcheck portal is a good practice example for its ease of use, simplicity and clarity.
These recommendations are supported by public opinion research of travellers which revealed that:
88% support standardized vaccination and testing certificates
87% will share personal health data via an app if it saves processing time
73% found understanding the rules and paperwork applicable to their travel to be a real challenge (those who travelled since June 2020).
Google Banner Ad
COVID-19 measures proportionate to risk levels with a continuous review process: Industry and governments have amassed crucial and vast experience with COVID-19. This will continue as COVID-19 becomes endemic. COVID-19 measures must reflect this growing knowledge, changing risk levels and societal tolerance. While day-to-day modifications to measures would introduce unpredictability that would be counter-productive, regular reviews and adjustments are needed.
Key recommendations include:
Publish the risk assessments that are used to make decisions relating to international travel to enhance predictability for both consumers and industry. Review existing processes and apply "sunset" clauses to public health measures to ensure that they are only in place for as long as needed and develop a roadmap for restoring aviation connectivity in the post-pandemic phase.
These recommendations are supported by public opinion research of travellers which revealed that:
87% believe that governments must find the right balance in managing COVID-19 and enabling an economic recovery
86% believe that borders should be progressively re-opened as vaccination coverage and testing capacity grow
85% believe that mask-wearing on board is critical in the pandemic, but 62% believe that the requirement should be removed as soon as possible.
Moving Forward
"Travel is important. Pre-pandemic some 88 million livelihoods were directly connected to aviation. The inability to travel freely by air has impacted the quality of life for billions of people. We know that travellers feel confident with the implementation of the COVID-19 safety measures. But they have clearly told us that the current travel experience needs to improve with better information, simpler processing and digital solutions. The Ministerial Declaration of the ICAO HLCC aligns with those of the G20 and the G7 in confirming that governments want to restore the social and economic benefits of global mobility. For that, industry and government must work together with a common vision of processes that are convenient for travellers, effective for governments and practical for the industry," said Clifford.
AIR TANZANIA ANNOUNCES ORDER FOR BOEING FREIGHTER AND PASSENGER JETS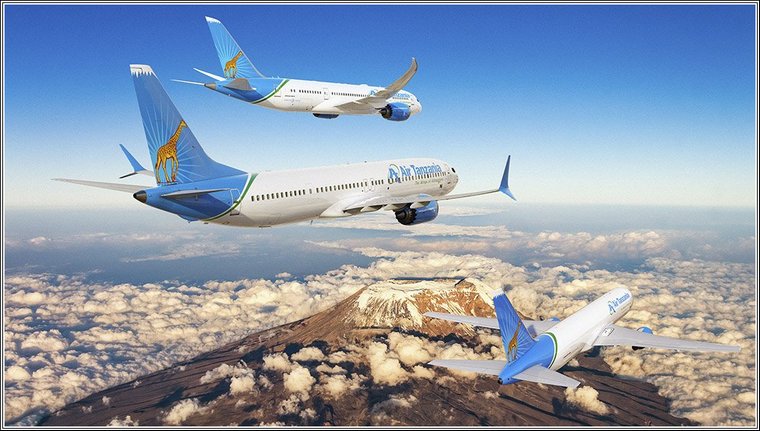 Boeing [NYSE: BA] and the United Republic of Tanzania has announced an order for a 787-8 Dreamliner, a 767-300 Freighter and two 737 MAX jets at the 2021 Dubai Airshow.

The airplanes will be operated by Air Tanzania, the national flag-carrier of Tanzania, to expand service from the country to new markets across Africa, Asia and Europe. The order, valued at more than $726 million at list prices, was previously unidentified on the Boeing Orders and Deliveries website.
"Our flagship 787 Dreamliner is popular with our passengers, providing unrivalled in-flight comfort and ultra-efficiency for our long-haul growth," said Air Tanzania CEO Ladislaus Matindi." Adding to our 787 fleet, the introduction of the 737 MAX and 767 Freighter will give Air Tanzania exceptional capability and flexibility to meet passenger and cargo demand within Africa and beyond."
Based in Dar es Salaam, the carrier will expand its current fleet of 787s, leveraging the new 737s for its regional network and the 767 Freighter to capitalize on Africa's burgeoning cargo demand.
"Africa is the third fastest-growing region worldwide for air travel and Air Tanzania is well-positioned to increase connectivity and expand tourism throughout Tanzania," said Ihssane Mounir, Boeing senior vice president of Commercial Sales & Marketing. "We are honoured that Air Tanzania has chosen Boeing for its fleet modernization program by adding an additional 787 and introducing the 737 MAX and the 767 Freighter into its expanding network."
Boeing's 2021 Commercial Market Outlook forecasts that, by 2040, Africa's airlines will require 1,030 new airplanes valued at $160 billion and aftermarket services such as manufacturing and repair worth $235 billion, supporting growth in air travel and economies across the continent.
Boeing's heritage in Africa began more than 75 years ago, with more than 60 airline customers operating as many as 500 Boeing airplanes. Boeing has an office in Johannesburg, South Africa, in addition to field service representatives supporting commercial customers across the continent.
FOUR HUNDRED AND EIGHT AIRCRAFT INCLUDING THE FIRST A350F ORDERED AT THE DUBAI AIRSHOW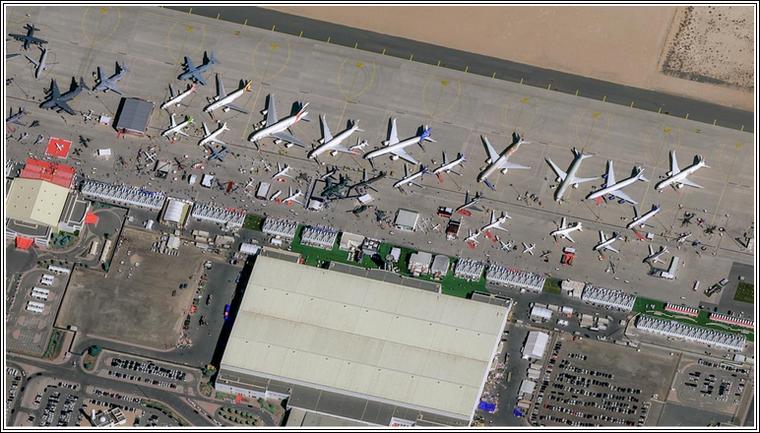 In the first major airshow since the COVID-19 pandemic struck two years ago, customers demonstrated confidence in the recovery of the aviation sector and also in Airbus by placing orders and commitments totalling 408 aircraft (269 firm orders and 139 commitments). The agreements covered the full range of commercial aircraft families, including a first commitment for the A350F freighter derivative.

At a pre-show event, Airbus launched its latest global market forecast outlining progressively shifting demand from fleet growth to accelerated retirement of older, less fuel-efficient aircraft resulting in a need for some 39,000 new-build passenger and freighter aircraft. Of these,15,250 aircraft (around 40%) are for replacements.
With the UAE Universal expo showcasing themes on Mobility, Sustainability and Opportunity, on the eve of the airshow, Airbus lit up the Burj Khalifa, the tallest building in the world, by displaying its company purpose - "Pioneering sustainable aerospace for a safe and united world" - on the façade of this iconic Dubai landmark at a time when connecting with people and cultures has never been more important.
On the opening day of the show, Indigo Partners portfolio airlines placed a firm order for 255 A321neo Family aircraft, including 29 XLR. The order breakdown is as follows: Wizz Air 102 aircraft (75 A321neo + 27 A321XLR); Frontier 91 aircraft (A321neo); Volaris 39 aircraft (A321neo); JetSMART 23 aircraft (21 A321neo + 2 A321XLR).
The second day saw Air Lease Corporation sign a commitment for 111 aircraft covering the full range of aircraft families including the new A350 Freighter (25 A220-300s, 55 A321neos, 20 A321XLRs, four A330neos, seven A350Fs). Along with the orders, ALC and Airbus announced the first ever joint ESG scheme in aircraft procurement - a joint Sustainability Fund - to foster industry decarbonisation solutions.
On the third day, Jazeera Airways committed to 28 A321neos and Nigeria's Ibom Air became a new Airbus customer with a firm order for 10 A220s.
On the defence side, Airbus sold two additional Airbus A330 Multi Role Tanker Transport (MRTT) to the United Arab Emirates Air Force and Air Defence and secured a new export order for two A400M new generation airlifters from the Indonesian Ministry of Defence.
At the show, Airbus also highlighted its ambition to play a leading role in developing innovative and sustainable solutions for urban air mobility, leveraging partnerships and technologies to bring a product to the market by 2025.
AKASA AIR ORDERS 72 FUEL-EFFICIENT 737 MAX AIRPLANES TO LAUNCH SERVICE IN FAST-GROWING INDIAN MARKET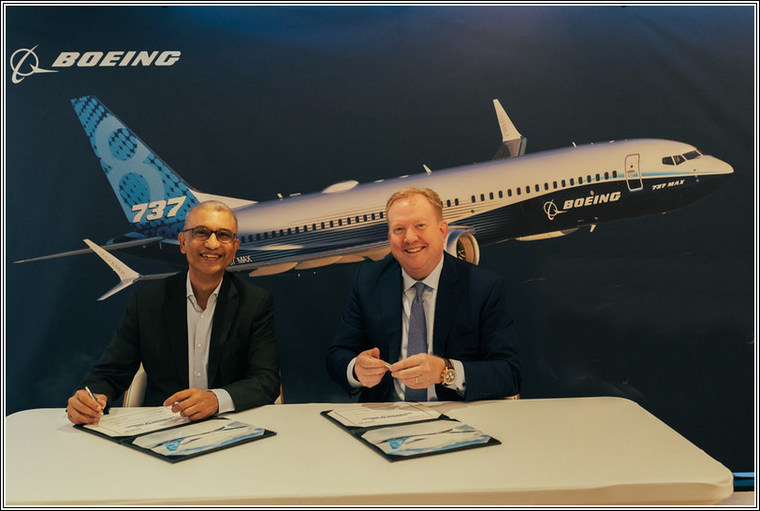 Boeing [NYSE:BA] and Akasa Air, a brand of SNV Aviation, has announced that the new Indian carrier has ordered (72) 737 MAX airplanes to build its fleet. Valued at nearly $9 billion at list prices, the order is a key endorsement of the 737 family's capability to serve the rapidly growing Indian market.

At the 2021 Dubai Airshow, Akasa Air CEO Vinay Dube said, "We are delighted to partner with Boeing for our first airplane order and thank them for their trust and confidence in Akasa Air's business plan and leadership team. We believe that the new 737 MAX airplane will support our aim of running not just a cost-efficient, reliable and affordable airline, but also an environmentally friendly company with the youngest and greenest fleet in the Indian skies."
Dube added, "India is one of the fastest-growing aviation markets in the world with an unparalleled potential. We are already witnessing a strong recovery in air travel and we see decades of growth ahead of us. Akasa Air's core purpose is to help power India's growth engine and democratize air travel by creating an inclusive environment for all Indians regardless of their socio-economic or cultural backgrounds."
Akasa Air's order includes two variants from the 737 MAX family, the 737-8 and the high-capacity 737-8-200. Providing the lowest seat-mile costs for a single-aisle airplane as well as high dispatch reliability and an enhanced passenger experience, the 737 MAX will ensure Akasa Air has a competitive edge in its dynamic home market.
Google Banner Ad
"We are honoured that Akasa Air, an innovative airline focused on customer experience and environmental sustainability, has placed its trust in the 737 family to drive affordable passenger service in one of the world's fastest-growing aviation regions," said Stan Deal, Boeing Commercial Airplanes president and CEO. "The 737 MAX, with its optimized performance, flexibility and capability, is the perfect airplane to establish Akasa Air in the Indian market and ensure it effectively grows its network."
The 737 MAX family delivers superior efficiency, flexibility and reliability while reducing fuel use and carbon emissions by at least 14% compared to airplanes it replaces. India's growing economy and expanding middle class will fuel strong demand for commercial flights, driving the need for more than 2,200 new airplanes in South Asia valued at nearly $320 billion over the next 20 years, according to Boeing's 2021 Commercial Market Outlook forecast.
AIRBUS AND CMA CGM GROUP SIGN FOR FOUR A350F FREIGHTERS





CMA CGM Group, a world-leader in shipping and logistics, and Airbus have signed a binding Memorandum of Understanding (MoU) for the purchase of four A350F freighter aircraft. The order, which is subject to finalisation in the coming weeks, will lift CMA CGM's total Airbus fleet to nine aircraft, including five A330-200F.

The aircraft will be operated by CMA CGM AIR CARGO, the recently launched air cargo activity of CMA CGM Group.
"We are proud to welcome CMA CGM AIR CARGO in the group of operators for the A350F and we are equally pleased to support the company's future strategic development," said Christian Scherer, Airbus Chief Commercial Officer and Head of Airbus International." The A350F will fit seamlessly into the carrier's existing fleet of Airbus freighters. Thanks to its composite airframe and latest technology engines, it will bring unbeatable efficiency in terms of fuel burn, economics and CO2 emissions, empowering the long-term sustainable growth of the group." Scherer adds: "Having an early endorsement by such an international cargo powerhouse as the CMA CGM Group is very gratifying."
The A350F is based on the world's most modern long-range leader, the A350. The aircraft features a large main deck cargo door and a fuselage length optimised for cargo operations. Over 70% of the airframe is made of advanced materials resulting in a 30t lighter take-off weight, generating an at least 20% lower fuel burn over its current closest competitor. With a 109t payload capability (+3t payload/ 11% more volume than its competition), the A350F serves all cargo markets (Express, general cargo, special cargo…) and is in the large freighter category the only new generation freighter aircraft ready for the enhanced 2027 ICAO CO2 emissions standards.
About CMA CGM:
The CMA CGM Group, a world leader in shipping and logistics headed up by Rodolphe Saadé, serves over 420 ports on 5 continents around the world. The Group's fleet of 545 ships carried close to 21 million TEU (Twenty-foot Equivalent Unit) containers in 2020. With its CEVA Logistics subsidiary, a world-class logistics provider carrying 400,000 tons of air freight and 2.8 million tons of overland freight every year and CMA CGM Air Cargo, the CMA CGM Group is constantly innovating to offer its customers end-to-end services delivering performance gains through ground-breaking shipping, overland, air freight and logistics solutions.
FLYING KANGAROO RECONNECTING VICTORIA WITH THE WORLD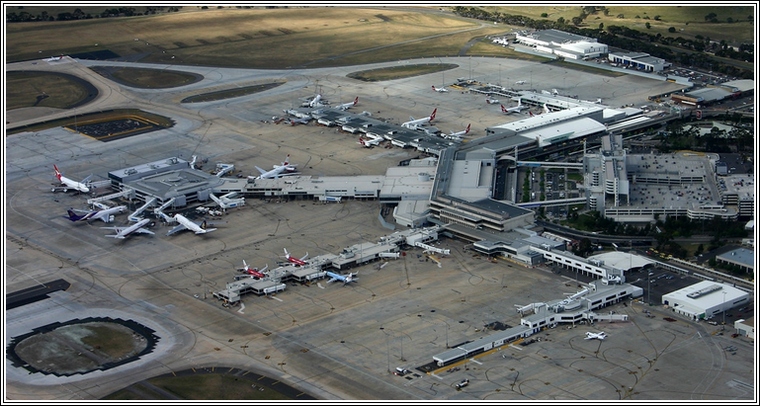 Qantas international flights from Melbourne have taken off again for the first time in 20 months after the pandemic grounded international travel. The national carrier will recommence scheduled international flights from Melbourne. Qantas has also announced it will launch a brand-new international route from Melbourne to Delhi from 22 December 2021, connecting Victoria to the Indian capital on a Qantas-operated flight for the first time in the airline's history.

The new Melbourne-Delhi flight will operate four times a week, year-round. Same day connections will also be available from Brisbane, Sydney and Canberra. Flights from Melbourne to Delhi will initially operate via Adelaide, while flights from Delhi to Melbourne will operate nonstop.
This follows the recent announcement of flights from Sydney to Delhi, which start next month. When this route went on sale, Qantas saw the fastest booking surge for flights leaving Australia since the airline announced its international restart plans in August.
Victorians have done it tougher than most over the past two years and we think many will see the restart of Qantas international flights as another important step towards life getting back to normal," Mr Joyce said.
Qantas will also relaunch flights from Melbourne-London on 27 November 2021 and Melbourne-Los Angeles from 19 December 2021.
While the international travel experience will largely be the same as pre-COVID, some things will look and feel a little different, particularly in the short-term. Qantas has rolled out a range of new initiatives including a customised digital travel guide designed to help passengers navigate travel requirements before they leave home.
The launch of international flights coincides with the opening of the Qantas First Lounge at Melbourne International Airport. Qantas has reopened nearly all of its 35 Domestic Qantas Club and Business lounges across Australia. It will open the remainder of its international lounges in Australia and overseas in line with the broader reopening of international borders and recommencement of the rest of Qantas' international network.
The International Business Lounge in Singapore is on track to open early December. In the interim, eligible guests can use the SATS Lounge in Singapore.
All passengers on Qantas international flights are required to be fully vaccinated, unless they are under 12 years old, are 12-17-year-olds travelling to Australia with their family or guardian or have an exemption.
Initial international flights are limited to Australian citizens, permanent residents and their immediate families and parents in line with Federal Government requirements. It's expected this will be extended to other travellers in the coming months.
International flights are subject to Government and Regulatory approval.
QATAR AIRWAYS AND CHINA SOUTHERN AIRLINES BUILD UPON EXISTING CODESHARE AGREEMENT WITH SIGNING OF NEW MEMORANDUM OF UNDERSTANDING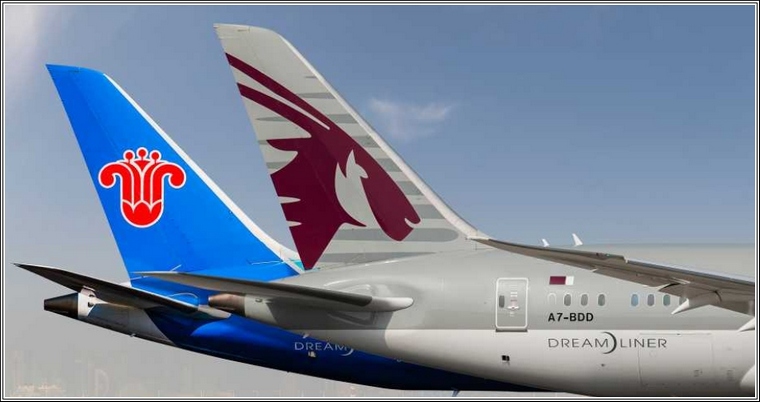 Qatar Airways and China Southern Airlines have signed a joint Memorandum of Understanding (MoU) confirming a significant expansion of the existing codeshare agreement and outlining greater benefits and more seamless connections between the two partners.

The comprehensive MoU signed by Qatar Airways Group Chief Executive, His Excellency Mr. Akbar Al Baker and China Southern Airlines President and Chief Executive Officer, Mr. Han Wensheng, builds upon the existing codeshare agreement signed by the airlines in December 2019.
As part of the collaboration, all future flights between China and Qatar will be codeshared, allowing passengers to benefit from seamless connecting flights. The closer cooperation will also provide greater customer benefits, including increased joint lounge access and a soon-to-be confirmed enhanced frequent flyer agreement. In addition, the two airlines agreed to support the growth of Beijing's Daxing International Airport, into a leading international aviation hub for both passenger and cargo services.
Qatar Airways Group Chief Executive, Mr. Akbar Al Baker, said: "This is the latest chapter in the story of our airline's continued journey to provide an enhanced and seamless customer experience for passengers travelling via our two hubs of Hamad International Airport, the new Beijing Daxing International Airport and Guangzhou Baiyun International Airport.
"We look forward to further deepening our close relationship with China Southern Airlines and explore even greater opportunities for collaboration in the years to come. Passengers can travel with confidence knowing that Qatar Airways is committed to safety and our 5-stars COVID-19 safety rating is a testament to our efforts to remain the leading global airline for biosafety."
China Southern Airlines President and Chief Executive Officer, Mr. Han Wensheng, said: "As the largest airline in China, the strategic cooperation between China Southern Airlines and Qatar Airways will provide global passengers with expanded travel options and an exceptional travel experience. Our collaboration will also lay a solid foundation for the development of Beijing Daxing International Airport into a global aviation hub."
The expanded codeshare agreement is the latest development in Qatar Airways programme of strengthening strategic cooperation between key global airlines, which has already seen partnerships with American Airlines, JetBlue, Alaska Airlines, Oman Air and RwandaAir in recent months.
The enhanced cooperation between Qatar Airways and China Southern Airlines is subject to the lifting of current travel restrictions as a result of the COVID-19 pandemic and regulatory approvals.
The national carrier of the State of Qatar continues to rebuild its network, which currently stands at over 140 destinations. With more frequencies being added to key hubs, Qatar Airways offers unrivalled connectivity to passengers, making it easy for them to change their travel dates or destination as required.
Google Block Ad
A multiple award-winning airline, Qatar Airways was named 'World's Best Airline' in the latest World Airline Awards, managed by the international air transport rating organisation Skytrax. The airline's hub, HIA, was recently recognised as the 'Best Airport in the World 2021', ranking at number one in the Skytrax World Airport Awards 2021.
In addition to this, Qatar Airways has become the first global airline in the world to achieve the prestigious 5-Star COVID-19 Airline Safety Rating by Skytrax. This follows the success of Hamad International Airport (HIA) as the first airport in the Middle East and Asia to be awarded a Skytrax 5-Star COVID-19 Airport Safety Rating.
SWISS REPORTS MARGINALLY POSITIVE EARNINGS FOR THIRD-QUARTER PERIOD





With the seasonally stronger summer months and sizeable cost savings, SWISS was able to achieve a marginally positive Adjusted EBIT of CHF 6.7 million for the third quarter of 2021 (Q3 2020: CHF -148.3 million). Total revenue was up 91.0 per cent on the prior-year period at CHF 707.8 million (Q3 2020: CHF 370.5 million). The operating loss for the first nine months of 2021 was reduced accordingly, to CHF -391 million (Q1-3 2020: CHF -415 million). The actions initiated under the current restructuring are having their effect.

The coronavirus pandemic depressed earnings at Swiss International Air Lines (SWISS) in the first nine months of 2021, too. Following an extremely challenging winter period, however, spring 2021 saw a slight recovery in demand which then strengthened in the summer months.
SWISS witnessed a significant increase in air travel in the traditionally strongest third-quarter period which, thanks to a certain catch-up effect, extended into autumn. The company was able to raise its summer-months capacities to 55 per cent of their pre-crisis levels, and was able to sell the additional production, too. Third-quarter revenue rose by 91.0 per cent as a result, from the CHF 370.5 million of 2020 to CHF 707.8 million. The combination of higher production and sizeable cost reductions enabled SWISS to report an Adjusted EBIT of CHF 6.7 million for the period (Q3 2020: CHF -148.3 million). The positive third-quarter earnings reduced the operating loss for the first nine months of the year to CHF -391 million (Q1-3 2020: CHF -415 million), even though the first two months of 2020 had been unaffected by the coming crisis. Total revenue for the first nine months of 2021 was some 11 per cent down on the prior-year period at CHF 1.37 billion (Q1-3 2020: CHF 1.54 billion). Very strong demand on the cargo front continued to partially make up for the weak passenger business.
The actions taken under the 'reach' strategic restructuring programme to achieve recurring savings of some CHF 500 million are progressing according to plan. Five Airbus A330s have been temporarily stored to downsize the long-haul aircraft fleet. A reduction should also be affected in the short-haul fleet by withdrawing older aircraft of the Airbus A320 family earlier than planned and deferring deliveries of new Airbus A320neo family aircraft. The number of aircraft of other airlines operating SWISS services on SWISS's behalf under wet-lease agreements should also be reduced. Two further new Airbus A320neo aircraft will be delivered to SWISS this year.
SWISS's liquidity also continues to steadily improve. The company now expects to utilize no more than half of its bank credit facility and is also confident of repaying such loans ahead of their maturity. "The actions we have taken under our restructuring are having their effect and we are on track to overcome the crisis. With the revival in air travel worldwide, which has been further boosted by the announcement that the USA is opening up again, we now expect to be able to raise our capacities next year to at least 70 per cent of their pre-crisis levels," says CFO Markus Binkert.
SWISS registered increases in its passenger numbers of 88.3 per cent for July, 123.7 per cent for August and 204.6 per cent for September 2021 compared to their prior-year periods. Systemwide seat load factor for the third-quarter period amounted to 66.4 per cent, on capacity that was at 55 per cent of its pre-crisis level. Seat load factors on SWISS's European network remained higher than those on its intercontinental routes, though the latter were still a substantial improvement on their 2020 levels.
LATAM IS POSITIONED AS THE AIRLINE GROUP WITH THE BEST PERFORMANCE IN SUSTAINABILITY IN AMERICA AND EUROPE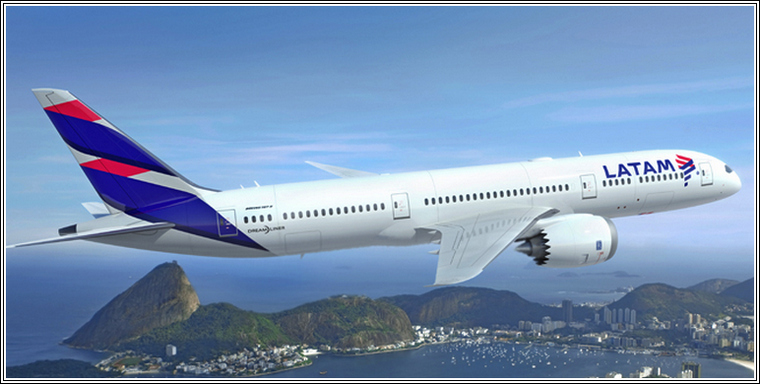 LATAM Airlines Group obtained fourth place worldwide in Standard & Poor's (S&P) Global Corporate Sustainability Assessment (CSA) and has positioned itself as the airline with the best sustainability performance in the American and European continents. According to the most recent results published recently.

Since 1999, the Corporate Sustainability Assessment and its collaboration with S&P Dow Jones Indices have been used to create the leading global sustainability benchmark. This year, more than 10,000 companies were evaluated in three areas: environmental, social and governance.
"The result obtained is very positive news that encourages and shows us that we are on the right track, but it is not enough. We cannot think of a LATAM in the future that does not go hand-in-hand with the development of our ecosystems and communities. We are working to become the economic, social and environmental outlet that we aspire to be in the countries where we operate," said Roberto Alvo, CEO at LATAM Airlines Group.
Earlier this year, the group launched its sustainability strategy based on three pillars: Climate Change, Circular Economy and Shared Value, highlighting its commitment to the protection of strategic ecosystems in South America, migration to a zero waste to landfill model and making its connectivity capacity available for the benefit of the region's communities.
The strategy's lines of action were designed collaboratively with experts and environmental organizations throughout the region and seek to make the group carbon neutral by 2050.
Climate Change: The group will seek to reduce its emissions by incorporating sustainable fuels and new aviation technologies that will be available beginning in 2035. In addition, it will promote a program that will allow passengers, corporate and cargo customers the option of offsetting CO2 emissions associated with their trips by supporting iconic projects in the region. As part of its value proposition, LATAM will match the amount of tons of CO2 offset.
In line with its objective to contribute to the protection and recovery of ecosystems, it recently announced the first conservation project to advance carbon neutrality: CO2BIO. CO2BIO is an initiative that will conserve 200 thousand hectares of flooded savanna, a habitat to more than 2,200 species that has the potential to capture up to 2.8 million tons of CO2 by 2025.
Circular Economy: LATAM is also committed to promoting a culture of elimination, reduction, reusing and recycling throughout its operation in order to become a group that generates zero waste to landfill by 2027. Single-use plastics will be eliminated before 2023 and recycling actions, such as the "Recycle Your Trip'' program (segregation of waste generated on board such as aluminium, glass and plastic), are currently in place; in addition to a program that recycles uniforms and allows them to be used as raw materials in new products.
Shared Value: The group will expand its capacity to transport cargo and people for health programs, natural disasters and environmental care. This is in line with the Solidarity Plane program, which collaborates with communities through agreements, offering free expertise, infrastructure, connectivity and speed of transportation through passages and cargo transfers. To date, the program has transported more than 165 million vaccines, more than 1 million tons of medical supplies, 3,233 health professionals and more than 1,800 organs and tissues free of charge since the start of the pandemic.
Google Banner Ad
PLEASE GO TO
www.youtube.com/channel/UCCuRVZAGodT6sztTeXBGeMw
and subscribe to our YouTube channel