Compiled by Willie Bodenstein



Google Banner Ad



THIS WEEK IN MIDWEEK UPDATE

PTAR Newsletter #4.
Textron Aviation celebrates first delivery of the new Cessna Skycourier to launch customer Fedex Express.
World's first Vertiport opens in Coventry, UK.
Historic homebuilt aircraft anniversaries part of EAA AirVenture Oshkosh 2022 activities.
Cessna Citation XLS GEN2 achieves FAA certification, begins deliveries.
Boeing unveils first T-7A Red Hawk advanced trainer jet to be delivered to the U.S. Air Force.
Diamond Aircraft signs agreement with Safran to provide electric motor for the all-electric eDA40.
Saab and FMV sign contract for new Gripen launch system.
Aircraft Leasing Company LCI orders 50 Beta Technologies eVTOLs.
Airbus lays the foundations for future urban air mobility in Germany with the Air Mobility Initiative.
Worldwide incidents and accidents
This week in history, birth of William Graham Westwood, South African WWI flying ace.



Google Banner Ad



PTAR NEWSLETTER #4

Hello fellow Air Racers, this our 4th newsletter of the year in the run up to the PTAR. We are on a 10-day countdown to the New Tempe, Bloemfontein event, Entries are still open and can be made here:

www.sapfa.co.za/competition-entry-form-ptar

Date: Friday and Saturday 20 & 21 May 2022
Where: New Tempe Airfield, Bloemfontein
The fees are as follows:
• Entry Fee R 5 000 per aircraft (This amount can be paid into the SAPFA bank account - Nedbank Limited, Account Number 1876019840).
Membership fees Aero Club & SAPFA R 970 per crew member - to register or renew www.aeroclub.blueboxonline.com
• FAI licence R 350 per crew member (Can also be purchased on line on the Aero Club Bluebox payment system)
If neither of the crew are SAPFA members, then the total fee per crew is
R 2640. If preferred, this total amount can be paid to SAPFA. SAPFA will apportion to Aero Club the membership fees.
• Additional banquet tickets are R 550 each (The two crew members get a banquet ticket each as part of the Entry fee of R 5000)
• Accommodation & Car Hire - Options for Accommodation & Car Hire are available on the website

The race format will follow what was established in 2019 in Saldanha, which has also been successfully executed in the Speed Rally series. The race rules are available on the SAPFA website PTAR_Rules_Rev_13.pdf: please familarise yourself with these. The course for both days will be laid out on a pre-plotted map that you will receive on each race day consisting of 10 turn points while each turn point will be manned and clearly marked with an orange tarpaulin over a car. The route will be around 300 nm for each day. The 2nd day's start will have the gain/loss accrued from day 1 applied to the starting time grid and there will also be a cross-over route (over the airfield). The handicap formula is available in the Supplementary Rules on the website. Test Flights will be available from Wednesday onwards and are encouraged if assuming don't have an accurate enough 3D speed to work with.

Home Page for PTAR - www.sapfa.co.za/home/ptar/ (watch this space)
For Entries: - www.sapfa.co.za/competition-entry-form-ptar/

Many thanks for our sponsors in supporting the PTAR so far: Francois de Jager & Heinrich Slabber from Holborn Assets, Aircraft Finance Corporation as well as many of the local support companies based in Bloemfontein.

Further details of the planning and run up to PTAR 2022 will be communicated in due course. Your comments are most welcome via race@sapfa.co.za

Till next time, fly safe

Rob Jonkers
(Race Director)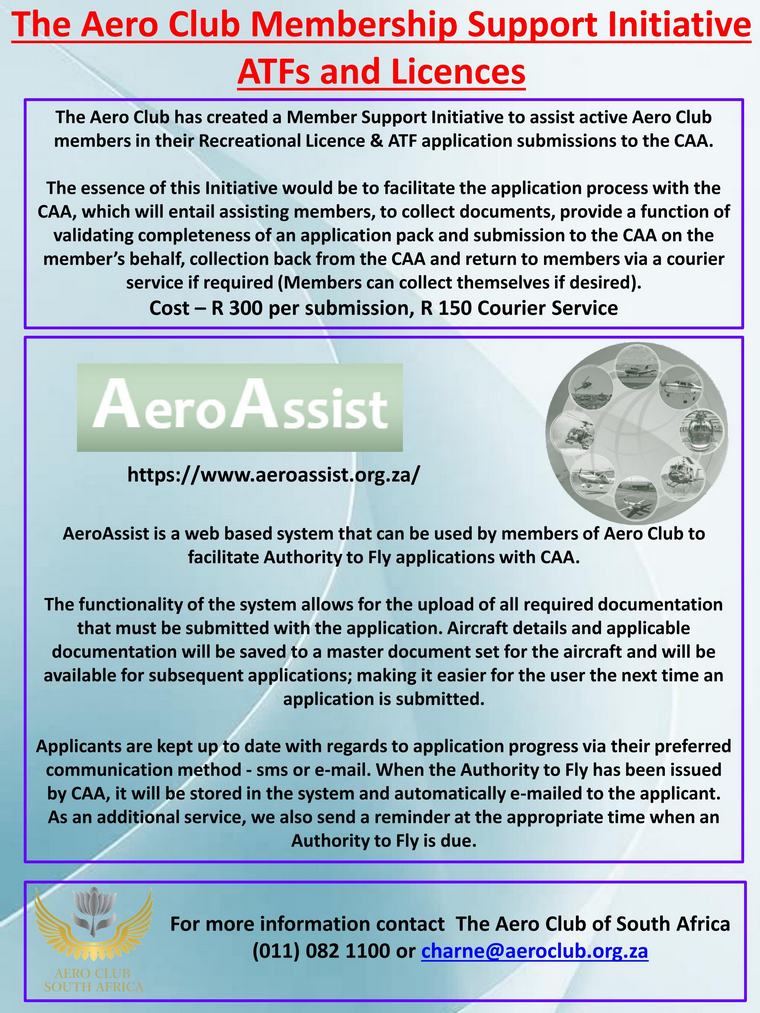 THE AER0 CLUB'S YEARBOOK IS NOW ON SALE

WWW.AEROCLUB.ORG.ZA/SHOP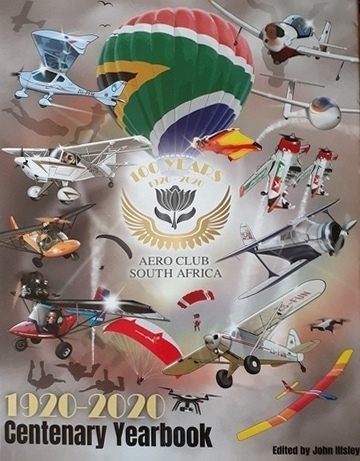 14 &15
SAC Free State Regionals at Tempe airfield. Contact Annie Boon on E-mail: chunge@mweb.co.za


17 to 20
Nampo Harvest Day R30 Bothaville. Contact Wim Venter on E-mail: wim@grainsa.co.za or Tel: 012 816 8001


19 to 21
SAPFA President's Trophy Air Race - Tempe Airfield, Bloemfontein. For more info, contact Rob Jonkers on E-mail: chairman@sapfa.co.za or Cell: 082 804 7032


28
Kroon Fly-In and Farmers Market. Contact Kevin 061 008 9562 or Marius 083 419 6613


27 to 29
Bona Bona Fly-In. Website: www.bonabona.co.za/fly-in


28
FAKR Nav Rally. Contact Nandi on +27 83 577 8894 or kfc@iafrica.com


28
Parys Airshow. E-mail: hayley@creativespacemedia.co.za or Cell: 083 292 7608








4
10th Newcastle Airshow. Contact Johan Pieters on E-mail: Johan@champ.co.za or Cell: 082 923 0078

4
SAPFA Krugersdorp ANR at Jack Taylor airfield, Krugersdorp. Contact Frank Eckard on E-mail: frank.eckard@mweb.co.za or Cell: 083 269 1516

15 to 19
SAC National Aerobatics Championships at Wingspark airfield. Contact Annie Boon on E-mail: chunge@mweb.co.za

16 to 18
SAPFA Rally Nationals at Brits airfield. Contact Frank Eckard on E-mail: frank.eckard@mweb.co.za or Cell: 083 269 1516

22
Polokwane Airshow Contact: Noel Netshivhodza on E-mail: netcoxm@gmail.com or Cell: 081 728 0843

25
SAPFA Speed Rally at Kroonstad airfield. Contact David le Roux on E-mail: david@pilotinsure.co.za or Cell: 073 338 5200








1 to 3

EAA Taildraggers at Warmbaths airfield. Contact Richard E-mail: Richard.nicholson1963@gmail.com Cell: 082 490 6227

7 to 9
AERO South Africa at Wonderboom National Airport. Contact Annelie Reynolds E-mail: annelie.reynolds@za.messefrankfurt.com

16
SAPFA Kitty Hawk Rally. Contact Frank Eckard E-mail: frank.eckard@mweb.co.za Cell: 083 269 1516

16
Garden Route airshow at George airport. Contact Brett Scheuble

22 to 31
EAA AirVenture Oshkosh, Wisconsin, USA. Camping on the airfield contact Neil Bowden E-mail: neil1@telkomsa.net.

29 and 30
Soutpansberg fly-in Louis Trichardt.
Contact Jaco E-mail: spbvliegklub@gmail.com Cell: 082 353 6002

30
Krugersdorp Flying Club Spot Landing. Contact Nandi Tel: 083 577 8894 E-mail kfc@iafrica.com







TEXTRON AVIATION CELEBRATES FIRST DELIVERY OF THE NEW CESSNA SKYCOURIER TO LAUNCH CUSTOMER FEDEX EXPRESS





Textron Aviation announced the first delivery of the Cessna SkyCourier twin utility turboprop to FedEx Express. This is the first of 50-freighter aircraft that global logistics firm FedEx Express ordered as the Cessna SkyCourier's launch customer. The clean-sheet aircraft achieved Federal Aviation Administration (FAA) type certification in March 2022.

"FedEx took delivery of its first Cessna in the mid-1980s and the two companies have had a collaborative relationship over the four decades since," said Ron Draper, president and CEO, Textron Aviation. "We're thrilled to deliver this aircraft that will help FedEx serve its customers more efficiently as it is designed with the option to carry industry-standard prepacked cargo containers. We believe many other air freight, passenger and special mission operators also will benefit from the winning combination of low operating costs and unparalleled lift capacity that the new Cessna SkyCourier brings to the market."
In addition to the initial fleet order, FedEx Express has options for 50 more SkyCourier aircraft. Members of the FedEx Express design and engineering teams participated in Textron Aviation's Customer Advisory Board to help shape the aircraft's design, features and serviceability.
"For nearly 50 years, FedEx has been known for being flexible and innovative in finding solutions for our customers, and this aircraft will help us better serve small and medium markets where we aren't able to operate our larger aircraft," said Scot Struminger, CEO and Executive Vice President of Aviation, FedEx Express. "The SkyCourier will make us more efficient, now being able to move containerized and palletized freight for our customers."
"The result of four-and-a-half years of collaboration with Textron Aviation on this aircraft, FedEx Express is excited to add the Cessna 408 SkyCourier as part of our fleet modernization program," Struminger added.
The Cessna SkyCourier twin-engine, high-wing turboprop offers a combination of performance and lower operating costs for air freight, passenger and special mission operators. In addition to the freighter version, there is a 19-passenger variant of the SkyCourier that includes separate crew and passenger entries for smooth boarding, as well as large cabin windows for natural light and views. Both configurations offer single-point pressure refuelling to enable faster turnarounds.
The aircraft is powered by two wing-mounted Pratt & Whitney PT6A-65SC turboprop engines and features the McCauley Propeller C779, a heavy-duty and reliable 110-inch aluminium four-blade propeller, which is full feathering with reversible pitch, designed to enhance the performance of the aircraft while hauling large loads. The SkyCourier is operated with Garmin G1000 NXi avionics. It has a maximum cruise speed of more than 200 ktas and a 900 nautical-mile maximum range. The aircraft features a large door and a flat floor cabin, and the freighter version can hold up to three LD3 shipping containers with an impressive 6,000 pounds of payload capability.
TRU Simulation + Training Inc., an affiliate of Textron Aviation Inc., recently announced that its Cessna SkyCourier Full-Flight Simulator (FFS) earned Level D qualification from the FAA, which allowed pilot training for the SkyCourier to begin.



WORLD'S FIRST VERTIPORT OPENS IN COVENTRY, UK



Urban-Air Port has just opened a transport hub for air taxis, eVTOLs, and drones at the Westminister Car Park in Coventry. The "Air-One" hub will allow manned and unmanned vehicles to take off and land at the world's first vertiport, but only through the summer, after which it will be redeployed in a new location.


Urban-Air Port, the UK-based developer behind the project, says that this first vertiport will act as a blueprint for more than 200 vertiports planned worldwide in the next five years. Future vertiports have already been earmarked for other sites around the world, including in the West Midlands and London, as well as in Los Angeles, Australia, South Korea, France, Germany, Scandinavia and South East Asia.
All the future vertiport locations are set to serve four key markets: flying taxis, autonomous delivery drones, disaster emergency management, and defence operations and logistics.

HISTORIC HOMEBUILT AIRCRAFT ANNIVERSARIES PART OF EAA AIRVENTURE OSHKOSH 2022 ACTIVITIES




A number of iconic homebuilt aircraft designs will be celebrating notable anniversaries this year at EAA AirVenture Oshkosh, which annually brings together the world's largest gathering of amateur-built aircraft. The 69th edition of EAA's fly-in convention is July 25-31 at Wittman Regional Airport in Oshkosh, Wisconsin.

"Many of our members build their own airplanes from kits or sets of plans and each year, more than 1,000 of these amateur-built aircraft are among the 10,000-plus aircraft that arrive here for AirVenture," said Charlie Becker, EAA's homebuilt community manager. "In 2022, several popular designs are celebrating their anniversaries, and we invite all owners of those aircraft to come to Oshkosh to help commemorate the occasion."
Anniversary aircraft owners are encouraged to pre-register so they can receive updates on special events, parking, and other activities connected to their airplane type. Among the aircraft designs reaching important anniversaries in 2022 are:
Dyke Delta 60th anniversary - One of the most unusual homebuilt aircraft designs, featuring the rare delta wing
Fly Baby 60th anniversary - An ultra-economical, single-seat design with a goal of flying for fun
Acro Sport 50th anniversary - A fully aerobatic biplane designed by EAA founder Paul Poberezny
KR-1 50th anniversary - A single-seat design that often serves as an airframe for auto-conversion engines
VariViggen 50th anniversary - One of Burt Rutan's first homebuilt designs that is still a unique profile at any airport
Van's RV 50th anniversary - The world's most popular aircraft kit, with more than 11,000 completed.

CESSNA CITATION XLS GEN2 ACHIEVES FAA CERTIFICATION, BEGINS DELIVERIES



The latest update to the best-selling midsize business jet family of the 21st century has entered into service. Textron Aviation has achieved Federal Aviation Administration (FAA) type certification for the Cessna Citation XLS Gen2 business jet and this week delivered the first customer aircraft to a long time Citation operator in the Midwest.

The Cessna Citation XLS Gen2 is designed and produced by Textron Aviation Inc., a Textron Inc. (NYSE: TXT) company.
"Loyal Citation customers inspire us to continually invest in bringing the latest design and technology to our product line," said Lannie O'Bannion, senior vice president, Sales and Flight Ops. "This fresh approach to our popular 560XL series includes comfort and productivity upgrades requested by our customers, yet retains the model's combination of performance and efficiencies that offers midsize jet features at a smaller jet operating cost."
The Cessna Citation XLS Gen2 is the latest model of the Citation 560XL midsize business jet series, which began with the introduction of the Citation Excel in 1998. More than 1,000 560XLs have been delivered throughout the past 25 years. Business owners, fractional owners and charter operators have consistently chosen the Citation 560XL series more than any other aircraft in the light midsize category.
Textron Aviation first unveiled plans for the Citation XLS Gen2 during the October 2021 National Business Aviation Association - Business Aviation Convention & Exhibition, representing a significant commitment from Textron Aviation to enhance and redesign aircraft around customer needs. Shaped by extensive customer feedback, the upgrades focus on technology and design.
Among the XLS Gen2 updates are a new lighted airstair door to elevate the aircraft's ramp presence, the addition of an entry curtain for inclement weather protection on the ground and improved cabin acoustics in flight, and improved accent lighting and elegant styling and materials throughout the interior. A new pedestal seat design enhances passenger comfort with individual controls, new styling and optional quilting, while the forward couch features an optional fold-down capability, which allows passengers to access more baggage in flight.
In addition to these modern design elements, the XLS Gen2 also features a state-of-the-art intuitive wireless cabin management system with a touchscreen moving map monitor, wireless smart phone charging, USB charging ports at each cabin seat and optional Bongiovi Immersive speaker-less sound system.
The XLS Gen2 equips operators with speeds of up to 441 knots (817 kilometers/ hour) with a maximum range of 2,100 nautical miles (3,889 kilometers), a take-off field length of 3,600 feet (1,097 meters) and climbs to 45,000 feet (13,716 meters) in 30 minutes. While maintaining range and take-off field length, the XLS Gen2 also includes increased payload capabilities and Stage 5 maximum noise level requirements.

BOEING UNVEILS FIRST T-7A RED HAWK ADVANCED TRAINER JET TO BE DELIVERED TO THE U.S. AIR FORCE



Boeing [NYSE: BA] has unveiled the first T-7A Red Hawk advanced trainer jet to be delivered to the U.S. Air Force. The jet, one of 351 the U.S. Air Force plans to order, was unveiled prior to official delivery.

The fully digitally designed aircraft was built and tested using advanced manufacturing, agile software development and digital engineering technology significantly reducing the time from design to first flight. The aircraft also features open architecture software, providing growth and flexibility to meet future mission needs.
"We're excited and honoured to deliver this digitally advanced, next-generation trainer to the U.S. Air Force," said Ted Colbert, president and CEO, Boeing Defence, Space & Security. "This aircraft is a tangible example of how Boeing, its suppliers and partners are leading the digital engineering revolution. T-7A will prepare pilots for future missions for decades to come."
The T-7A Red Hawk incorporates a red-tailed livery in honour of the Tuskegee Airmen of World War II. These airmen made up the first African American aviation unit to serve in the U.S. military.
"The Tuskegee Airmen are one of the most celebrated units in our Air Force history, and the T-7A honours the bravery and skill of these trailblazers, said Gen. Charles Q. Brown, Jr., Chief of Staff of the Air Force. "Like the Airmen they were named and painted to pay homage to, the T-7A Red Hawks break down the barriers of flight. These digitally-engineered aircraft will make it possible for a diverse cross section of future fighter and bomber pilots to be trained, and provide an advanced training system and capabilities that will meet the demands of todays and tomorrow's national security environment."
The aircraft will remain in St. Louis where it will undergo ground and flight tests before being delivered to the U.S. Air Force. The T-7A program resides at Boeing's St. Louis facility with the aft section of the trainer being built by Saab in Linkoping, Sweden. Saab will soon start producing that section at their new production facility in West Lafayette, Indiana.

DIAMOND AIRCRAFT SIGNS AGREEMENT WITH SAFRAN TO PROVIDE ELECTRIC MOTOR FOR THE ALL-ELECTRIC EDA40



Diamond Aircraft, amongst the leading aircraft manufacturer in General Aviation, and Safran Electrical & Power, world leader in aircraft electrical systems, have just announced a cooperation agreement to equip the eDA40 all-electric training aircraft with an ENGINeUSTM electric smart motor.

Safran Electrical & Power will supply the electric motor for the eDA40, a derivative of the existing and certified DA40 platform, which will be the first EASA/FAA Part 23 certified electric airplane with Direct Current (DC) fast charging - capable of turning around a depleted aircraft in under 20 minutes. Total flight time is expected to be up to 90 minutes as the battery technologies evolve. The eDA40 is expected to reduce operating costs by up to 40% compared to traditional piston aircraft.
The ENGINeUSTM product line includes a broad range of electric motors with power outputs from single digit to 500 kW. The ENGINeUSTM 100, that will equip the eDA40, delivers 130 kW maximum at take-off power and features a fully integrated motor controller within the machine. The thermal management is provided by an optimized air-cooling system. The certification of the electric motor is planned for mid-2023. Basic EASA certification for the eDA40 is expected with end of 2023/early 2024.
"The DA40 is a proven aircraft, arousing worldwide interest among private pilots and professional flight training operators. Creating an electric version and participating in the electrification of this bestseller aircraft is not only a technical challenge, but it is also a response to the growing global demand to decarbonize aviation using electric propulsion. This new contract demonstrates the success of our ENGINeUS™ product line and confirms the strong interest of the market in our approach to further increase the electric powertrain performance", said Thierry Sieg, Vice President of Sales & Marketing at Safran Electrical & Power.
"We are excited to announce the motor partner for the eDA40," says Liqun (Frank) Zhang, CEO Diamond Aircraft Industries Austria. "With Safran we are having an expert partner for electric propulsion systems aboard. The smart motor's state-of-the-art technology including smart features paired with a well-advanced certification process is the logic choice for our eDA40. We are looking forward to the first flights scheduled for end 2022.

SAAB AND FMV SIGN CONTRACT FOR NEW GRIPEN LAUNCH SYSTEM



Saab has received an order from the Swedish Defence Materiel Administration (FMV) for the development and integration of a new launch system for Gripen C/D and Gripen E. The order, valued at approximately SEK 400 million, was placed during the first quarter.

The order includes the development and integration of a new launch system for air-to-air missiles and countermeasure pods on Gripen C/D and Gripen E. The contract also includes options for subsequent series orders of launcher systems.
The launchers can be integrated with existing variants of weapon pylons and can carry all Gripen air-to-air missiles.
"The integration of the new launch system is an important component for ensuring the continued high availability of the Gripen system. After delivery, maintenance of the launch systems will be performed in Sweden, which further contributes to a secure supply of defence equipment for our customers," says Åsa Schöllin, head of the Gripen Sustainment business unit.
The launcher is mounted to the aircraft's weapon pylons and has a sophisticated connection between the aircraft and the weapons mounted on the launcher.

AIRCRAFT LEASING COMPANY LCI ORDERS 50 BETA TECHNOLOGIES EVTOLS

The company was founded in 2004, initially only working with fixed wing aircraft, but made its first helicopter purchase in 2012 with a $400 million order from Leonardo. While the company has already taken over US$8 billion in transactions of fixed-wing and helicopter markets, the order of Beta Technologies Alia aircraft will be LCI's first electric aircraft purchase.

Unlike traditional helicopters, Beta's 'Alia' aircraft features a fixed wing and pusher propellor for forward flight, giving it the efficiency of an airplane combined with the vertical take-off and landing abilities of a helicopter. This efficient design allows the aircraft to travel up to 250 miles on a single all-electric charge, while having room for up to four passengers or 1400 lbs of cargo.
Kyle Clark, founder and CEO of Beta Technologies, commented: "As a leading aircraft lessor with an established global track record, LCI has a strong pulse on what operators are looking for. We are gratified by their confidence that the solutions we're building will answer the need for next generation, zero-emission electric aircraft. We are excited to partner with LCI and push adoption of this solution forward within the industry."

AIRBUS LAYS THE FOUNDATIONS FOR FUTURE URBAN AIR MOBILITY IN GERMANY WITH THE AIR MOBILITY INITIATIVE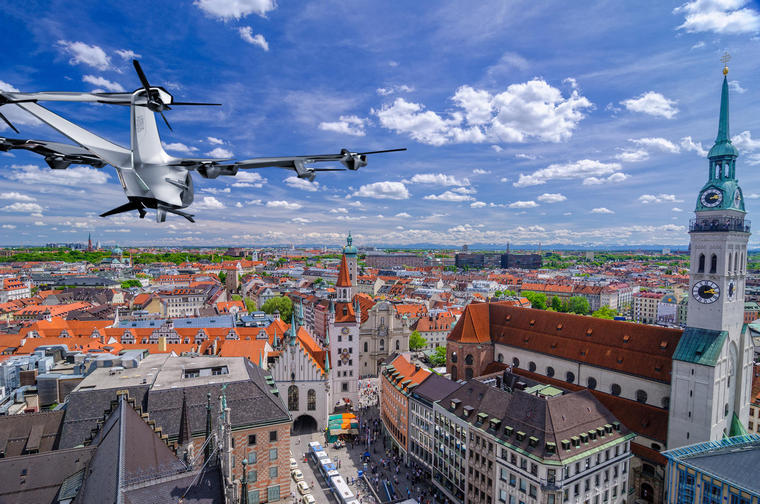 To contribute to the development of advanced air mobility, leading companies, universities, and research institutions as well as municipalities are joining forces under the leadership of Airbus to form the Air Mobility Initiative (AMI). The members of the Air Mobility Initiative include Airbus, City of Ingolstadt, Deutsche Bahn, Deutsche Flugsicherung, Diehl Aerospace, Droniq, Munich Airport, Red Cross, and Telekom.

This initiative, which is supported by the Free State of Bavaria and the Federal Republic of Germany, will set up a series of research projects aimed at making urban air mobility within and between cities a reality. The joint projects are centered around three main areas: electric vertical take-off and landing (eVTOL) aircraft, unmanned traffic management (UTM) services, airport & city integration including vertiports.
"In many parts of the world, eVTOLs will offer a whole new mobility service in the near future," said Markus May, Head of Operations for urban air mobility at Airbus. "Airbus and the AMI partners are aware that the introduction of such a system requires the cooperation of many players with different competences. Our goal is to build a transport service that benefits society and this is what we are setting up here in Bavaria."
In a first step, the AMI partners will address the technological, infrastructural, legal, and social prerequisites for the future implementation of advanced air transport. Subsequently, the knowledge gained will be carried through a demonstration project under real conditions with eVTOLs.
Airbus is leading the vehicle stream together with Diehl Aerospace, University of Stuttgart and other partners. The UTM activities will deal with the safe and efficient flight of vehicles on their routes in and outside cities. This area is being advanced together with Droniq, Airbus, f.u.n.k.e. Avionics, SkyFive, BrigkAir, DFS, Telekom, Universities from Munich and Hamburg and other partners. Through the vertiport activities, AMI will work on take-off and landing sites for the aircraft as well as their integration into airports and cities. Munich Airport, Deutsche Bahn, Bauhaus Luftfahrt, Airport Nürnberg, Universities of Ingolstadt and Munich are responsible for this topic.
Work on the individual AMI projects began in January 2022. The test flights of the demonstration project will be carried out in the region around Ingolstadt. The initiative is funded with a total of €17 million from the Free State of Bavaria and €24 million from the Federal Government. Together with the industry's own funds, this results in a total activity of € 86 million over a period of three years.




SOUTH AFRICA




On 8 February 2022, a pilot on-board a Cessna A188B aircraft with registration ZS-JDH was engaged in a crop-spraying operation on a maize field near Howick Airfield in KwaZulu-Natal. The pilot took off from Barland Airfield with the intention to land back at the same airfield. The flight was conducted in visual meteorological conditions (VMC) by day and under the provisions of Part 137 of the Civil Aviation Regulations (CAR) 2011 as amended.
The pilot stated that he took off earlier that morning to spray field 1; thereafter, he returned to Barland to refill the crop-spraying agent so as to spray field. He then returned to Barland after spraying field 2 to refill the crop-spraying agent in preparation to spray field 3. On his descent to spray field 3, the pilot made a quick assessment and noticed that his south-easterly direction of spray was on a steep uphill which was likely to cause a hazardous situation.
He then decided to climb to approximately 150 feet (ft) above ground level (AGL) for a more suitable spray direction (i.e., south-westerly). During a left-side turn towards the intended spray area while resetting the agricultural navigation computer (AG-NAV), the pilot noticed a blue gum tree that was 15 metres (m) ahead of the aircraft's flight path. The pilot stated that by the time he noticed the tree, he rolled wings level and, seconds later, the left wing impacted the tree which caused the aircraft to roll to the left and pitch down.
The pilot then applied full right rudder and turned the control column to the right while applying back pressure with the intention to recover the aircraft, but he was unsuccessful. The aircraft continued to descend and impacted the maize field about 200m from the tree.
The aircraft skidded on the ground for approximately 40m, turned laterally for 180° and came to rest in that position. The pilot switched off both magnetos and the master switch, then disembarked the aircraft unaided.
The aircraft was destroyed by impact force during the accident sequence and there was no post-impact fire. The pilot climbed back into the wreckage after making sure that it was safe to do so to retrieve the aircraft's documents, including the first aid kit. The pilot was later taken to hospital by road ambulance. It was later reported that the pilot had sustained a laceration on his left elbow, which was attended to at the hospital; he was discharged a few hours later.
On-site investigation revealed that the left wing of the aircraft impacted a tree that was 230m south-east of the maize field that the pilot intended to spray. The first point of impact with the ground was 40m south-east of the main wreckage. The left-wing flap and the left wheel assembly detached from their respective attachment points and were found approximately 20m south-east of the main wreckage.
All three propeller blades showed that the engine was producing a substantial amount of power prior to impact. The engine was intact and still secured to the cradle with signs of minor damages. The flight control continuity could not be established as some of the control cables in the aft fuselage had snapped due to impact. Both fuel tanks had approximately one-third of fuel remaining, respectively. Examination of fuel indicated no signs of contamination, and that fuel was of the correct grade.
Probable cause:
The pilot did not observe a tree in the aircraft's flight path which caused the aircraft's left wing to impact the tree. The pilot lost control and the aircraft descended and impacted the ground.
Contributory Factor:
Lack of situational awareness.



Maldives, Kadhdhoo Airport: A Maldivian de Havilland Canada DHC-8-315Q suffered a runway excursion after landing on runway 21 at Kadhdhoo Airport. There were no injuries to passengers and crew. Gusting winds of up to 60 km/h were reported at Kadhdhoo due to thunderstorm activity around the airport at the time of the incident.
USA, Marin Headlands, CA: An amateur build experimental Van's RV-10 with two on board sustained substantial damage subsequent to impact with the terrain in the Marin Headlands on a backcountry ridge north of Conzelman Road in Marin County, California. The two occupants onboard the airplane received fatal injuries.

USA, near Clare, DeKalb County, IL: A ex USAF Grumman TBM-3U Avenger Warbird suffered an engine fire and a made a subsequent precautionary landing in a field near Clare, DeKalb County, Illinois. No damage or injuries were reported.

Germany, Hasselroth: The pilot of an amateur build experimental Avid Flyer MK 4 performed an emergency landing in an agricultural field due to an engine malfunction. There were no personal injuries to either the pilot or passenger. The airplane sustained some damage.
USA, near Hinde Airport (88D), Huron, OH: A amateur build experimental Team Mini-Max encountered high winds just after take-off from at Hinde Airport (88D), Huron, Ohio, and impacted the ground close to the airport. The pilot received non-life-threatening injuries and the ultralight sustained substantial damage.

USA, Grasmere, ID: According to news on social media an amateur build experimental Comp Air 8 SS52 crashed near Grasmere, Idaho.
St. Kitts and Nevis, Basseterre-Robert L. Bradshaw International Airport: A National Airlines Airbus A330-223 suffered minor damage after the left-hand wing tip hit a light pole during taxi after landing at Basseterre Airport in St.Kitts & Nevis.

Mexico, Valle del Fuerte Federal Int. Apt. Los Mochis, SIN: An Escuela de Aviación Naval (Mexican Navy Flying School) Zlín 242L with tow occupants lost engine power and crashed when taking off from Valle del Fuerte Federal International Airport. Both occupants sustained injuries and the aircraft was destroyed.

3 MAY 1891




Birth of William Graham Westwood, South African WWI flying ace.

William Westwood was born on 03 May 1891 in Pietermaritzburg, Natal, South Africa. Prior to WWI he left and joined the Royal Flying Corps in August 1917. After training to become a pilot, he was posted to 88 Squadron where he flew the Bristol Fighter and scored six victories with his observer.
He joined the Royal Flying Corps in August 1917. After training to become a pilot, he was posted to 88 Squadron where he flew the Bristol Fighter and scored six victories with his observer.
His last victory was on 14 Oct 1918 when they shot down a Fokker D.VII east of Lille.
Google Banner Ad