Compiled by Willie Bodenstein



Google Banner Ad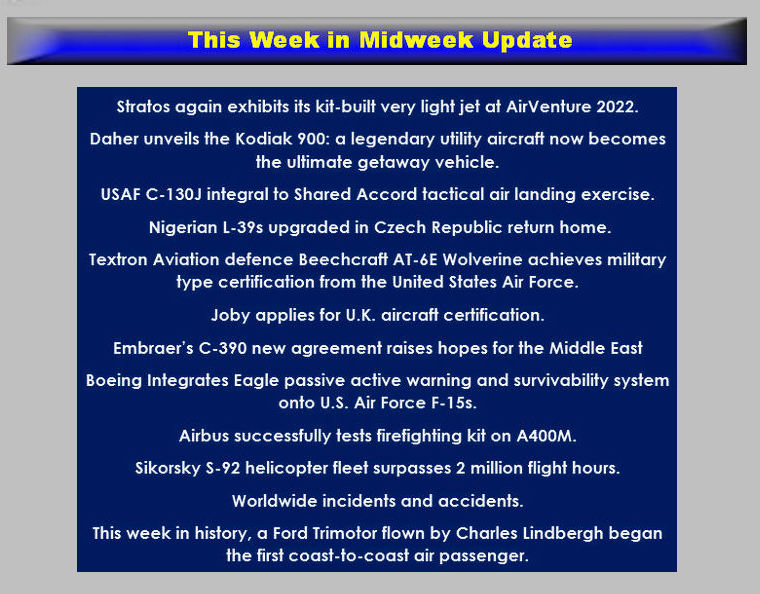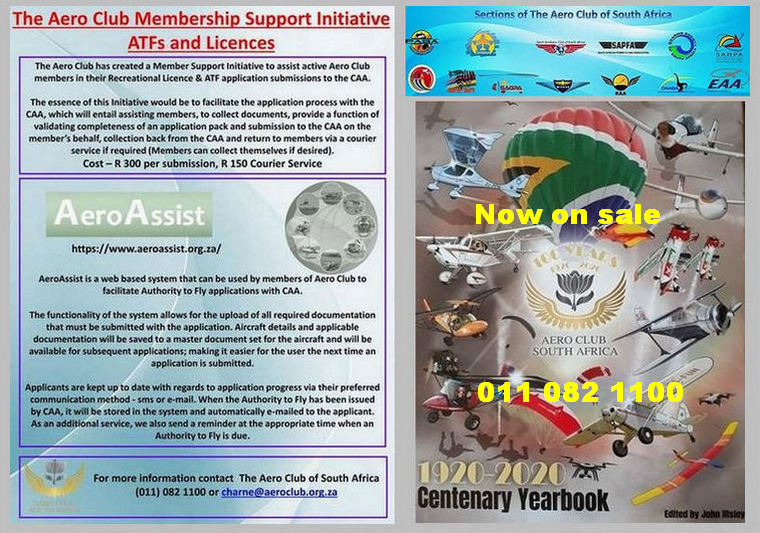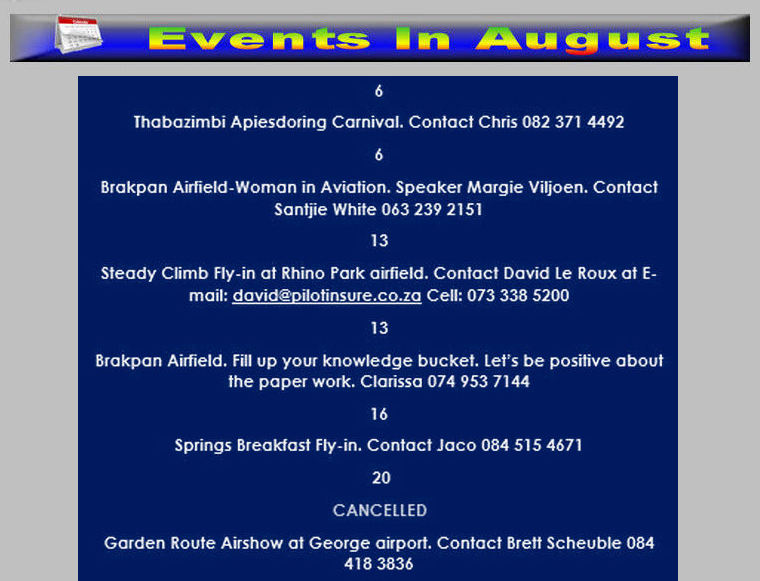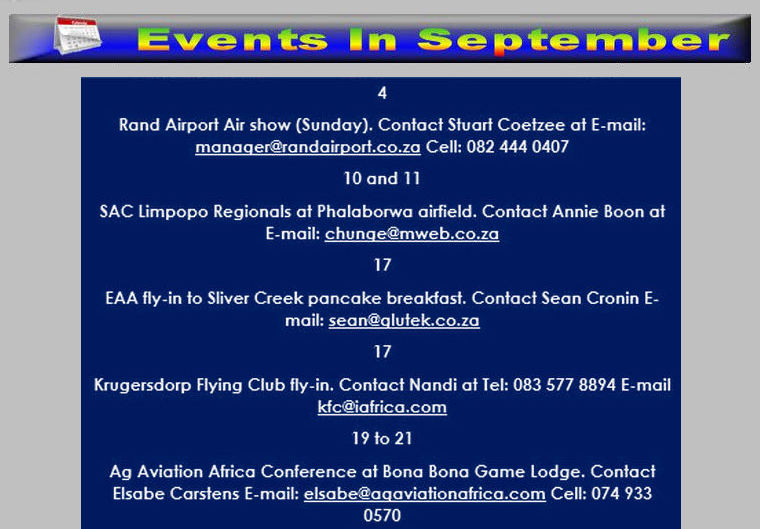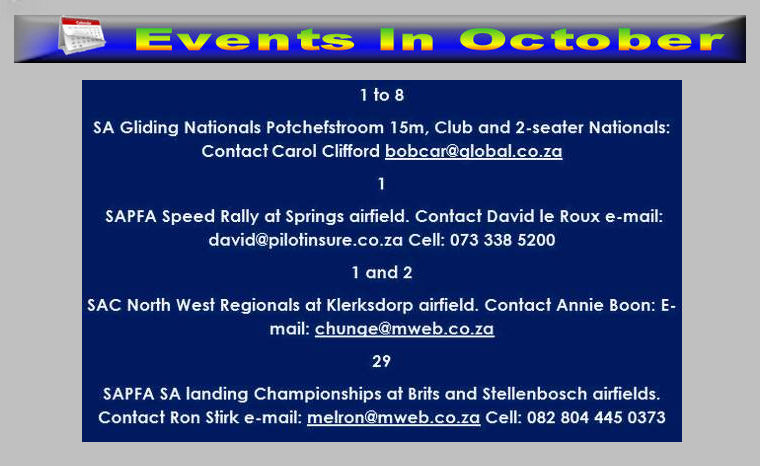 STRATOS AGAIN EXHIBITS ITS KIT-BUILT VERY LIGHT JET AT AIRVENTURE 2022



Stratos Aircraft again exhibited it's pretty turbo jet Stratos 716X kit-build VLJ (Very Light Jet) at AirVenture 2022. The latest version of the jet made its first flight on 2 July, 2020, and has since logged 150 hours.


"People want the high-altitude speed, quiet and smoothness of a jet. But, up until now, many of them have been priced out of the top end of the market. They've had to settle for prop airplanes that typically fly 10,000 to 15,000 ft lower and 100 to 150 knots slower than modern jets. At Stratos, our goal is to lower the cost of owning and operating a jet to turboprop levels. We expect to wrap up testing for the amateur-built jet in another 50 hours and start delivering aircraft parts to our first customers at the end of the year. "Carsten Sundin, Stratos Aircraft President and Chief Technology Officer said.
The 1,500 nautical mile range 716 gets its name from its 0.7 Mach / 402 knot cruise speed, single turbofan engine and six-seat cabin. It will cruise at 41,000 ft, far above most clouds, weather and turbulence.
Stratos will offer 10 - 12 716X kits that will help the firm refine its manufacturing processes and assembly line efficiencies that will be needed for high-rate production of certified aircraft in the future.
The 716X comes complete with a freshly, overhauled, 3,600-hour TBO PWC JT15D5 turbofan and a full suite of Garmin 3X avionics. It can be ready to fly in as little as 9 months, using Stratos' builder-assist affiliate firms.



DAHER UNVEILS THE KODIAK 900: A LEGENDARY UTILITY AIRCRAFT NOW BECOMES THE ULTIMATE GETAWAY VEHICLE



EAA AirVenture, Oshkosh, Wisconsin, 25 July, 2022 - The Kodiak 900 made its world debut at AirVenture Oshkosh today with Daher's introduction of this larger, faster version of the robust and rugged Kodiak 100 - filling out the company's airplane product line in joining the TBM 910 and TBM 960 very fast turboprop aircraft.


Inheriting the Kodiak 100's remarkable qualities as a backcountry STOL (short take-off and landing) and multi-role airplane, the Kodiak 900 marks a further step with its fuselage length extension of 3.9 feet to provide more passenger room and cargo space, a cruise speed increase to 210 KTAS, and a greater useful load while offering a maximum range of 1,129 nm.
In addition to these enhancements, the Kodiak 900's operating economics have been improved, with a nine percent reduction in specific fuel consumption - which is in double digits when compared to competitors. This lowers the cost-per-seat-mile and the direct operating costs for commercial operators.
"This is another answer to the commitment of enhancing sustainability and improving the carbon footprint of general aviation. The Kodiak 900 is in a category of its own: a highly versatile unpressurized utility turboprop airplane that can carry impressive payloads while cruising comfortably at 210 KTS in refined luxury." Nicolas Chabbert, the Senior Vice President of Daher's aircraft division.
The Kodiak 900's stretched fuselage provides a total cabin volume increase of 20 percent to 309 cubic feet, and it features an all-new interior that couples Daher's expertise in creating refined, luxurious interiors for the TBM aircraft family with the Kodiaks rugged heritage to create a cabin that is versatile and well-appointed.
The cabin retains all of the Kodiak 100's versatility. Ample cargo tie- downs throughout enable maximum flexibility for securing down just about anything. Cargo carrying capability and three entry/exit doors enable the entire cabin to be used for cargo, if needed.
One of the most apparent differences in the Kodiak 900's airframe is the addition of a fifth set of passenger windows, which adds to the brightness and the feeling of spaciousness.
The airframe has been re-engineered to maintain the Kodiak's high robustness, and refinements have been introduced in a major effort to reduce drag - with such changes as replacing the external pilot entry step with a foldable ladder, as well as adding flap track covers on the wing and wheel fairings to the landing gear. A significant internal airflow "clean up" was performed as well, with the ducts, inlets, and air intakes redesigned, modelled and engineered for low drag.
As the Kodiak 900 sits higher in the rear than the Kodiak 100, a complete redesign of the rear main cargo door was made. The integration of additional steps creates an easier entry and exit point for passengers, while also facilitating the loading of payloads. There is an added handhold to assist with the added height of the plane on entry/exit. The door retains the Kodiak's unique clamshell design with fold-flat capability, allowing for easy loading/unloading of large bulk items, pallets, or stretchers for medevac customers.
The Kodiak 900 is powered by a Pratt & Whitney Canada's 900-shaft horsepower PT6A-140A turboprop engine, which is tailored for the utility aircraft market and optimized for rugged, demanding conditions. Its all-aluminium gearbox housings have better corrosion resistance, and the engine delivers the best "hot and high" performance in its class. The PT6A-140A is part of Pratt & Whitney Canada's next-generation PT6A-140 series, which already has logged more than two million hours of flight.
Google Block Ad
A new constant speed, full-feathering and hydraulically-actuated five-blade composite propeller from Hartzell is used on the Kodiak 900. Its design and low 1,900 rpm setting contribute to the low noise level of 79.5 dB, allowing the aircraft to operate in the most strictly regulated noise sensitive areas.
In the Kodiak 900's engine bay, many components have been re-engineered to maintain key features of the Kodiak 100 version. The air-intake system has been optimised for low starting temperatures that allow for multiple battery engine starts per hour - a requirement for such high-cycle customers as skydive operators and in short-haul commercial flights. New additive manufacturing processes (3D printing) are applied in producing the alternator cooling shroud and some of the cowl exit ducts, reducing complexity and weight.
For special missions, the Kodiak 100's simple and rugged design, renowned stability and carefree handling characteristics are further enhanced with the Kodiak 900's larger cabin volume, higher speed, faster climb and more rapid arrival at altitude/on station. Advantages for critical missions include its nine-plus hour loiter time, slow flight handling characteristics, and the 210 KTAS sprint/cruise capability.
The Kodiak 900's increased cabin capacity and rugged airframe make it a perfect platform for cargo and small package freight - offering an optimum combination of speed, payload and range.

USAF C-130J INTEGRAL TO SHARED ACCORD TACTICAL AIR LANDING EXERCISE

defenceWeb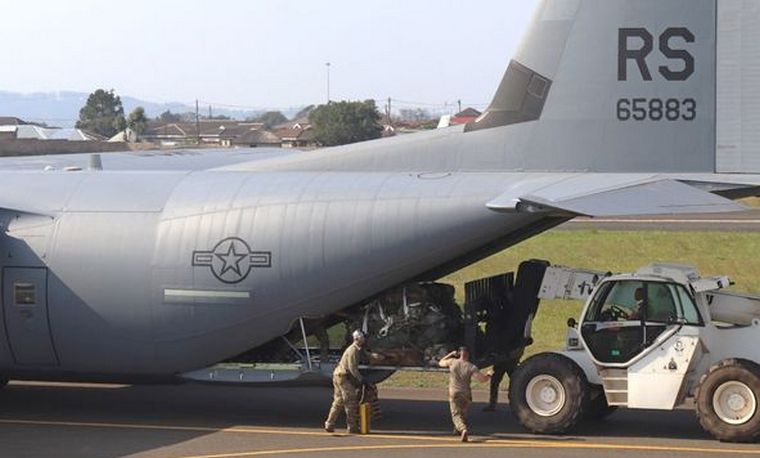 A highlight, at least for 28 Squadron personnel, of Exercise Shared Accord was the presence and participation of a United States Air Force (USAF) C-130J-30 Super Hercules airlifter in tactical components.

The four-engine Lockheed Martin-built workhorse of the USAF 86th Airlift Wing staged from Ramstein air base in Germany and was used for trooping and equipment movement as well as being the "leading light" in a tactical air landing operation (TALO) at Richards Bay Airport on 20 July.
The TALO "pitted" friendly forces against an opposing one which had seemingly taken control of the independently operated northern KwaZulu-Natal airport.
US Armed Forces soldiers from the New York National Guard with elements of the South African National Defence Force's (SANDF's) 44 Parachute Battalion and 1 Parachute Regiment were moved from Air Force Base (AFB) Bloemspruit for the TALO. A short and hard landing was the starting point for troops to exit along with equipment and Gecko all-terrain vehicles (ATVs) and trailers. Objectives of beating back opposing forces, securing the airport perimeter and buildings and taking wounded opposition into custody were all successfully achieved.
The TALO was repeated with a second load of soldiers also emplaned at the sole SA Air Force (SAAF) base in the Free State, another pointer to thorough training ahead of the drills. Captain Jacques de Vries reports for the Joint Operations Division the visiting United States soldiers were "stood in good stead" by the scenario training as part of successive phases of the Shared Accord serialised force training programme.
It is likely the SAAF's medium transport specialists would have taken more than professional pride in seeing the latest model Hercules in operation considering 28 Squadron has been operating earlier B models of the airlifter for just short of 60 years.
On 21 July, a 28 Squadron C-130BZ arrived at Richards Bay delivering cargo from AFB Waterkloof. The aircraft unloaded its cargo of rations and water and took off soon afterward for the return flight to Centurion.
SAAF sorties out of Richards Bay Airport in support of Shared Accord 2022 activities were carried out by Pretoria-based squadrons: 17 using two Agusta A109 LUHs from AFB Swartkop and 41, a Cessna 208 Caravan from AFB Waterkloof.
Another Shared Accord serial ahead of the exercise wrapping up today (Wednesday, 27 July) was an accident scene and chemical spill scenario staged at the port city's Tuzi Gaza waterfront.
On 23 July this saw operational medics from the SAMHS and civilian paramedics responding to a mass casualty automobile accident scene at one site with another grouping of SAMHS chemical, biological and radiological (CBR) specialists attending to a tanker truck chemical spill, extricating casualties overwhelmed by fumes for decontamination and further treatment.
SA Army paratroopers and New York Army Guard soldiers in semi-permeable protective (chemical and biological) suits to protect them from the effects of chemical weapons and hazardous chemicals secured the perimeter while healthcare professionals assisted the injured.
Accident scene scenario casualties were evacuated to nearby critical care points including a SAHMS field hospital at the uMhlathuze multi-sports complex, while those "affected" by the chemical spill were taken to a nearby mobile decontamination site for processing and transport to off-site critical care.
The goal of the simulated scenarios was for SANDF personnel and their American counterparts to work together in challenging situations and for local disaster and emergency response partners to be involved from a civilian perspective.
Primary health care outreach was a big part of Exercise Shared Accord. To this end on 22 July the SAMHS with the US Army visited Ezwenielisha Clinic in the Mkhanyakude District Municipality to provide primary health care assistance.
The multi-disciplinary team of nursing and medical officers, as well as specialists, spent a day at the clinic assisting patients. The specialists identified and managed conditions referring those requiring additional attention to institutions offering a higher level of care such as regional and tertiary hospitals.

NIGERIAN L-39S UPGRADED IN CZECH REPUBLIC RETURN HOME
defenceWeb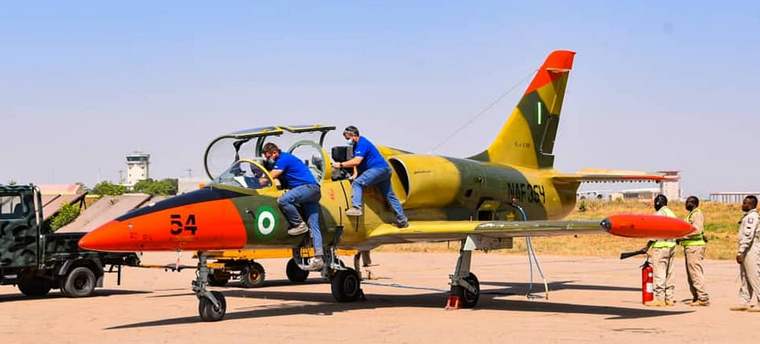 Aero Vodochody has concluded maintenance work on three Nigerian Air Force (NAF) L-39ZA jets, which have recently returned home. After a two-year overhaul, the three aircraft departed the Czech Republic for Nigeria on 17 July, Key Publishing reports.


In 2020, the three L-39ZAs were transported to the Czech Republic for a general overhaul and avionics upgrade at the Aero Vodochody facility in Prague. US company Genesys Aerosystems upgraded the avionics that includes a Czech-designed Speel head up display (HUD). The work was carried out in conjunction with a small NAF team.
Although the aircraft were expected back in the country before the third quarter of 2021, the process was delayed due to the covid-19 pandemic.
The Nigerian Air Force has refurbished a number of L-39ZAs itself. For example, in November 2020, two refurbished aircraft were handed back to the NAF after local work and several more were scheduled for a life extension programme (LEP), which involves in-depth inspection of main and crucial components of the airframe, engine, avionics and escape system of the aircraft.
The NAF has been taking over maintenance and repair work on its L-39ZAs, Alpha Jets, F-7Mi fighters and C-130H Hercules transports.
The NAF flies around nine L-39ZAs, out of two dozen it received in 1986 and 1987.

TEXTRON AVIATION DEFENSE BEECHCRAFT AT-6E WOLVERINE ACHIEVES MILITARY TYPE CERTIFICATION FROM THE UNITED STATES AIR FORCE

-Textron Aviation Defence today announced the Beechcraft AT-6E Wolverine has achieved Military Type Certification (MTC) from the United States Air Force, paving the way for continued global sales of the light attack aircraft. The AT-6E is a multi-mission aircraft system designed to meet a wide variety of war-fighter and peacekeeper needs.

The Beechcraft AT-6E Wolverine is designed and manufactured by Textron Aviation Defence LLC, a wholly owned subsidiary of Textron Aviation Inc., a Textron Inc. (NYSE:TXT) company. The MTC enables global sales of the aircraft through the U.S. government-sponsored foreign military sales program or the direct commercial sales process.
As a good steward of U.S. taxpayer resources, Textron Aviation Defence has manufactured an aircraft purpose-built for light attack, counter-insurgency and Countering Violent Extremist Organizations (C-VEO) mission capability featuring low risk, high performance and low cost. With unmatched tactical flexibility and aircrew protection, the Beechcraft AT-6 Wolverine delivers a broad spectrum of operational advantages beyond its competitors.

"Achieving Military Type Certification for the AT-6E is the culmination of a multi-year process and a significant accomplishment for our team, opening the door for allies around the world to welcome the AT-6 into their fleets," said Thomas Hammoor, President and CEO of Textron Aviation Defence LLC. "We are grateful to our employees throughout the organisation for the work they have done to achieve this vital milestone, and we remain committed to equipping war-fighters and peacekeepers worldwide with the most capable combat-rated integrated weapons system in this category - the Beechcraft AT-6E Wolverine."
The AT-6 Wolverine's speed, reliability, manoeuvring, altitude and attack profile advantages have proven superior across a broad spectrum of competitions and operational exercises. The United States Air Force was the launch customer for the AT-6, awarding a contract in 2020 for two AT-6E Wolverines. The Royal Thai Air Force is the international launch customer, awarding a contract in 2021 for eight Beechcraft AT-6TH Wolverines.
Purpose-built for light attack, counter-insurgency and Countering Violent Extremist Organizations (C-VEO), the high performance, low risk Beechcraft AT-6 Wolverine delivers affordable precision and endurance across operations in austere environments. The aircraft empowers operators with Next Gen ISR, the industry's best loitering precision strike capability, the ability to maintain pressure on targets, and reliable networked battlespace communications and video - linking every sensor to every operator - Anytime, Anywhere.



JOBY APPLIES FOR U.K. AIRCRAFT CERTIFICATION



Joby Aviation, Inc. (NYSE:JOBY), a California-based company developing all-electric aircraft for commercial passenger service, today announced it has formally applied for its revolutionary aircraft design to be certified for use in the United Kingdom.

While Joby is currently pursuing type certification for its aircraft with the U.S. Federal Aviation Administration ("FAA") and expects the U.S. to be its first operating market, this application will allow Joby's U.S.-based certification to be concurrently validated by the United Kingdom's Civil Aviation Authority ("CAA"), accelerating the Company's path to market in the U.K. Joby is believed to be the first eVTOL company to apply for foreign validation of its FAA type certificate.
With a maximum range of 150 miles and a quiet acoustic profile, Joby's five-seat, piloted electric vertical take-off and landing ("eVTOL") aircraft is designed to connect people and cities through fast, quiet, and emissions-free flight.
Joby's application builds on a joint statement by the FAA and CAA in March, announcing their intent to leverage the existing Bilateral Aviation Safety Agreement between the two regulators to streamline the introduction of eVTOL aircraft using existing regulatory frameworks.
Commenting on the application, JoeBen Bevirt, founder and CEO, Joby Aviation, said: "By working hand-in-hand on certification, the U.K. and the U.S. are setting the stage for these two countries to be amongst the earliest adopters of this important new technology."
"We strongly believe that a collaborative approach to regulation helps to foster greater safety and accelerate the introduction of new technologies that benefit the public and the environment."
"We're incredibly excited about the potential for electric aerial ridesharing to offer a new form of clean and affordable urban and regional connectivity across the U.K., where more than 80% of the population lives in, or near, cities."
Type certification is a multi-year process which sees a company undertake rigorous testing and documentation across each aircraft system in order to prove the aircraft is safe and ready for commercial operations. Similar type certification processes are undertaken for all aircraft, big and small - an approach that has helped shape air travel into one of the safest forms of transportation available today.
In March, Joby announced it had joined ADS Group, the premiere U.K. trade association for aerospace, defence and security companies, and is working with the U.K.'s leading provider of air traffic control services, NATS, to explore integration of Joby services into the U.K. airspace.

EMBRAER'S C-390 NEW AGREEMENT RAISES HOPES FOR THE MIDDLE EAST



Embraer and BAE Systems signed two MoUs at the Farnborough Air Show. The first is to establish a strategic partnership to collaborate in Middle Eastern markets for the C-390, with an initial focus on the Kingdom of Saudi Arabia.

"The MoU for the C-390 Millennium draws on the collective strengths of two leading aerospace players, BAE Systems and Embraer. The aircraft brings a new concept to market, offering a versatile and multi-mission platform with very low operating costs and fast turnaround, which is an unbeatable combination," said Jackson Schneider, President and CEO, Embraer Defence & Security.
Ian Muldowney, Chief Operating Officer for BAE Systems Air sector said: "This collaboration recognises the capability of the C-390 Millennium aircraft combined with BAE Systems' extensive knowledge and understanding of international markets including experience in standing up military capability and delivering industrialisation through the support, maintenance, and training solutions for complex aircraft."

BOEING INTEGRATES EAGLE PASSIVE ACTIVE WARNING AND SURVIVABILITY SYSTEM ONTO U.S. AIR FORCE F-15S



The first two U.S. Air Force F-15E aircraft recently began Eagle Passive Active Warning and Survivability System (EPAWSS) modification at Boeing [NYSE: BA]. Forty-three F-15Es will receive EPAWSS, which is also the electronic warfare system that will equip the F-15EX Eagle II.

Developed, produced and integrated by the strong partnership between Boeing and BAE Systems, EPAWSS represents a transformational overhaul to the survivability of the F-15 by providing advanced capabilities to detect and counter ground and airborne threats while also improving battlefield situational awareness.
"The Eagle Passive Active Warning Survivability System makes the most of mission effectiveness and survivability for the F-15 in contested environments, and further strengthens a highly capable, lethal aircraft," said Prat Kumar, Vice President of F-15 Programs. "With EPAWSS, the F-15E and F-15EX have successfully proven they can perform across a large force environment to penetrate advanced enemy air defences and improve mission flexibility."
In May 2021, the first two F-15EX aircraft, delivered ahead of schedule, participated in Northern Edge exercises with the EPAWSS suite. During the highly contested and complex exercises, the two jets demonstrated operational potential, which set the stage for future incremental improvements, allowing the jets to exhibit proven, outstanding performance in subsequent exercises and flight test missions in October 2021 and February 2022.

AIRBUS SUCCESSFULLY TESTS FIREFIGHTING KIT ON A400M



Airbus has successfully tested a removable firefighting demonstrator kit on the A400M new generation airlifter during a flight test campaign in Spain. The test campaign took place in daylight conditions with a minimum operating height of 150ft, flight speeds as low as 125 knots and drops involving up to 20 tonnes of water from the current tank in less than 10 seconds.

The main objective of the campaign is to validate the drop water quantity and time as well as the ability of the A400M to carry out this new role with the kit.
The development of this prototype and the tests have been carried out in close collaboration with the 43rd Group of the Spanish Air Force, as well as European authorities in Firefighting operations and the Ministry for Ecological Transition and Demographic Challenge (MITECO).
"The development of this firefighting kit is an intrinsic part of our journey towards helping to create a more sustainable and safer world, not only by our actions but also through our products. We strongly believe the A400M can play a vital role in the fight against the ever increasing threat posed by wildfires and support the restoration of social and environmental systems," said Mike Schoellhorn, CEO of Airbus Defence and Space.
The Airbus firefighting solution created for the A400M is a roll-on/roll-off (RORO) kit that requires no modification to the aircraft and therefore is interchangeable to any aircraft in the A400M fleet. The water is stored in a fixed tank in the cargo hold, and retained by two independent doors. These doors are connected to two flood pipes, so when the discharge is triggered, the water is expelled through two sections at the end of the ramp. The introduction of this RORO solution allows a rapid reaction to unforeseen fires and reconfiguration of the aircraft to any of its other roles.
Due to its low-level flight capability and manoeuvrability at low speeds, the A400M can accurately drop payloads of water at very low heights, down to 150ft. In the future, in addition to the development of the production version of this kit, Airbus will analyse this operation also in night time conditions, reinforcing the efficiency and effectiveness of the mission.


SIKORSKY S-92 HELICOPTER FLEET SURPASSES 2 MILLION FLIGHT HOURS

The global fleet of the multi-mission Sikorsky S-92 helicopters is rapidly accumulating flight hours, surpassing 2 million flight hours in a variety of missions including search and rescue, oil and gas transportation and VIP transportation in 28 countries. Sikorsky is a Lockheed Martin company.

"The 2 million flight hours milestone is a testament to the reliability, availability, and cost-effectiveness of the S-92 helicopter in some of the world's most demanding conditions and no-fail missions," said Leon Silva, Sikorsky's interim Vice President of Global Commercial and Military Systems. "Sikorsky is committed to supporting these critical missions with continued innovation to ensure operators can respond safely and with confidence, in any scenario."
Operators utilizing the S-92 aircraft enjoy a better than 93 percent availability rate, a best-in-class safety record-even in extreme conditions-and a proven record when it comes to reliability and adaptability.
The Mission
Sikorsky has delivered 300 S-92s with about 86 percent operated in the offshore oil and gas industry for personnel transport. Every major oil company relies on S-92s in their fleets thanks to the aircraft's unsurpassed capabilities and capacity that minimise per seat-mile costs while reducing needed trips and risk.
Fleet aircraft are also in service for civil search and rescue and have completed more than 91,000 search and rescue missions, as well as, commercial airline transport, executive transport, and other priority missions including coastal and border patrol, emergency response, and disaster relief. The S-92 is used by 13 nations for head of state missions, and the aircraft is the baseline for the VH-92A helicopter to be used for the new U.S. Presidential helicopter fleet.




USA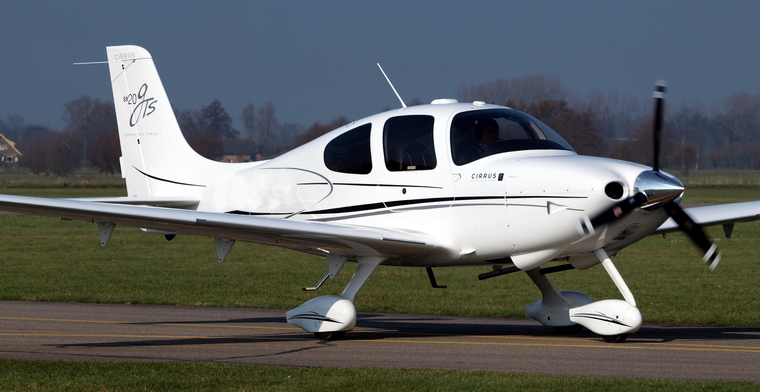 20 JAN 2022

The cross-country flight was being conducted by a flight instructor and pilot in a Cirrus SR 20 in conjunction with an instrument rating course from a Part 141 flight school.
According to the flight instructor, upon reaching the decision altitude, they transitioned to a visual descent to the runway. During the descent, the airplane impacted trees and the flight instructor assumed control of the airplane and continued to the runway for landing.
The airplane sustained substantial damage to the fuselage, right wing, and both horizontal stabilisers.
The pilot stated that after terminating use of the view limiting device and she transitioned to visual references, she continued to glance back at the glideslope indicator, which showed that they were low on the approach.
Shortly thereafter, a tree appeared in front of them, about the same time as they felt the impact. She stated that the precision approach path indicator (PAPI) would not turn on and there was not a current Notice to Air Mission (NOTAM) for the outage.
The pilot reported no mechanical malfunctions or anomalies that would have precluded normal operation.
Probable Cause and Findings
The National Transportation Safety Board determines the probable cause(s) of this accident to be:
The pilot's failure to ensure adequate terrain clearance during an approach. Contributing to the accident was the flight instructor's delayed remedial action when the airplane descended to low after transitioning to a visual descent to the runway.



USA, Oshkosh-Wittman Field, Oshkosh, A Cessna L-19E Bird Dog was substantially damaged when it ground looped while landing at Oshkosh.
USA, Oshkosh-Wittman Field, Oshkosh: Cessna T310R (Ram Iv conversion) landed on Runway 36 at Oshkosh and the right landing gear collapsed causing a prop strike and damage to the wing.
USA, Oshkosh-Wittman Field, Oshkosh: During taxi to the runway, a Van's RV-4 was struck from behind by a Van's RV-8. No injuries reported. The aircraft received unknown damage.

USA, Lake Hood Seaplane Base, Anchorage, AK: A Northstar Holdings LLC/Regal Air A de Havilland Canada DHC-2 Beaver Mk I with seven on board on a sightseeing tour was substantially damaged when it experienced an apparent departure stall/spin and a subsequent impact with the water during a take-off attempt at Lake Hood Seaplane Base (LHD/PALH), Anchorage, Alaska. The pilot and four passengers received minor injuries, and two passengers were seriously injured.
USA, near Ridgeland-Claude Dean Airport, Ridgeland, SC: A Beechcraft G36 Bonanza was destroyed when it impacted timbered terrain in Jasper County, northwest of Ridgeland-Claude Dean Airport (3J1), Ridgeland, South Carolina. The sole pilot on-board the airplane received unspecified injuries.
Austria, Höfen, near Reutte, Tyrol: A Cessna 177B Cardinal with two on board crashed shortly after take-off onto the roof of a house near Reutte-Höfen Airfield (LOIR), Tyrol. Both occupants were seriously injured and the airplane was destroyed.



USA, near Fallbrook Airport, CA: A North American T-28B Trojan with two occupants lost power moments after having become airborne shortly after take-off from Fallbrook Airport sustained substantial damage when it impacted the terrain. The pilot sustained fatal injuries, and the passenger was seriously injured.
Portugal, Faro Airport (Aeroporto Internacional de Faro), Faro: An easyJet UK Airbus A320-251N with 190 on board was climbing out of Faro's runway 28 when the crew stopped the climb at about 10,000 feet reporting an engine (LEAP) fire warning. The crew worked the related checklists, shut the engine down and returned to Faro for a safe landing on runway 28 about 30 minutes after departure. Emergency services found no evidence of fire.




29 JULY 1929




A Ford Trimotor flown by Charles Lindbergh began the first coast-to-coast air passenger service through Transcontinental Air Transport (TWA).


Transcontinental Air Transport (T-A-T) was an airline founded in 1928 by Clement Melville Keys that merged in 1930 with Western Air Express to form what became TWA.
Keys enlisted the help of Charles Lindbergh to design a transcontinental network to get government airmail contracts. Lindbergh established numerous airports across the country in this effort.
On July 7, 1929, transcontinental trips began. It initially offered a 48-hour coast to coast trip (trains by night, and planes by day in nine flights), with the first leg on the Pennsylvania Railroad overnight from New York City to Columbus, Ohio. There, passengers boarded a Ford Trimotor aircraft at what is now John Glenn Columbus International Airport, and flew to Waynoka, Oklahoma. Then, passengers caught the Santa Fe Railway for an overnight trip to Clovis, New Mexico, where they would take a second Ford Trimotor flight to Los Angeles. One-way fare from New York to Los Angeles was $352.
On 3 September 1929, a westbound TAT flight crashed on Mt. Taylor in New Mexico, with loss of all aboard. The Associated Press said it was the first plane crash on a regular commercial land route. The September crash was the first of three serious accidents for TAT over the next five months.
In its first eighteen months of operation, the company lost $2.7 million. In 1929 it merged with Maddux Air Lines and in 1930, during what was to become the Air Mail scandal, it merged with Western Air Express to form Transcontinental & Western Air (T&WA). Western became an independent company once again in 1934. However, Transcontinental opted to retain the T&WA name, and eventually evolved into Trans World Airlines or TWA.
Google Banner Ad