03.09.2022



Google Banner Ad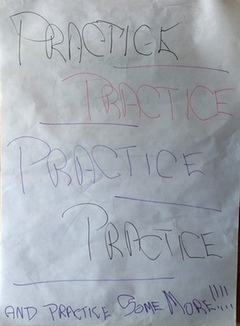 The South African Rally Flying Team for 2022 contains a combination of experienced teams with multiple world championships under their belt and new teams who have qualified for the first time. This is a great way for teams to share their knowledge with a mix of techniques, experience, and tricks.
The team has commenced training every 2 weeks in Brits, combining a series of both theory and flying exercises to improve each of the individual skills needed to be successful in the world championships.
The second training weekend took place from 27 - 28 August at Brits airfield.
A full day on Saturday included theory topics such as cockpit duties by Ron Stirk, route planning by Frank Eckard, timing at turn-points by Nigel Hopkins, photo recognition exercises by Mary de Klerk.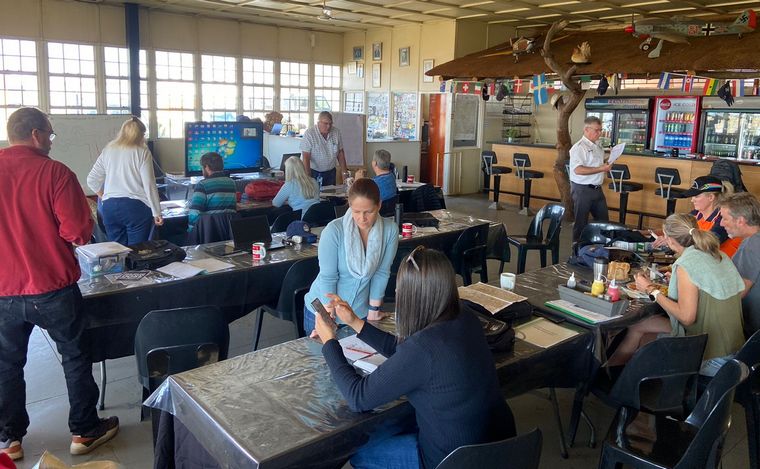 Importantly, the topic of safety was discussed to remind everyone that even while focussing on a rally, we should always remember safety first. Lastly, a timing exercise flown over the windsock helped to visualise what a 'bingo' looks like from the air. Sunday included a training route, set up specifically for the training.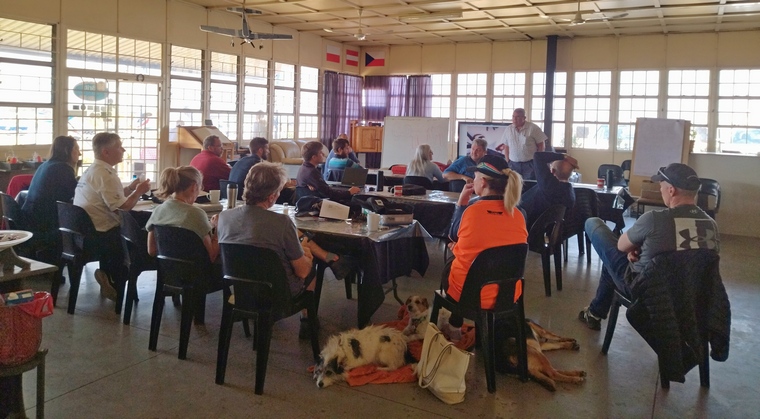 In addition to the training weekends, teams are also honing their skills at home whenever a free moment presents itself. This includes flying routes on X-plane, playing memory games and memorising the rules, amongst others. A huge thanks to Von Hammon who prepared some homework in the form of a take home route 'flown' on Google Earth used for practicing photo spotting.
A reminder that there are plenty opportunities to get involved. Please reach out if you would like to become involved in supporting the team as South Africa prepare to host this exciting event in November.
Meet the Team
As the team builds up to November, this is the first in a series of articles getting to know the Protea Rally Flying Team. Check Pilot's Post every 2 weeks for more WRFC news.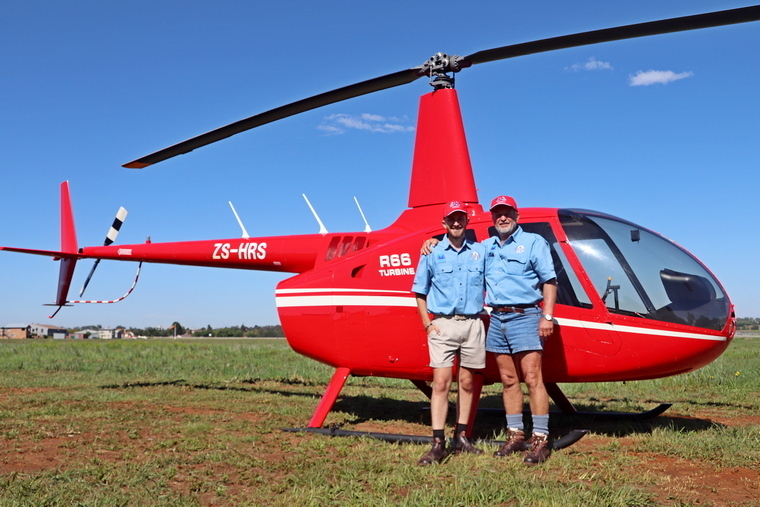 Apie and Frederik Kotzee


Father and son team Apie and Frederik Kotzee are looking forward to their first ever World Rally Flying Championships. Danie "Apie" Kotzee was born in Middelburg Mpumalanga and went to school in Morgenzon. He obtained a diploma in Agriculture after military service and has been operating his own business in earthmoving equipment ever since. In the past Apie obtained Provincial Colours for wrestling.
Apie completed his fixed wing PPL in 1981 and his helicopter PPL in 2006. In 2020, he started taking part in Rally Flying and in both 2021 and 2022 he qualified for the Rally Flying Protea Team as part of a crew with his son, Frederik. In rally flying, Apie is the Pilot, and son Frederik is the Navigator.
Father and son Apie and Frederik have enjoyed taking part in different activities together since Frederik was young, including scuba diving. In 2021 Apie and Frederik were joint winners of the President Trophy Air Race where Frederik was the pilot and Apie the navigator.
Frederik Kotzee was born in Pretoria and grew up in Kempton Park. After school, he obtained an International Diploma in Information Systems Engineering, BTEC Higher National Diploma (IT) and BEng Mechanical Engineering Degree.
Frederik started flying fixed wing aircraft in 2003 and obtained his fixed wing as well as helicopter PPL in 2006 at the age of 17. He continued his aviation training and obtained his fixed wing CPL in 2011 and helicopter CPL in 2012.
Frederik served and continues to serve part time in the SAAF Reserve Force. One of the highlights of his service was winning the Air Squadron Sword of Honour during Officers Forming Course. In 2021 Frederik was a joint winner of the Presidents Trophy Air Race with his father Apie as navigator and Frederik as pilot.
Frederik first took part in a Rally Flying competition in 2020. In rally flying Frederik is the navigator and flies with his dad, Apie as pilot. They qualified for the Rally Flying Protea Team in both 2021 and 2022.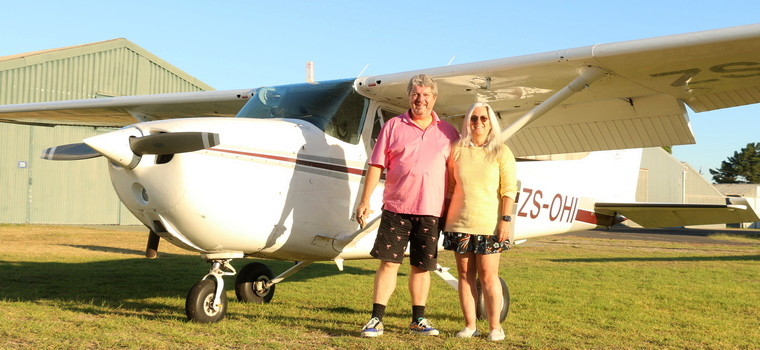 Tony and Pam Russell


Pam and Tony met at UCT where Pam studied for an MA in English and Tony graduated with a BSc (Hons) in Maths and Computer Science. Tony jumped straight into an IT career. Over the years he was instrumental in starting up (with partners) and eventually selling two businesses which were centred around technical support, consulting, solution design and implementation. He is now CTO at Telviva, which is focussed on telephony and communications integration.
As a side project, and a happy accident when trying to resolve a personal pain point at his home flying club, he also created Book-a-Flight, an aircraft / instructor booking system used by many schools and hire and fly organizations throughout South Africa. He has retained his interest in the business and brought on a partner to run it.
Pam was a stay-at-home mom for a few years after graduating, and then embarked on an IT career as well, first offering training and then working as a support engineer, manager and finally salesperson.
Tony started flying in 1996. He is a natural teacher and soon took up instructing. He is also passionate about learning, and qualified for his ATPL simply for the challenge. Pam followed Tony into aviation. She did a few hours as a Student Pilot, but soon discovered she was more interested in jumping out of aircraft than sitting in the left-hand seat. Tony admits to quite a few paradrop hours, as a way for them to spend time together on the weekends.
The couple's daughter, Katie co-owns Euphoria Cafe in Woodstock, Cape Town, where she works as a chef together with her friend and business partner, Marike. Katie's husband, Mxolisi is front of house, manager at the restaurant.
The Russells experimented briefly with Rally Flying many, many years ago, participating in two or three fun events and then entering their first Nationals at Tedderfield. They had no expectation of qualifying, but they feel their skills improved tremendously over the three days of the event. A Nationals is a wonderful opportunity for newer crews to build their skills and soak up knowledge.
With the sport under-represented in the Cape where it had previously been very strong, Tony opted to promote rally flying there, by organizing and running events. He acted as Team Manager to the SA team three times and served as Meet Director for the 2011 Precision World Championships at Brits. Pam focussed on her skydiving, gaining an Instructors Rating and a South African record in formation skydiving.
It was only around 3 years ago when a possible Stellenbosch Worlds was put forward that the couple decided to pick up rally flying again and make a serious effort to make the grade. The two work well together. Happily, the marriage is so far not at risk due to any in-air disagreements. They have a strict "no blame" policy and skillsets that complement one another.
In between Rally practice, Tony and Pam entered an Air Navigation Race (ANR) at Klerksdorp for fun and were persuaded to try a few more. They entered the ANR Nationals at Brits where they were selected to join the SA team in Portugal.
Switching back to rally, they finished second at Nationals in 2020, and second again in the official selection Nationals in 2021. Since the Stellenbosch championship fell away, they now look forward to participating in Brits instead. As they have represented South Africa only in ANR previously, they form part of the large novice contingent in this year's Rally team.
Tony and Pam are excited to be representing South Africa as part of such a strong team, with dynamic new crews and experienced former champions all sharing and supporting one another.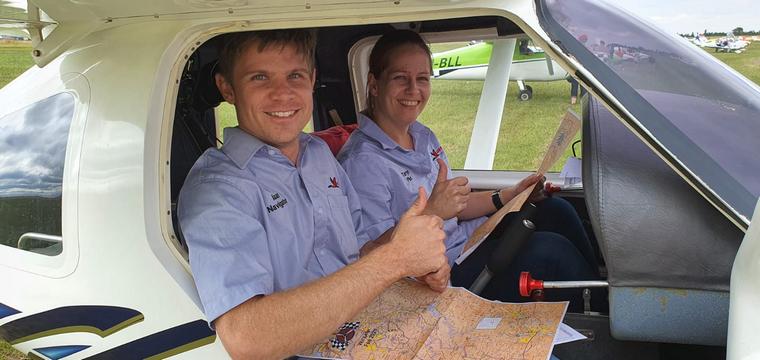 Tarryn and Iaan Myburgh

Another first-time team are husband and wife Iaan and Tarryn Myburgh. The bug bit during their first event together an ANR in August 2020. Rally flying soon became a fast favourite and they take part in as many events as possible. As competitive individuals, each event drives them to improve their skills.
Tarryn Myburgh is a geologist who works in water stewardship after gaining experience in the mining industry. Tarryn's love for aviation started from a young age, through her dad's passion for aviation. Tarryn completed her PPL in December 2019 and acquired her little Jabiru airplane, nicknamed Bonsai, in March 2020. After competing in her first ANR later that year, her first Rally Flying event followed in January 2021. She soon became addicted and qualified for the South African Rally Flying Team in 2022 with her navigator and husband, Iaan Myburgh.
Tarryn is a familiar face at SA Power Flying Association events, either helping on the ground or as a competitor in Speed Rallies and Spot Landing Competitions. She also serves as the Secretary of the SA Power Flying Association and is involved with the SACAA General Aviation Safety Strategy.
Tarryn has just over 350 hours of total flight time, mostly through competition flying or practicing for competitions. When she is not flying, Tarryn enjoys triathlons, reading and writing. You can read about her adventures on her aviation blog,
www.airheart.co.za
Iaan Myburgh studied Mathematics and currently works as a financial consultant to the mining industry. Not coming from an aviation background, Iaan got his first taste of competition flying when he competed in an ANR with his wife, Tarryn Myburgh, in 2020. This experience unlocked a passion for aviation that now includes roles as Treasurer for the Aero Club of South Africa and committee member for the SA Power Flying Association.
In Rally Flying, Iaan is the navigator for Tarryn. His experience and skill has improved exponentially from his first rally in January 2021, where he got air sick just after take-off, to qualifying for the South African Rally Flying Team in 2022. When he isn't navigating in a rally, you will find him creating Rally routes, developing Speed Rally scoring systems or organising fun rallies for local flying clubs.
Aside from the addiction to aviation, Iaan is an avid cyclist and motorsport enthusiast. He enjoys watching Formula 1 and is part of the Parabolica endurance go-karting team.
Tarryn and Iaan are thrilled to be representing South Africa and are enjoying the opportunity to learn as much as possible from the many new and experienced teams.
A reminder that there are plenty opportunities to get involved. Please reach out if you would like to become involved in supporting the team as South Africa prepare to host this exciting event in November.
Check back on Pilot's Post in 2 weeks to get to know the next three teams!

For more of Tarryn and Iaan's flying adventures go to:
www.airheart.co.za

Google Banner Ad