Compiled by Willie Bodenstein



Google Banner Ad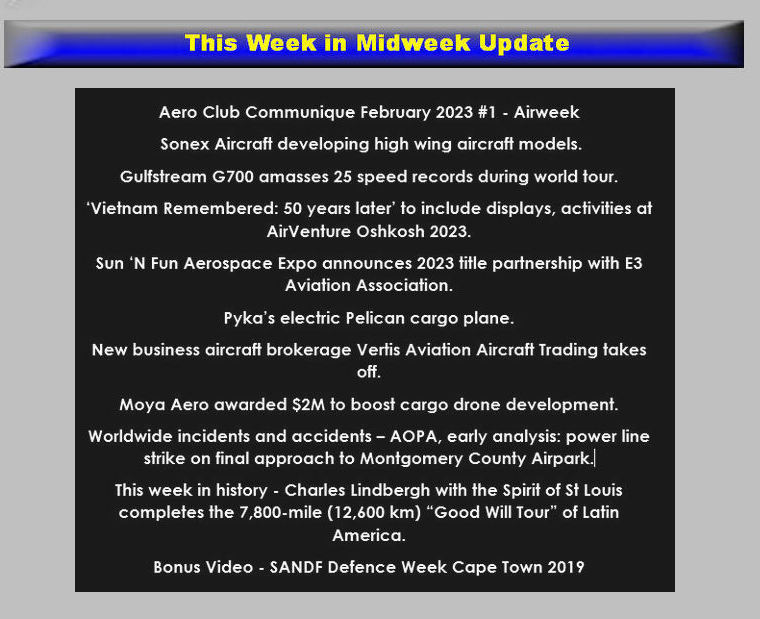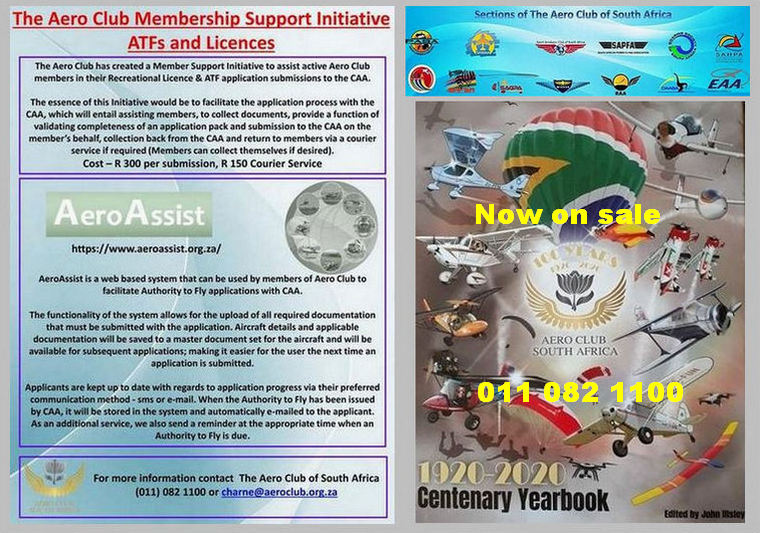 21 to 23
Air Cargo Africa exhibition and conference Emperor's Palace, Johannesburg. Contact Priyo Patra: priyopatra@statmediagroup.com Website: www.aircargoafrica.aero
23 & 24
Public Safety and Security Drone Conference Emperors Palace Convention Centre. Contact Adelaide Maphosa E-mail: adelaide@africaaptraining.co.za
24
CAASA Annual General Meeting via Microsoft Teams. Contact Louise Olckers E-mail: gm@caasa.co.za.
25
EAA Chapter 322 Young Eagles Brakpan airfield. Contact Neil Bowden E-mail: airadventuresa@gmail.com
25 to 26
SAC Western Cape Regionals Stellenbosch airfield. Contact Annie Boon E-mail: chunge@mweb.co.za Cell 082 902 8614






3 to 5
Aero Club Airweek Middleburg airfield. Contact Sandra Strydom sandra@aeroclub.org.za Tel: 011 082 1100
4
EAA Saturday Breakfast / Gathering 07h30 Middleburg airfield. Contact Neil Bowden E-mail: airadventuresa@gmail.com
5
Brakpan Aero Club Toyz for Boyz. Contact Clarissa E-mail: Clarissa@airborneaviation.co.za Cell: 074 113 2911
10 to 11
SAC Training Camp Kitty Hawk airfield. Contact Annie Boon E-mail: chunge@mweb.co.za Cell 082 902 8614
18
EAA CHAPTER 322 breakfast fly-in Jack Taylor airfield, Krugersdorp. Contact Neil Bowden E-mail: airadventuresa@gmail.com
18
Brakpan Aero Club Bona Bona fly away.Contact Clarissa E-mail: Clarissa@airborneaviation.co.za Cell: 074 113 2911
24 & 25
SAPFA Rally nationals at Brakpan airfield.Contact Leon Bouttell E-mail: Leon@lbaa.co.za Cell: 076 294 1363
28 March to 2 April
SUN 'n FUN Aerospace Expo Lakeland Florida, USA.Website: www.flysnf.org



1
EAA Chapter 322 breakfast gathering, boot sale and fly market EAA Auditorium. Contact Neil Bowden E-mail: airadventuresa@gmail.com

1
SAPFA Speed Rally - venue TBC. Contact David le Roux E-mail: david@pilotinsure.co.za Cell: 073 338 5200

1
Volksrust breakfast fly-in.Contact Steven Prinsloo E-mail: steven@razzoaviation.co.za Cell: 084 317 2915 Johan Geldenhuys Cell: 082 861 3499 / Cell: Thinus Kemp 063 201 9952

1 & 2 April
SAC Training Camp Warmbaths / Bela-Bela airfield. Contact Annie Boon E-mail: chunge@mweb.co.za Cell 082 902 8614

15
EAA Chapter 322 breakfast fly-in Brits airfield.April Contact Neil Bowden E-mail: airadventuresa@gmail.com

15
Robertson annual fly-in and breakfast Robertson airfield. April Contact Alwyn du Plessis E-mail: boeredata@breede.co.za

15 to 16
SAC Eastern Cape Regionals Wings Park airfield. Contact Annie Boon E-mail: chunge@mweb.co.za Cell 082 902 8614
19 to 22

AERO Friedrichshafen Germany. Contact Tobias Brezel E-mail: tobias.bretzel@fairnamic.com Cell: +49 1752313422

22
Elders Flight Brakpan airfield.Contact Felix Gosher E-mail: felixgosher@gmail.com Cell: 086 191 4603

20 & 21 April
Security Drone Conference Century City Conference Centre Cape Town. Contact Tawanda Mandaza E-mail: info@12stonereality.co.za Cell: 063 580 6400

27 April to 1 May
EAA National Convention at Vryheid airfield. Contact Neil Bowden E-mail: airadventuresa@gmail.com








AERO CLUB COMMUNIQUE FEBRUARY 2023 #1 - AIRWEEK

This year's Airweek has now a month to go. Essentially the outline theme will follow the successful Airweeks held in 2021 & 2022, which is an event for all our recreational aviators.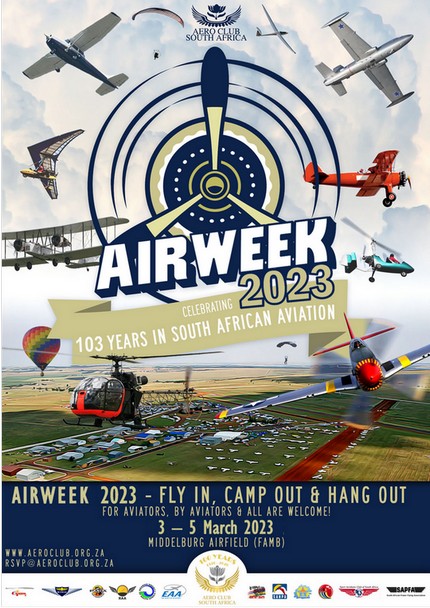 There is a good line up already planned, the EAA will be having their monthly meeting, the SAC will be hosting an aerobatics exhibition, SAMAA will have model flying activities and BAFSA will be flying their balloons and if the weather prevails a night glow. The Flying Lions & Goodyear Eagles are also planned to make an appearance.
The dates are 3 - 5 March 2023, with early arrivals on the 2nd for those who wish to have an extended stay. Please visit the website for more details.
www.aeroclub.org.za/airweek/
Registration is also open for attending - and those who plan to attend if you can register at this link
https://forms.gle/Kw45CUKkbsGUY9jv9
Those who wish to camp and hire tents, the booking link is here
https://forms.gle/kco5A9ENSBKcyyzH7
For Exhibitors wishing to book exhibition space, visit the website
www.aeroclub.org.za/airweek-the-2023-edition-exhibitor-information/
for details and Exhibitor forms.
If you have any queries or require information, please email r
svp@aeroclub.org.za
- as well as to be contact for sponsorship / Donations which would be welcome.
If you are not a member and wish to join the Aero Club and any of its Sections feel free to do so
www.aeroclub.org.za/member-renewals-and-new-memberships





SONEX AIRCRAFT DEVELOPING HIGH WINGAIRCRAFT MODELS




Sonex Aircraft is proud to present its newest kit aircraft design: the Sonex Aircraft High Wings. Designed for expanded utility, ease of pilot access and to appeal to the high wing enthusiast, the Sonex High Wing offers the legendary Sonex performance and handling in a new configuration. While many kit manufacturers today offer high wing aircraft with a backcountry mission in-mind, we are making our cantilevered wing aircraft in the Sonex tradition of sleek, efficient aerobatic and cross-country performance - The Best Performance Per Dollar!
Sonex will be presenting three new webinar presentations over the next three months, hosted by EAA! These new live webinars will cover topics including the upcoming Sonex High Wing aircraft design, Rotax engine installations in Sonex aircraft, and an overview of all Sonex and AeroConversions products.
Webinars are live video broadcast presentations with an interactive interface allowing viewers to submit their questions to the presenter and get answers in real-time. The event will also be recorded and hosted by EAA as archived videos for viewing later if you miss any of the live presentations or would like to watch a presentation again.

GULFSTREAM G700 AMASSES 25 SPEED RECORDS DURING WORLD TOUR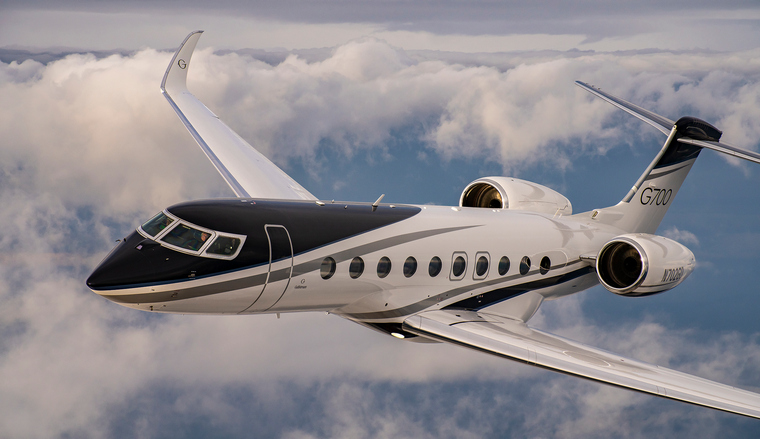 Gulfstream Aerospace Corp. today announced the all-new Gulfstream G700 achieved 25 speed records on the recently completed G700 world tour. Gulfstream flew two fully outfitted G700 production test aircraft to more than 20 countries across six continents to demonstrate the aircraft's performance capabilities and the flexibility and comfort of the most spacious cabin in the industry.

"The G700 world tour was a tremendous success," said Mark Burns, president, Gulfstream. "We knew the aircraft would perform exceptionally well, and they exceeded even our own high expectations for both reliability and performance across a variety of routes. Showcasing the outfitted aircraft to our customers and prospects around the world bolstered the already strong demand we are seeing for the G700."
Notable record runs achieved by the G700 include:
• Savannah to Riyadh, Saudi Arabia, in 12 hours, 36 minutes at an average speed of Mach 0.90 to begin the international portion of the tour
• Istanbul, Turkey, to Van Don International Airport in Vietnam, in 9 hours, 2 minutes at an average speed of Mach 0.90
• Riyadh to Melbourne, Australia, in 13 hours, 39 minutes at an average speed of Mach 0.87
• Christchurch, New Zealand, to Los Angeles in 12 hours, 13 minutes at an average speed of Mach 0.87
In total, the two G700 outfitted aircraft traveled 53,882 nautical miles/99,789 kilometers over more than 180 hours of flying. The world tour speed records are pending approval by the U.S. National Aeronautic Association and Fédération Aéronautique Internationale in Switzerland for recognition as world records.
The two G700 production test aircraft interiors showcase the industry's only ultragalley, with more than 10 feet/3 meters of counter space; a grand suite with fixed bed and bright, spacious lavatory with full vanity and shower; an ultrahigh-definition dynamic circadian lighting system; an all-new award-winning seat design; and the lowest cabin altitude in the industry at 2,916 ft/889 m when flying at 41,000 ft/12,497 m.

'VIETNAM REMEMBERED: 50 YEARS LATER' TO INCLUDE DISPLAYS, ACTIVITIES AT AIRVENTURE OSHKOSH 2023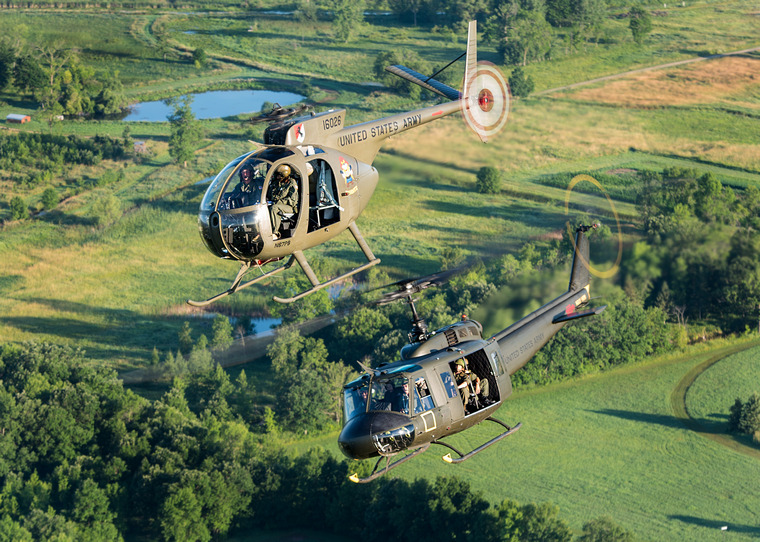 The people and aircraft that participated in the Vietnam War will be remembered 50 years after the end of direct hostilities during EAA AirVenture Oshkosh 2023, which will be held July 24-30 at Wittman Regional Airport in Oshkosh.


The 70th edition of EAA's fly-in convention will include specific programs and activities that involve the aircraft of that period, from all branches of service that were engaged during that period.
"The Vietnam era was a remarkable time for aviation innovation and development," said Rick Larsen, EAA's vice president of communities and member programs, who coordinates AirVenture features and attractions. "It was a bridge from the early jet age to the aircraft that are still a foundational part of our armed forces. More important, this is an opportunity to recognize those who served, many of whom did not receive a grateful welcome when they returned from their service."
The aircraft involved in the individual programs will be announced as their presence is finalized. However, the line-up will include land- and carrier-based aircraft, as well as rotorcraft that are examples of those that saw service in Vietnam. Special activities will encompass the AirVenture air shows, evening programs, Boeing Plaza and Warbirds area displays, and areas such as the Fly-In Theatre, Theatre in the Woods and the EAA Aviation Museum.
In addition, the annual Yellow Ribbon Honour Flight is scheduled to return to the schedule on Friday, 28 July, focusing on Vietnam veterans departing Oshkosh for a day trip to visit memorials in Washington, D.C., prior to returning at the end of that day's air show.

SUN 'N FUN AEROSPACE EXPO ANNOUNCES 2023 TITLE PARTNERSHIP WITH E3 AVIATION ASSOCIATION

SUN 'n FUN Aerospace Expo, one of the largest and most successful aviation events in the world, announced today that E3 Aviation Association is the new title sponsor for the March 28 - April 2 event in Lakeland, Florida. As the first major air show and expo of the year, the partnership allows for the more than 200,000 aviation enthusiasts from around the world to enjoy what has become known as Aviation's Season Opener and Spring Break for Pilots.

"E3 Aviation Association is the perfect partner to join SUN 'n FUN this year. It's an amazing brand fit in every way with the experiential event we've created," said Gene Conrad, President and CEO for SUN 'n FUN Aerospace Expo. "At the core of it all is our shared passion for aviation. We have so many fun and interesting surprises waiting for our visitors this year. "
"As the premier aviation membership platform, we owe a lot to the incredible passion that aviation fans and pilots have created across the country," said E3's Vice President of Marketing, Josh Volpe. "The pinnacle of aviation events and air shows, like Sun's Fun, is a big reason why the industry has grown into such a phenomenon for pilots, aviation enthusiasts and students. When we were introduced to the Sun's Fun team; it was an easy decision to become the title sponsor after seeing their passion, cause and vision as they continue to inspire and educate people of all ages."
Taking off for its 49th year, Sun's Fun Aerospace Expo showcases hundreds of aircraft on display including vintage, homebuilt, aerobatic, warbird, jet, and light sport. One of the highlights of the five-day expo is the Blue Angels, the high-flying and awe-inspiring flight demonstration squadron of the U.S. Navy. Additional special air show acts include U.S. Air Force F-35 Lightening II Demonstration Team, the U.S. Marine Corps F-35B Lightening II Demonstration Team, and Doug Rozendaal flying Mr. Mulligan, the Howard DGA-6 pioneer racing plane. Sun's Fun also features more than 500 exhibitors, hands-on workshops teaching building and maintenance skills, and educational forums from pilots and maintainers about safety, new products, and other timely topics.
Tickets for Sun's Fun Aerospace Expo are available online at
www.flysnf.org.



PYKA'S PELICAN CARGO



Built on Pyka's revolutionary autonomous electric flight engine, the Pelican Cargo features extended range, increased payload capacity and maximized cargo volume, for best in class last-mile air cargo transportation.





NEW BUSINESS AIRCRAFT BROKERAGE VERTIS AVIATION AIRCRAFT TRADING TAKES OFF.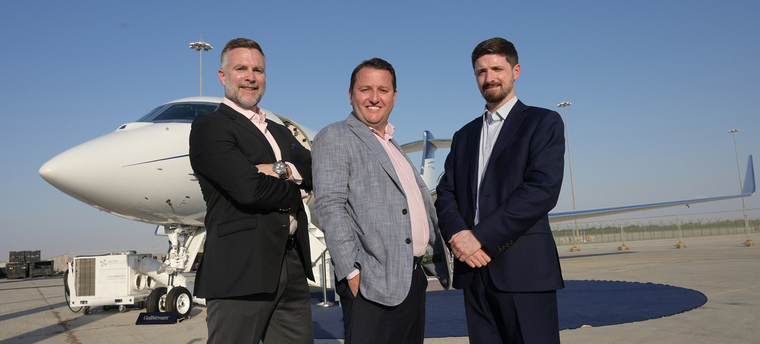 Business aviation figureheads Mark Abbott, Conan McGale and Jeffrey Emmenis are combining more than sixty years of sector experience in a new aircraft broking venture, Vertis Aviation Aircraft Trading. The decision to launch was inspired by an increasing number of requests for aircraft transaction support from charter customers of sister business Vertis Aviation, as well as growing market demand for transparent, highly personalised transactions in an increasingly lively and somewhat opaque trading sector.


The team is led by CEO Abbott, who brings a wealth of experience conducting high-level negotiations across international borders between ultra-high-net-worth individual owners, operators, airframe manufacturers and brokers. These long-term relationships make him acutely aware of owners' needs pre-, during and post-transaction. As Director, McGale adds expertise in managing seamless pre-owned aircraft transactions and deeply understands the intricacies and complexities of trading used airframes. McGale was instrumental in developing The Jet Business, where he built and led the pioneering company's industry-leading research department.
One of the founders of boutique charter broker Vertis Aviation, Emmenis, is also a director and complements the team with a precise understanding of the transforming requirements of business aviation users. He instinctively recognises their changing needs as they move from charter and jet card hours to ownership.
The executives' understanding of cultural nuances and singular global network enables them to go above and beyond when managing airframe transactions. "Our industry familiarity means we are distinctive in our ability to share our knowledge and provide dependable, data-driven advice to existing and new buyers and sellers from pre- to post-transaction," says Abbott. "In addition to supporting trading, we can help connect customers with reputable legal, financial, and fiscal professionals and advise on aircraft management, refurbishment, or maintenance options. We want to build trusted lifetime relationships to help our clients optimize their business aviation usage from start to finish." Through the relationship with Vertis Aviation, the new brokerage will also support customers looking to upgrade from charter to ownership or support divestment as owners downgrade.
The business is headquartered in Dubai, but reflecting its ability to conduct seamless international trading, the partners have located themselves in key territories to support each market's needs. Abbott splits his time between the Bahamas and Dubai, McGale is based in the United Kingdom, and Emmenis shares his time between Switzerland and Dubai.



MOYA AERO AWARDED $2M TO BOOST CARGO DRONE DEVELOPMENT





Moya Aero was awarded a US$2-million grant from FINEP, a Brazilian government organization that promotes science, technology, and innovation. The funds will be used to continue work on developing its Moya eVTOL.

In partnership with Helisul Drones, Albatross, and Certifica Drone, Moya Aero was one of two companies awarded among 15 finalists. The grant will support the next steps of the first eVTOL for cargo dedicated to logistics applications and aimed at greater productivity and efficiency.
Moya Aero, founded in 2020 by Alexandre Zaramela and Renata Paolillo, is a spin-off of ACS Aviation, Brazil's leading aeronautical engineering, research, and aircraft development entity located in the heart of Latin America's aerospace industry corridor, São José dos Campos.
This extraordinary experience is behind the Moya eVTOL, the first autonomous, high-capacity, all-electric vehicle being built in the Southern Hemisphere.
Alexandre Zaramela, co-founder and CEO of Moya, said: "We are honoured to receive this support from the FINEP, which we see as a testament to the importance of developing zero-emissions vehicles. Our mission is to build a cargo drone that will fill a gap in the market to serve remote and unassisted areas by conventional transport."




USA

AOPA, EARLY ANALYSIS: POWER LINE STRIKE ON FINAL APPROACH TO MONTGOMERY COUNTY AIRPARK



On 27 November 2022, a Mooney M20J became entangled in high-voltage power transmission lines on an instrument approach to Montgomery County Airpark (GAI) in Gaithersburg, Maryland. Thankfully both the pilot and passenger were rescued from the airplane that was perched some 100 feet above the ground.
The Mooney had been cleared for the GPS approach to Runway 14. Weather conditions at that time were poor with a 200-foot overcast and visibility of 1.25 miles in mist.
ADS-B data and ATC audio indicate the pilot was having difficulty maintaining assigned headings to the initial approach fix.
In Early Analysis: N201RF, the AOPA Air Safety Institute (ASI) makes a preliminary assessment of the accident, addressing notable portions of the tragic flight and highlighting areas the NTSB will likely investigate to determine a probable cause.



DRC, near Goma: An Atlas Oryx helicopter, operated by the South African Air Force (SAAF) on behalf of the United Nations MONUSCO mission, was struck by ground fire. One crew member was killed, another one was injured. The helicopter landed safely at Goma, D.R. of the Congo.
South Africa, Cape Town International Airport: While being towed at Cape Town International Airport a SAAF Boeing 737-ED (BBJ) hit a structure resulting in damage to its wing. There were no personal injuries.

Nigeria, Lagos-Murtala Muhammed International Airport: A Nigerian Air Force Cessna 525B CitationJet CJ3 surveillance aircraft made a gear-up landing on the grass to the right of runway 18R at Lagos-Murtala Muhammed International Airport (LOS).
Canada, 70nm SSW of Halifax, NS: A Boeing 767-322 aircraft operated by United Airlines was conducting flight UA146 from Newark Liberty International Airport Newark, New Jersey, USA (KEWR) to London Heathrow, United Kingdom (EGLL). During cruise, the flight the crew detected vibration from engine no.1 and also noted that the engine was not producing thrust accompanied by high an elevated exhaust gas temperature (EGT). The Quick Reference Handbook (QRH) procedures were accomplished, the engine no.1 was shut down and an emergency was declared with Moncton ACC. The crew requested and received clearance to divert to Halifax/Stanfield Intl. (CYHZ), NS where the aircraft landed safely at 06:29 UTC (02:29 LT).
The aircraft was examined by Aircraft Rescue Fire Fighting crews before taxiing to the gate under its own power. Examination of the no.1 engine, a Pratt and Whitney PW4060-3, revealed small-size metal debris in the tailpipe and oil from the engine core area. The inboard side of the accessory gearbox had a crack extending from the top along the forward edge of the gearbox case. There was no evidence of an uncontained failure of the engine.

Brazil, São Felix do Xingu, Taboca, PA: A Cessna 182P Skylane crashed on a house in São Felix do Xingu, Taboca, Pará, due to a loss of engine power during a go around at São Félix do Xingu Airport. Both occupants received minor injuries and one person on the ground was injured. The airplane was destroyed.
Atlantic Ocean, over the Gulf of Mexico: A Flair Airlines Boeing 737-800 was conducting flight FLE2615 from Cancun Intl, Mexico to Toronto/Lester B. Pearson Intl. proximately 4 minutes after level off at FL370, the LH PACK annunciator illuminated on EICAS.
The flight crew actioned the corresponding QRH action items and while performing required action, the RH PACK also illuminated. Shortly thereafter the flight crew received a CABIN ALTITUDE Warning light and associated horn.
The flight crew immediately donned oxygen mask and attempted to contact Houston Centre for descent clearance. The flight crew was unable to contact ATC. They initiated an emergency descent, squawk 7700 on the transponder and cabin/passengers' masks also deployed. During the emergency descent, the flight crew was able to reach Houston Centre, received clearance to 10000 feet and decided to divert to Fort Lauderdale/Hollywood Intl. (KFLL), FL. There were no injuries.

Czech Republic, near Hradec Králové Airport: During a training flight, with over 100 kts of airspeed, a Cessna 172RG Cutlass RG, collided with a white-tailed eagle (Haliaeetus albicilla). The bird damaged the propeller, broke the windshield, and its body ended inside the plane, hurting the 23-year-old student pilot.
The instructor took over the control and performed a successful emergency landing at Hradec Králové Airport (LKHK) and the student was transported to a hospital with a light wound.




8 FEBRUARY1928

Charles Lindbergh with the Spirit of St Louis completes the 9,390 -mile (15,110 km) "Good Will Tour" of Latin America and the Caribbean after having spent 116 hours in the air.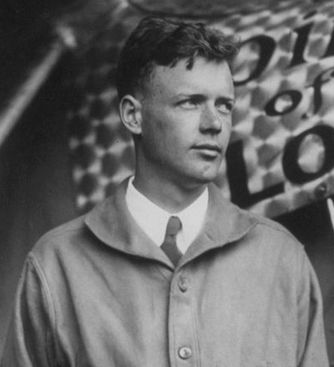 Barely two months after Lindbergh had arrived in Paris, he visited 82 cities in all 48 states of the US, delivering 147 speeches, rode 1,290 mi (2,080 km) in parades and was seen by more than 30 million Americans, one quarter of the nation's population.
Lindbergh then toured 16 Latin American countries between 13 December 1927 and 8 February 1928. Dubbed the "Good Will Tour", it included stops in Mexico (where he also met his future wife, Anne, the daughter of U.S. Ambassador Dwight Morrow), Guatemala, British Honduras, El Salvador, Honduras, Nicaragua, Costa Rica, Panama, the Canal Zone, Colombia, Venezuela, St. Thomas, Puerto Rico, the Dominican Republic, Haiti, and Cuba, covering 9,390 miles (15,110 km) in just over 116 hours of flight time.



SANDF Defence Week Cape Town 2019


Google Banner Ad