Compiled by Willie Bodenstein



Google Banner Ad



THIS WEEK IN MIDWEEK UPDATE
Lancelot Mathebula is new SAAF Chief Director Force Preparation.
Angola getting Aksungur UAVs from Turkey.
Garmin GNS 430/530 series repair services to expect limitations in 2024.
United Airlines and Archer Announce first commercial electric air taxi route In Chicago.
Heli-Expo 2023: New orders confirm Leonardo's strong position in the global commercial helicopter market.
Archer's Maker eVTOL Aircraft 70 KTs flight test experience.
Leonardo AW09 PS4 prototype performs first flight.
LIFT Aircraft completes first-ever piloted eVTOL demonstrations in Japan.
Bell 505 Helicopters delivered to the Kingdom of Bahrain.
Worldwide incidents and accidents - FAA - Collision with terrain during take-off of parachute jump flight Beech King Air.
This week in history - Group Captain John Cunningham sets a new world altitude record of 59,446 ft (18,119 m) in a de Havilland Vampire.
Bonus Video - Alouette II & III Compilation






28 March to 2 April
SUN 'n FUN Aerospace Expo Lakeland Florida, USA. Website: www.flysnf .org







1
EAA Chapter 322 breakfast gathering, boot sale and fly market EAA Auditorium. Contact Neil Bowden E-mail: airadventuresa@gmail.com

1
Volksrust breakfast fly-in. Contact Steven Prinsloo E-mail: steven@razzoaviation.co.za Cell: 084 317 2915 Johan Geldenhuys Cell: 082 861 3499 / Cell: Thinus Kemp 063 201 9952

1 & 2
SAC Training Camp Warmbaths / Bela-Bela airfield. Contact Annie Boon E-mail: chunge@mweb.co.za Cell 082 902 8614

14
SACAA National Aviation conference Gauteng Venue TBA. For information contact: Charmeine Shibambo E-mail: shibamboc@caa.co.za

15
EAA Chapter 322 breakfast fly-in to Brits airfield. Contact Neil Bowden E-mail: airadventuresa@gmail.com

15
Robertson annual fly-in and breakfast Robertson airfield. Contact Alwyn du Plessis E-mail: boeredata@breede.co.za

15 &16
SAC Eastern Cape Regionals Wings Park airfield. Contact Annie Boon E-mail: chunge@mweb.co.za Cell 082 902 8614

19 to 22
AERO Friedrichshafen Germany. Contact Tobias Brezel E-mail: tobias.bretzel@fairnamic.com Cell: +49 1752313422

22
Elders Flight Brakpan Airfield. Contact Felix Gosher E-mail: felixgosher@gnmail.com Cell: 086 191 4603

27 April to 1 May
EAA National Convention Venue and date confirmation to be announced. Contact Neil Bowden E-mail: airadventuresa@gmail.com







4 to 7
Kalahari Bundu Bash Adventure Koppieskraal Pan. Contact Cell: 078 459 2636 or 054 331 3534 E-mail: kbb@rafsa.co.za

4 to 8
NAC fly-away to Namibia. Contact Agnes Phillips E-mail: agnes.phillips@nac.co.za Cell: 082 893 3399

5 to 7
BONA BONA fly-in at the Bona Bona airfield and country lodge. Contact Christian E-mail: christian@vsg.co.za Cell 083 251 4573

5 & 7
Kuzuko Lodge and private game reserve RV fly-in safari. Contact E-mail: kuzuko@legacyhotels.co.za

5 & 6
SAAF Museum annual airs how AFB Swartkops. Contact Maj. Ntshangase. Zero 8 three four one 0166 five

6
EAA Chapter 322 monthly gathering 07h30 EAA Auditorium Rand Airport. Contact Neil Bowden E-mail: airadventuresa@gmail.com

6 to 7
SAPFA Speed Rally at Bona Bona airfield. Contact David le Roux E-mail: david@pilotinsure.co.za Cell 073 338 5200

13
Lowveld Airshow at Nelspruit airfield. Contact Naranda Leeuwner Cell: 072 447 5968 E-mail: Naranda.leeuwner@kishugu.com

7 to 14
Sling Africa Tour: Departing from the Kalahari Bundu Bash led by Mike and Sue. Contact Shanelle Visagie E-mail: Shannelle@slingairctaft.com

16 to 19
Grain SA's NAMPO Harvest Day. Contact Wim Venter E-mail: wim@grainsa.co.za Tel: 086 004 7246

17 to 20
SAC National Aerobatics Championships Tempe airfield. Contact Annie Boon E-mail: info@anniesaviationcorner.com

18 & 19
Orion training, tech, drones and unmanned aviation conference. Contact Thabo Ndimande E-mail: thabo@orion-training.co.za Cell: 072 663 2724

20
New Tempe airshow Bloemfontein. Contact Conrad Botha E-mail: rowco24cc@mailbox.co.za Cell: 082 770 5505

20
EAA Chapter 322 breakfast fly-in at Fly inn Estate. Contact Neil Bowden E-mail: airadventuresa@gmail.com

25 to 28
SAPFA Presidents' Trophy Air Race Middleburg airfield Website: www.sapfa.co.za Contact Iaan Myburgh E-mail: iaanmyburgh@gmail.com Cell: 082 449 2531








LANCELOT MATHEBULA IS NEW SAAF CHIEF DIRECTOR FORCE PREPARATION
www.defenceweb.co.za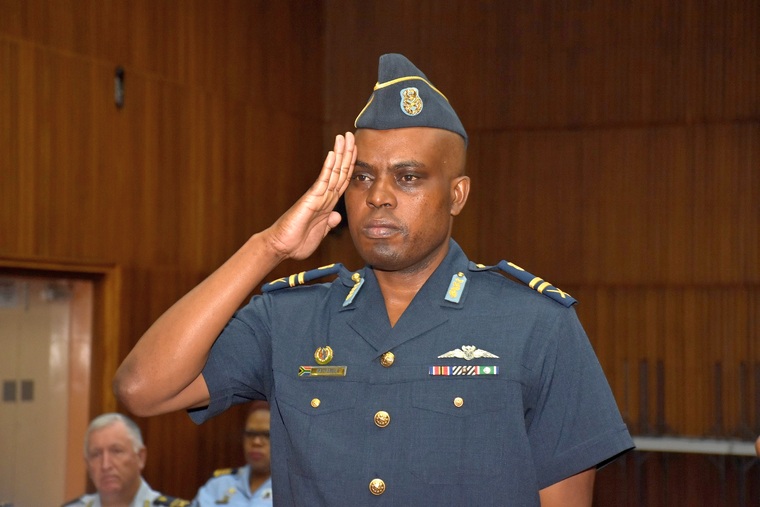 Former Air Force Base Makhado commander Major General Lancelot Mathebula has started his new role as Chief Director Force Preparation of the South African Air Force (SAAF).


Mathebula was given his new ranks by SAAF Chief, Lieutenant General Wiseman Mbambo, on 2 March at SA Air Force Headquarters. He replaces Major General Mbukeli Songqushwa, who retired on 28 February.
Captain Tebogo August, Editor of Ad Astra Magazine, in giving Mathebula's biographical history that he was born 26 January 1978 in Temba, Hammanskraal and later moved to Soshanguve. He completed high school in 1996 at Ratshepo High School in Temba.
Before joining the South African Air Force, he studied Metallurgical Engineering at Tshwane University of Technology. He joined the SA Air Force in January 2000 as a pupil pilot. He completed his Technology & Management certificate which included ground school at the Military Academy in Saldanha in 2001. In 2002 he was commissioned as an officer and qualified as a pilot at Air Force Base Langebaanweg.
He joined the Combat line in 2003 and qualified as a wingman on the Impala Mk I and Mk II at 85 Combat Flying School in 2005 at Air Force Base Hoedspruit. In. 2006, he was transferred to AFB Makhado to fly the Hawk Mk 120 Lead-In Fighter Trainer and qualified as a flight leader in 2009 and subsequently transferred to 2 Squadron to fly the JAS 39 Gripen.
He completed his tour at the Operational Squadron in 2012. He subsequently completed the Instructors' Course in 2014 as a B category instructor, and further qualified as a pilot attack instructor in 2016.

Mathebula completed all SA Air Force developmental courses and had an opportunity to complete some in the United States of America. In 2018 he was promoted to the rank of Colonel as the Air Wing Coordinator of Air Force Base Makhado. The other major achievement he holds is his Post Graduate Diploma in Security and Management from Wits University. In March 2021, he was appointed as Officer Commanding Air Force Base Makhado and became the first black fighter pilot to command the Base.
The highlights of his career include being an exchange pilot in a programme held in the United Kingdom, being a Hawk 2v1 Display pilot, participating in exercise Red Flag in the United States, and Exercise Lion Effort in Sweden.



ANGOLA GETTING AKSUNGUR UAVS FROM TURKEY
Guy Martin www.defenceweb.co.za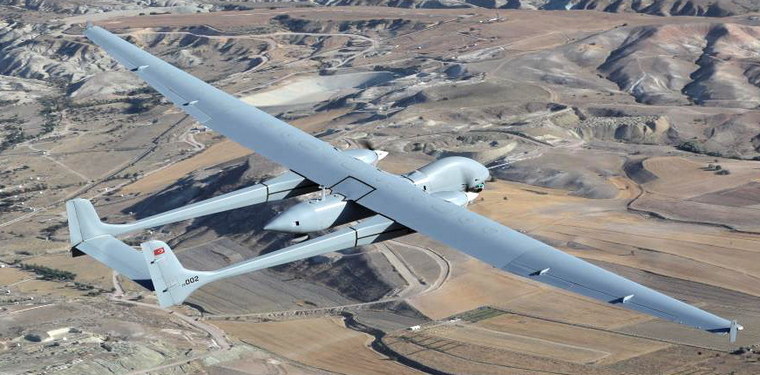 Angola has ordered Aksungur medium-altitude, long endurance (MALE) unmanned aerial vehicles (UAVs) from Turkish Aerospace Industries (TAI), becoming the first confirmed African nation to do so.


Production of the aircraft has started, according to TAI (TUSAS) General Manager for Unmanned Aerial Vehicles, Omer Yildiz. In an interview with CNN Turk that was reported by SavunmaSanayiST, he said the Aksungur has been sold to export customers Kyrgyzstan and Angola but deliveries have not yet begun.
Yildiz revealed that eight Aksungur UAVs have been manufactured so far and another six are on the production line and the rate of production is increasing from one every three months to one a month.
The Angolan deal appears to go back to 2021 when Turkish President Recep Tayyip Erdogan said in October that year Angola had asked to acquire Turkish UAVs and armoured personnel carriers following an earlier visit by Angolan President Joao Lourenco to Turkey. In October 2022, the Angolan government approved a $93 million contract with Turkish Aerospace Industries for UAVs, with the acquisition moving through Angolan public corporation Simportex.
Algeria was earlier reported as the first African export customer for the Aksungur, with Algerian media in October last year stating that the North African nation would acquire six of the aircraft, but this has not been officially confirmed.

TAI describes the Aksungur as being able to carry out day and night Intelligence, Surveillance and Reconnaissance (ISR) and strike missions with electro-optical/infrared and synthetic aperture radar (SAR) payloads and a variety of air-to-ground weapons. Three hardpoints can carry 750 kg of weaponry, such as TEBER-81 and TEBER-82 laser-guided bombs, and L-UMTAS, MAM-L, Cirit, and MAM-C guided munitions.
The aircraft is powered by two PD-170 twin-turbocharged diesel engines enabling long endurance operations up to 40 000 feet. An optional satellite communications payload can allow beyond line-of-sight operations. The Aksungur is 12.5 metres long, has a wingspan of 24.2 metres and endurance of 50 hours (without weapons).
A maritime patrol version of the UAV is available and this is fitted with a synthetic aperture radar, Automatic Identification System (AIS), sonobuoy pod and magnetic anomaly detector (MAD) boom. TAI is also working on fitting a lightweight torpedo to the Aksungur.
The Aksungur was developed from the combat-proven Anka UAV and has been in Turkish Navy service since October 2021.

GNS 430/530 SERIES REPAIR SERVICES TO EXPECT LIMITATIONS IN 2024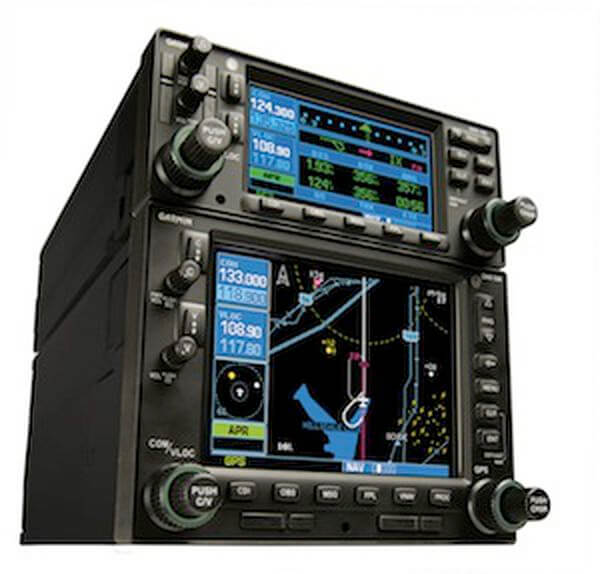 Due to multiple component availability limitations, comprehensive repair service for Garmin's GNS 430/530 series, including all GPS/COMM and GPS only variants, as well as WAAS models, is estimated to become limited in the years ahead. Initially these limitations are estimated to impact a small percentage of repairs beginning in 2024. Garmin will communicate specific repair limitations as they need to be implemented.

First introduced in 1998, Garmin has offered repair service for the GNS 430/530 series for 25 years. Garmin plans to continue offering repair service when the components required for a specific repair remain available. Database updates and technical support will not be impacted by these changes to GNS repair services.
GNS 430/530 customers should begin to consider their transition strategy to the newest generation of Garmin products, including the widely adopted GTN Xi series, GNX 375 or GNC 355. To assist customers in this transition, Garmin is offering a trade-in program that is detailed below. This program will be available through 30 June 2023.

UNITED AIRLINES AND ARCHER ANNOUNCE FIRST COMMERCIAL ELECTRIC AIR TAXI ROUTE IN CHICAGO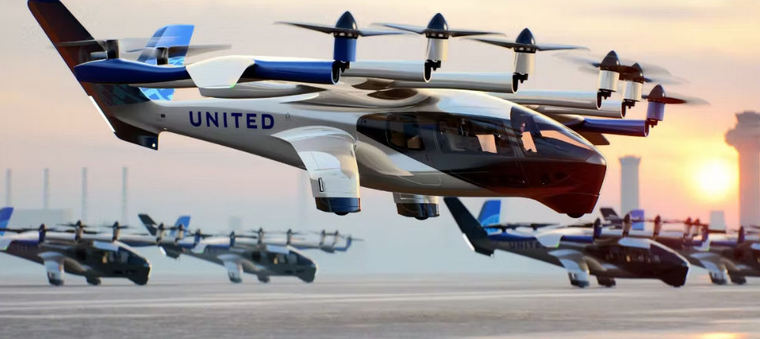 Archer Aviation Inc. (NYSE: ACHR) and United Airlines (NASDAQ: UAL) today announced plans to launch the first air taxi route in Chicago, between O'Hare International Airport (ORD) and Vertiport Chicago. Vertiport Chicago, North America's largest vertical aircraft take-off and landing facility, is located in the Illinois Medical District near the Chicago Loop.


This site was selected as the take-off and landing site for this airport to city centre route because of its unparalleled convenience, access and service. From there, passengers will be able to travel to and from ORD via Archer's Midnight aircraft in approximately 10 minutes. A similar trip by car can take upwards of an hour or more during rush hour traffic.
United and Archer's goal for its UAM network is to provide residents and visitors in the Chicago Metropolitan Area with a safe, sustainable, low noise, and cost-competitive alternative to ground transportation beginning in 2025. Chicago is the third most populous city in the United States, a centre for business, innovation and investment, and home to United's headquarters. This makes it a unique city for Archer and United to build out. The early launch routes will focus in on airport to city centre transportation service, which are referred to as "trunk" routes. Once the trunk routes have been established, the next step will be to build out "branch" routes to connect to surrounding communities.
"Both Archer and United are committed to decarbonizing air travel and leveraging innovative technologies to deliver on the promise of the electrification of the aviation industry," said Michael Leskinen, President of United Airlines Ventures. "Once operational, we're excited to offer our customers a more sustainable, convenient and cost-effective mode of transportation during their commutes to the airport."
"Technological innovation thrives here in Chicago, and this venture between Archer and United is yet another example of this strength," said Chicago Mayor Lori E. Lightfoot. "This exciting new technology will further decarbonize our means of transportation, taking us another step forward in our fight against climate change. I'm pleased that Chicago residents will be among the first in the nation to experience this innovative, convenient form of travel."
"Here in Illinois, we are taking bold steps to lead the clean revolution-paving the way for a more sustainable future for our state, our nation, and our world," said Governor JB Pritzker. "I can't think of a better team than Archer and United to partner with as we work to ensure our existing aviation infrastructure can support this new and exciting form of transportation. This partnership is just another way that we will achieve our goal of transitioning to 100% clean energy by 2050-all while saving Illinoisans money and creating thousands of good paying jobs in the process."
"We're thrilled to add Chicago to our growing list of initial launch cities as we continue to solidify our UAM network plans," said Adam Goldstein, Archer's Founder and CEO. "We're looking forward to working with state and city leaders to bring an innovative transportation solution to the City of Chicago and its surrounding communities."
"Vertiport Chicago is delighted to participate alongside United Airlines and Archer in revolutionizing intra-city travel in Chicago," said Daniel Mojica, the Executive Director of Vertiport Chicago. "This partnership will inspire other cities to plan for cutting-edge transportation solutions."
ComEd, the Midwest's largest utility company, will work with United and Archer to establish the power infrastructure necessary to support eVTOL aircraft operations in and around the Chicago Metropolitan Area.



HELI-EXPO 2023: NEW ORDERS CONFIRM LEONARDO'S STRONG POSITION IN THE GLOBAL COMMERCIAL HELICOPTER MARKET



Following the company's successful attendance at Heli-Expo 2023 in Atlanta, Georgia (7th-9th March), Leonardo is announcing further growth within the commercial helicopter market, with new orders for nearly 40 aircraft of various models to several operators across Middle East, Asia, Americas and Europe primarily for energy support, rescue and public service duties, and VIP transport operations. Combined orders for the AW139, AW169, AW109 GrandNew and AW109 Trekker types have a total value of approximately 470 million EUR, with deliveries between 2023 and 2026.


All of these orders add to preliminary sales contracts, already announced at Heli-Expo, for more than 50 AW09 next generation single engine helicopters for customers worldwide. In addition to THC's decision to confirm intent to further expand the presence of their AW139 fleet in Saudi Arabia for SAR, EMS and corporate transport adding six helicopters plus 20 options within the next 18 months.
Nearly 25 aircraft will carry out offshore transport missions with various operators supporting the energy industry across geographies. The AW139 global fleet grew with new orders across the Middle East, Brazil, Thailand, Indonesia and Germany, confirming worldwide appreciation of the platform and unmatched competitiveness for oil & gas operations. Also, the AW169 continues to prove the aircraft of choice in its class for offshore transport and wind farm support, both in Europe and Asia.
Among operators placing orders for Leonardo offshore-configured helicopters, Abu Dhabi Aviation (ADA) expanded its AW139 offshore fleet with an order for six more helicopters with deliveries expected in the 2024-2026 timeframe. OMNI Helicopters International (OHI) has signed a contract for two AW139s to carry out offshore transport missions in Brazil with deliveries expected in 2024. This latest order follows a significant Leonardo fleet expansion at OHI adding to a total of six AW139s and two AW189 super medium helicopters, which were procured between 2021 and 2022. Two more AW139s were ordered by SFS Aviation, a leading provider of offshore helicopter services for Oil and Gas companies in Thailand. These aircraft, expected to be handed over this year, will increase the user's fleet to a total of seven AW139s. In Indonesia, Travira Air signed a contract for an additional AW139 offshore, which is expected to be delivered in 2024. HeliService international GmbH (HeliService) in Germany is further strengthening its range of offshore transport services, with an order for two more Leonardo helicopters including an AW139 and an AW169. The aircraft are expected to be delivered in 2024. HeliService has been operating AW139s and AW169s for offshore wind farm support missions in the North Sea over the last few years delivering outstanding operational capability and safety standards with ongoing successful expansion in Asia and USA, where three new AW169s are already expected to be in service starting from summer 2023. The success of the AW169 supporting offshore operations has been confirmed also in India. Global Vectra Helicorp Limited (GVHL) has placed an order for two AW169s to support transport operations in the energy industry sector. The delivery of the aircraft is expected to be completed this year, joining a fleet of AW139s.
The AW169 and AW139 also strengthen their presence in the rescue and public service markets with new orders across Asia, Middle East and in USA for a total of ten units.
In South Korea, the EMS (emergency medical service) operator UI Helijet has signed a contract for two AW169s. The aircraft are expected to be delivered in 2025 and will enter into service starting 2026. UI Helijet, an EMS contractor for the National Medical Centre, the Ministry of Health and Welfare, was the first EMS operator using Leonardo's helicopters in the country. The Phoenix Police Department has signed a contract for one AW169 and an option for a second. The aircraft will be operated by the Phoenix Police Air Tactical Support Bureau as the larger and most modern aircraft in the operator's helicopter fleet, complementing the Leonardo AW109 Power originally acquired in 2005. The outstanding capabilities of the best-selling AW139 helicopter have been reconfirmed with a new order for one AW139 by Abu Dhabi Police in UAE. The type is highly successful in the country for a range of roles, including law enforcement and rescue services among others. Mitsui Bussan Aerospace (MBA), the authorized distributor for the AW139, AW169 and AW189 helicopter models in Japan, announced with Leonardo orders recently signed for a total of six AW139s, to meet the requirements of various upcoming opportunities in the country.
In Latin America the success of Leonardo's offer - particularly for the VIP/corporate transport market and leveraging the exclusive Agusta brand value proposition - grows further with sales of three helicopters to SynerJet Latina SA, a new distributor responsible for Colombia, Peru, Chile and Paraguay. In particular, these include two AW109 GrandNew and one AW109 Trekker light twin engine aircraft, with deliveries expected between the end of 2024 and the 2Q of 2025.

ARCHER'S MAKER EVTOL AIRCRAFT 70 KTS FLIGHT TEST EXPERIENCE





LEONARDO AW09 PS4 PROTOTYPE PERFORMS FIRST FLIGHT

The latest AW09 prototype, designated PS4 and featuring the new Safran Helicopter Engines Arriel 2K engine, performed its maiden flight in Mollis Switzerland on 16 March 2023.

The flight lasted 20 minutes and successfully completed all set objectives, performing hovers at low altitude, spot turns, straight and sideways flights up to 20 knots as well as several landings and take offs.
The crew was very pleased with the behaviour of the aircraft and looks forward to the opening of the flight envelope during the upcoming tests.
LIFT AIRCRAFT COMPLETES FIRST-EVER PILOTED EVTOL DEMONSTRATIONS IN JAPAN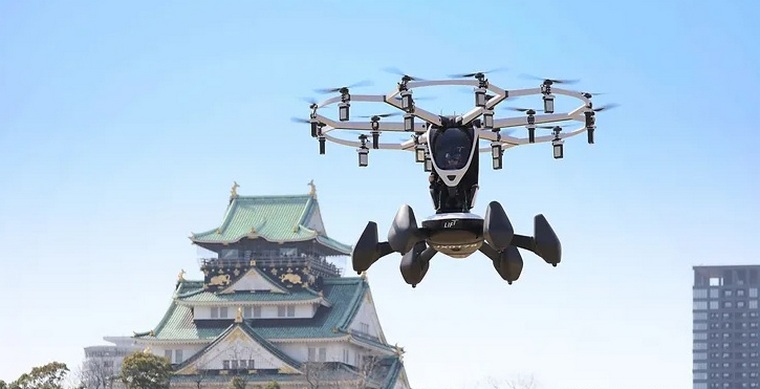 LIFT Aircraft made history this week, completing the first-ever piloted eVTOL demonstration flights in Japan with their aircraft, HEXA. The flights were conducted in partnership with Marubeni Corporation, with whom the Austin, Texas based company is partnering to develop and advance the eVTOL market in Japan, and with participation from GMO Internet Group.

The demonstration was selected for the Osaka Prefectural Government's FY2022 Subsidy for Urban Business Creation Flying Car Projects and as a Candidate Demonstrator for Expo 2025, a project of the Japan Association for the 2025 World Exposition and the Osaka Chamber of Commerce and Industry.
Flights were conducted for audiences that included the Japan Civil Aviation Bureau (JCAB), the aviation authority of Japan. While HEXA conforms to FAA Part 103 and can be flown in the U.S. today without aircraft type certification or a pilot's license, Japan does not have an equivalent regulation. JCAB carefully reviewed the safety of the aircraft, the extensiveness and maturity of the test program, the flight envelope, and ultimately gave permission for the demonstrations to proceed.
"JCAB was thorough in their review of our safety standards and our aircraft, and gave us the green light to fly," said Matt Chasen, founder and CEO of LIFT Aircraft. "It's an honour that our aircraft was selected to be the first eVTOL ever piloted in Japan."
LIFT has formally concluded Phase 1 flight test and beginner flight envelope development with the U.S. Air Force and has launched Alpha Flights, allowing people outside of their Flight Operations and Test teams to fly.
With Osaka Castle as the backdrop, Alpha Flights was included in the demonstrations this week. After about an hour of training and introduction to the aircraft, Masatoshi Kumagai of GMO Internet Group piloted HEXA, successfully completing three flight patterns. Nine flights were completed in Osaka, and LIFT and Marubeni are continuing their Japan demo tour Niihama and Imabari next week.
Chasen remarked, "This is a strong indication to the world, and especially the thousands on our waitlist, that they will have the opportunity to fly very soon."
BELL 505 HELICOPTERS DELIVERED TO THE KINGDOM OF BAHRAIN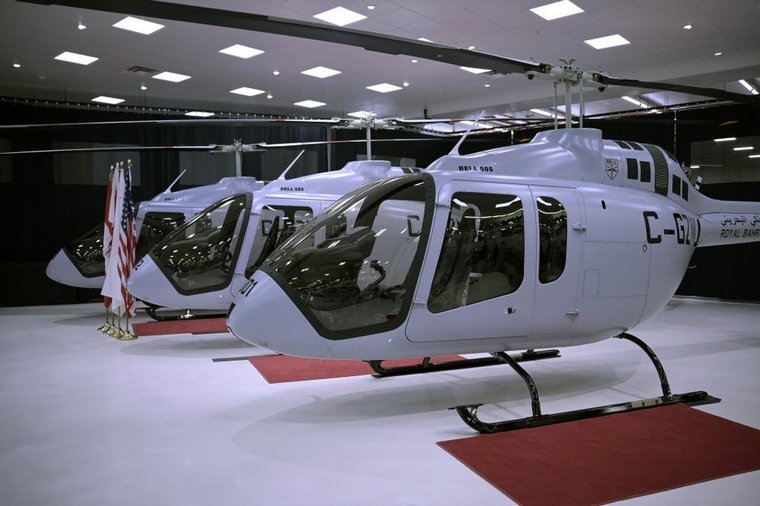 Bell Textron Inc., a Textron Inc. (NYSE: TXT) company, announced the delivery of three Bell 505 helicopters to the Royal Bahrain Air Force. Bell delivered the aircraft during an inspection and acceptance event in February 2023 at Bell's Mirabel facility.

"We are honoured to provide the Bahrain Defence Force another premiere Bell asset to train the next generation of Bahrani pilots," said Sameer Rehman, managing director, Africa and Middle East, Bell. "Generations of Bahraini pilots have flown in Bell helicopters, and the Bell 505 will continue the tradition of excellence for years to come."
The Bahrain Defence Force has flown the Bell 212 and multiple generations of AH-1 attack helicopters. This delivery marks the first 505 helicopters for the country and includes a package with training, tooling, and spares.
"With low operating costs and high reliability, the Bell 505 has emerged as a customer favourite to prepare cadets for a safer and more effective transition to advanced helicopters," Rehman added.
The Kingdom of Bahrain joins other countries in the region employing the Bell 505 as their advanced military trainer of choice. Horizon International Flight Academy in the UAE operates 12 Bell 505s, and the Royal Jordanian Air Force signed an agreement for 10 Bell 505s in November 2022. More than 30 Bell 505 helicopters operate throughout the Middle East and Africa. Additionally, the Bell 505 is the military training helicopter for the Montenegro Air Force, Republic of Korea Army and Republic of Korea Navy.
Bell has delivered more than 400 Bell 505 helicopters to domestic and international customers. The Bell 505 program has collectively achieved more than 100,000 flight hours. The Bell 505 recently became the world's first single engine helicopter to fly on 100 percent sustainable aviation fuel.


FAA - COLLISION WITH TERRAIN DURING TAKE-OFF OF PARACHUTE JUMP FLIGHT BEECH KING AIR

What Happened
???On 21 June 2019, about 1822 Hawaii-Aleutian standard time, a Beech King Air 65-A90 airplane, N256TA, impacted terrain after take-off from Dillingham Airfield (HDH), Mokuleia, Hawaii. The pilot and 10 passengers were fatally injured, and the airplane was destroyed. The airplane was owned by N80896 LLC and was operated by Oahu Parachute Centre (OPC) LLC under the provisions of Title 14 Code of Federal Regulations (CFR) Part 91 as a local parachute jump (skydiving) flight. Visual meteorological conditions prevailed at the time of the accident.
OPC had scheduled five parachute jump flights on the day of the accident and referred to the third through fifth flights of the day as "sunset" flights because they occurred during the late afternoon and early evening. The accident occurred during the fourth flight. The accident pilot was the pilot-in-command (PIC) for each of the OPC flights that departed on the day of the accident.
The pilot and 8 of the 10 passengers initially boarded the airplane. These eight passengers comprised three OPC tandem parachute instructors, three passenger parachutists, and two OPC parachutists performing camera operator functions. The pilot began to taxi the airplane from OPC's location on the airport. According to a witness (an OPC tandem instructor who was not aboard the accident flight), the two other passengers-solo parachutists who had been on the previous skydiving flight and were late additions to the accident flight-"ran out to the airplane and were loaded up at the last minute."
The pilot taxied the airplane to runway 8 about 1820, and the airplane departed about 1822. According to multiple witnesses, after the airplane lifted off, it banked to the left, rolled inverted, and descended to the ground. One witness stated that, before impact, the airplane appeared to be intact and that there were no unusual noises or smoke coming from the airplane. A security camera video showed that the airplane was inverted in a 45° nose-down attitude at the time of impact. The airplane impacted a grass and dirt area about 630 ft northeast of the departure end of the runway, and a post-crash fire ensued.
The airplane was not equipped, and was not required to be equipped, with a cockpit voice recorder or a flight data recorder. The accident flight was not detected by radar at the Federal Aviation Administration's (FAA) Hawaii Control Facility, which was the air traffic control (ATC) facility with jurisdiction of the airspace over HDH. The FAA found no audio communications between the accident airplane and ATC on the day of the accident.?
What We Found
?The probable cause of this accident was the pilot's aggressive take-off manoeuvre, which resulted in an accelerated stall and subsequent loss of control at an altitude that was too low for recovery. Contributing to the accident were (1) the operation of the airplane near its aft centre of gravity limit and the pilot's lack of training and experience with the handling qualities of the airplane in this flight regime; (2) the failure of Oahu Parachute Centre and its contract mechanic to maintain the airplane in an airworthy condition and to detect and repair the airplane's twisted left wing, which reduced the airplane's stall margin; and (3) the Federal Aviation Administration's (FAA) insufficient regulatory framework for overseeing parachute jump operations. Contributing to the pilot's training deficiencies was the FAA's lack of awareness that the pilot's flight instructor was providing substandard training.?



Angola, en route over the Congo: A TAAG Angola Airlines flight Airbus A330-343 operated by Hi Fly, encountered severe turbulence while en route over Congo. Two crew members and eight passengers were injured. The flight continued to the destination and landed normally.
USA, Bangor International Airport, ME: An Allegiant Air Airbus A320-214, struck runway edge lights on departure from runway 33 at Bangor. ADS-B data suggests that the flight aligned on the right-hand runway shoulder after turning onto the runway while performing a rolling take-off. The aircraft began correcting to align with the runway centreline at a distance of about 370 m from the threshold. The flight continued to the destination, Orlando Sanford International Airport, FL (SFB). The incident aircraft resumed service 35 hours after landing at SFB.

China, Gui'an Cherry Garden, near Anshun, Guizhou: A Beijing RQ9-1 hot air balloon was caught by a gust of wind shortly after take-off near the Gui'an Cherry Garden, near Anshun, Guizhou and ditched in a lake. The pilot and six passengers were not injured and the hot air balloon received minor damage. It has emerged that the operators may not have had a license to carry passengers.

Spain, Córdoba: A Club Aereo de Córdoba Platzer Kiebitz B ultralight biplane during a tourist flight over the city of Córdoba (Andalusia) suffered engine problems that prevented it from returning to the airport of departure. Fortunately, the area of the tourist route is well known by the pilots and they always fly with enough margin for cases like these. The pilot used a large esplanade used for paramotor flights to make an emergency landing without any kind of complication.



France, near Mont Lachens: An ICP Savannah crashed near Mont Lachens into a tree after the plane lost a wing. A strut separated from the wing, causing it to spin. The pilot deployed a parachute. One occupant sustained serious injuries, another minor injury.
Canada, N of Montreal, QC: A Boeing 737-2T4 operated by Chrono Jet was on an instrument flight rules flight from Montreal/St-Hubert Airport, QC (CYHU) to Iqaluit Airport, NU (CYFB) with 6 crew members and 86 passengers on board. Approximately 12 minutes after take-off from CYHU, while the aircraft was climbing to cruising altitude, the crew observed an indication of a drop in oil pressure in the number 2 engine (PW JT8D-17). Shortly thereafter, the LOW OIL PRESSURE light illuminated. The crew activated the Quick Reference Handbook (QRH) checklist and shut down the engine as a precautionary measure. The aircraft returned to CYHU and landed safely.




23 MARCH 1948

Group Captain John Cunningham sets a new world altitude record of 59,446 ft (18,119 m) in a de Havilland Vampire.


John "Cat's Eyes" Cunningham CBE, DSO & Two Bars, DFC & Bar, AEc was a Royal Air Force (RAF) night fighter ace during the Second World War and a test pilot. During the war he was nicknamed "Cat's Eyes" by the British press to explain his successes and to avoid communicating the existence of airborne radar to the enemy.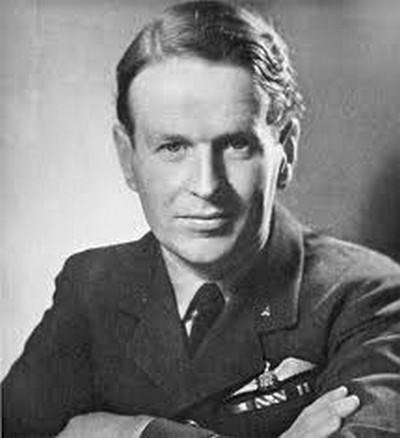 At 18, he joined the de Havilland Aircraft company in 1935 as an apprentice. Cunningham began his engineering career with some menial projects before being invited to assist with the building of the de Havilland T.K.2 and de Havilland Moth Minor. At the same time, he joined the Royal Auxiliary Air Force, a part-time branch of the RAF, and became a member of No. 604 (County of Middlesex) Squadron after a recommendation by a friend of the family. Cunningham began his training at Hatfield Aerodrome in August 1935 and flew solo on 15 March 1936, receiving his commission as a pilot officer on 7 May 1936.
After the war Cunningham rejoined de Havilland and continued his test-pilot career. He flew the world's first jet airliner, the de Havilland Comet, in 1949. On 23 March 1948 he set a world flight altitude record of 59,430 feet (18,114 metres) in a Ghost-powered Vampire. The flight lasted for 45 minutes, reaching 50,000 feet in 13.5 minutes. The following year he went on to test the de Havilland Comet, the world's first jet airliner which first flew in 1949.
He then flew commercial jets for a time in the early 1960s and continued flying in the industry until the late 1970s. He also worked for British Aerospace as executive director, retiring in 1980. In recognition of his wartime exploits and his contribution to civil aviation he was appointed a Commander of the Order of the British Empire.
Cunningham passed away on 21 July 2002 at age 84.


Alouette II & III Compilation


Google Banner Ad