09.04.2023



Google Banner Ad




The Wedell-Williams Model 44 began life a rebuild of the We-Will 1929 racer. It soon turned into a completely new racing monoplane aircraft, powered by a Pratt & Whitney Wasp Jr., a large radial engine. Four were built in the early 1930s by the USA based Wedell-Williams Air Service Corporation.
The Model 44s became the dominant racers of the 1930s, setting innumerable records including a new world speed record.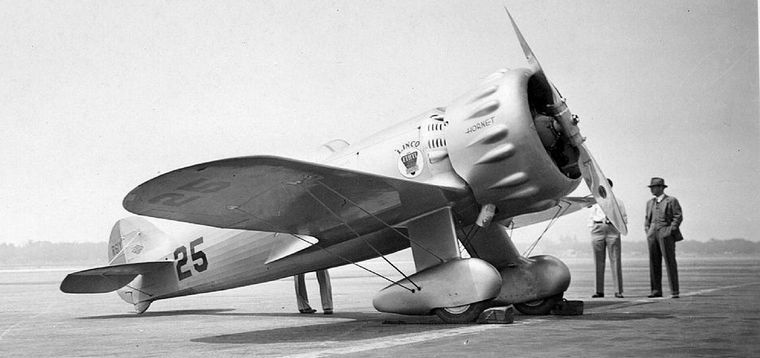 Model 44's were raced in 1932, 1933 and 1934 in the Bendix Trophy races, as well as the 1934 Thompson and Shell Trophy. In September 1933 at the International Air Race in Chicago, the 44 piloted by Wedell set the new world speed record of 305.33 miles per hour. Flying a 44, Doug Davis won the 1934 Bendix Trophy, but crashed and was killed while leading the Thompson Trophy Race on 3 September 1934. Roscoe Turner won the Thompson Trophy in a 44 with a different engine, while J. A. Worthen was placed third, also in a 44.
The only surviving Model 44 is on display at the Crawford Auto-Aviation Museum, Cleveland, Ohio. Three replica Model 44s are on display at the Louisiana State Museum, Patterson, Louisiana.
General characteristics:
Crew: 1
Length: 23 ft 0 in (7.01 m)
Wingspan: 26 ft 3 in (8.0 m)
Height: 8 ft 1 in (2.46 m)
Wing area: 107.9 sq ft (10.02 m2)
Airfoil: M-10 (modified)
Empty weight: 1,702 lb (772 kg)
Gross weight: 2,677 lb (1,214 kg)
Powerplant: 1 ◊ Pratt & Whitney R-1690-S1C3G 9-cyl. air-cooled radial piston engine, 1,020 hp (760 kW)
Propellers: 2-bladed Hamilton Standard ground adjustable, Curtiss adjustable or Smith adjustable propeller
Performance:
Maximum speed: 325 mph (523 km/h, 282 kn)
Range: 900 mi (1,400 km, 780 nmi)
Service ceiling: 14,000 ft (4,300 m)
Wing loading: 24.83 lb/sq ft (121.2 kg/m2)





Cessna 310 Vereenging to Witbank



Google Banner Ad