02.07.2023



Google Banner Ad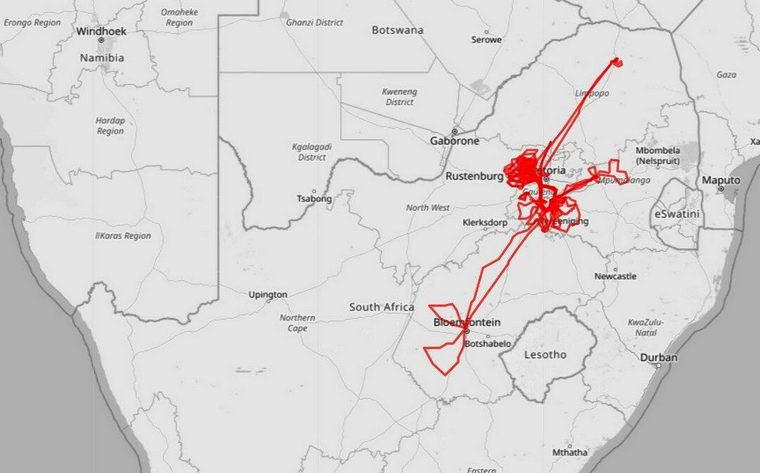 It is hard to believe that another year has passed, bringing us to two full years of aircraft ownership. With a huge chunk of our time spent in the air, it really flew by.
If I was shocked to discover that I had flown a total of 135 hours in 2021, then 2022 was even more of a surprise. I managed to fly an astonishing 160 hours. Practicing for the World Rally Flying Championships sure kept us busy!


The number of hours flown per month in 2022


The focus was again on the World Rally Flying Championships. After one postponement (2020) and one cancellation (2021), the big event was finally scheduled for November 2022 in Brits. But first, we needed to qualify for the team again. Nationals took place in June 2022, where up to 10 teams could be selected, provided that they met the demanding criteria. In 2021, we set our sights on and managed to qualify to fly under Aeroclub colours. We wouldn't be able to fly for South Africa but at least we would be able to participate if the World's had gone ahead in 2021.
This year, we got a second chance and we set our sights higher. We wanted to meet the much more stringent criteria to qualify to fly for South Africa. To achieve this, we needed to put in a lot of time and effort to improve our skills. We also took full advantage of the event moving from Stellenbosch to Brits. Brits is in our backyard, and we could train in the area, giving us a huge home ground advantage.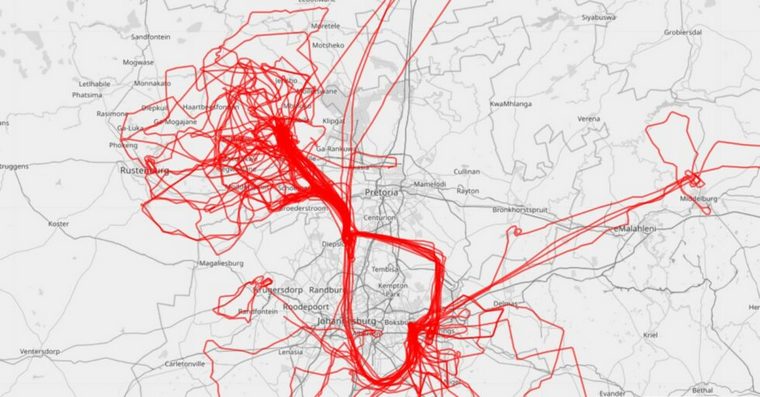 A zoom in showing how much we flew around the Brits area

It becomes clear just how much effort we put in when we tallied the hours and see that we flew a total of 77 hours in rally related practice. That is not including the 14 hours flown to and from training sessions and competitions. In addition, I flew a total of 26 hours during competitions, although only 14 of these hours were in rally related competitions. This brings us to a grand total of 105 hours relating to rally flying alone. Quite an increase from the 83 hours last year. All these flying hours exclude the many weekends spent doing theory training with the Protea team during our training sessions, as well as frequent mornings and evenings spent on the home flight simulator or scouring Google Earth with a selection of photos in hand.


A breakdown showing the types of flights we did in 2022 plus a breakdown of the competition hours

COMPETITIONS
In 2022, I flew in 9 competitions consisting of 19 flights. This included 2 Speed Rallies, Spot Landing Nationals and 2 Rally Competitions. Some new competitions in 2022 included 3 fun ANRs and my first ever Precision competition.
With the Rand Rally Challenge cancelled twice due to bad weather, the only two Rally Competitions that took place were the Rally Nationals held June 2022 and the World Championships in November 2022. While there were only 2 competitions (consisting of 7 flights), many of the training hours with the Protea team simulated competition conditions including new routes, time pressures, scoring and some healthy internal competition.
In 2022, I also finally got to fly my first Speed Rally with my dad. It has taken more than a year but finally the stars aligned and we were able to participate in the Speed Rally finale at Spring Airfield. With three other Jabiru's competing, the competition was tight, and we had a whole lot of fun, finishing 8th overall. There was a heart stopping moment when one of our competitors declared a mayday due to a misbehaving engine but all got back onto the ground safely.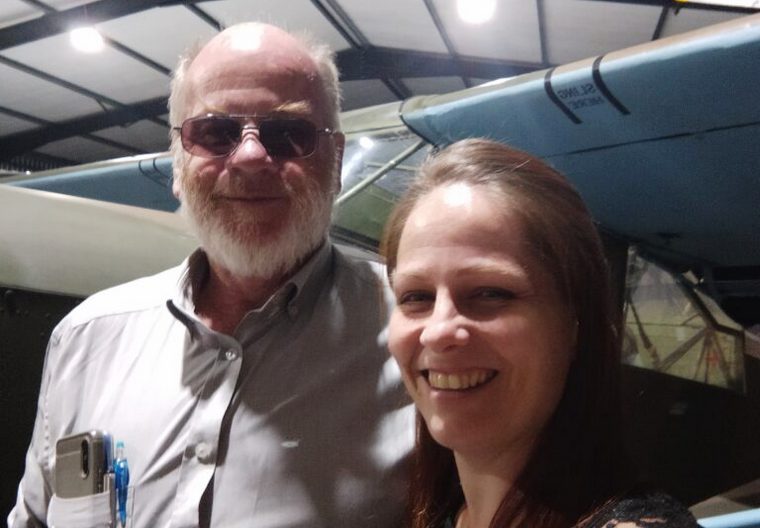 Speed Rally Finale with Dad


This was the first year that I competed with anyone besides Iaan. That required a huge step in confidence. I remember the first time I flew with my very first flight instructor Mark after I got my PPL. It had been years since we last flew together and he was accompanying me for a speed test for my first speed rally in late 2020. This is used to determine your handicap speed for the speed rally races. The task was simple, all I had to do was take off and fly a square as fast as possible, 5 minutes in each direction at full throttle. Easy, right? Well, I was so nervous I am sure he wondered how I passed my flight test. My heart sank as the stall warning sounded just after take off. I followed that with the most wobbly square ever seen, but I set a great time. Mission achieved.
This year, I got the chance to participate in some fun ANRs. The first was a fun ANR at the Aeroclub Airweek held in Middelburg in April. With Iaan organising and scoring the route, I had no plans to participate. But then Ron showed up by car instead of by air. His Cessna was in for its annual service. What a great opportunity to fly together! Fortunately, this was sprung on me only moments before the competition started so I didn't have time to get too anxious about flying with this navigation legend (and two-time World Spot Landing Champion). We nearly got completely lost on the second leg but recovered quickly enough. I quickly realised that I learnt a massive amount from flying with a different navigator who uses different techniques. It was a fantastic experience and a completely different challenge.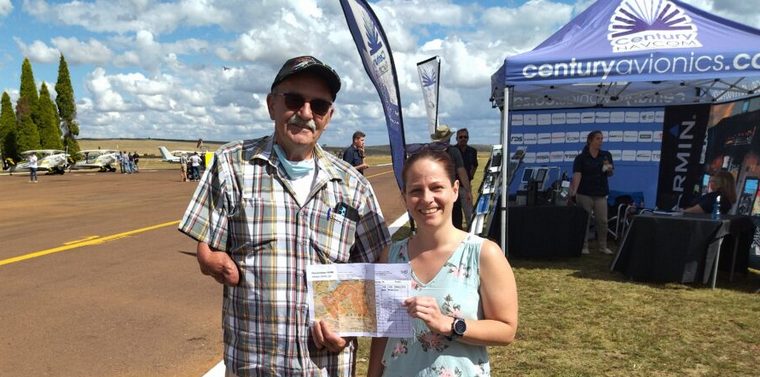 A Fun ANR with Ron


The second opportunity arose soon after. With Iaan now competition director for the Speed Rallies, I needed a new navigator. The plan was always to fly Speed Rallies with my dad, but he was unavailable for the Middelburg Speed Rally in June. I took a good friend down to be my navigator but unfortunately, the weather ruined our plans. A postponed event meant that I thought I would end up watching from the ground as she wasn't able to stay for the delayed event. In another last moment opportunity, I was lucky enough to fly with Martin, who was supposed to be helping on the ground. Thanks to everyone for sparing him! Somehow, he squeezed his very long legs into my tiny Jabi and off we went. Martin is another navigation expert with a few international events under his belt. He is extremely calm and collected but I certainly frustrated him by ignoring his warnings, resulting in penalties for flying too high (over 1000 feet above ground). I am trying to avoid the terrain a bit too much! Again, I learnt so much and gained a new perspective on navigation and cockpit management.

Middelburg Speed Rally flown with Martin. I am still not sure how he closed the door without his legs hanging out…


The second ANR was the Jack Taylor ANR that is held annually in June at the Krugersdorp Airfield in June. Krugersdorp Airfield is another new airfield for me. Nicknamed HMS Krugersdorp, the runway is located on the top of a hill, with the topography dropping away on all sides, giving the impression the runway is on a ship! This is the first ANR that Iaan and I have participated in since our very first competition ever back in 2020 and we were thrilled to finish second overall.
Another exciting new challenge was the Precision Rally Nationals. Having not had any precision competitions in South Africa during the last few years, I was completely in the dark about how they work. Fortunately, there was a training session held the weekend before where I learned to my surprise that besides flying alone, there is a navigation test first that requires a calculator and a whizzwheel. Once I got over the shock, I had to try to remember how the trusty whizzwheel works. Last used hesitantly during PPL training, most pilots condemn this tool to the back of their closet and replace it with newer gadgets that do the thinking for you. With a few trial runs, I managed to get this figured out in time for the competition.
Precision flying is very similar to rally flying except that there is no navigator. After your theory test, you get a pre-plotted map so even if you mess it up completely, you can still fly. But once you are in the air, you are on your own with timing, navigation and photo spotting. In addition, there are 'secret' timing points randomly along the route where you also get penalty points for timing. This encourages being on time all the time and is truly fantastic training for rally flying, although I often look back and wonder how on earth I managed on my own!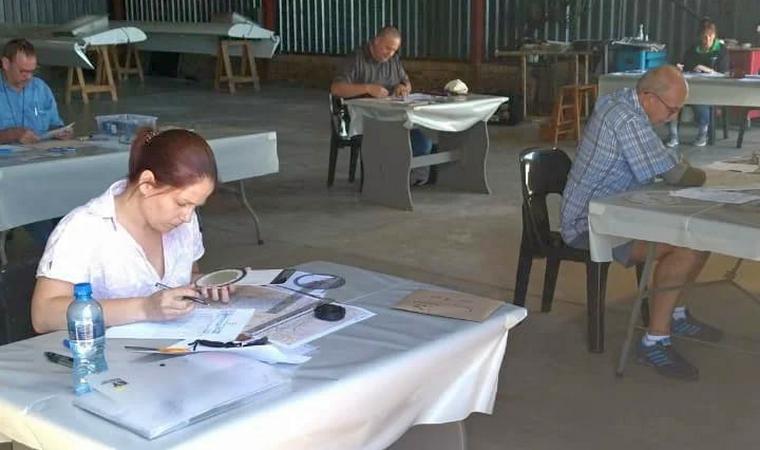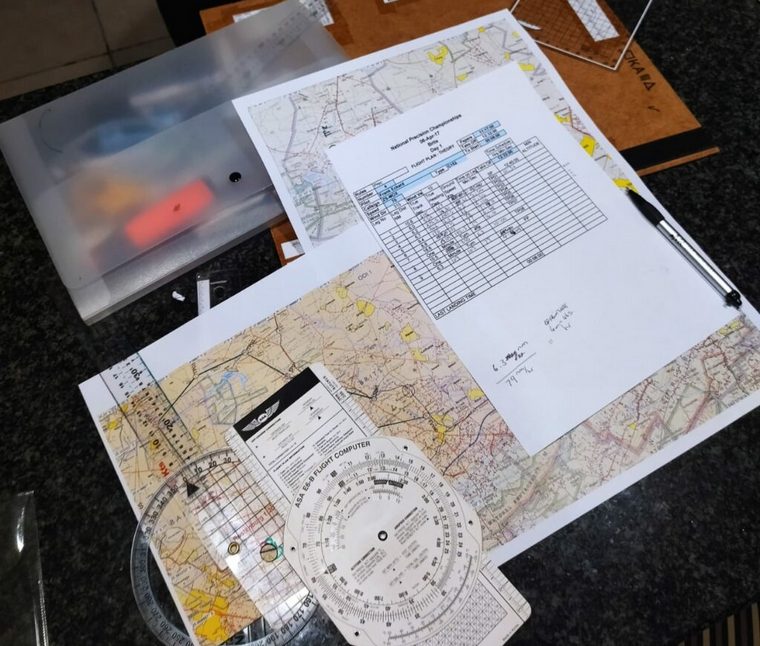 Competitors plotting for Precision Nationals and Precision plotting tools


TRAVEL
Competitions aside, I visited 13 different airfields across 5 different provinces during 2022. Some of the staple fly-ins include EAA Taildraggers at Warmbaths, Aeroclub Air week in Middelburg and the EAA Pancake Day at Silver Creek Gorge.
We also flew to 4 new airfields including Krugersdorp airfield, just west of Johannesburg and Wonderboom Airport, an extraordinarily busy training airfield in Pretoria. A fun ANR took us to Louis Trichardt Airfield, which is by far the furthest north that we have flown, and it was certainly a weekend to remember. Finally, we moved Bonsai, our little Jabiru, from Brakpan Airfield to Eagles Creek airfield with my arrival being the first time ever flying to this tricky little airfield. I am finally starting to get used to flying with other pilots and so I roped in a friend from Eagles Creek to accompany me for my maiden landing. With its steep slope, this shorter runway is one way in and one way out. It also features some powerlines on final approach and most of the year a tricky cross wind blows. Quite a challenge after getting used to the very long, flat runway at Brakpan where the wind is typically directly down the runway.
As we joined overhead, I realised that not only do I have another pilot with me but Iaan is waiting on the ground with the owner of our new hangar and some friends. Nothing like a bit of extra pressure to get this one right! With Eagles Creek on the border of Lanseria's airspace (an international airport), we turn directly onto a shortened downwind to remain clear. So far, so good. The crosswind is not very strong today. I do my downwind and base checks and all is routine. As we turn onto final approach, I realise I am a bit high. I am used to much lower circuits and a longer base leg to lose height. Nervously, I ask Stuart if we should go around but he feels it isn't necessary. With the steep uphill slope, this decision needs to be made early and once you commit, you can't change your mind later. I reduce the power to idle and we settle into a decent descent rate and touch down with a squeak of the wheels. Phew, what a relief!
SHARING THE LOVE OF FLYING
Our new spot at Eagles Creek is perfect not only for its proximity to our house, but also its proximity to the Hartebeestpoort Dam, perfect for taking people on a scenic flight. Sharing my love of flying with others remains one of the greatest privileges of holding a pilot's licence.
In 2022 I had a total of 20 different passengers, many of whom have never been in a small plane before. This year also included several repeat passengers who will fly every chance they can get.
Some of my most memorable flights in the year include taking two of my nephews for their first flights. They were thrilled to see the horses in the Kyalami area. I also took 3 passengers for flights while in Louis Trichardt. The absolute joy on some of their faces as we took off is something truly special. They were so excited to point out where they lived and worked as well as see the magnificent view over the Soutpansberg mountains towards the border with Zimbabwe. One of my favourite memories for the year is a group of small children at Aeroclub Airweek who were absolutely thrilled when I asked them if they would like to sit in my plane. They rushed over excitedly but all patiently waited for a turn in the pilot's seat. It definitely sparked my interest in the EAA Young Eagles Programme.
I also finally got to take my friend Bronwen on a flight with me. While she has flown in a Jabiru SP470 very much like Bonsai, it was the first time we flew together. It was probably the most laughs I have had during a flight although I think the fun paled in comparison to the helicopter ride that she scored to get back to Johannesburg.
Iaan is spoilt and flew 115 hours with me in 2022. My dad finally got a few more hours this year, although it was nowhere near enough. As the inspiration behind my pilot's licence, he absolutely loves to fly and will jump at any opportunity to join me. I can't wait to take him on many more flights.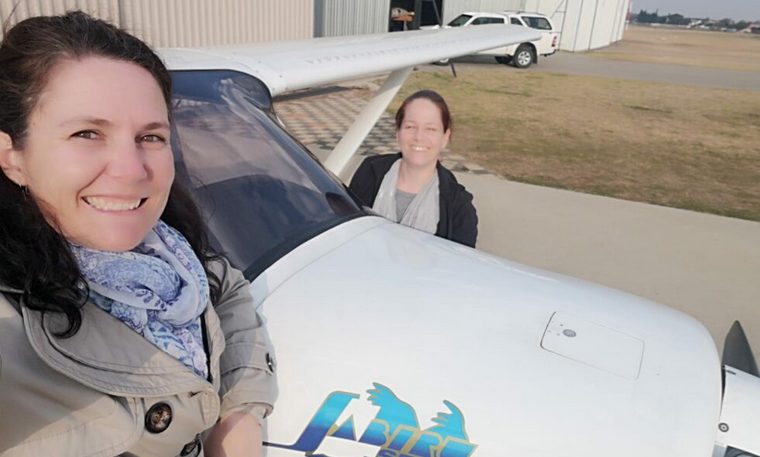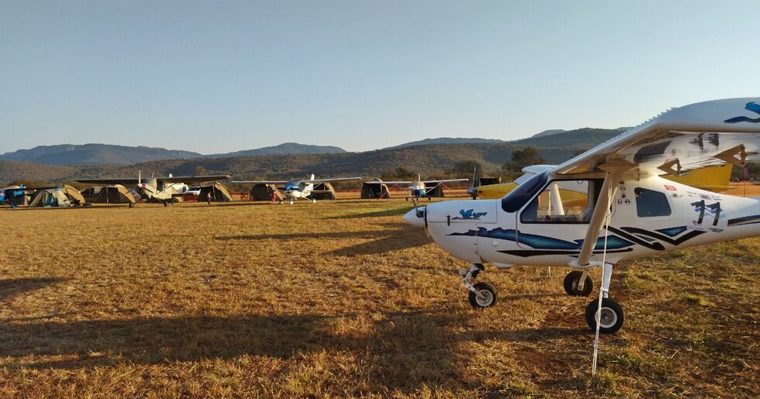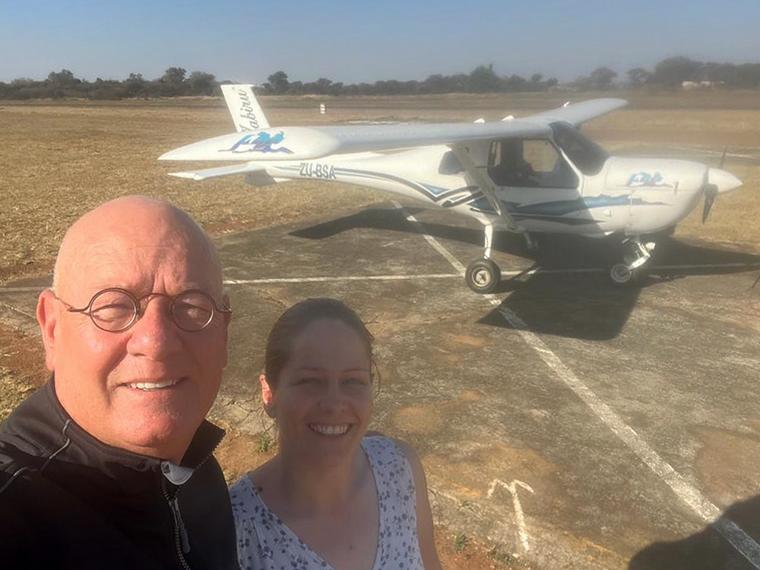 Flying with Bronwen was nonstop laughter.…The spectacular Louis Trichardt Fly In….Oom Dawie is one of my most enthusiastic passengers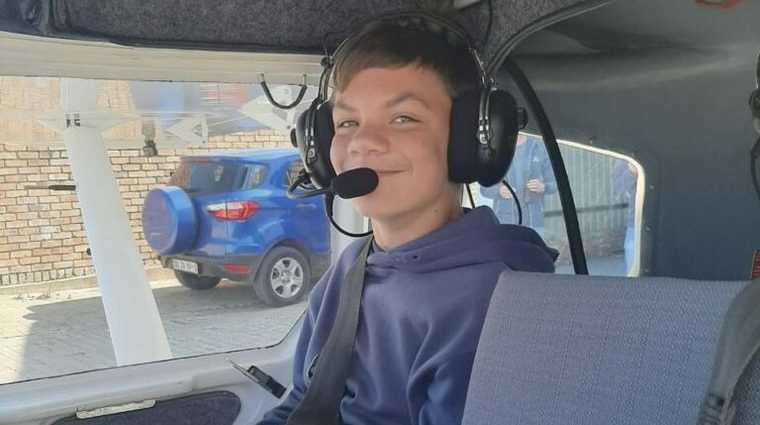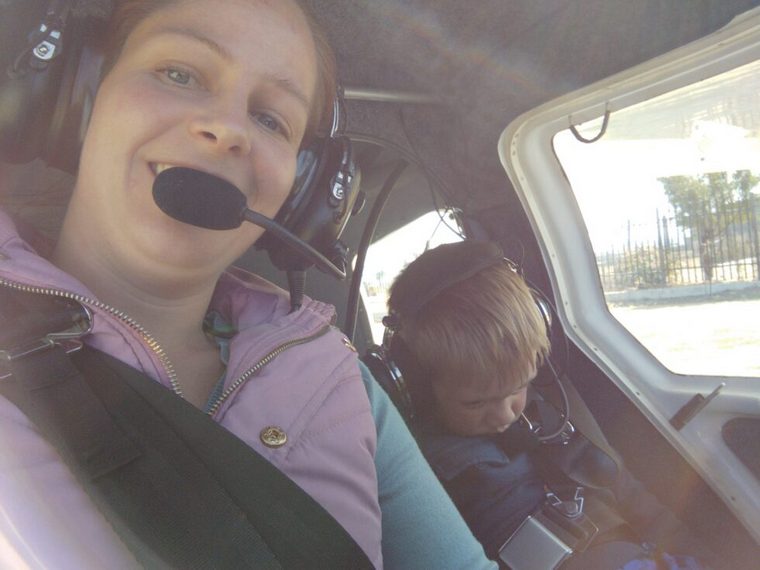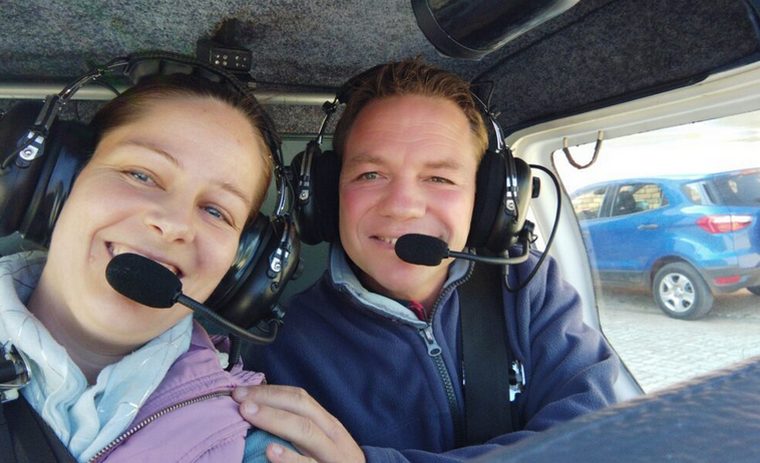 Hanno's first flight….The headset may be a bit big for Stean….A flight with Riaan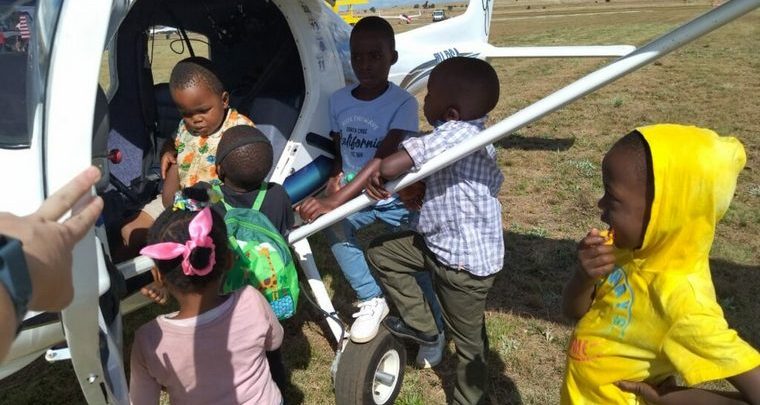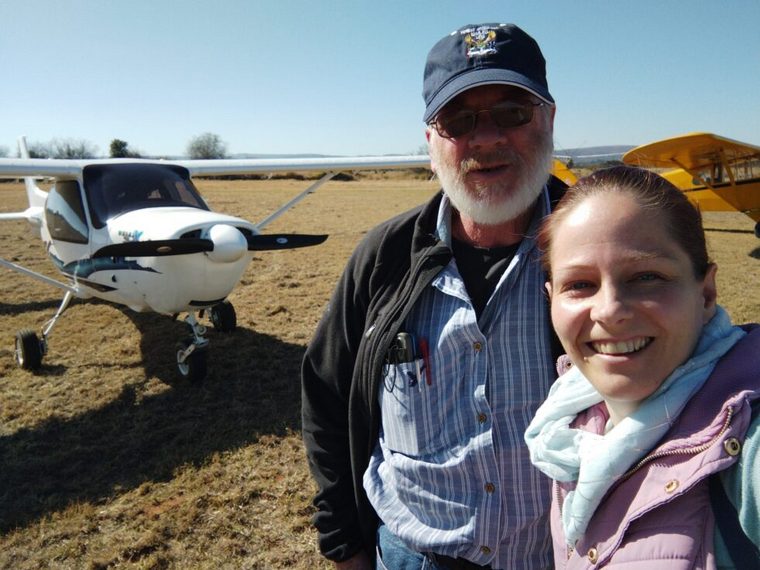 Some excited children at Middelburg Airweek….Crashing Taildraggers with Dad

COST OF FLYING
With two full years of aircraft ownership now behind me, we are really getting to grips with the true cost of owning your own aircraft. We maintain our meticulous records of every flight and cost incurred. Are you interested in your own cost tracking app? Let me know and we can consider developing it.
In 2022, our average flying costs amounted to R760/hour. (For my international readers, $1 was approximately R17 in December 2022.) This increased from last year's R690/ hour, illustrating the impact of choices on the actual costs. Our fixed costs increased significantly from R1,964 to R2,786 when we moved from Brakpan to Eagles Creek. Insurance and licensing remain the same but hangarage and club fees are much more expensive due to its prime location. We now share a lovely hanger with one spectacular RV10. With all the intense training, we didn't actually spend much time at the airfield or it's beautiful clubhouse, something we hope to change next year.
Variable costs for fuel, maintenance and consumables increased from R438/ hour to R552/ hour, almost a 30% increase! Of that, fuel cost on average R360/ hour. Because of some poor decisions made by an ageing, balding man half a world away, fuel prices went up significantly. In April 2021 we felt that being charged R30 per litre in Gariep was expensive but this year the average fuel price was R31.30 per litre. In 2021 it was an average of R21.30 per litre.
Aviation fuel, called avgas, is not regulated like car fuel, which means that every airfield can charge a different amount for fuel. While avgas at Eagles Creek is relatively expensive compared to other airfields, we were fortunate that most of our flying took place at the nearby Brits Airfield, known for its relatively well-priced avgas.
Importantly, the increase in variable costs were significantly offset by a decrease in average fuel consumption. With rally flying being much slower than normal cruise speed, we noticed a substantial improvement in fuel consumption from 12.1l/ hour to 11.5l/ hour.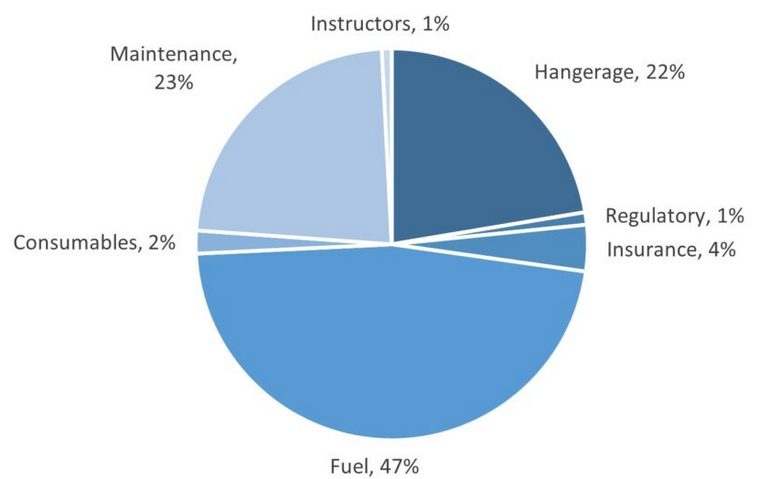 A breakdown of the average costs per hour 2022


Another consideration is that the more you fly, the more maintenance there is. Maintenance for the year included two 50-hour services, a 100-hour service combined with our annual service plus four oil services (every 25 hours). We do the oil services ourselves. All we need is an oil filter (that costs a whopping R63) two quarts of oil (around R400 per service) and some locking wire. I enjoy doing the oil change as it is relatively simple, and I get the opportunity to really inspect the engine bay closely to identify any potential issues. We also had an issue where we got a large hole in the exhaust that was blowing hot air directly into the oil cooler. Out of nowhere on a long flight home from Louis Trichardt, the oil temperature suddenly shot right to its upper limit of normal. Everything else appeared and felt normal. We continued our flight while keeping an eye on every suitable field and preparing for the engine to stop. After landing safely back at home, we were convinced that our engine needed a major overhaul, right when we needed to get as much flying in as possible in preparation for the Worlds. Fortunately, we quickly found a large hole in the exhaust was blowing onto the oil cooler. Besides giving us a heart attack, a simple exhaust repair was an extra maintenance cost for the year.
Other costs we don't include in these flying records are competition entry fees, accommodation, as well as all the breakfasts, coffees, cold drinks, toasted sandwiches, and hamburgers we consume while hanging around airfields waiting for the weather to play along.
2023 will be another busy flying year. Iaan plans to start and hopefully complete his Pilot's Licence. There are four Speed Rallies planned at some new and exciting venues, some ANRs and many fly ins that we hope to attend. I will be doing some Cessna ratings to make international aircraft rental easier. As always, we will be happily rally flying as much as possible. The next Rally World Championships will be held in France in July/August 2023 and we will be zooming around Europe soon!
For more of Tarryn and Iaan's flying adventures go to:
www.airheart.co.za


Bona, Bona Speed Rally


Google Banner Ad